Read the most important current affairs of 11 September 2023. Today Current Affairs covers the headlines on African Union, World's Highest Fighter Airfield, Himalaya Diwas 2023, Swachh Vayu Sarvekshan 2023, Suicide Prevention Awareness Day 2023.

Top 18 Current Affairs and News Headlines of 11 September 2023
International News
1.African Union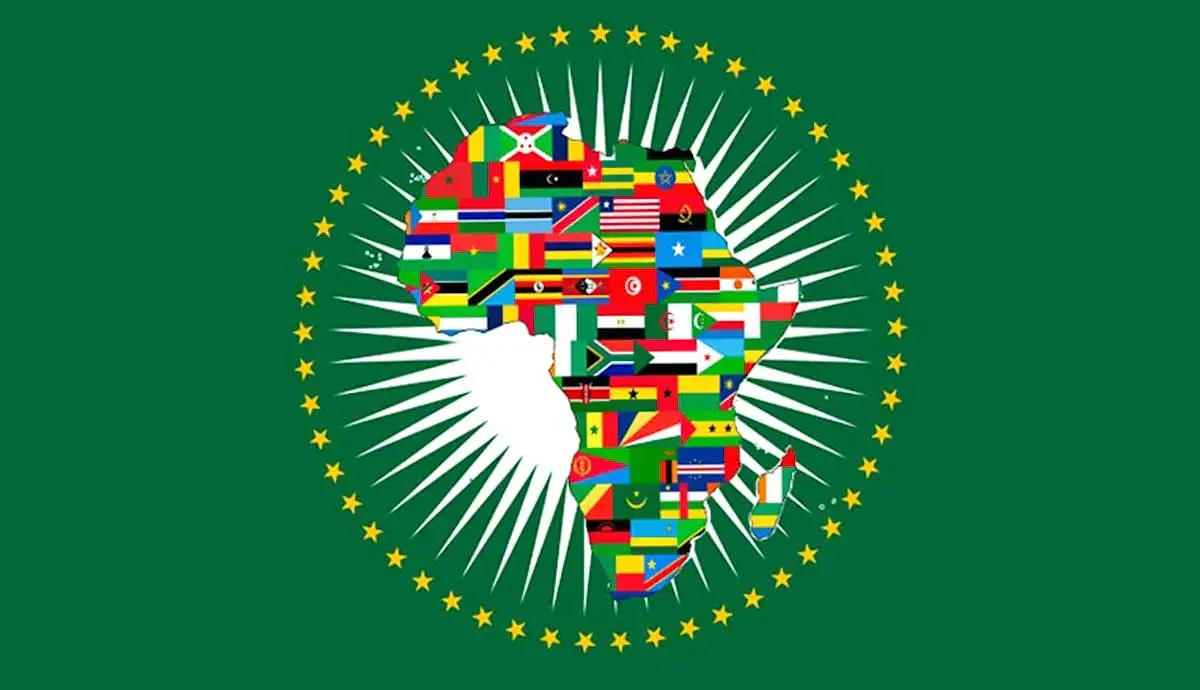 The African Union (AU) is a continental organization consisting of 55 member states from across Africa. It was officially launched on July 26, 2001, in Durban, South Africa, and is headquartered in Addis Ababa, Ethiopia.
The African Union was established to promote unity and cooperation among African nations, foster economic and political integration, and work towards the development and peace of the African continent.
The African Union is governed by various organs, including the Assembly of the African Union (comprising heads of state and government), the Executive Council (comprising foreign ministers), and the African Union Commission (the AU's secretariat).
Defence News
2.World's Highest Fighter Airfield To Come Up In Ladakh's Nyoma
The Border Roads Organisation (BRO) is set to achieve a remarkable feat as it embarks on the construction of the world's highest fighter airfield at Nyoma in Ladakh. The foundation stone of this ambitious project  is scheduled to be placed by Defence Minister Rajnath Singh on September 12, 2023, at the Devak Bridge in Jammu.
Nyoma stands as a prominent village situated in the southern region of Ladakh, India. It hosts an Indian Air Force Base within the Leh district. Nyoma is notably home to an Advanced Landing Ground (ALG) established in 1962. Nyoma's elevation reaches an impressive 4,180 meters (13,710 feet) above sea level, making it one of the highest-altitude locations in the region.
3.Indian Coast Guard Participates In 19th Heads Of Asian Coast Guard Agencies Meeting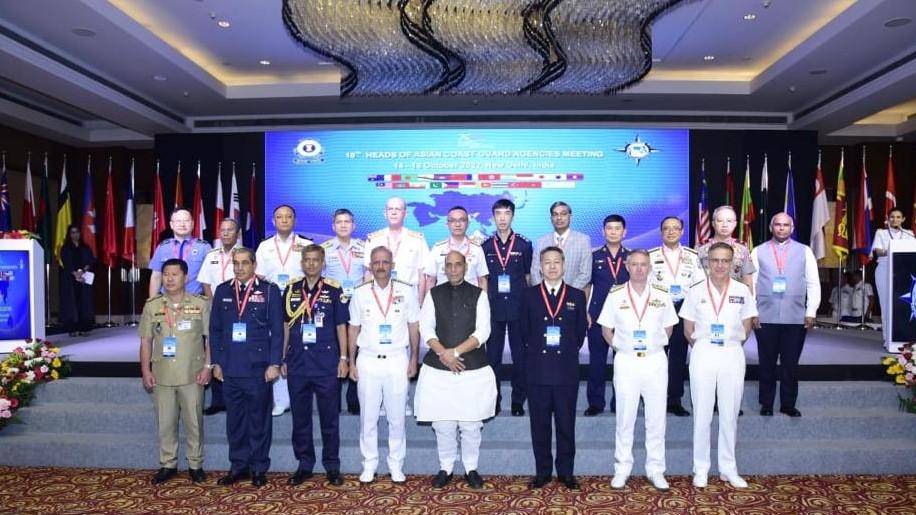 Indian Coast Guard participated in the 19th Heads of Asian Coast Guard Agencies Meeting (HACGAM) from 05-08 Sep 2023 at Istanbul, Turkey. A four-member ICG delegation led by DG Rakesh Pal, Director General Indian Coast Guard took part in the annual event of the independent forum with 23 members of Coast Guard Agencies and 02 associate members in the form of ReCAAP (Regional Cooperation Agreement on Combating Piracy and Armed Robbery against Ships in Asia and UNODC (The United Nations Office on Drugs and Crime).
The 19th Heads of Asian Coast Guard Agencies Meeting (HACGAM) convened to address pressing issues related to maritime law enforcement, safety and security of life at sea, marine environment protection, and the illicit trafficking of drugs, weapons, and humans at sea. The event witnessed the participation of the heads of Coast Guards from all member nations, setting the stage for meaningful discussions and cooperation.
Banking News
4.ICICI Bank gets RBI nod to make I-Process Services as wholly-owned subsidiary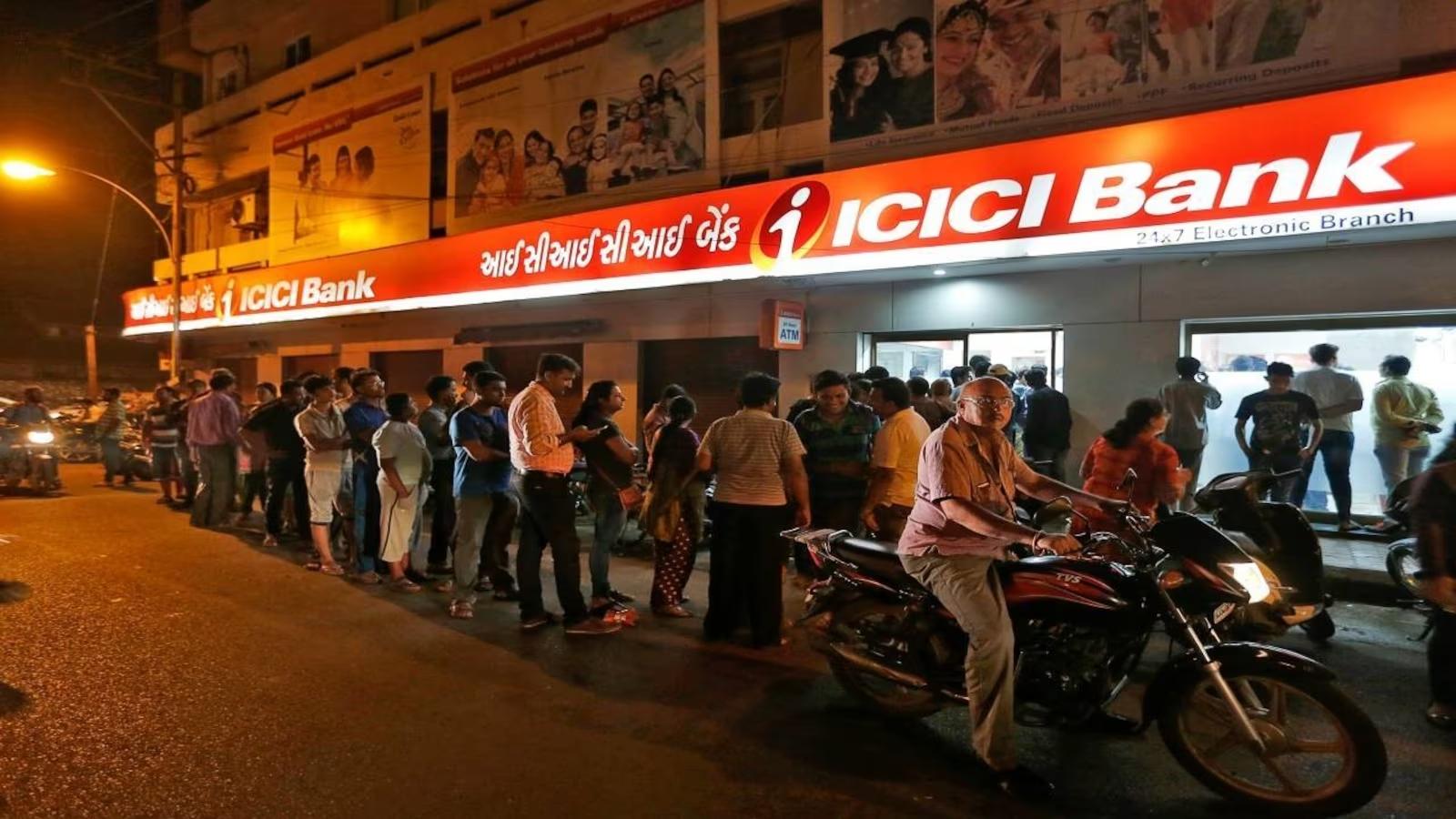 ICICI Bank has announced that it has secured approval from the Reserve Bank of India (RBI) to convert I-Process Services (India) Pvt Ltd (I-Process) into a wholly-owned subsidiary, subject to specific conditions, according to the Bank's latest regulatory disclosure.
Established in 2005, I-Process has been at the forefront of offering staffing solutions to some of India's leading financial institutions. The company boasts a workforce of over 25,000 employees and an extensive presence spanning nearly 500 locations across India.
The anticipated total expenditure for this acquisition is approximately Rs. 15.40 crore. However, this amount is subject to finalization based on pricing considerations in accordance with applicable laws and regulations, pending the receipt of the necessary approvals. The Bank has noted that it currently holds a 19% stake in iProcess.
5.RBI likely to launch digital rupee pilot for interbank transactions by October: Report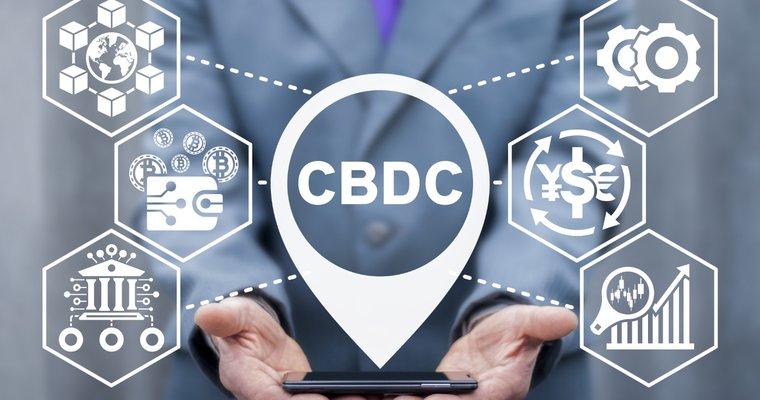 The Reserve Bank of India (RBI) is gearing up to launch a pilot program for the Central Bank Digital Currency (CBDC), commonly referred to as the Digital Rupee. This initiative is expected to facilitate interbank transactions, specifically in the call money market, and is set to kick off around October.
The decision to extend the wholesale CBDC to the call money market aims to experiment with various markets and technologies. This move is in line with the government's vision to introduce CBDC, as outlined in the Union Budget for 2022-23. To facilitate this, necessary amendments were made to the RBI Act 1934 through the Finance Bill 2022.
The RBI introduced two versions of the Digital Rupee: CBDC-Wholesale (CBDC-W) and CBDC-Retail (CBDC-R). CBDC-W is designed for limited access, available exclusively to select financial institutions. On the other hand, CBDC-R is intended for broader usage, including private sector entities, non-financial consumers, and businesses.
Important Days News
6.Himalaya Diwas 2023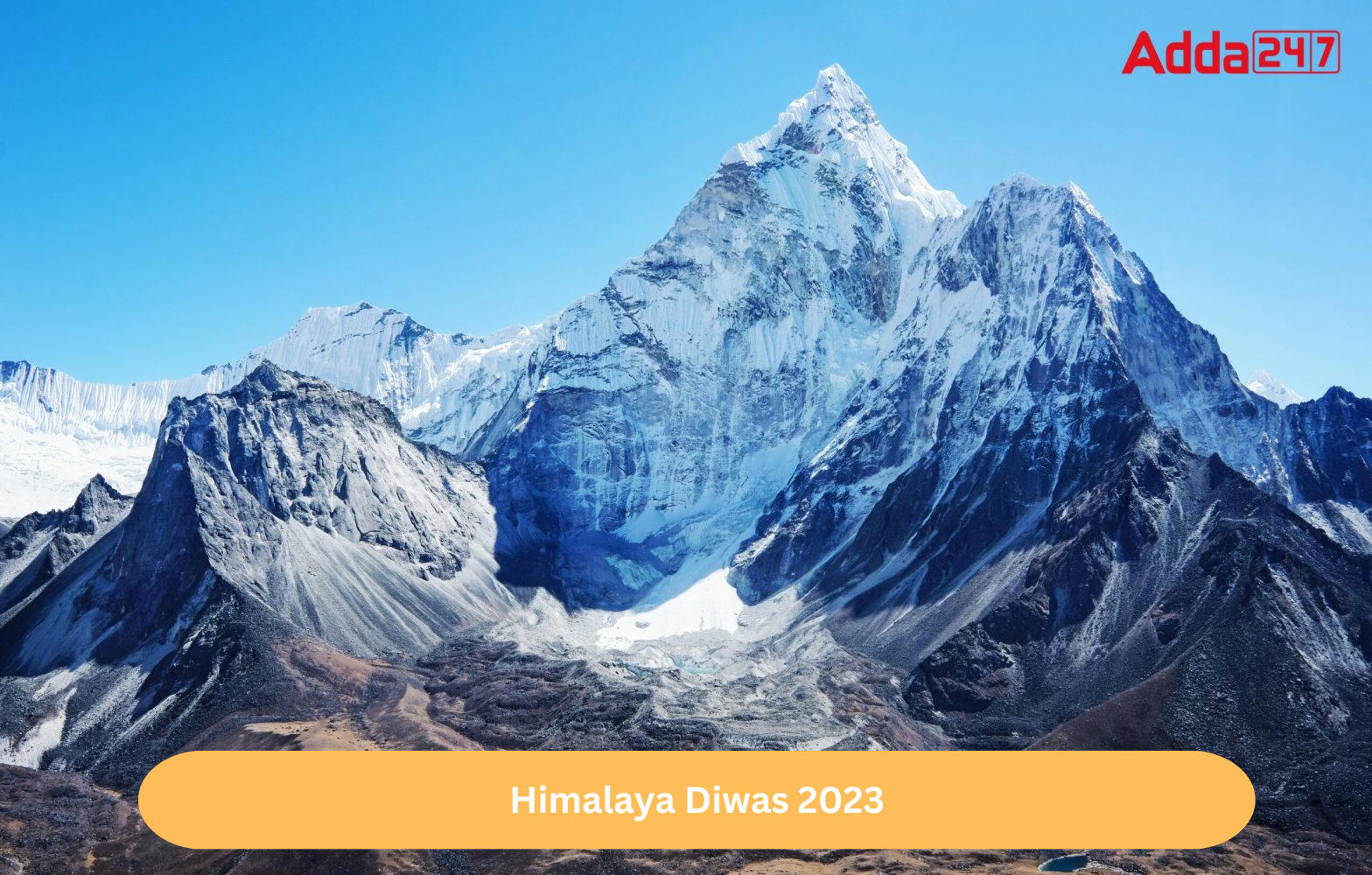 Himalaya Day or Himalaya Diwas is celebrated every year on 9 September with an aim to preserve the Himalayan ecosystem and region. This day is celebrated to mark the importance of the Himalayas.
9th September was officially declared as Himalaya Day by the then chief minister of Uttarakhand, Harish Rawat, in 2014. Himalaya Day is also an excellent day to raise awareness among the general public and bring about community participation in conservation activities.
7.Suicide Prevention Awareness Day 2023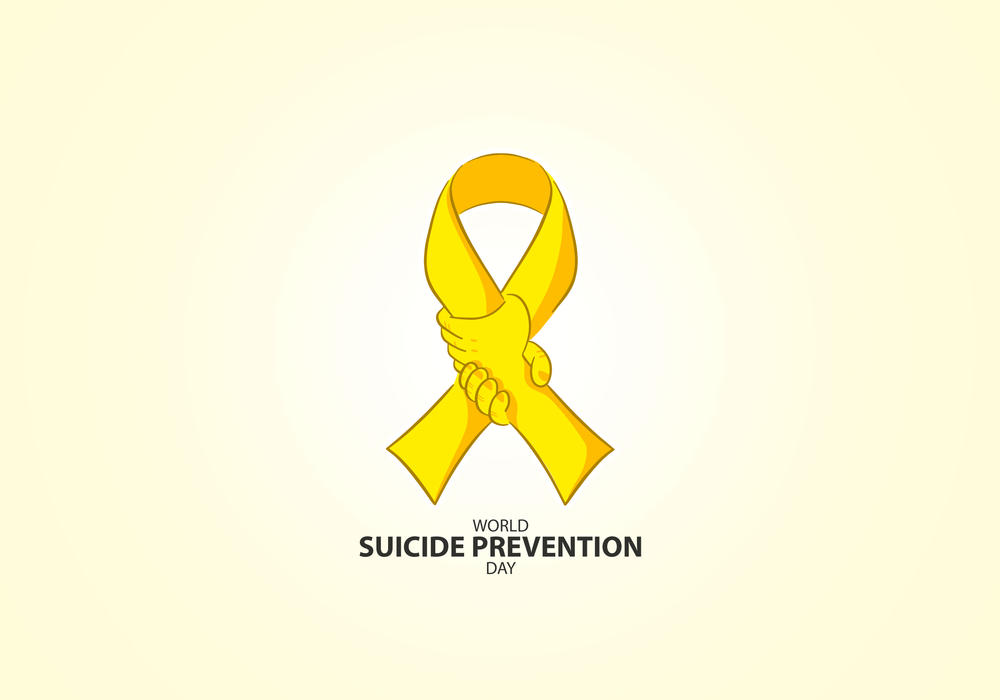 Every year, World Suicide Prevention Day is celebrated on September 10. The day is dedicated to educate and aware people about the measures to prevent the suicides that are currently increasing at an alarming rate across the globe.
The theme of World Suicide Prevention Day 2023 is "Creating Hope Through Action". International Association for Suicide Prevention with the World Health Organization (WHO) established World Suicide Prevention Day to be celebrated every year on September 10
According to the World Health Organization (WHO), "It is estimated that there are currently more than 700 000 suicides per year worldwide. The 10 September each year aims to focus attention on the issue, reduces stigma and raises awareness among organizations, governments, and the public, giving a singular message that suicides are preventable.
8.World EV Day 2023
On September 9, as the global community and India celebrate 'World EV Day'. The year 2023 has established a powerful message for India and the world, it is a message of sustainable transportation and a cleaner future, free of carbon emissions.
World EV Day is an annual event celebrated on September 9 to raise awareness about the benefits of electric vehicles (EVs) and to promote their adoption. The first World EV Day was held in 2020, and it has been growing in popularity ever since.
EVs are a key part of the solution to climate change and air pollution, and World EV Day is a great opportunity to learn more about them and to take action to make the world a cleaner and healthier place.
9.National Forest Martyrs Day 2023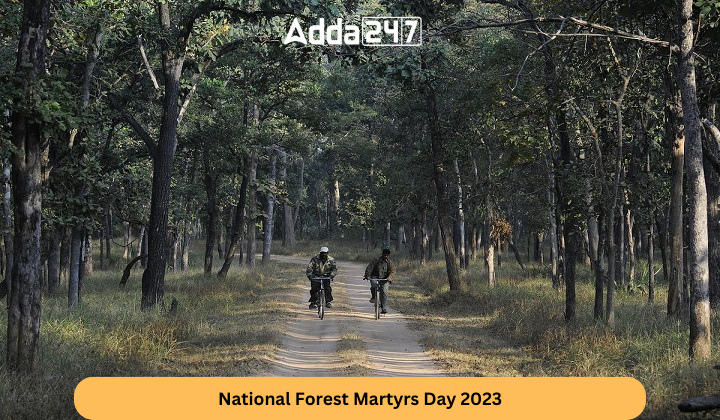 National Forest Martyrs Day is observed on September 11 in India. This day is a tribute to those who laid down their lives in the line of duty, defending the forests and wildlife that are important for the well-being of our planet.
The Day is an important day to remember the sacrifices made by forest officers and personnel in protecting our forests and wildlife. It is also a day to reaffirm our commitment to conserve these precious natural resources.
National Forest Martyrs Day honours and recognises the sacrifices made by forest guards, rangers, and other personnel who have lost their lives in the line of duty. This day emphasises the importance of forest conservation. It serves as a reminder that forests are not just a collection of trees but complex ecosystems that support many species, maintain ecological balance, and also provide many benefits to humans.
Summits and Conferences News
10.Next G20 Presidency: PM Modi hands over G20 Presidency gavel to Brazil's President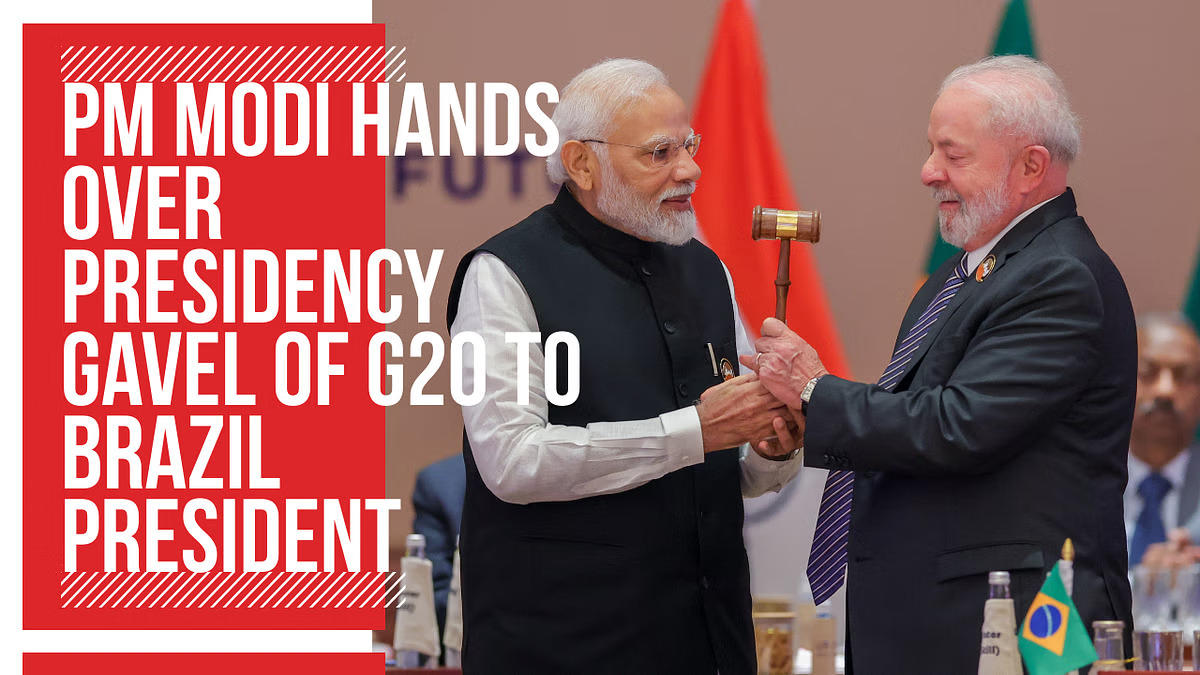 Indian Prime Minister Narendra Modi handed over the G20 Presidency gavel to Brazil's President, marking the transition of leadership within the elite group. The transfer of power took place with warm diplomatic exchanges, emphasizing the importance of cooperation and shared priorities.
During the handover ceremony, President Lula da Silva outlined the priorities that Brazil would focus on during its G20 Presidency. These included Social Inclusion and Fight Against Hunger: Highlighting the importance of addressing social inequalities and hunger on a global scale. Energy Transition and Sustainable Development: Emphasizing the need for a sustainable approach to energy and overall development. Reform of Global Governance Institutions: Advocating for greater representation of emerging countries in organizations like the UN Security Council, World Bank, and IMF.
Ranks and Reports News
11.Indore Tops Swachh Vayu Sarvekshan 2023 Clean Air Survey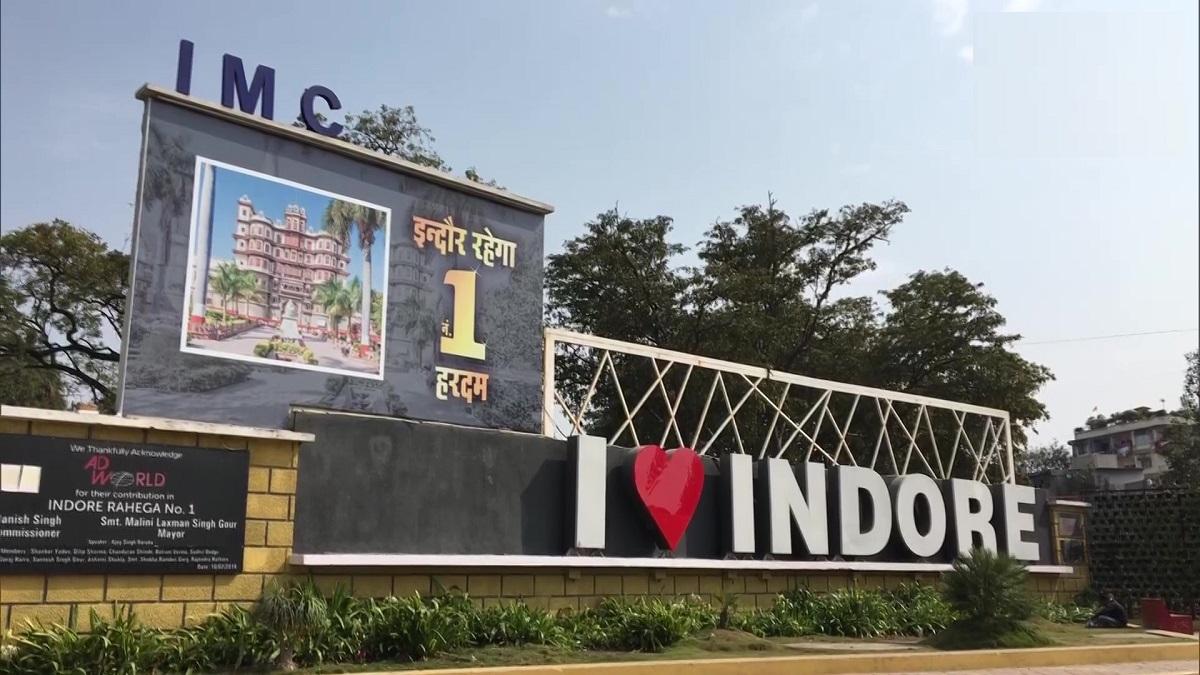 The recently released Swachh Vayu Sarvekshan 2023 (Clean Air Survey) report, conducted by the Central Pollution Control Board, reveals that Indore, Amravati, and Parwanoo boast the cleanest air in India.
In cities with a population exceeding one million, Indore secured the top spot, followed by Agra and Thane. Bhopal, a notable performer, stood fifth, while the national capital, Delhi, claimed the ninth spot.
However, Madurai, Jammu, and Kohima face significant challenges in terms of air quality. According to the report, these cities rank the lowest, highlighting the urgent need for targeted interventions to address their air pollution issues.
Agreements News
12.IIM Indore and NSDC Partner to Transform Skill Development and Entrepreneurship in India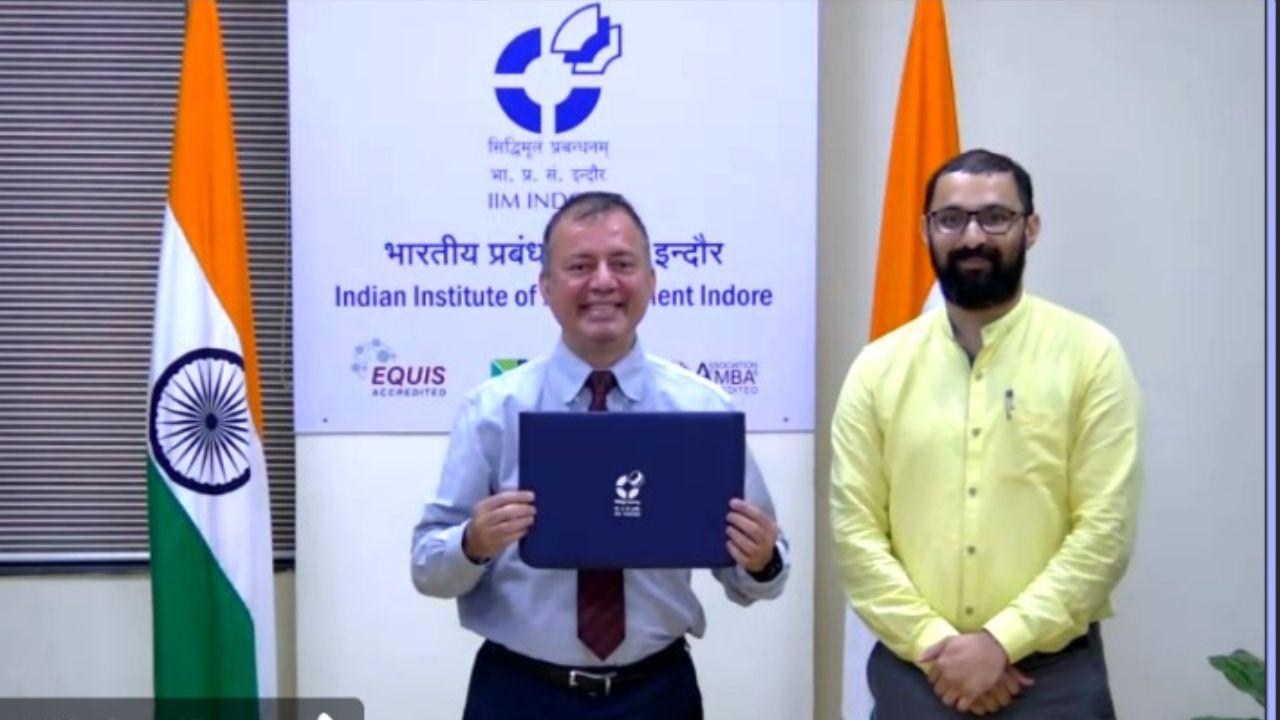 In a significant stride towards advancing skill development and entrepreneurship in India, the prestigious Indian Institute of Management Indore (IIM Indore) has forged a strategic partnership with the National Skill Development Corporation (NSDC).
This alliance seeks to redefine skill development, entrepreneurship, and research in India, aligning the visions of both institutions and leveraging their collective strengths to reshape the nation's skilling ecosystem.
This initiative will provide IIM Indore students with opportunities to engage in social internships, actively participating in rural marketing, promoting Self-Help Groups (SHGs) and cooperatives, and catalyzing social change.
Sports News
13.SAFF U16 Championship Final: India Crowned Champions After Beating Bangladesh In Final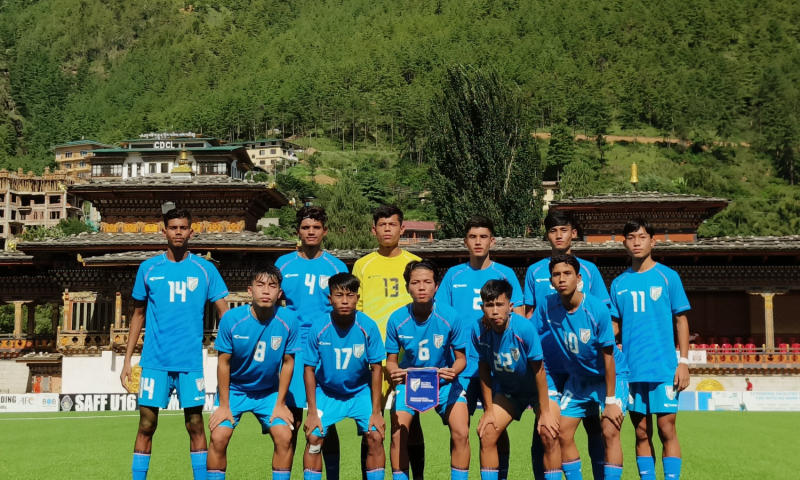 India secured the championship title by triumphing over Bangladesh with a 2-0 victory in the final match of the SAFF U-16 Championship 2023, which took place on September 10 at the Changlimithang Stadium in Thimphu, Bhutan.
Under the guidance of head coach Ishfaq Ahmed, the Blue Colts claimed the top position in Group A. They secured hard-fought 1-0 victories against Bangladesh and Nepal, followed by a commanding performance that saw them net eight goals against the Maldives in the semifinals.
14.Prathamesh Jawkar Signs Off With Silver In The 2023 Archery World Cup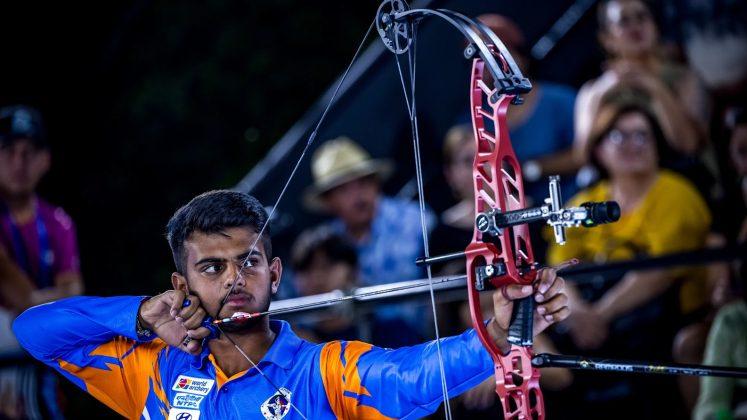 During the 2023 Archery World Cup Final held in Hermosillo, Mexico, Prathamesh Jawkar, the Indian compound archer, embarked on a memorable journey in his first-ever World Cup Final appearance. He clinched a silver medal as Jawkar's incredible run in the competition concluded with a thrilling face-off against Denmark's Mathias Fullerton.
In the final between Jawkar and Mathias Fullerton the match was locked up with both archers scoring a perfect 10-10 in the final round. However, it was Fullerton who clinched the gold medal, thanks to the narrowest of margins—a measurement that revealed his arrow was closer to the center.
Another Indian archer, Abhishek Verma, also competed at the World Cup Final and had his sights set on a podium finish. However, his hopes were dashed in the bronze medal playoff, where he faced off against Mike Schloesser who emerged victorious with a score of 150-149.
15.Praggnanandhaa Finishes Third, Grischuk Takes Open Blitz Title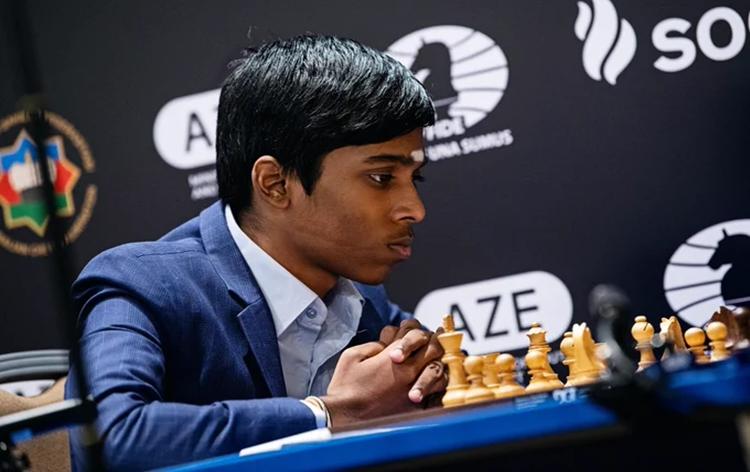 At the 2023 Tata Steel Chess India tournament held in Kolkata, R Praggnanandhaa from India achieved an impressive third-place finish, establishing himself as the leading Indian contender. In the Open Blitz category, world champion Alexander Grischuk exhibited his dominance by securing the top position, while Arjun Erigaisi secured the second-best position among Indian participants, securing fourth place in the Chess tournament.
Former world Rapid champion Nodirbek Abdusattorov finished the tournament with three points, tying with Praggnanandhaa. Abdusattorov secured a crucial win over Vidit Gujrathi, which allowed him to edge past the Indian sensation on tiebreaks.
16.Basketball Germany beat Serbia to win World Cup for first time
Germany beat Serbia 83-77 to lift basketball's 2023 FIBA World Cup. Germany went 8-0 in the tournament, becoming the fifth consecutive World Cup champion to go unbeaten. The tournament most valuable player Dennis Schroder carried Germany with a game-high 28 points, way above his average of 17.9 points per game, and added two rebounds and two assists.
The 2023 FIBA Basketball World Cup was the 19th tournament of the FIBA Basketball World Cup for men's national basketball teams. The tournament was the second to feature 32 teams and was hosted by multiple nations for the first time in its history—the Philippines, Japan, and Indonesia—from 25 August to 10 September 2023.
Miscellaneous News
17.J&K L-G inaugurates Bangus Valley Festival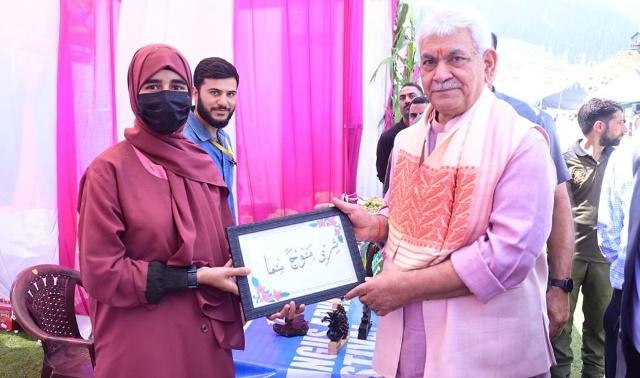 In a significant development, Jammu and Kashmir's Lieutenant Governor, Manoj Sinha, inaugurated the much-anticipated Bangus Valley Festival in the picturesque Kupwara district. The festival's primary objective is to shed light on the untapped rural and adventure tourism opportunities within the Bangus Valley.
This festival promotes the rich tribal culture of this offbeat destination. Furthermore it provides a valuable platform for local artisans to exhibit their traditional arts and crafts, contributing to the preservation and propagation of indigenous heritage.
Obituaries News
18.Dennis Austin, software developer who created PowerPoint, passes away at 76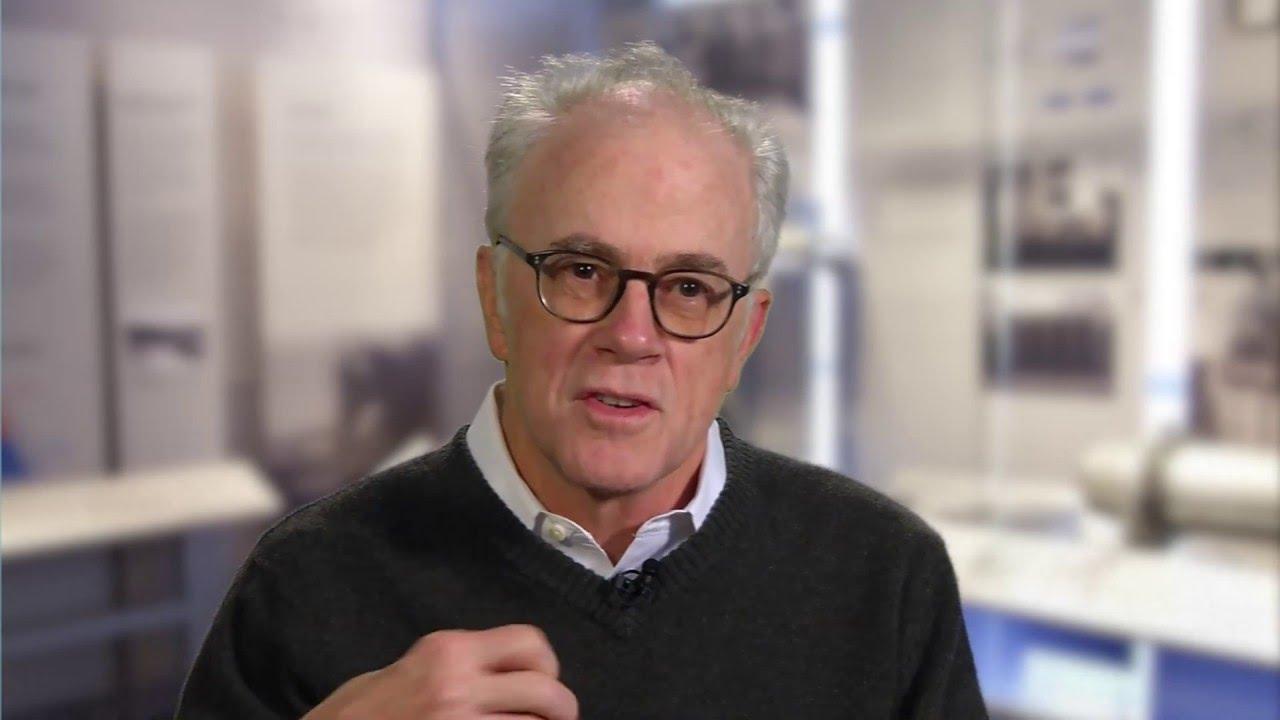 Dennis Austin, one of the two creators of Microsoft PowerPoint, passed away at the age of 76. Austin created PowerPoint with Robert Gaskins and released it in 1987. The pair of software developers were part of software company Forethought, which was acquired by Microsoft for $14m months after PowerPoint, then called Presenter was launched.
Dennis R. Austin was the principal software developer for PowerPoint from 1985 to 1996, particularly its versions for Apple Macintosh computers. Austin first encountered computers in high school at a summer program at the Carnegie Institute of Technology. His interest in programming languages and compilers deepened during his undergraduate engineering studies at the University of Virginia in the late 1960s.
Important Current Affairs of 11 September 2023
Get all the International, National, Sports, Economy, latest schemes and appointments and current affairs updates with Adda247 Headlines of the day. Adda247 headlines of the day brings you the best accumulation of the daily updates. Stay updated with us!