Dear Aspirants,
The General Awareness Section
plays an important role in scoring well above cut off marks in any competitive exam. The
Banking Awareness and Static Awareness questions asked in the General Awareness Section are based on Current Affairs mainly.
So you need to prepare well this section to score good marks.
Here is the Daily GK Update to get you acquainted with the top events that made the headlines today!!
National News
1. PM Modi Flagged Off 1st Ever Diesel To Electric Conversion Locomotive
i. Under 'Make in India' initiative, Indian Railways has created history by converting a diesel locomotive into electric locomotive for the first time in the world. This all new converted energy-efficient electric locomotive has been flagged off by PM Narendra Modi in Varanasi.
ii. In a first of its kind notable initiative, the diesel locomotive which has been converted to electric locomotive by the Diesel Locomotive Works (DLW) in Varanasi. The entire project is an Indian R&D innovation for the entire world, says Indian Railways.
2. Saudi Becomes 73rd Nation To Sign International Solar Alliance
i. Saudi Arabia became the 73rd nation to sign the International Solar Alliance. ISA was unveiled by PM Narendra Modi and former French President Francois Hollande in 2015.
ii. The move came at Saudi Arabia's Crown Prince Mohammed bin Salman visit to India.

3. Tourism Minister K.J. Alphons Inaugurated 'Eco Circuit' Project in Kerala
i. K.J. Alphons, Union Minister for Tourism inaugurated the project 'Development of Eco Circuit: Pathanamthitta – Gavi – Vagamon – Thekkady' under the Swadesh Darshan scheme of Ministry of Tourism at Vagamon, Kerala.
ii. This Eco Circuit project was sanctioned in December 2015 for Rs. 76.55 crores. Major works carried out under the project includes Eco Adventure Tourism Park at Vagamon, Cultural Centre at Kadamanitta.
4. Textiles Minister Launched 4 Projects in North-East For Development Of Silk Sector
i. Union Minister of Textiles, Smriti Zubin Irani, launched four projects in North East for the development of silk sector through video conference in New Delhi.
ii. Smriti Zubin Irani inaugurated Muga silk seed production centre in Tura, Meghalaya, silk printing and processing unit in Agartala, Tripura, Eri spun silk mill in Sangaipat, Imphal and development of sericulture in Mamit, Mizoram.
Static/Current Takeaways Important For NIACL AO Mains Exam:
Assam is the 1st state nationalized (1950) in India among North-East states.
5. Commerce Minister Launched 'SWAYATT' on GeM
i. Union Minister of Commerce & Industry and Civil Aviation, Suresh Prabhu, launched SWAYATT in New Delhi. SWAYATT is an initiative to promote Start-ups, Women and Youth Advantage Through eTransactions on Government e Marketplace (GeM).
ii. On this occasion, Commerce Minister also dedicated GeM Start-up Runway-an initiative of GeM in association with Start-up India to facilitate Start-ups registered with Start-up India to access the public procurement market and sell innovative products and services to government buyers.
Static/Current Takeaways Important For NIACL AO Mains Exam:
Radha Chauhan is the CEO of Government e Marketplace (GeM).
6.
Development Projects Worth Rs. 3350 crores Unveiled by PM in Varanasi
i. The Prime Minister, Narendra Modi unveiled development projects worth Rs. 3350 crores for Varanasi, Uttar Pradesh. These projects pertain to various sectors of Health, Sanitation, Smart City, Connectivity, Power, Housing and others.
ii. He released commemorative postage stamp on completion of 100 Years of IIT BHU. He also inaugurated BHU Cancer Centre and Bhabha Cancer Hospital, Lahartara.
Static/Current Takeaways Important For NIACL AO Mains Exam:
Governor of UP: Ram Naik, CM of UP: Yogi Adityanath.
7. Important Cabinet Approvals: 19th February 2019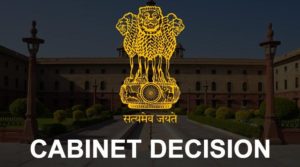 i. The Union Cabinet chaired by Prime Minister Narendra Modi has given the following set of approvals. The important Cabinet Approvals are given as follows:
ii. The Cabinet has approved-
1. Promulgation of the Banning of Unregulated Deposit Schemes Ordinance, 2019.
2. The release of an additional instalment of DA to Central Government employees and DR to Pensioners, due from 1.1.2019.
Sci-Tech News
8. India's First Hi-Tech Forensic Lab NCFL and CyPAD Inaugurated In New Delhi
i. Cyber Prevention Awareness and Detection (CyPAD) Centre and the National Cyber Forensic Lab (NCFL) were inaugurated by Union Home Minister Rajnath Singh and LG Anil Baijal in Dwarka, New Delhi.
ii. To spread awareness among school students and teachers, the Ministry of Home Affairs (MHA) has started a popular Twitter handle @CyberDost.
9. Bandicoot-A Drainage-Cleaning Robot Introduced In Chennai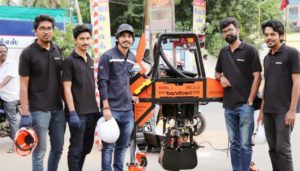 i. Bandicoot, a drainage-cleaning robot, has been introduced for the first time in India at the Kumbakonam city corporation as part of efforts to rid of manual scavenging at the cost of Rs 18 lakh in Chennai, Tamil Nadu.
ii. It is a semi-automatic robot can enter manholes for cleaning sewage lines with its robotic arm and is equipped with 5 night-vision cameras to relay the scenario underneath.
Business/Banking News
10. HDFC ERGO Launched 1st-of-its-kind Trip Protector' Policy
i. HDFC ERGO General Insurance Company, India's third-largest non-life insurance provider in the private sector, announced the launch of 'Trip Protector' insurance policy, a pioneering policy in the non-life insurance segment in India.
ii. In the event of a cancellation, either a flight or hotel booking, Trip Protector insurance policy will safeguard travelers financially against the cost of cancellation levied by Hotels or Airlines.
Static/Current Takeaways Important For NIACL AO Mains Exam:
HDFC ERGO General Insurance Company is a 51:49 joint venture between the Housing Development Finance Corporation Ltd. (HDFC) and ERGO International AG.
11. Government Relaxes Angel Tax Norms For Start-ups From 7 Years To 10 Years
i. The Ministry of Commerce and Industry in an attempt to provide relief to and boost investments into start-ups in India has decided to simplify the process for them to get exemptions under the Income Tax Act, 1961.
ii. It will now recognize an entity as a start-up up to 10 years from the date of its incorporation or registration instead of the existing duration of 7 years. It will also recognize an entity as a start-up if its turnover for any of the financial years since its incorporation or registration does not exceed Rs 100 crore unlike the previous amount of Rs 25 crore.

Important Days



12. World Day of Social Justice: 20 February
i. The World Day of Social Justice is celebrated annually all over the world on 20 February.
ii. The theme for WDSJ 2019 is "If You Want Peace & Development, Work for Social Justice".

Awards
13. 7th National Photography Awards Announced: Complete List of Winners
i. Union Minister of State (IC) for Information & Broadcasting and Youth Affairs & Sports Col. Rajyavardhan Rathore presented the 7th National Photography Awards in a function organized at National Media Centre in New Delhi.
ii. The theme for the Professional category was "Women led Development", while the theme for Amateur category was "Fairs and Festivals of India".
iii. The list of the Award winners is as under:
Lifetime Achievement Award –

Shri Ashok Dilwali

Professional Photographer of the Year –

Shri SL Shanth Kumar

Amateur Photographer of the Year –

Shri Gurdeep Dhiman

Special Mention Awards (Professional) –

Shri Arun Sreedhar, Shri P.V. Sunderrao, Shri Kailash Mittal, Shri Mihir Singh, Ms. Ranita Roy.

Special Mention Awards (Amateur) –

Shri V. Ravi Kumar, Ms. S. Neelima, Shri Manish Jaisi, Shri Mahesh Balasaheb Lonkar, Shri Avijit Datta.
Sports News
14. Squash Great Nicol David Announces Retirement
i. Malaysia's 8-time World Champion Nicol David has announced that she will call time on her record-breaking career at the end of the 2018/19 season.
ii. The 35-year-old from Penang is one of the most successful squash players of all time and spent an unprecedented 9 years at World No.1 between 2006-2015.
Obituaries

15. Noted Hindi Writer Namvar Singh Passes Away
i. Noted Hindi writer Namvar Singh passed away in New Delhi. He was 92. Singh was the first chairman of JNU's Centre of Indian Languages.
ii. He has authored over dozen books including 'Kavita Ke Naye Pratiman', 'Chhayavad' and 'Dusri Parampara Ki Khoj' among others. He received Sahitya Academy Award for literary criticism in 1971 for 'Kavita Ke Naye Pratiman'.

16. 'Badge of Honor' Military Novelist, W.E.B. Griffin Passes Away
i. American military veteran and novelist, William E. Butterworth III, better known as W.E.B. Griffin (his pen name), passed away at the age of 89. He joined the army at the age of 17 and has served in the Korean War.
ii. He wrote more than 200 books under the pen name W.E.B. Griffin and various other names and sold millions of copies.

You may also like to Read: