Dear Aspirants,
The General Awareness Section
plays an important role in scoring well above cut off marks in any competitive exam. The
Banking Awareness and Static Awareness questions asked in the General Awareness Section are based on Current Affairs mainly.
So you need to prepare well this section to score good marks.
Here is the Daily GK Update to get you acquainted with the top events that made the headlines today!!
National News
1. India Hosts '4th Global Digital Health Partnership Summit'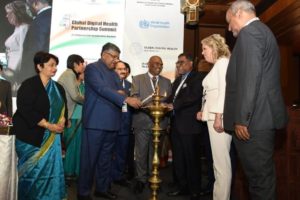 i. J P Nadda, Union Minister of Health and Family Welfare inaugurated the '4th Global Digital Health Partnership Summit' in New Delhi, in the presence of Ravi Shankar Prasad Union Minister of Law & Justice and Electronics & Information Technology.
ii. The global intergovernmental meeting on digital health is being hosted by the Ministry of Health and Family Welfare in collaboration with the World Health Organization (WHO) and the Global Digital Health Partnership (GDHP).
2. Bihar Becomes The 1st State To Deploy Dog Squad To Check Liquor Smuggling
i. Bihar has become the first state to deploy specially-trained dogs to check smuggling of liquor which continues to take place inspite of the total ban imposed in the state for the last 3 years. 20 liquor-tracker dogs were trained rigorously for nine months in Hyderabad, Telangana.
ii. They were trained at Hyderabad-based Integrated Intelligence Training Academy. Patna will witness deployment of 4 such dogs.
3. Tamil Nadu Becomes 1st State in Mainland to Get 2 Coast Guard Districts
i. Tamil Nadu became the first state in the country to get a second Coast Guard district headquarters – Thoothukudi. The first district headquarters is Chennai.
ii. Inaugurated by state Governor Banwarilal Purohit, the Thoothukudi district headquarters has been set up with an aim to augment security mechanism on the eastern coast and the state in particular.
4. Indian Government Launched Rail Drishti Dashboard
i. Railway Minister Piyush Goyal launched Rail Drishti Dashboard in New Delhi.
ii. The dashboard has been launched to keep people informed about the work going on in the Railways across the country.
International News
5. Zimbabwe Starts Trading New Currency RTGS dollar
i. Zimbabwe started to trade its new currency, the RTGS dollar, two days after the central bank announced measures to try and resolve a chronic monetary crisis.
ii. The new currency replaces electronic bank savings called digital dollars and the bond notes and was named after the real-time gross settlement system that banks use to transfer money between each other.
Static/Current Takeaways Important For NIACL AO Mains Exam:
Zimbabwe Capital: Harare, President: Emmerson Mnangagwa.
6. Women's Livelihood Bond Launched By World Bank, UN And SIDBI
i. World Bank, United Nations Entity for Gender Equality and the Empowerment of Women (UN Women), and Small Industries Development Bank of India (SIDBI) launched new social impact bonds exclusively for women, called Women's Livelihood Bonds (WLBs), with an initial corpus of Rs 300 crore.
ii. It will enable individual women entrepreneurs in sectors like food processing, agriculture, services, and small units to borrow around Rs 50,000 to Rs 3 lakh at an annual interest rate of around 13% to 14% or less and have a tenure of 5 years. They will be unsecured, unlisted bonds and offer a fixed coupon rate of 3% per annum to bond investors.
Static/Current Takeaways Important for NIACL AO Mains Exam:
World Bank Interim President: Kristalina Georgieva, Headquarters: Washington D. C.
SIDBI Chairman & Managing Director: Mohammad Mustafa Headquarters: Lucknow.
UN Women Executive Director: Phumzile Mlambo-Ngcuka, Headquarters: New York.

7. India To Attend OIC Meet for 1st Time in Abu Dhabi
i. External Affairs Minister Sushma Swaraj has been invited to deliver an address at the Organisation of Islamic Cooperation (OIC) in Abu Dhabi. This is the first time that a leader of the non-Muslim country has been invited to the OIC conference.
ii. Mrs Swaraj will be the Guest of Honour and address the inaugural plenary of the 46th Session of the Council of Foreign Ministers of OIC on the 1st and 2nd of March.
Static/Current Takeaways Important For NIACL AO Mains Exam:
Abu Dhabi is the capital city of the UAE.
8. Donald Trump Signs SPD-4 To Create US Space Force
i. US President Donald Trump signed Space Policy Directive-4 (SPD-4), ordering the Pentagon to establish the Space Force as the 6th branch of the United States military, to go along with the Army, Navy, Air Force, Marines, and Coast Guard, in order to secure and extend American dominance of the space domain.
ii. Donald Trump signs SPD-4 to create US Space Force SPD-4, as the name suggests, is Mr. Trump's 4th space policy directive. The initial 3 were:
SPD-1– Directed NASA to get humans back to the Moon as a stepping-stone to Mars.
SPD-2– Streamlined regulations for the commercial space sector.
SPD-3– Dealt with space traffic management.
9. Cobra Gold Military Exercises Held In Thailand
i. Thailand and the United States hosted the annual Cobra Gold military exercise, the biggest activity of its type in the Asia-Pacific region with 29 nations taking part as participants or observers. Apart from the 2 countries, 7 countries who participated in the exercise were India, Singapore, Japan, China, Indonesia, Malaysia and South Korea.
ii. The Indian Army participated in the military training exercise with a 14-member contingent. India participated in this exercise for the first time in the 'Observer Plus' category in 2016 alongside China.
Awards
i. The 91st Academy Awards (Oscars) has been announced at the Dolby Theatre in Hollywood, the USA.
ii. Rami Malek was named Best Actor in a Leading Role for 'Bohemian Rhapsody', while Olivia Colman won Best Actress Oscar for 'The Favourite' at the 91st Academy Awards.
iii. India-based 'Period. End of Sentence.' has won the Oscar for Best Documentary Short Subject.
11. Manpreet Singh Honoured With AHF's Player Of The Year
i. The Asian Hockey Federation has honored Indian skipper Manpreet Singh with the 2018 Player of the Year award. Women team's striker Lalremsiami has bagged the Rising Player of The Year prize.
ii. Manpreet led the Indian team to an unbeaten streak at the Asian Champions Trophy in Muscat where the team was declared joint winners with Pakistan.
Economy News
12. GST Council Reduces GST Rate on Real Estate Projects
i. The Goods and Services Tax (GST) Council met for its 33rd meeting and slashed GST rate on under-construction residential properties and the affordable housing projects.
ii. The revised rates will be applicable from April 1, 2019. The decision was based on recommendations of a Ministerial Panel headed by Gujarat Deputy Chief Minister Nitin Patel.
iii. Here are the revised GST rates:
In case of non-affordable houses, the GST rate for under-construction flats and houses has been brought to 5% without Input Tax Credit (ITC), down from the present 12%.
In case of affordable houses, the GST rate has been reduced to 1% without ITC from 8%.

You may also like to Read: