Dear Aspirants,
General awareness section is the most important part of every competitive exam, it can help you score well in the exam if you are updated with all the current news. Banking Awareness, Static GK and the current news are the parts that make the GA section complete. It is important to know what is happening in and outside of India. GK updates are incorporated with the important news that made the headlines today. It is the complete bag of the important news that held all day long. One should have complete knowledge about the banking terms, current affairs news, etc. So, here is the GK update of 26th September to help you prepare the Current affairs part. After reading this section, you can successfully attempt Current Affairs Quiz.
National
1. ADB cuts India growth forecast to 6.5% for 2019-20
The Asian Development Bank has slashed its growth forecast for India for fiscal  year 2019-20 to 6.5% from 7%.
The bank lowered the growth rate because of weaker growth in the first quarter due to a slowdown in consumption and investment activities that hit manufacturing and service sectors.
State News
2. J&K becomes first state to issue highest number of golden cards under Ayushman Bharat scheme
Jammu and Kashmir has become the first state in the country to issue the highest number of golden cards under Ayushman Bharat-Pradhan Mantri Jan Arogya Yojana (AB-PMJAY).
Over 11 lakh golden cards have been generated within the first 90 days of the launch of the scheme with 60% of families having at least one golden card which is highest in the country.
Under the scheme, 155 Hospitals including 126 public and 29 private hospitals have been empanelled to provide free and cashless treatment to the entitled beneficiaries while as per Socio-Economic Caste Census (SECC) 6.30 lakh poor and vulnerable families of J&K are entitled to it.
Static/Current Takeaways Important For RRB NTPC/IBPS RRB Mains:
Satya Pal Malik is the present Governor of Jammu & Kashmir.
Appointment
3. IMF elects Bulgaria's Kristalina Georgieva as its new chief
Bulgarian economist Kristalina Georgieva has been selected as the new Managing Director of the International Monetary Fund. She will succeed Christine Lagarde.
Kristalina Georgieva had previously served as the chief executive of the World Bank. She will also become the first person from an emerging economy to lead the IMF.
4. Adille Sumariwalla re-elected as member of IAAF Council
Adille Sumariwalla has been elected as the member of the International Association of Athletics Federations council.
He was elected for a 2nd 4 year term during the 52nd Congress of the sport's world governing body. He is presently serving as the president of the Athletics Federation of India (AFI).
Britain's Sebastian Coe

was also re-elected unopposed as

president

of the

IAAF

for a 2nd term.
5. Visa appoints PV Sindhu as brand ambassador
Payment technology company Visa announced that it has signed up world badminton champion Pusarla Venkata Sindhu (PV Sindhu) as its brand ambassador for two years.
Besides promoting the brand through advertising campaigns, Sindhu has also become an athlete member of Team Visa for the Olympic Games Tokyo 2020.
6. EC appoints Madhuri Dixit as goodwill ambassador for Maharashtra Assembly polls
Actor Madhuri Dixit has been chosen as "goodwill ambassador" by the Chief Electoral Office in Maharashtra to create awareness among people about the importance of voting.
She will be seen in a video titled 'Let's Vote" speaking about the democratic process and role of voters in the development of the country.
Defence
7. 23rd edition of "Malabar 2019" naval joint exercise of India, US and Japan
The 23rd edition of the trilateral maritime exercise of India, Japan and the United States(US) named "Malabar 2019" exercise begun at Sasebo, Japan.
India fields 6,100-tonne stealth frigate Indian Navy Ship(INS) Sahyadri, anti-submarine warfare corvette INS Kiltan along with the first-time deployment of Poseidon-8I long-range maritime patrol aircraft.
The United States fields Arleigh Burke-class destroyer United States Ship (USS) McCampbell, amphibious warship USS Green Bay and a Los Angeles class nuclear fast attack submarine, while Japan fields 27,000-tonne Izumo-class helicopter carrier JS Kaga, destroyer Samidare and cruiser Chokai.
Static/Current Takeaways Important For IBPS RRB Main 2019:
Chief of the Naval Staff: Admiral Karambir Singh.
Science and Technology
8. India International Science Festival to be held in Kolkata
The 5th edition of India International Science Festival (IISF) will be held in Kolkata from November 5-8. IISF is the largest science festival in the world.
The focus will be on youth to inspire and motivate them to learn real science in motion. The theme for this year's festival is 'RISEN India – Research, Innovation, and Science Empowering the Nation'.
The Department of Science & Technology (DST), Department of Biotechnology, Council for Scientific and Industrial Research (CSIR), Indian Council of Medical Research and the Ministry of Earth Sciences are major government sponsoring bodies for the event.
The IISF will also host 28 different events such as Agriculture Scientists' Meet, Vigyan Samagam, Young Scientists Conference, Vigyanika-International Science Literature Festival, International Science Film Festival of India.
Static/Current Takeaways Important For RRB NTPC/IBPS RRB Mains:
Minister of Science and Technology and Earth Sciences: Harsh Vardhan.
Schemes and Committees
9. Assam Govt launches "Aponar Apon Ghar" scheme
The Assam Government has launched a housing loan subsidy scheme "Aponar Apon Ghar". The scheme was launched to provide financial assistance on purchase or construction of the first house for a family.
The subsidy of up to Rs 250000 will be provided for loan amounts from Rs 5,00,000 to Rs 40,00,000. The above scheme is meant for the loan sanctioned in this financial year. The initiative is expected to provide impetus to the economy and led to the expansion of real estate in the state.
The state government also launched education loan interest subsidy wherein subsidy will be provided to children who have availed education loan for pursuing higher education. The one time subsidy will be of Rs 50,000.
Static/Current Takeaways Important For IBPS RRB PO Mains:
Assam Capital: Dispur; CM: Sarbananda Sonowal; Governor: Jagdish Mukhi.
Books and Authors
10. 'Professor Ayushman' comic book released by Ayush Ministry in New Delhi
A new comic book series 'Professor Ayushman' conceived by the National Medicinal Plants Board(NMPB) was unveiled by the Ayush ministry in New Delhi.
This book will raise awareness in children about the importance of medicinal plants and their usage. This book is available for free and could be bought by schools approaching NMPB.
Static/Current Takeaways Important For IBPS RRB Main 2019:
Minister of State (Independent Charge) of the Ministry of AYUSH: Shripad Yesso Naik.
Sports
11. Advani-Mehta pair wins "IBSF World Snooker" title
The Indian team of Pankaj Advani and Aditya Mehta to win the "IBSF World Snooker" title.
India defeated Thailand in the team event to emerge World champions in the IBSF World snooker team event held in Mandalay, Myanmar.
12. P.T. Usha honoured with IAAF Veteran Pin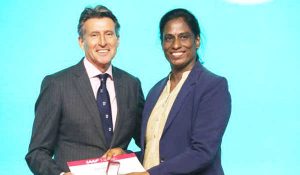 Indian track and field legend P. T. Usha was presented the Veteran Pin by the world athletics governing body, in recognition of her contribution to the growth of the sport.
International Association of Athletics Federations (IAAF) chief Sebastian Coe presented her the Veteran Pin during the 52nd IAAF Congress.
P. T. Usha won five gold medals 100m, 200m, 400m, 400m hurdles and the 4x400m relay besides a bronze at the 1985 Asian Games in Jakarta.
Her most memorable performance came in the 1984 Los Angeles Olympics where she became the first Indian to reach the finals of the 400m hurdles but lost the bronze by one-hundredth of a second.
Obituaries
13. Telugu actor Venu Madhav passes away
Telugu film actor Venu Madhav passed away. He was popular as a mimicry artist.
He entered the film industry through the film 'Sampradayam' directed by SV Krishna Reddy in 1997.
His other popular films include 'Toli Prema', 'Dil', 'Laxmi', 'Simhadri', 'Chathrapathi'. His last film was Rudramadevi'.
Important Days
14. International Day for the Total Elimination of Nuclear Weapons: 26 September
The United Nations observes 26 September every year as the International Day for the Total Elimination of Nuclear Weapons.
The day provides an occasion for the world community to reaffirm its commitment to global nuclear disarmament as a priority.
It provides an opportunity to educate the public – and their leaders – about the real benefits of eliminating such weapons, and the social and economic costs of perpetuating them.
Static/Current Takeaways Important For IBPS RRB Clerk Mains:
Headquarters of United Nations: New York, USA; Founded: 24 October 1945.
Secretary General of the United Nations: Antonio Guterres.
15. World Maritime Day: 26 September
The United Nations observes 26 September every year as the World Maritime Day.
This year the theme for the day is: Empowering women in the maritime community.
The theme for this years' World Maritime Day provides an opportunity to raise awareness of the importance of gender equality, in line with the United Nations' Sustainable Development Goals, and to highlight the important yet under-utilized contribution of women within the maritime sector.
Static/Current Takeaways Important For IBPS RRB Clerk Mains:
Headquarters of United Nations: New York, USA; Founded: 24 October 1945.
Secretary General of the United Nations: Antonio Guterres.
Miscellaneous
16. Agriculture Minister launches CHC Farm Machinery and KrishiKisan App
Union Minister for Agriculture and Farmers Welfare launched 2 mobile apps named CHC Farm Machinery and KrishiKisan App for geotagging purposes in for easy access of technical agricultural equipment at farmers' doorstep.
The government launched a multilingual app-based service CHC Farm Machinery for Custom Hiring Centres (CHCs). This service will facilitate local farmers with the use of shared resources including tractors and other farm machinery at affordable prices.
Through KrishiKisan App, the farmer will be provided with information about high-yielding crops and seeds in their nearby area. It helps in geo-tagging and geo-fencing of crop and also gives weather forecast messages to farmers.
Static/Current Takeaways Important For IBPS RRB Main 2019:
Union Minister for Agriculture and Farmers: Narendra Singh Tomar.
Learn Current Affairs with ADDA247 Youtube Channel. Check out the video below.
You may also like to Read: