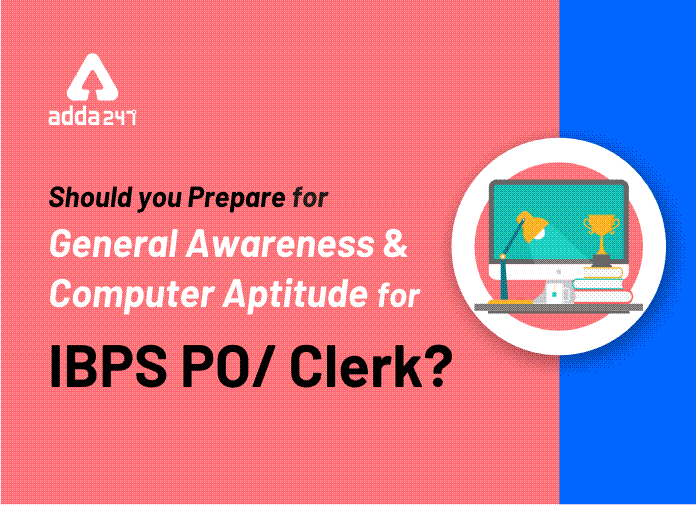 The banking examination season is here. With the onset of October, we have different examination lined up in a row. Aspirants who are aspiring to pursue their career with banking sector must be feeling bewildered because of the lack of right guidance. The IBPS PO exam for preliminary is to be held on 12th and 19th October 2019. The IBPS PO notification 2019 was released in the month of August. Aspirants who are appearing for IBPS PO exam must have done their preparation till now. The IBPS PO previous year's paper reveals that level of difficulty is increasing day by day. How an aspirant should ace this exam is a question that strikes every aspirant in the first go. In this article, we have talked about the portion of GA (general awareness) and computer aptitude and their importance.

IBPS PO exam can be aced through having a grasp into IBPS PO syllabus and IBPS PO previous year papers. The IBPS PO question paper are moderate in level. But these days as per the trend, we can not skip a single step to get through as the competition and uncertainity is increasing with every year. The IBPS PO prelims exam consist of quantitative aptitude, reasoning and english. However, IBPS PO mains exam consist of computer aptitude and general awareness in addition to the prelims subjects. So, when we talk about IBPS PO preparation tips, the thing to keep in kind should be strategizing your study plan for prelims as well as mains together.
Should I prepare for General Awareness and Computer Aptitude?
We know that prelims is approaching in few days. As an aspirant, you must be aware of the fact that mains exam are going to be held on 30th November which is not so far away. So candidates preparing for IBPS PO exam in general should prepare for GA hand in hand. General awareness section should be prepared with the prelims preparation. The IBPS PO preparation for prelims and mains should move in a parallel line.
As per IBPS PO previous year's paper, the general awareness is asked from static as well as current section. Mostly economics related current affairs are asked and that too from 6 months prior to the exam onwards. So, if you are planning to crack IBPS PO exam, you need to prepare GA section with the preparation of IBPS PO prelims. 
Coming to the Computer aptitude portion which is accompanied with reasoning aptitude in the IBPS PO mains exam pattern. However, according to the recent banking examination analysis, there is no question from computer aptitude in IBPS PO/ Clerk, SBI PO/ Clerk, etc. So, candidate need not to waste so much time over this portion. However, candidates should have general view and information of computer related aptitude. You can cover this section after prelims in a week or so. If you want to cover this section in short period without putting much efforts, you can click on the link given below:
Click here to get study notes for Computer Awareness
What to prepare for General Awarenes (GA) and Computer Aptitude is important?
According to the exam analysis of last two years, the general awareness section have both static and current affairs related questions. However, computer aptitude since last two years is absent. So, you can prepare accordingly. Here are some important topics for General Awareness that you must go through during IBPS PO preparation.
Topics for General Awareness
The general awareness section contains both current affairs and static questions. Here are few topics that you can go through while preparing for IBPS PO:
Current Affairs of last six months especially in reference to Banking Industry.
Questions on Indian Economy
International Economy
UNO
Indian Constitution Questions
Marketing
Awards & Honors
Sports
Finance
Agriculture
History of Banking
Countries & and their Currencies
Books & their Authors
Banking Terms
RBI Functions, Fiscal-Monetary Policies, etc.
IBPS PO Preparation Tips
IBPS PO needs a comprehensive strategy. Here are some IBPS PO preparation tips to get through the exam:
Go through the IBPS PO syllabus thoruoghly.
Solve and understand IBPS PO previous year papers.
Solve as many mock test as possible.
Revise as much as you can. Candidates who are appearing for the exam this year need to focus more on revision and should not anything new till the prelims exam.
Read newspaper daily to get general awareness update.
Read a monthly/weekly/daily gk update capsules/updates to help yourself.
Solve quiz daily to make through the tricky questions.
You may also like to read: