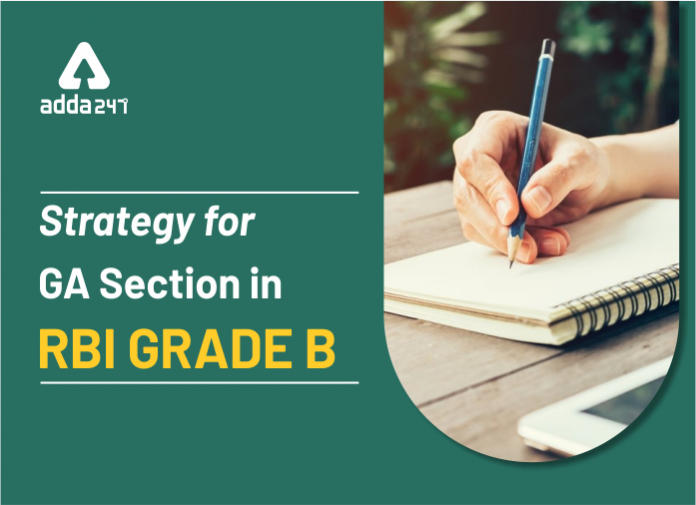 | Updated On November 4th, 2019 at 04:21 pm
RBI Grade B Notification 2019 is already out and the last day to apply online is over now. Candidates aspiring to pursue their career with Reserve Bank of India (RBI) must have started their preparation already. Only few days are left for the exam and it is necessary for the candidates to tie their race properly as it not going to be an easy task.


RBI Grade B exam is conducted in three stages: prelims, mains and interview. As per the official notification of RBI Grade B 2019, the prelims exam is to be held on 9th November 2019 while the mains exam is to be held on 1-2 December 2019. Unlike other banking exams, RBI Grade B exam pattern and RBI Grade B syllabus has a different outlook. This article is dedicated to deal with the preparation strategy for General Awareness (GA) for RBI Grade B officer exam. Before going into details, let us give you a brief intro about the RBI Grade B exam pattern.
RBI Grade B exam pattern 2019
We hav given a brief guide to the RBI Grade B exam pattern for prelims as well as mains. The prelims stage is objective as well as qualifying in nature. However, the marks of mains and interview is added to make the merit list.
RBI Grade B exam pattern for prelims
| | | |
| --- | --- | --- |
| Subject | No. Of Questions | Marks |
| General Awareness | 80 | 80 |
| Maths | 30 | 30 |
| English | 30 | 30 |
| Reasoning | 60 | 60 |
| Total | 200 | 200 |
RBI Grade B exam pattern for mains
| Name of the Paper | Type of the Paper | Time (Mins) | Marks |
| --- | --- | --- | --- |
| Paper I (Economic & Social Issues) | Objective Type | 90 | 100 |
| Paper II (English- Writing Skills) | Descriptive (to be typed with the help of keyboard) | 90 | 100 |
| Paper III (Finance & Management) | Objective Type | 90 | 100 |
There is penalty for every wrong attempts in RBI Grade B exam. 0.25 marks as a penalty is deducted. There is no penalty for unattempted questions.
General Awareness Preparation for RBI Grade B 2019
Preparation of RBI Grade B demands persistent hard work and dedication. To ace the exam, it is important for a candidate to look into the syllabus of RBI Grade B and previous year's paper. As prelims is aproaching shortly, we have given the General Awareness strategy to help you ace this section. The general awareness section has the highest weightage in the RBI Grade B officer exam. It  carries a total of 80 marks out of 200. Let's dig deep into the startegy.
The general awareness consist of two parts: static and current affairs. The static GA can not be prepared thoroughly but still you can make a go with some of the important topics nlike the banking thoery and Static ports. The current affairs section is the one that can be aced with regular news update that includes National, International Current Affairs and Economy current affairs.
General Awareness Important Topics
The general awareness is the most dynamic portion that requires daily plan. We have listed below important topic for RBI Grade B 2019 that can keep your focus on the exact areas demanded by the exam.
1. Current Affairs
National Current Affairs
International Current Affairs
Person in News/ Awards
Economy Current Affairs
Important organisations : SEBI, RBI
Credit rating Agencies: National & International
FDI limits in different sectors
Schemes launched by governments related to banking and finance
Export and Import Items
RBI Monetary Policy Review
Announcements made by RBI and other banks
Business News: Mergers Acquisitions and Buyouts.
2. Static Awareness
History of Banking in India: Which was the first bank to be setup in Madras province etc. Nationalization of Banks.
Organizations:RBI; NABARD; Planning Commission; 5 year plans; Finance Commission; World Bank
Reserve Bank of India's role in Indian banking system.
Economic/ Financial terms & concepts: GDP; GNP; PPP; HDI; Inflation; WPI; CPI; IIP; SLR; CRR; Repo rate; Reverse Repo; Bank rate; Mutual Funds, Open Market Operations; Money supply
Foreign Exchange reserves of India.
Different kind of accounts and corresponding interest rates
Non Banking Financial companies: Definition, Difference from bank etc.
NPA and SARFAESI
Acts, Committees & legislation: Budget 2016, Railway Budget 2016; Companies Bill 2013
Banking services: Assets, liabilities and working capital of a bank; NEFT; RTGS; Banking Correspondence agents;Bancassurance; Pradhan Mantri
Jan Dhan Yojana
BASEL norms
Financial Inclusion and various initiatives for it.
Types of Markets, Money and banking instruments
Reverse Mortgage Loans.
Priority Sector Lending.
Banking Abbreviations, terms and concepts.
Headquarters of Banks
RBI Grade B Preparation Tips
Although you may have made your own tips to deal with the exam. We are giving some tips to prepare for the exam:
Read newspaper daily.
Read last 5-6 months monthly magazines.
Make notes of important topics.
Revise everything as it can only help you in retaining the knowledge.
You may also like to read: