As we all are well aware that RBI Grade B exams are scheduled to be held on 6 March 2021, with two days left of the examination, we hope that all the students have completed their syllabus and are going well with their preparation. As for the RBI Grade B phase 1 examination, every section is equally important, but today in this article we are going to provide you the preparation tips on General Awareness for RBI Grade B examination2021.
How to Prepare General Awareness for RBI Grade B Exam?
General of any section in the RBI grade B exam consists of 80 questions of 80 marks. This section carries the highest weightage in the RBI Grade B officer exam. It is very important for the candidates to prepare for this section efficiently in order to increase their overall scores. let us now look at the best Preparation strategy for the GA section of RBI Grade B Exam 2021.
1.Cover All Important Topics: The general awareness section can be divided into two parts: static and current affairs. It is not easy to cover the entire Static GA but one can is the current affairs section by regularly looking at the news updates like national, international current affairs, and economic current affairs. Now let us look at some important topics which the candidates must cover while preparing for the general awareness section.
Current Affairs
National Current Affairs

International Current Affairs

The person in News/ Awards

Economy Current Affairs

Important organisations : SEBI, RBI

Credit rating Agencies: National & International

FDI limits in different sectors

Schemes launched by governments related to banking and finance

Export and Import Items

RBI Monetary Policy Review

Announcements made by RBI and other banks

Business News: Mergers Acquisitions and Buyouts.
Static awareness
Economic/ Financial terms & concepts: GDP; GNP; PPP; HDI; Inflation; WPI; CPI; IIP; SLR; CRR; Repo rate; Reverse Repo; Bank rate; Mutual Funds, Open Market Operations; Money supply

Foreign Exchange reserves of India.

Different kind of accounts and corresponding interest rates

Non-Banking Financial companies: Definition, Difference from bank, etc.

NPA and SARFAESI

Acts, Committees & legislation: Budget 2016, Railway Budget 2016; Companies Bill 2013

Banking services: Assets, liabilities, and working capital of a bank; NEFT; RTGS; Banking Correspondence agents; Bancassurance; Pradhan Mantri

Jan Dhan Yojana

BASEL norms

Financial Inclusion and various initiatives for it.

Types of Markets, Money, and banking instruments

Reverse Mortgage Loans.

Priority Sector Lending.

Banking Abbreviations, terms, and concepts.

Headquarters of Banks

History of Banking in India: Which was the first bank to be set up in Madras province etc. Nationalization of Banks.

Organizations: RBI; NABARD; Planning Commission; 5-year plans; Finance Commission; World Bank

Reserve Bank of India's role in the Indian banking system.
2. Study from the GK capsule. Bankers Adda capsule is beneficial for exams like RBI Grade B, IBPS PO, IBPS RRB exams, etc. bankers Adda offers a monthly current affairs capsule of each month to help students revise the monthly general awareness.
Bankersadda Capsule: Monthly Current Affairs Capsule, Bank Gk Capsule
3. Make notes of important topics. There are some topics that the candidates must revise at the very last moment before the examination. Making handwritten notes beneficial as the revision before the examination will not take much time. Also studying while writing keeps their knowledge fresh.
4. Attempt mock test. Attempting the mock tests will give the candidates an overview of the examination they're appearing for and will also familiarise them with the hot topics of the general awareness section, on which questions are based.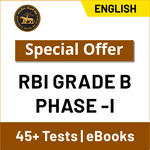 5. Take GK quizzes. if you want to study the general awareness and practice it without consuming much time then you must attempt GK quizzes that will keep your general awareness about the ongoing news and headlines on point.
6.Read daily newspapers. This is the most basic way to upgrade your general awareness. A daily newspaper has all the important information regarding the ongoing news, hot topics in our nation, and ongoing international events/news that the candidates must be aware of. Reading daily newspapers will undoubtedly improve the general knowledge of the candidates about the current affairs.
RBI Grade B 2021: Exam Pattern
| | | |
| --- | --- | --- |
| Subject | No. Of Questions | Marks |
| General Awareness | 80 | 80 |
| Maths | 30 | 30 |
| English | 30 | 30 |
| Reasoning | 60 | 60 |
| Total | 200 | 200 |