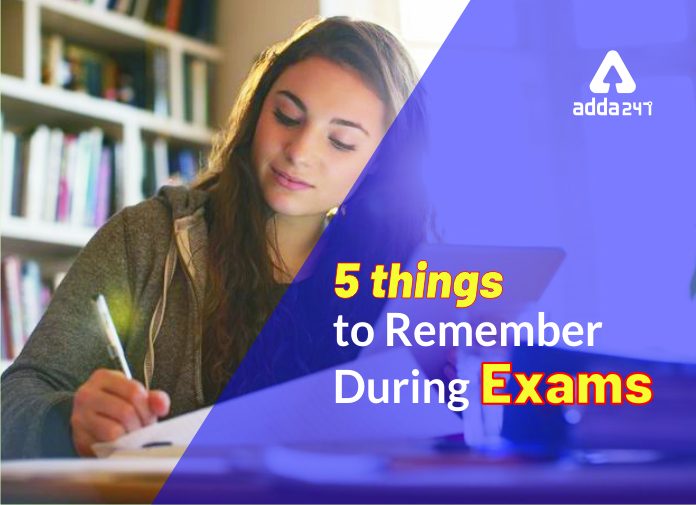 IBPS PO Prelims 2019 exam is approaching and students must be in dilemma to prepare for the exam at the last moment. Well every exam gives the emotional turmoil before few days to actual exam and leaves them in stress, lack of confidence, tension and depression sometimes so go though IBPS PO tips. We understand that feeling stressed and anxious is normal at the last stage, but all the aspirants going to appear for the IBPS PO prelims exam should keep in mind that it is crucial to maintain some balance and develp some skills so that you can give your best during the IBPS PO exam 2019. 

After analyzing what a student feel and how he takes the exam, we spoke to councellors and the expert team. After a discussion on this we have concluded 5 important points that an aspirant must keep in mind during IBPS PO exam. You can also check Must have things for IBPS PO before you leave for IBPS PO Exam.It is important to keep onself calm and relax to understand the complexity and difficulty of the exam. If you get nervous, even the easiest question would be a nightmare for you. Hence, do not panic, be easy and recall the things you have learned. Be confident that you have prepared upto the desired level and you will be able to make it out in the PO prelims exam with the help of PO prelims Last minute tips. Always make yourself ready for even the worst situation, as the competition is increasing in leaps and bound examiner can set the paper beyond one's expectancy. Anything unexpected could be asked. So, never go with a mind set that exam will be easy as it can leave you in the tight corner in PO prelims exam.
Important Points One should keep in mind IBPS PO Tips to appear for IBPS PO exam 2019
#Organize Yourself, do not push to extremes: We all know that not each of us are good at last minute cramming the things. Draw a time table for yourself covering the weeks leading upto the exam level. Allow yourself as much time as you can give comfortably. Do not try to push yourself outside the boundaries.
#Manage your expectations: Although we encouraged students to follow a flexible approach, but having high expectation is the main cause of stress. According to a survey, students with less expectation tends to perform better than others.
#Get in the right Zone: Do not study when you are worried about your exam. But start it when you are not sleepy and most alert. Do not let distraction come your way. It is a very good idea to keep yourself specific to target something.
#Know what to do: Sometimes things start to overwhelm us, in such situations just stepping outside the window for a moment can do wonders. Talk to your friends, relatives and other person who can help you out with the things. Recollect yourself and start working on this again.
#Don't Overthink: This must be not the first exam for most of you. An you all have done well enough in those earlier exams. Now it is the time to do even your best and do not think much on it. If you are prepared well, you are ready to face the music.
How To handle Questions in Pressure for PO Exam 
There are many things that a student must keep in his mind while writing his paper to increase the chance of fetching good marks. What are those things? How to score maximum marks in IBPS PO exam? Check now!
Read instructions carefully: Before heading towards the exam, read the instruction that are displayed on your screen before the exam starts. These instruction will help you to know about the timing, and marking schemes as prescribed by the IBPS.
Read the Question carefully: There are many set of questions which are follwoed by a single instruction. Make sure you read the instruction carefully so that you can attempt the questions based on it.
Time management: AS only one question will be displayed at one time, you have to keep a check on the time management. Try to solve the questions as fast as you can and do not forget to mark the asnwer correctly before proceeding to next.
Do not Stick to a single questions: If you feel that question is doable and you can solve it within seconds, go for it else skip to the enxt question to save your time as there will be a total of 100 questions to be solved within 60 minutes.
Do Not Panic: Do not panic while writing your paper if you are not able to solve the question. Read what a question says and solve it accordingly. Some question may be lengthy or time consuming but if you are relaxed enough you will crack it within seconds.
Students we hope IBPS PO prelims will be your best shot and these tips will help you clear the IBPS PO Prelims exam. If you have any issue, you can write to us at Blogger@adda247.com or you can connect to our moderators below the comment section.
Preparing for IBPS PO 2019? Click here to get free study material and regular updates.