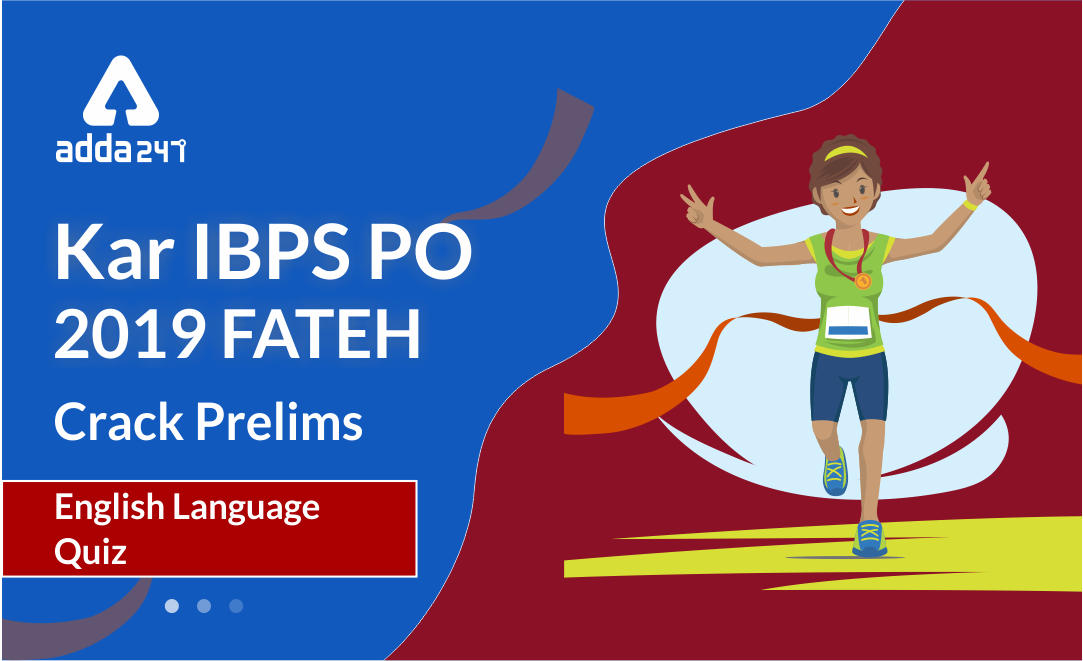 IBPS PO Prelims English Quiz
The English language perplexes most of the students and makes one nervous during the examination even if the answer to the question is known. But there are no formulas to cramp or the longer the calculation to deal with. The mistakes that occur are because of the lack of confidence. With proper strategy,
Study Notes, Quizzes, Vocabulary
one can calm his/her nerves and excel in no time. Make the reading newspaper, editorial a habit, and also participate in the daily quiz. The
IBPS PO 2019
is just one step away from your reach. Here is the quiz under the
Study Plan 'FATEH'
, on the IBPS PO Prelims English Quiz and we have English Miscellaneous Quiz for 17th August 2019.


Directions (1-5): In each of the following questions, a sentence is given with a blank. There are five phrases given below each sentence, one out of which can be used in the blank to form a meaningful sentence. Choose the most appropriate phrase among the five options that make the sentence contextually meaningful.
Q1. Six-time Group One winner Laurens to _________________ to seven furlongs
Solution:
The correct phrase to complete the sentence alongside making it meaningful is "drop back" which means "move back in a position or group". So, option (b) is the correct answer
Break down- divide into smaller parts
Chip in- help
Get up- stand or get up from bed
Get on- step onto a vehicle
Q2. New Lieutenant Governor likely to have ________________________ insurgency.
Solution:
Here, option (d) is the most suitable phrasal verb to fill in the blank and make it grammatically and contextually correct. "Deal with" means "to take action to do something, especially to solve a problem"
Bring up- Raise a child
Call back- Return a phone call
Check out- Look at something or somebody
Give in- Reluctantly stop fighting or arguing
Q3. New car sales drop as South Africans ____________________ older models.
Solution:
Here, option (a) is correct choice that fits into the given blank. "Hold onto" Means "to not give up or lose something"
Hold back-Prevent from going or doing/somebody or something or hiding something (emotion)
Keep up-Continue at the same rate
Look after- Take care of
Pass up- Decline something (usually something good)
Q4. Insured Americans increasingly turning to charity to __________________ healthcare
Solution:
The correct answer is option (e). "Pay for" means "to make a payment for".
Think over- Consider Something
Put on- something/clothing/accessories
Set up-Arrange/organize/trick/trap
Put out-Extinguish

Q5. India's arrogance will ____________ Kashmir conflict to regional level
Solution:
Here "blow up" fits best in the given blank of the above sentence. It means "begin to develop".
Call off- Cancel something
Drop off- Take somebody/something somewhere and leave it/them there
Do up-Close, Fasten
Go after- Follow somebody or something
Directions (6-10) Read each sentence to find out whether there is any grammatical or idiomatic error in it. The error, if any, will be in one part of the sentence. The alphabet corresponding to that part is your answer. If there is 'No error', the answer is (e). (Ignore errors of punctuation, if any.)
Q6. Sushma Swaraj was rushed to the (A)/ All-India Institute of Medical Sciences, and(B)/ cardio-pulmonary resuscitation were administered(C)/ but doctors were unable to revive her(D)/No Error(E)
Solution:
Here "were" will be replaced by "was" as Resuscitation is a singular. Rest of the options are grammatically correct. Right answer is option (c)
Q7. The island has an Arctic climate (A)/ although with significantly highly (B)/temperatures than other places(C)/ at the same latitude (D)/No Error(E)

Solution:
Here "highly" will be replaced by "higher" because usage of "than" indicates that sentence is of comparative degree.
Q8. Most young couples can't (A)/ afford to buying a block of (B)/ land anywhere near the coast and build (C)/ a house on it these days (D)/ No Error

Solution:
In this sentence, error lies in (B). We use "first form of verb" with "afford +object". Thus, "to buying" will be replaced by "to buy". Option (b) is correct choice.
Q9. Professor Burland is working (A)/on the stabilization committee (B)/ for the last ten years under all (C)/sorts of Machiavellian pressures and politics. (D)/ No Error (E)
Solution:
In the part (A), it will be "has been working" instead of "is working" because part (C) contains "for + time" which shows that sentence is in Present Perfect Continuous Tense. Hence, option (a) is correct.
Q10. Nightmares are vividly and (A)/terrifying nocturnal episodes in (B)/ which the dreamer is (C)/abruptly awakened from sleep. (D)/ No Error (E)
Solution:
In Part (A), it will be "vivid" instead of "vividly". "Vividly" is an Adverb. "Vivid" is an Adjective. Here, "nightmare" is a noun, and an adjective name attributes of noun, not an Adverb.
Directions (11-15): In the following questions, a word is given in bold followed by three sentences. Choose the appropriate option mentioning the sentence(s) that uses the highlighted word in a grammatically correct and contextually meaningful manner.
Q11. ALACRITY
(I)Meanwhile, I've gone through the archives with speed and alacrity, but still can't find the name of the hotel.
(II)The hard-boiled reporters in attendance look on in alacrity as the doddering old CEO mimics pumping motions with his arms.
(III)Now that's what I call real thoughtfulness, and of course I accepted the suggestion with alacrity.
Solution:
"Alacrity" means Zeal, willingness, enthusiasm, eagerness. (I) and (III) stand correct both grammatically and contextually. However, (II) does not seem fit the word usage. Hence, option (d) is correct answer choice.
Q12. DECRY
(I) Absorption is a personality trait associated with fantasy proneness, decry imagery and so forth.
(II) Nevertheless, it has long been fashionable to decry the actions of those who use their power.
(III) The artist will draw it into himself as if with a deep breath from decry distance and body it forth.

Solution:
"Decry" means "strong disapproval or criticize". In the (II) statement, it is clearly indicating "decry the actions of those who use their power" which means criticizing or disapproving the actions of people who are in power. The other statements (I) and (III) are completely irrelevant with the given word usage. Hence, option (b) is right answer choice.
Q13. DEBASE
(I) It just goes to show that the whole protest culture is fundamentally debase.
(II) Darwinian biology explained how humans evolved from other life forms, and Mendelian genetics showed how debase traits were inherited.
(III) The state has understood this lesson since the kings of old began repeatedly to debase the coinage.

Solution:
Here, "Debase" means "Lower the value of". In (III) statement, it's defining about how state learnt the lesson by kings of old who lowered the value of coinage. The other two statements will become grammatically incorrect with the usage of the given word. Hence, option (c) is correct.
Q14. INSATIABLE
(I) Maybe this explains her passion for fine red wines and her insatiable appetite for weirdness of all flavours.
(II) He was always fascinated by science and nature and he had an insatiable thirst for knowledge.
(III) For dogs of sharp aggressiveness, insatiable whack on the snout with a drumstick is usually enough.
Solution:
The word "Insatiable" means "impossible to satisfy" Thus, in (I) statement, it is about "impossible to satisfy appetite" and in the (II) sentence it is about "impossible to satisfy thirst of knowledge". Hence option (d) is right answer choice.
Q15. RIGHTEOUSNESS
(I) His life is taken as the perfect example for all to follow, and his teaching the only sure guide to righteousness.
(II) There is nothing wrong with courtesy but if it is made into an industry or profession it carries the danger of righteousness or self-delusion.
(III) By comparison, the risk from righteousness, counterfeit or mislabelled drugs from Canada is presumed but unproved by any evidence.

Solution:
"Righteousness" means "goodness, integrity, decency". In this context, only (I) statement is correct, and rest of the two are incorrect. Hence, option (d) is correct answer choice.