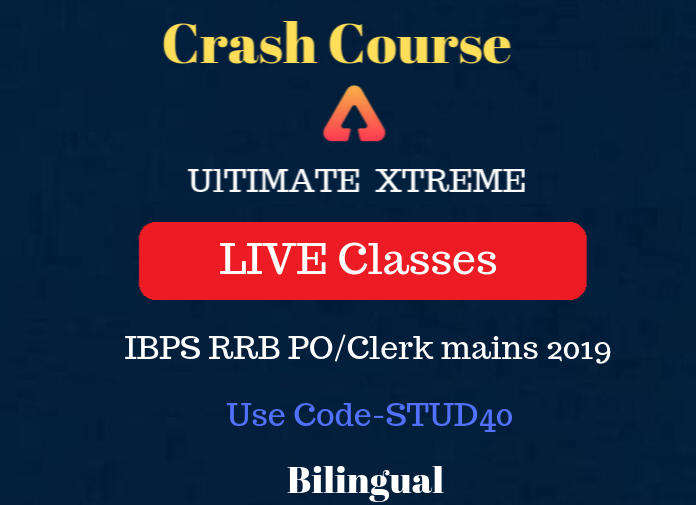 IBPS has declared the dates for IBPS RRB PO and IBPS RRB Clerk mains and now it is the time to pace up your preparation with the complete solution for your RRB Mains exam needs. The most demanded Ultimate Live batch is going to start from today where you will get a number of interactive classes, 100+ latest question for your practice with the access to get your doubt resolve 24*7. IBPS RRB PO/Clerk mains ultimate live batch will help you in your complete preparation.
Why IBPS RRB PO/Clerk Ultimate Xtreme (Live batch)
This batch focuses on the needs of the RRB Mains examination where students will be provided with the daily live classes and topic wise test to analyse your performance. This will help you improve on your weak points. PDF of the lectures given by the teachers will also be provided to give you a chance to revise the same again. This Live batch is equipped with the best teacher from across India to help you ace in your studies. Access to recorded video course will also be given to the candidates who have enrolled their name for the IBPS RRB mains live batch.


Use Code-STUD40 to get 40% Discount on all the products
Click here to buy the IBPS RRB Mains Live batch
What Will You get In the IBPS RRB Mains Live batch?
1.70+ Hours Interactive Live Classes. (2 Subjects Daily | 4 Hours Class)
2. 1000+ Practice Questions (Topic-wise Tests).
3. Concepts, Approaches & Questions Based on the Latest Pattern asked in 2019.
Benefits of the IBPS RRB Mains Live batch
1. Daily Live Classes.
2. Daily Practice with Topic Tests.
3. Download Lectures' PDFs.
4. Access to all the recorded sessions.
5. 24*7 Doubts Solving.