Hello! My name is Ketan Pandya . I am going to share IBPS RRB PO 2019 Interview Experience. Hope it will help other banking aspirants.
Name: KETAN PANDYA
Place of Interview: Gandhinagar, Gujarat.
I knocked door and then entered. Wished them "good afternoon all sir and ma'am". They asked me to sit. In my panel 3 members were there. Two females and one male.
Whole interview was in Hindi.
M1 : Then Asked "Introduce yourself"
ME – Answered
M1 : He asked so many questions (Approx. 10 Que.) regarding my graduation. (EC Engineering)
ME – Answered
M1: He asked about hobbies.
ME : Answered all my hobbies.
F1: She asked what is the national current issue.
ME : I answered after thinking a bit.
M1 : He asked about Govt Schemes.(Sukanya Samriddhi etc.)
ME : I answered as per my knowledge
M1 : He asked "kya padkhe aaye ho".
ME : I told him that I read the newspaper and important topics.
F1 : She asked "How your engineering skills will be useful in Banking?"
ME : Then I answered this question also.
Interview lasted around 10 minutes.
All The Best Ketan For Future Endeavours!
Check the LIC Assistant Mains Test Series below that includes full length mock as well.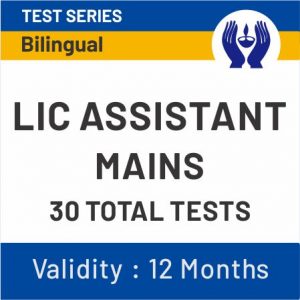 Share Your Interview Experience at blogger@adda247.com