SBI Clerk 2020 best books: While preparing for SBI Clerk, a set of books equipped with all the basic to advance level concepts with details explanation to each question is what an aspirant required. Books are the best source of gaining knowledge at your comfort place. They are the rich source of extreme knowledge and concepts. It is important for a candidate to complete their study material with the SBI Clerk books to get through the exam.

Also read:
SBI Clerk books are replete with thousands of questions with 100% solutions which will help the candidate in cracking any competitive exam with ease. Adda247 provides the banking aspirants across the country with the paper version of exhaustive study material for every subject that you need to be excellent at to be on the ball to face these upcoming examinations.
You may also like to practice with:
From the book on Puzzles and Seating Arrangements to a special book on Data Interpretation, Adda247 Publications is providing you all with a wide range of books that explain the core concepts in a way that you will find nowhere else. These books cover a wide range of important topics of the concerned subject for the competitive exams starting from basics to the highest level that one can go to while preparing for them.
Check Latest Books For SBI Clerk Prelims preparation 2020
SBI Clerk prelims books kit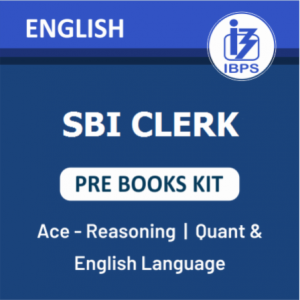 Books Included in this Kit ( For SBI Clerk Prelims 2020 Exam):
ACE Reasoning
ACE Quant
ACE English
The books incorporated into the package are- 3 Printed Edition books: ACE Reasoning for SBI Clerk Exam Preparation, ACE Quant for SBI Clerk Exam Preparation, ACE English for SBI Clerk Exam Preparation. Adda247 Publications provides its students with the new pattern study material incorporating into it the latest theories and questions on hard copy that is real hard to find anywhere else.