Sarkari Jobs 2020: Getting a job into government sector is the dream of million but not everyone get the chance to accomplish their dreams. There can be many reasons behind this like no proper knowledge about the notifications, lack of knowledge about syllabus and exam pattern, eligibility criteria and many more. Do not worry, Adda247 is here to espouse you with your dreams. Every year a number of aspirants took part in the banking sector exams but only few prominent get the chance to serve the public sector banks. This article is dedicated to give you timely information on the upcoming banking recruitment so that you are aware of the upcoming notification.

You may also like to read:
Know about the Banking sector
Banking jobs provide lucrative salary (depending upon the various banks and the place of posting), Job security along with other perks and benefits.Growth opportunities are higher in banking sector banks and on can avail extra benefits based on his/her performance. One can get the post of Clerk, PO, SO, Assistant, Attendant, Scale-II and Scale-III etc through banking recruitment with timely promotions.
Check the List of the Public sector banks, State Co operative bank that holds the recruitment process for various posts.
Public Sector Banks
Canara Bank 
Bank of India
Bank of Baroda
Syndicate Bank
Indian Bank
Punjab & Sind Bank
Indian Overseas Bank
Punjab National Bank
Union Bank of India
Allahabad Bank
Bank of Maharashtra
Central Bank of India
UCO Bank
Corporation Bank
Oriental Bank Of Commerce
Andhra Bank
United Bank Of India
Above mentioned banks are the participating banks in the IBPS Recruitment. After merger of few bank, now there are only 17 recognized bank under IBPS Recruitment. Apart from this STATE BANK OF INDIA also conducts its exam for the post of SBI PO/Clerk and SBI SO as per the requirements in the SBI Offices.
You may also like to read:
RBI, The bankers bank also hold the recruitment process for the various post in the various offices of RBI.
Year 2019 has been a blessing for te aspirants as thousands of recruitment have taken place in this year. It has made the life of many and some of them are waiting for a bright career in the lime light of banking sector.
Check the List of the upcoming banking vacancies for the year 2020
| | | |
| --- | --- | --- |
| S. No | Name of Recruitment | Notification / Expected Notification |
| 1. | NABARD Office Attendant | Notification |
| 2 | RBI Assistant | Notification |
| 3 | SBI PO | Expected soon |
| 4 | SBI Clerk | Notification |
| 5 | IBPS PO | Expected to be out in August |
| 6 | IBPS Clerk | Expected to be out in September |
| 7 | IBPS RRB PO | Expected to be out in June |
| 8 | IBPS RRB Clerk | Expected to be out in June |
| 9 | IBPS SO | Expected in October |
| 10 | SBI SO | Expected in May/June |
| 11 | RBI Grade B | Expected in May |
| 12 | NABARD Grade A & B | Expected on 14th January |
IBPS generally issues its recruitment calendar on 16th January 2020. Aspirants will be notified when there is official news from the IBPS for the whole year examination process conducted by IBPS like IBPS PO/Clerk, IBPS RRB PO/Clerk, IBPS SO. Students will be informed about the recruitment in the starting of the year and they will have ample of time to prepare for the banking exams.
SBI official notification for the post of Probationary Officer and clerk is expected to be rolled out within 3-4 months. Last year SBI released 2000 vacancies for the post of PO and 8653 vacancies for the post of SBI Clerk.
This year RBI has released 926 vacancies for the post of Assistant which is comparatively higher than previous year. There was no recruitment for RBI Assistant in the year 2018.
Many banking exams are conducted through Manipal Academy where students undergo a training process of approx one year for PGDBF diploma after which they are posted as Probationary Officer (PO) in the bank conducting recruitment. For exam Bank Of Baroda (BOB) hold the recruitment process through Manipal University.
Expected number of vacancies for the year 2020 in Banking sector
If we look at the vacancies in the year 2019 (banking + Insurance) there were more than 50,000 vacancies which is no doubt a good figure for aspirants to get the desired job in government sector. As every year number of vacancies may increase or decrease, students can expect a good number of recruitments in the mentioned banks in the year 2020.
Vacancies are determined on the basis of the requirement in any particular banks. If you are among those who are aspiring to get a seat in the banking sector, then you have good chances of selection taking the number of vacancies into consideration.
Eligibility criteria to take part in the banking recruitment
Every organizing body releases its official notification to recruit a number of eligible candidates from different state. It is mandatory to fulfill the eligibility criteria before filling up the required application. Although IBPS has same eligibility criteria except that of IBPS SO which is based on some specific specilaization. Check the Eligibility criteria required to be kept in mind before you apply for it.
IBPS Eligibility Criteria
To appear for the IBPS Exam one should be confined with the eligibility criteria of age and education as it is mandatory to follow the guidelines issued by the IBPS. Avoiding the eligibility criteria of the guidelines may lead to failure of your application and you will not be able to appear for the exam. (Criteria mentioned below is based on the 2019 notification)
A. Nationality Criteria: Before applying to the IBPS  Exam, the candidate must be through the following eligibility criteria:
Citizen of India
The subject of Nepal or Bhutan
Tibetan refugee who is permanently settled in India prior to January 1, 1962
Person of Indian origin who has migrated from either Pakistan, Sri Lanka, Burma, Vietnam, Ethiopia, Kenya, Malawi, Tanzania, Zaire, or Zambia with the intention of residing permanently in India.
Note: Candidates belonging to the categories (2,3 and 4) should possess a certificate of eligibility issued by the Government of India.

B. Educational Qualification: Degree (Graduation) in any discipline from a University recognized by the Govt. Of India or any equivalent qualification recognized as such by the Central Government. The candidate must possess a valid Mark-sheet / Degree Certificate that he/ she is a graduate on the day he/she registers and indicate the percentage of marks obtained in Graduation while registering online.
C. Age Eligibility Criteria:
There are provisions for age relaxation depending upon the category of the candidate.
For General Category, the age required is:
Minimum: 20 years
Maximum: 30 years
For Clerk maximum age limit is 28 years.
SBI Eligibility Criteria
The SBI eligibility criteria according to previous year notification is as follows. The eligibility criteria is subject to change.
Essential Academic Qualifications:
Graduation in any discipline from a recognized University or any equivalent qualification recognised as such by the Central Government.
Basic knowledge of computer is a must.
The date of passing eligibility examination will be the date appearing on the marksheet or provisional certificate issued by the University/Institute.
Age Criteria:
Minimum Age Limit: 21 Years
Maximum Age Limit: 30 Years
For Clerk maximum age limit is 28 years.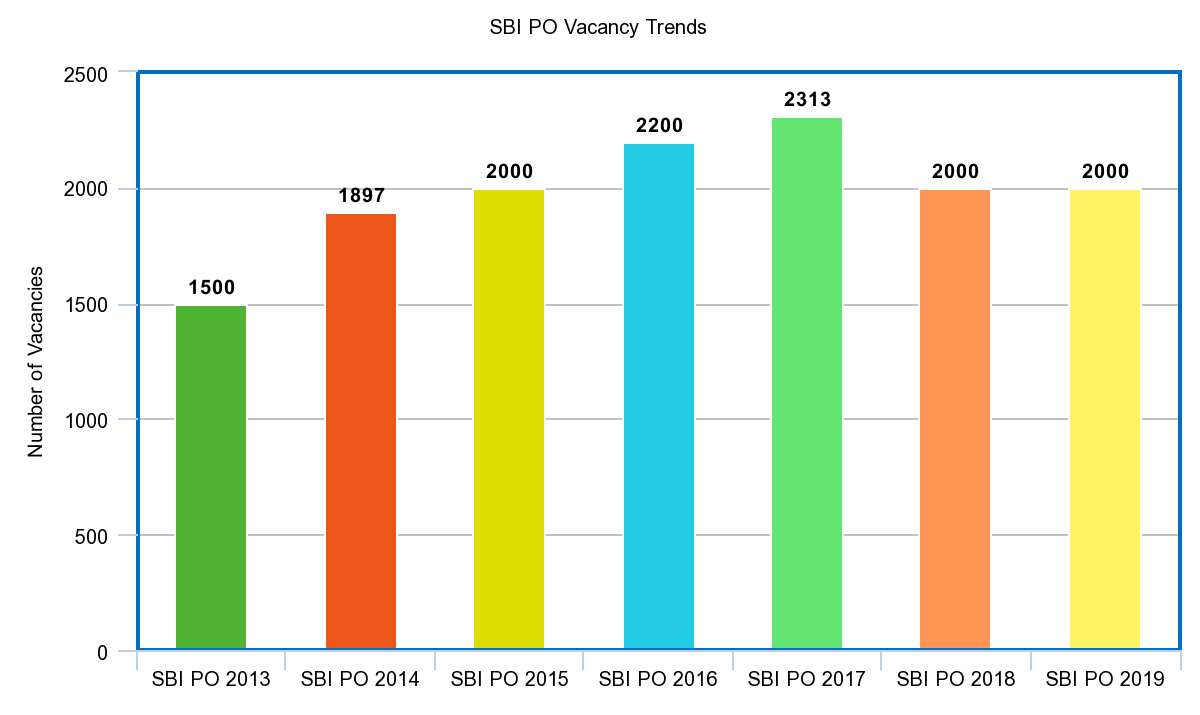 Difficulty level of the Banking exams
In the recent few years, difficulty bar in the banking exams has been raised to difficult and lengthy. If you are targetting any PO post then you have to put all your best efforts to sail through the same. Also, even in the Clerical examinations, Mains exam can break your bone with the difficulty level. But the types of questions asked in the prelims exam of PO/Clerk are generally of easy-moderate level but students have to focus on the speed in the prelims.
How To Prepare For Bank Exams
Strategy: A well-planned strategy can help you to easily crack the banking examination. You can start by having a look at the syllabus and previous year question papers to make a time table for the portions which are important or you are weak at. You can work on your strengths to leave no stone unturned. Fix 1-2 hours for every subject which will appear in your exam. Do not miss to make a time table according to the time you have. Practicing as much previous year paper and mocks as you can. Bankersadda has memory based questions and mock tests for every bank examination. You must go through them once.
Time management: This is the main key to open the door of a bank job. As after reading the pattern of the desired exams, you will know that this exam has a fixed timing and is in online mode most of the times. So, as the time limit ends, the test shuts down automatically. Also, it is not easy to win at mathematics and reasoning without time management. So, try to practice mock and papers in the time fixed by the respective banking examination. Try to solve as many tests as possible and rectify your mistakes. This will help in improving your speed, accuracy, and selection.
Consistency: Do you believe in the power of consistency? You should!!
When you plan for cracking bank examination, try to be regular in your efforts. If you will skip a single day without reading or practicing, you will lose a chance. So, stick to your daily schedule and do not ignore the importance of consistency.
Keep yourself motivated: Motivation is something that should come from inside when you are preparing for a banking examination. Do not get distracted. For a few months, struggle for making your career bright and you will see the positive results. Always remember "you can do it" and you will be halfway there.