In this war against COVID-19 India is under a lockdown that started on 23rd March, and initially was announced for 21 days by Prime Minister Narendra Modi, hoping that things would get in control by 14 April. But ever increasing cases of people tested positive for COVID-19 each day has raised red flags of concern and urgency towards the containment of this pandemic. Prime Minister Narendra Modi held a video conference on 11 April with the Chief Ministers of all states to discuss the scenario and it is expected that the PM might have taken a call to extend the nationwide lockdown for atleast 2 weeks from 14 April.
Also Read,
Delhi CM Arvind Kejriwal has recently tweeted after the conference which refers to the direction that the Prime Minister might soon officialy announce the news of extending the lockdown. The following is the message that Delhi CM shared on his tweet – "PM has taken correct decision to extend lockdown. Today, India's position is better than many developed countries because we started lockdown early. If it is stopped now, all gains would be lost. To consolidate, it is imp to extend it"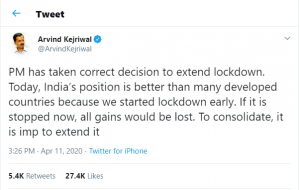 Almost every state is in the favour of extending the curfew to refrain people from going out and being at the risk of getting infected and spreading the disease. In India 7875 people have been found infected till date and number is increasing with each day. More than 200 people have died in the course of 2-3 months due to COVID-19 and not just our nation, but the world has come to standstill. Odisha and Punjab are two states who have official extended the curfew till 30 April and 1st May respectively and we can now expect the Centre to take a strong decision and announce the update for the betterment of the health of the people.
Coronavirus Cases in India
| COVID-19 INDIA Report | Count |
| --- | --- |
| Confirmed Cases | 7875 |
| Active Cases | 6645 |
| Recovered Cases | 789 |
| Deaths | 250 |
Click Here to Register for Bank Exams 2020 Preparation Material
Coronavirus Cases in the World
| COVID-19 Global Report | Count |
| --- | --- |
| Confirmed Cases | 1,700,951 |
| Active Cases | 1,221,366 |
| Recovered Cases | 376,796 |
| Deaths | 102,789 |