MS Excel 2022 Complete Course: MS Excel is a constituent of Microsoft Office Software. MS Excel is a spreadsheet that has several rows and columns and is used to organize data, graphically represent data, and perform various calculations. In today's time, each and every individual must possess the knowledge of MS Excel. MS Excel has its benefits for all age groups people whether students, working professionals, or housewives. To provide knowledge to the people so that they are able to learn MS Excel and implement it practically in their lives, Adda247 has brought MS Excel 2022 Complete Course. The expert faculty member of Adda247 will handle the MS Excel 2022 Complete Course. The course will commence from the beginners level and make a candidate pro in the field of MS Excel.
MS Excel 2022 Complete Course- From Beginner to Pro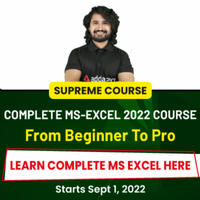 This Complete MS-Excel 2022 Course is one of a kind course launched by Adda247 for all the students, working professionals, hobbyists, housewives, and anyone who wants to learn MS-Excel and put it to practical use in their lives in order to make it a little easier. This course will not only help school and university students with their projects, and working professionals with their day-to-day office tasks and work projects, but also homemakers and housewives by helping them manage the monthly budgets & inventory by learning simple use cases of MS Excel. No Prior knowledge of MS-Excel is required in order to enroll into this course. Everything will be taught from scratch with real hands-on approach.
We have chosen industry expert faculties with rich teaching heritage of years. The content which has been curated meticulously keeping in mind the needs of a beginner who wishes to learn MS-Excel from basic.
Pre Requisites:
A working and stable internet connection (750 kbps / 1 mbps or higher)
A Windows PC (Windows 7 or later)
Absolutely ZERO Prior Experience with MS-Excel
1st Video Uploading Date -01st September 2022
Course Language:
Classes: Hindi and English (Bilingual) – Hinglish
Course Highlights:
20+ Hours dedicated Recorded Videos by Expert Faculties
Thoughtfully curated syllabus & study plan based on the needs of a beginner
A must have course for students, university students, working & non-working professionals, housewives & homemakers & hobbyists
Recorded Videos available 24/7 for quick Revision
About the Faculty:
Shivam Gupta Sir
(a) 5+ years of experience in teaching
(b) Mentored more than 11,000 students.
Latest Notifications: