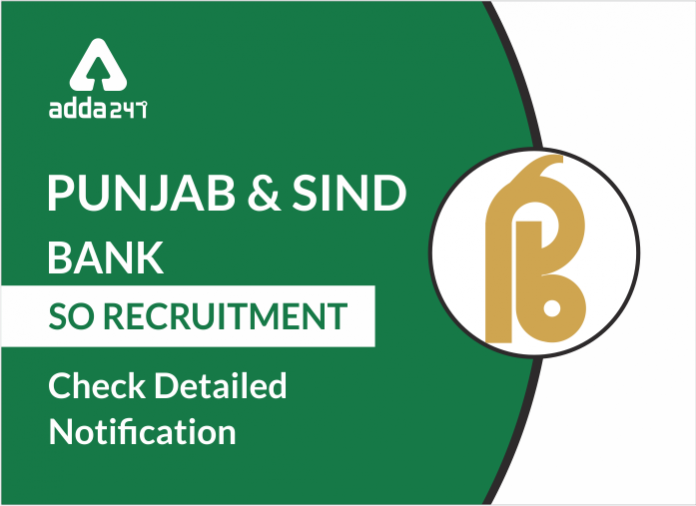 Punjab & Sind Bank Recruitment Notification 2019 has been released for the recruitment of Specialist Officers. PSB, a government-owned bank headquarters in New Delhi has released a notification for the Recruitment of Specialist Officers in JMGS I and MMGS II and Lateral Recruitment of Company Secretary, Rajbhasha Adhikari in SMGS-IV and Assistant Gen. Manager Law in SMGS V. This is a very good opportunity as it comes with the lateral entry of various post. The vacancies of the specialist officer are diverse in the field of expertise in the bank like Software/IT Officer to robust the IT infrastructure of the bank. Agriculture Field Officer to boost the agriculture investment. This year Bank also recruits for the technical officer Civil and Electrical. Recruitment for Law Manager, Fire Safety Officer, Secrurity officer, Chartered Accountant also comes this year.

Important Dates:
Commencement of date of on-line Application-26th September 2019
Last date of on-line Application-10th October 2019
Date of Further process- Will be informed seperatetly
Vacancies:
Total 168 post are released for the various post. The posts are divided into post serial number.
Details of Posts and Notification is given below. 
S. No.
Post
Scale
Age** (Years) Min-Max
No of Vacancies
Of which PWD
SC
ST
OBC
EWS
UR
TOTAL
VI
HI
OC
MD/ID
1
AGM – Law
SMGS-V
35-45
–
–
–
–
1
1
–
–
–
–
2
Company Secretary
SMGS-IV
30–45
–
–
–
–
1
1
–
–
–
–
3
Rajbhasha Adhikari
SMGS-IV
30–40
–
–
–
–
1
1
–
–
–
–
4
Law Manager
MMGS-II
25–35
1
0
2
1
6
10
–
–
–
–
5
Fire Safety Officer
MMGS-II
25–35
–
–
–
–
1
1
NA
NA
NA
NA
6
Security Officer
MMGS-II
25–35
2
1
4
1
7
15
NA
NA
NA
NA
7
Agricultural Field Officer
JMGS-I
20–30
7
3
13
5
22
50
–
–
–
–
8
Chartered Accountants
JMGS–I
20–30
7
3
13
5
22
50
–
–
–
–
9
Software Developer/ IT Programmer
JMGS–I
20–30
4
2
8
3
13
30
–
–
–
–
10
Rajbhasha Officer
JMGS–I
20–30
–
–
1
–
4
5
–
–
–
–
11
Technical Officer–Civil
JMGS–I
20–30
–
–
–
–
2
2
–
–
–
–
12
Technical Officer Electrical
JMGS–I
20–30
–
–
–
–
2
2
–
–
–
–
Total
168
Must see other recruitments