SEBI Grade A  2022 – 3000 MCQs + Master Revision Batch By Adda247: SEBI-Grade A exam is a national level competitive test conducted by the Securities Exchange Board of India (SEBI) for recruitment of Officers in Grade 'A'. This Batch is designed under the guidance of the best faculties of ADDA 247.
It will help candidates who are appearing from General Stream and want a quick revision for Phase 1.
This Batch is designed in such a way that it covers all the major topics from Paper 1 and Paper 2, by giving ample MCQs with exhaustive practice sessions to the aspirants to secure maximum marks.
SEBI Grade A Apply Online 2022
SEBI Grade A  2022 – 3000 MCQs + Master Revision Batch By Adda247
SEBI Grade A 2022- 3000+ MCQs Master Revision Batch | General Stream Phase I
Batch Start date: 27-Jan-2022
Batch Timing:
| | |
| --- | --- |
| Financial Awareness (M-W-F) | 08:00AM-09:00AM |
| Current Affairs: | 07:00PM-08:00PM |
| Reasoning: | 11:00AM-12:00PM |
| English: | 12:00PM-1:00PM |
| General Stream (Economics, Finance & Management): | 3:30PM-5:30PM |
| General Stream (Accounts & Commerce, Costing & Companies Act): | 08:00PM-10:00PM |
| Math: | 10:00PM-11:00PM |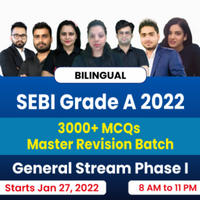 SEBI Grade A 2022- 3000+ MCQs Master Revision Batch | Legal Stream Phase I
Batch Start date: 27-Jan-2022
Batch Timing:
| | |
| --- | --- |
| Current Affairs: | 07:00PM-08:00PM |
| Financial Awareness | 8:00AM-9:00AM (M-W-F) |
| Reasoning: | 11:00AM-12:00PM |
| English: | 12:00PM-1:00PM |
| Law | 1:00PM-2:30PM |
| Math: | 10:00PM-11:00PM |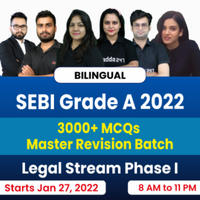 SEBI Grade A 2022- 3000+ MCQs Master Revision Batch | IT Stream Phase I
Batch Starr Date: 27-Jan-2022
Batch Timing:
| | |
| --- | --- |
| Current Affairs: | 07:00PM-8:00PM |
| Financial Awareness: | 8:00AM-9:00AM (M-W-F) |
| Reasoning: | 11:00AM-12:00PM |
| English: | 12:00PM-1:00PM |
| IT |  8:00PM-10:00PM |
| Math: | 10:00PM-11:00PM |