Dear Aspirants,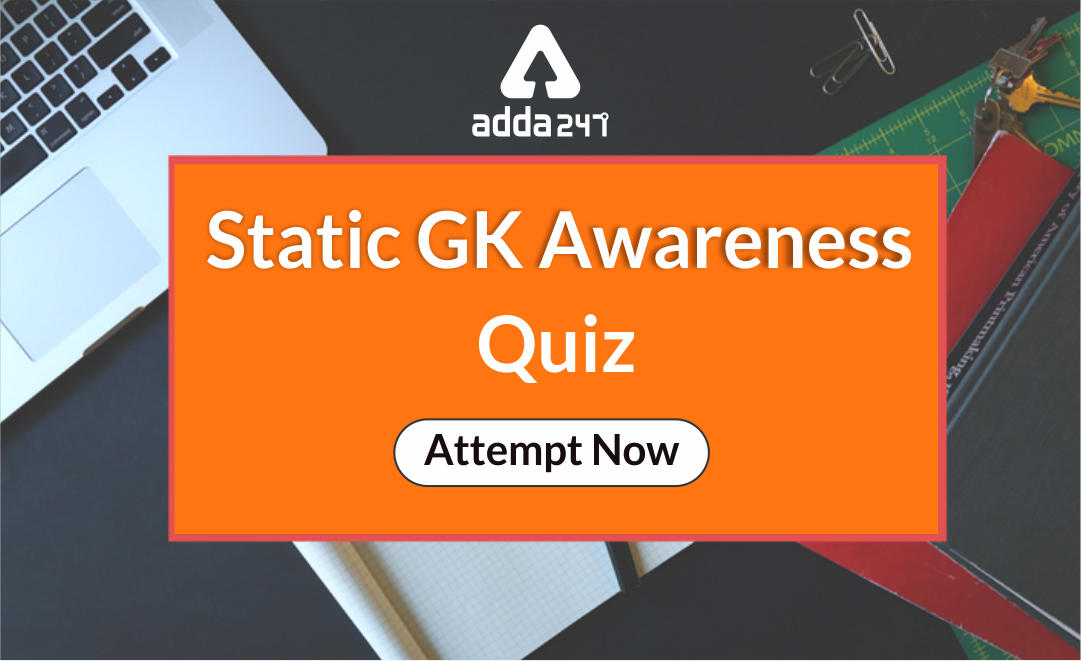 Static GK Questions for SBI Clerk Main
In every Bank/Insurance/SSC and Other competitive exams, there will be some questions of Static GK based. So, here we have given the most important static gk questions for
SBI Clerk Main 2019.
These questions are not only important for SBI Clerk Main but also for IBPS RRB PO/Clerk, EPFO Assistant and SSA, and other upcoming exams.
Q1. Christine Lagarde resigns as International Monetary Fund chief. Where is headquarter of IMF?
Washington DC
New Yorks
Geneva
Paris
Rome
Solution:
The International Monetary Fund (IMF) is an international organization. 188 countries are members of the International Monetary Fund. It has its headquarters in Washington, D.C., USA.
Q2. Under Bharatmala project 35000 km of highways are to be built by 2022. This project will be executed under which of the following Ministry?
Ministry of Finance and Corporate Affairs
Ministry of Human Resource Development
Ministry of Home Affairs
Ministry of Road Transport and Highways
None of these
Solution:
Bharatmala project 35000 km of highways to be built by 2022 came under Ministry of Road Transport and Highways.
Q3. NSE Clearing Ltd will head the panel set up by SEBI to review margins on derivatives. The panel will submit its recommendations to the Secondary Market Advisory Committee. Who is the present chairmen of SEBI?
Sukumar Sen
Upendra Kumar Sinha
Ajay Tyagi
Anand Rajeshwar Baiwar
Sunil Arora
Solution:
Ajay Tyagi is the present chairmen of Securities and Exchange Board of India.
Q4. Competition Commission of India (CCI) has approved the merger of the Indiabulls Housing Finance and Lakshmi Vilas Bank. Who is the present MD & CEO of Lakshmi Vilas Bank?
B Sriram
Mrutyunjay Mahapatra
Sunil Mehta
S Hari Shanker
Parthasarathi Mukherjee
Solution:
Parthasarathi Mukherjee is the MD & CEO of Lakshmi Vilas Bank.
Q5. The International Day of Yoga aims to raise awareness worldwide of the many benefits of practicing yoga. On which day international Yoga Day is celebrated?
26th June
15th June
21st June
30th June
10th June
Solution:
The International Day of Yoga is being observed on 21st June every year.
Q6. Canara Bank customers can deposit cash of up to Rs 50,000 for free only thrice a month. Who is the present MD & CEO of Canara Bank?
Packirisamy
AS Rajeev
RA Sankara Narayanan
Padmaja Chundru
Atul Kumar Goel
Solution:
RA Sankara Narayanan is Managing Director/CEO at Canara Bank.
Q7. ICANN partners NASSCOM to develop tech, standards for IoT devices. Who is present Chairmen of NASSCOM?
Rajeev Suri
Dipesh Shah
Sandip Somany
T.N. Manoharan
Rishad Premji
Solution:
Rishad Premji was the Chairman of NASSCOM.
Q8. India has signed agreements with Bangladesh and South Korea for DD India to be telecasted on the state platforms of the respective countries. What is currency of Bangladesh?
Kyat
Rupiah
Taka
Rupee
Krona
Solution:
The Bangladeshi taka is the currency of the People's Republic of Bangladesh.
Q9. NCERT organises National Yoga Olympiad of school children. Where is headquarter of NCERT?
Chandigarh
Bengaluru
Mumbai
Kolkata
New Delhi
Solution:
The National Council of Educational Research and Training (NCERT).Its headquarters are located at Sri Aurbindo Marg in New Delhi.
Q10. WHO offers a new tool "AWaRe" to contain rising antimicrobial resistance and make antibiotic use safer and more effective. Who is the Director General of WHO?
Ertharin Cousin
Anthony Lake
Guy Ryde
Tedros Adhanom
Yukiya Amano
Solution:
Tedros Adhanom Ghebreyesus is an Ethiopian politician, academic, and public-health authority who since 2017 has been Director-General of the World Health Organization.
Q11.The second edition of World Food India to be held from 1st to 4th November 2019 in New Delhi, which will position India as Food Processing Destination of the World. Who is the present Minister for Food Processing Industries?
Renuka Singh Saruta
Harsimrat Kaur Badal
Nirmala Sitharaman
Smriti Zubin Irani
Anuradha Rao
Solution:
Harsimrat Kaur Badal is the present Minister of Food Processing Industries.
Q12. Pakistan has appointed Lieutenant General Faiz Hameed as the new Director General of the Inter-Services Intelligence (ISI). Who is present Prime Minister of Pakistan?
Raja Pervaiz Ashraf
Nawaz Sharif
Shahid Khaqan Abbasi
Imran Khan
Yousaf Raza Gillani
Solution:
Imran Ahmed Khan Niazi is the 22nd and current Prime Minister of Pakistan and the chairman of the Pakistan Tehreek-e-Insaf.
Q13. ISRO opens its laboratories for Indian school students. ISRO established in which year?
1969
1970
1972
1975
1957
Solution:
INDIAN SPACE RESEARCH ORGANIZATION (I.S.R.O.) was formed in 15 august 1969.
Q14. HCL Technologies is all set to roll out "Tech Bee" programme, a company initiative under which it trains and hires students who have completed XII th standard, across several states. Who is chairmen of HCL?
G. V. Prasad
Michael Dell
Sanjay Murdeshwar
Sanjiv Mehta
Shiv Nadar
Solution:
Shiv Nadar is an Indian billionaire industrialist and philanthropist. He is the founder and chairman of HCL.
Q15. Priyanka Chopra to be honoured with a humanitarian award by UNICEF. UNICEF formed in which Year?
1945
1944
1946
1950
1957
Solution:
The United Nations Children's Fund, originally known as the United Nations International Children's Emergency Fund, was created by the United Nations General Assembly on 11 December 1946.