Hello Everyone,
I am Mohan Kumar V presently working in the Indian Navy and I am about to get retired from service in the month of August this year. I cleared IBPS Clerk -IX 2019 and got Canara Bank, Karnataka. This was my first attempt and all credit goes to my family, friends, colleagues, and finally the ADDA247.
I wanted to go into Banking Sector because the IBPS and all Banks recruitment process is fast and the job is good. I started my studies in mid of August 19. I got a suggestion from my friend Anil and senior to use Adda247. He guided me on how to prepare for bank exams. I purchased the Video Course for 6 months. It helped me a lot.
 I appeared in these following exams till now:-
LIC Assistant – 2019- Couldn't Qualify in Mains Exam 
IBPS Clerk – IX – Prelims – 35 Marks Cutoff (13.5) Ex-servicemen Quota Karnataka
IBPS Clerk Mains – 58.50 Ex-servicemen Quota Karnataka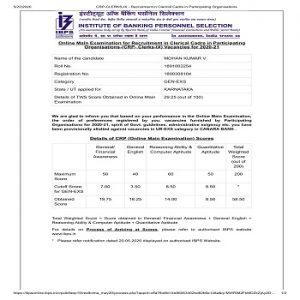 Also Read,
My Preparation strategy for Bank Exams:-
Quantitative Aptitude:-  I just started with Basics like memorizing tables, square roots, cube roots, and short cuts for Quadratic Equations. I was not confident in word problems so for Mains I just prepared well in simplifications, Quadratic equations, Number series, and DI. I was slow in DI but the daily mocks helped me get faster in DI also. In mains, to me, it was a tough paper in IBPS Clerk as I have done my preparation in a short time. I got success just because I focused on Accuracy and selection of questions in the exam. I attempted only 11 questions and got 8.50 and cutoff was also 8.50. Thanks a lot for Adda247 Team which made me to prepare in such a short time. 
Reasoning Section:- In reasoning Section it is fun, but a lot of Practice needed. I selected some topics which I can catch up soon and practice well for the exams, like syllogism, inequalities, and puzzle. My direction was good and only a bit of practice was needed and I did well in those questions. I was practicing puzzles also but I gave time to miscellaneous also. my favorite was directions based questions, coding-decoding, inequalities, and syllogism. The reasoning is nothing but clears the concepts and practice practice practice that it. Here also the daily quiz of Adda247 helped me a lot. The speed in Reasoning came by these daily quizzes.
English Section:-I studied in an English medium school so I didn't prepare much as I had less time, but was attempting daily quizzes and read daily vocabs posted by Adda247. 
General Awareness:-  I was a bit weak in Static GK, I started reading daily current affairs posted in Adda247 and some time would get time to watch videos of Ashish Sir. I would take daily quizzes and read the book which I ordered from Adda247. For my mains exam, I just studied The capsule of General Awareness released by Adda247. 
Finally, I practiced Mocks and Test Series from Adda247, and they were amazing. I followed the instructors of Adda247. All instructors of Adda247 have covered each and every subject well and guided properly on how to attempt and crack the Exams. 
Some important tips I want to share for banking aspirants:-
1. Preparation is a must but with that 'Time Management' is the Most Important Thing.
2. Just live your ego outside the exam hall and then enter ( I hope aspirants understand what I am trying to say).
3. Practice the selection of questions that should be answered first and what in last this matters a lot in Bank exams. I should learn to skip the questions also.
4. Practice your strong points well.
5. Take as much as mocks as you can. I was taking Mocks every alternate day 15 days before the mains.
6. After Taking Mocks analyze it, it helps a lot.  
7. Read daily Current affairs and take the daily quizzes.
8. Read Daily Vocabulary from The Hindu.
These all tips are given by the Adda247 team before exams. Yes, I just followed them, then only I was able to crack in the first time itself. Finally, I thank the whole Adda247 team for helping me to prepare for the Bank exams and get the job for my 2nd Innings. My 2nd innings will be starting in Canara Bank.  
"FIRM DECISION, HARD WORK, AND DEDICATION TAKES YOU TO THE SUCCESS YOU WANT TO ACHIEVE"
Visit Achieversadda.com and participate in discussions with other aspirants and achievers. Get answers to your queries and connect with others on Achieversadda.com
Give a boost to your career in Banking, Prepare for JAIIB Exams-
Team Bankersadda Congratulates all Achievers!! Your hard work has finally paid off and now its time to share your success with the world. Send your success story with a success selfie to blogger@adda247.com
Register Here Achievers to Share Your Success Story
WhatsApp your Result to Us – 8750044828