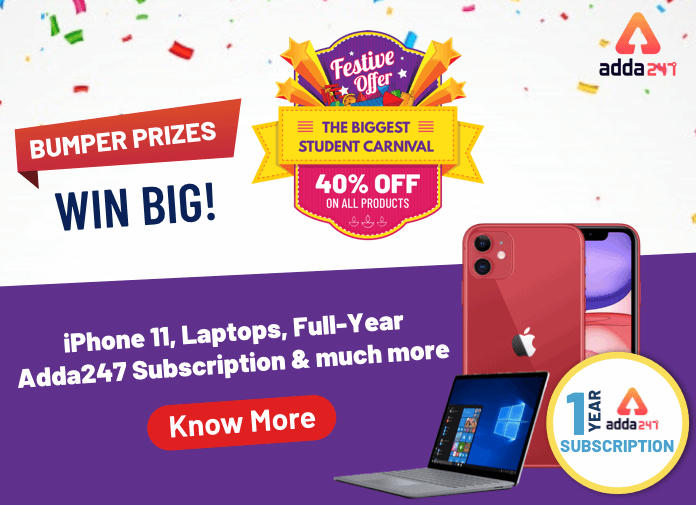 October is the month of festivals. Diwali, Dussehra, Durga Ashtami, Dhanteras, etc are in the row for burning a hole in your pocket. Not only festivals, this is the season of examination. Students, we are here to increase your happiness and ease your journey. This october we are presenting you the Biggest Student Carnival. Adda247 is happy to announce that more than 10 crore students have become the part of our family as the trusted user. On this occasion, we are offering 40% discount on all the products of Adda247 for every competitive examination. Not only discount, we have come up with the biggest student carnival that is already been started this month. The carnival will keep on rolling till the end of the month. 2019 is already a joyful year for student looking for opportunities in various government sectors and now Adda247 is here to celebrate the festive Month of October with all the readers and Aspirants to enhance your joy.
Our students have shown their faith and trust in us over the years and now, we are offering them a chance to grab the offers worth Rs 30 lakh. This time, Make your festive season more joyous and prosperous with Adda247. Keen to know how? Keep on reading the details. Get a chance to win daily Shopping & travel vouchers, 100 % Cashback, Study material & more and make the best of This festive season to prepare for any competitive exam.
Use Coupon Code- FEST40 to get 40% Discount on all products.
This october, we have something for everyone. You must be wondering what is this all about? Everytime you make any purchase with Adda247, you get assured chamce to spin the wheel that can provide you assured rewards. These rewards will be in the form of shopping & travel vouchers, 100% Cashback, free study materials, gaana subscription and more!! Every spin promises assured prizes with no try again. Wait, the deal is not ended here. We have lot more to offer you. After spining the wheel you will be registered for the lucky weekly draw automatically where  lucky draw winners will get Red MI note 7S. Wow! Sounds Amazing. Isn't it?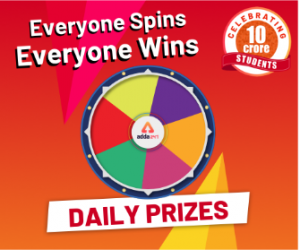 Want more? All the student making purchase will directly enter into the Monthly lucky draw where three lucky winners can steal the Diwali dhamaka offer. They will get a chance to win Iphone 11, Laptop, or a full year Adda247 product subscription. So students, win something exciting everyday and a chance to win our three mega prizes. Big bang!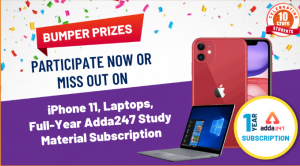 Make a purchase from 1st October to 31st October with the minimum discount of 40% on all Adda247 product. Use Coupon Code- FEST40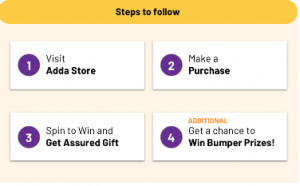 So, what you are waiting for? Make a purchase to start your preparation and win amazing prizes. Win assured gifts with every purchase of Adda247 products.