The Hindu Editorial Article of 24 August 2020- Women, Uninterrupted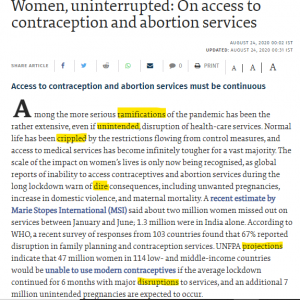 1. Ramifications (noun) फैलाव: Accidental Consequences complicating things
Meaning: Infatuation or Consequences
Synonyms: Complications
Example: There must be rampifications for what they have done to our nation
2. Crippled (adjective) अपंग: Anything not working properly the way it should
Meaning: Disabled 
Synonym: Gimpy, Halting, Lame
Example: For a world crippled by COVID-19, salvation hinges on a vaccine
3. Unintended (adjective) अनायास ही: Something done without planning or you did not meant to do that.
Meaning: Not planned or not meant     
Synonym: Accidental, inadvertent
Example: Some victims were unintended targets of gunfire on the streets. 
4. Dire (adjective) भयानक: Situation or event causing extreme fear and danger
Meaning: Dreadful, Terrible  
Synonym: Desperate, Critical
Example: The teams most dire needs are on the defensive end.
5. Projections (noun) प्रक्षेपण: Estimate the future scenario based on current trends 
Meaning: Prediction, Forecast  
Synonym: Forcing out, Ejection, Protrusion
Example: His father have an optimistic projection for him as a certainty
6. Disruptions (noun) विच्छेद: Problems that interupts any activity or event
Meaning:  Collapse, Tension, Crudity
Synonym: Break, Gap, Interruption 
Example: In the past, his concern about the climate disruption was discussed by various leaders. 
The Hindu Review July 2020: Download Monthly Hindu Review PDF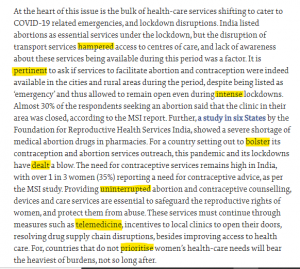 7. Hampered (verb) बाधा डालना: Preventing any progress to happen
Meaning: Hindered
Synonyms: Obstructed, Inhibited, Impeded
Example: The companies tasks got hampered due to the COVID-19 pandemic 
8. Pertinent (adjective) उचित: Something relevant or to the point 
Meaning: Affecting, Comprehensive
Synonyms: Apt, Relevant, Appropriate
Example: Most of the students took interest in what Shalini was saying and asked her pertinent questions too.
9. Intense (adjective) तीव्र: Strong or extreme 
Meaning: Vivid, Acute
Synonyms: Enormous, Extreme
Example: A hot cup of coffee spilled accidently will give an intense pain
10. Bolster (verb) आधार: Offering support to anyone 
Meaning: Strengthen, Support
Synonyms: Reinforce, Fortify
Example: To bolstered the resilience of the public, lawmakers said a quicker intelligence community is required
11. Dealt (verb) निपटा: Something given out in portions
Meaning: Distributed, Shared 
Synonyms: Apportioned, Pareceled
Example: Some harsh lessons are being dealt out to two teenagers at the same moment
12. Uninterrupted (adjective) निरंतर: Undisturbed continuity of an event
Meaning: Continuous, Undisturbed
Synonyms: Constant, Unbroken, Continual
Example: The work of the National Security Council continues uninterrupted
13. Telemedicine (noun) सुदूर: Diagnosing and treating patients via telecommunication technology.
Meaning: Exchanging of medical information through tele communications.
Synonyms: Tele-health, e-health, Tele-medical
Example: During COVID-19 telemedicine had been a great help in treatment procedures. 
14. Prioritize (verb) प्राथमिकता: Ranking on the basis of importance
Meaning: Listing things on priority basis
Synonyms: Categorize, Arrange 
Example: The age has been an affecting the way people prioritize their goals
Visit Achieversadda.com and participate in discussions with other aspirants and achievers. Get answers to your queries and connect with others on Achieversadda.com