The Rankers Batch 2022 – For All Banking Exams By Adda247: This Rankers Batch is one of a kind batch launched by Adda247 for all the students preparing for Banking Exams which are held across the nation, ranging all the way from IBPS, SBI PO, RRB PO & Clerk to RBI Grade B & Regulatory Bodies Grade A & B Exams. It is expected from the students to have their basics in Maths, Reasoning, English & GA cleared in order to reap maximum benefit from this Rankers batch as the content which is to be taught in this batch exceeds this basic level. We have chosen industry expert faculties with rich teaching heritage of years & content which has been curated meticulously keeping in mind the ever-changing competitive exam world & the needs of a Banking Exam aspirant. This full-proof formula has driven selections of students as Bankers year after year and this time we are putting it all into one single batch for Banking Aspirants of 2022.
Buy The Rankers Batch and Get BANKING AWARENESS SUPREME COURSE WITH 150+ VIDEOS FOR FREE
The Rankers Batch 2022 – For All Banking Exams By Adda247
Its contents will clear the basic concepts of All Subjects, by starting on basic level helping students of any standard or background to understand any question in a better way, and then taking the batch to whole advance level by introducing High Level Puzzle & DI thereby focusing on overall preparation (Pre + Mains) for any candidate.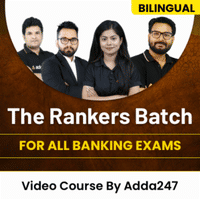 Course Highlights of The Rankers Batch
230+ Hours Video Classes by Expert Faculties
Thoughtfully curated syllabus based on analysis of Previous years & based on what to expect in the coming years
A must have batch if you're targeting Top Ranks in Banking Exams of 2022
Study anywhere and anytime
Get Preparation tips from the experts & Learn Time Management
Study at your own Pace
Banking Supreme Course Is FREE With Rankers Batch
The Rankers Batch | For All Banking Exams | Bilingual | Pre-Recorded Video Course By Adda247 
Check the Quants study plan here
Check the Reasoning study plan here 
Check the English study plan here
Check the General Awareness study plan here