The Finance Minister announced the third tranche of the Atma Nirbhar Bharat Abhiyan's finance stimulus to aid the nation amid COVID-19 Pandemic. The first announcement on 13 May came with a set of measures for micro, small and medium enterprises (MSMEs) and non-banking finance companies (NBFCs), along with 3 tax measures and support in the Employee's Provident Fund (EPF) scheme. The second tranche of Self-Reliant India Economic Package focused on migrant workers, street vendors, and small traders. The FM's briefing on the 3rd tranche on Eco-Booster come for the Agriculture and allied activities.
The Finance Minsiter said that the 3rd phase of Atma Nirbhar Abhiyan comes with 11 measures out of which 8 are related to strengthening infrastructure, capacity building and 3 will pertain to governance and administrative reforms.
Fund of Rs. 1 Lakh Crore for aggregators FPOs, primary agriculture cooperative societies all for strengtheing the farm gate infrastructure. For cold chains and post harvest infrastructure- Specially for private and startups
Fund of Rs 10,000 crores to be made micro food enterprises this will espicially help in the Vocal for Local Initiative. 2 Lakh enterprises will be benifit for locally-made products to reach global markets.
Matsya Sampada Yojana- Fund of Rs 20,000 crore to be set up for integrated, sustainable, inclusive development of marine and inland fisheries. Government aims at providing employment to over 55 lakh persons and doubling exports to Rs 1 lakh crore.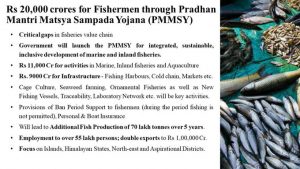 FM announces 100% vaccination of all cattle (nearly 53 crore animals) to eradicate foot and mouth disease.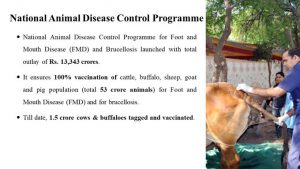 Animal Husbandry Infrastructure Fund of Rs 15,000 crores fund to be established for dairy infrastructure and cattle feed infrastructure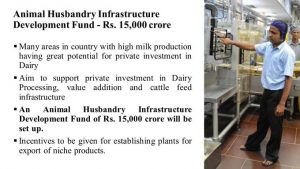 To promote herbal cultivation FM announced that a fund of Rs 4,000 crore will be allocated. Up to 10 lakh hectare to be brought under herbal cultivation to generate Rs 5,000 crore income for farmers.
Rs 500 crores for bee keeping initiatives to benefit 2 lakh keepers and wax production to be encouraged.
Operation Green- Additional Rs 500 crores for supply chains disrupted by lockdown. It includes all perishable items with 50% subsidy on transport and 50% subsidyon storage
Amendment in Essential Commodities Act (1955)
The Finance Minister announced that Essential Commodities Act (1955) will be amended to deal with abundance of crops. Changes in the act include-
Cereals, edible oils, oil seeds, potato and onion to be deregulated
No stock limit shall apply for storage
Government will amend Essential Commodities Act to enable better price realisation for farmers; Agriculture food stuffs including cereals, edible oils, oilseeds, pulses, onions and potato will be deregulated.#AatmaNirbharDesh #AatmanirbharBharat pic.twitter.com/qVfoVXVmZl

— PIB India #StayHome #StaySafe (@PIB_India) May 15, 2020
Top to Total horticulture scheme now extended to all fruits and vegetables.
The government extended Operation Greens from Tomatoes, Onion and Potatoes (TOP) to all fruits and vegetables. Operation Greens was a project aimed to stabilise the supply of tomato, onion and potato crops (TOP crops) in India, as well as to ensure their availability around the country, year-round without price volatility.
Fair price for farmers- The Finance Minister announced that the Central law to provide farmers with a choice to sell at attractive prices and Inter-state trade to be made barrier-free. E-trade of produce should be facilitated.
Legal framework to help farmers to fix their own price. Assured price return quantity for farmers prior to sowing.
Finance Minister's 2nd Phase of Announcement on Atma Nirbhar Bharat Abhiyan worth Rs. 20 Lakh Crore
Highlights of Finance Minister Nirmala Sitharaman 1st Announcement on Atmanirbhar Bharat Abhiyan Economic Package
Click Here to Register for Bank Exams 2020 Preparation Material