The nationwide lockdown 3.0. begins for 2 more weeks starting from 4 May 2020. Many activities have been resumed in the green zones and from 4 May onwards the new guidelines by the Ministry of Home Affairs comes into effect. The Ministry of Home Affairs on 1 May released a complete set of instructions on activities that are allowed in all red, orange and green zones along with what is complete prohibitted in these zones during lockdown 3.0. The coronavirus case count in India is increasing day by day and has crossed the 37,000 mark already. In this article we will be sharing state-wise list of red, orange and green zone districts of COVID-19 outbreak, and you can also check the guidelines by MHA given below: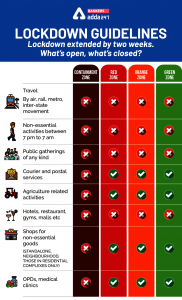 How Red, Orange and Green Zones are identified?
The following are the guidlines the government has stated to classify 733 districts of India into three zones- Red, Orange and Green:
Red Zones- 130 district
These are areas with maximum risk- the classification of districts as Red Zones will take into account the total number of active cases, doubling rate of confirmed cases, extent of testing and surveillance feedback from the districts.

Orange Zones-284 districts
Districts that are neither red or green will be considered orange zones with moderate risk. The Ministry of Home Affairs has mentioned that in case a district is orange zone and there is no confirmed case in the area of the district outside the limits of the Municipal Corporation, this area may be then labeled as Green Zone.
Green Zones- 319 districts
The Green Zones will be low risk districts with either zero confirmed cases till date; or, no confirmed case in the last 21 days
Red Zone
Orange Zone
Green Zone

Activities Allowed

Hospitals and Medical Clinics

Movement of individuals/vehicles for essential service

SEZ, export-oriented units, industrial estates can reopen

Construction activities in rural areas

standalone shops can reopen

Private offices can operate with 33% strength

defense and security services, health and family welfare, police, prisons, home guards, civil defence, fire and emergency services, disaster management and related services

all agriculture and animal husbandry

Banks, NBFCs, insurance and capital market activities

print and electronic media, IT and IT-enabled services, data and call centres, cold storage and warehousing services

self-employed persons, except for barbers

Government offices with senior officers of the Deputy Secretary level and above at full strength, with the remaining staff attending up to 33 per cent

Hospitals and Medical Clinics

Taxis and cab operators- with 1 driver and two passengers.

inter-district movement of individuals

All economic activities that have been permitted in red zones will also be allowed to resume in orange zones

only in-situ construction will be allowed in urban areas

E-commerce activities for essential good only

All government offices will be allowed to function as per red zones norms

Buses can ply with 50 per cent capacity

All medical facilities

Liquor shops to open except in shopping complexes

All goods traffic is permitted

No separate pass of any sort is needed for essential movement

E-commerce is allowed in non-essential items

All activities mentioned in red zone list are allowed

Prohibitted in all zones

schools, colleges, coaching/training centres, cinema halls, gyms, malls, and places of worship

travel by air, rail, metro and inter-state movement by road

Hospitality services including restraunts

Any kind of social, political, cultural and other kinds of gatherings

person above 65 years, persons with co-morbidities, pregnant women and children below 10 years must not go out
Containment Zones
The Ministry of Home Affairs has stated that Containment Zones sall be demarcated with Red and Orange Zones and intensive surveillance mechanisim as outlined in the standard operating protocol (SOP) issued by Ministry of Health and Family Welfare is to be established withing that area. The local authorities in containment zone will ensure 100% coverage of Aarogya Setu App omong the residents.
Click Here to Register for Bank Exams 2020 Preparation Material
Practice With,
List of Red, Orange, Green Zone districts
ANDAMAN AND NICOBAR ISLANDS
| | |
| --- | --- |
| District | Zone |
| South Andamans | Red Zone |
| Nicobars | Green Zone |
| North And Middle Andaman | Green Zone |
ANDHRA PRADESH
| | |
| --- | --- |
| District | Zone |
| Kurnool | Red Zone |
| Guntur | Red Zone |
| Krishna | Red Zone |
| Chittoor | Red Zone |
| Spsr Nellore | Red Zone |
| West Godavari | Orange Zone |
| Y.S.R. | Orange Zone |
| Anantapur | Orange Zone |
| Prakasam | Orange Zone |
| East Godavari | Orange Zone |
| Srikakulam | Orange Zone |
| Visakhapatanam | Orange Zone |
| Vizianagaram | Green Zone |
ARUNACHAL PRADESH
| | |
| --- | --- |
| District | Zone |
| Lohit | Green Zone |
| Changlang | Green Zone |
| Changlang | Green Zone |
| Dibang Valley | Green Zone |
| East Kameng | Green Zone |
| East Slang | Green Zone |
| KurungKumey | Green Zone |
| Lower Dibang Valley | Green Zone |
| Lower Subansiri | Green Zone |
| Papum Pare | Green Zone |
| Tawang | Green Zone |
| Tirap | Green Zone |
| Upper Siang | Green Zone |
| Upper Subansiri | Green Zone |
| West Kameng | Green Zone |
| West Siang | Green Zone |
| Anjaw | Green Zone |
| Longding | Green Zone |
| Kra Daadi | Green Zone |
| Namsai | Green Zone |
| Siang | Green Zone |
| Kamle | Green Zone |
| Lower Siang | Green Zone |
| PakkeKessang | Green Zone |
| Lepa Rada | Green Zone |
| ShiYomi | Green Zone |
ASSAM
| | |
| --- | --- |
| District | Zone |
| Dhubri | Orange Zone |
| Marigaon | Orange Zone |
| Goalpara | Orange Zone |
| Golaghat | Green Zone |
| Karimganj | Green Zone |
| Nalbari | Green Zone |
| Hailakandi | Green Zone |
| Cachar | Green Zone |
| Kamrup | Green Zone |
| Lakhimpur | Green Zone |
| Kamrup Metro | Green Zone |
| South Salmara Mancachar | Green Zone |
| Barpeta | Green Zone |
| Bongaigaon | Green Zone |
| Darrang | Green Zone |
| Dhemaji | Green Zone |
| Dibrugarh | Green Zone |
| Jorhat | Green Zone |
| KarbiAnglong | Green Zone |
| Kokrajhar | Green Zone |
| Nagaon | Green Zone |
| Dima Hasao | Green Zone |
| Sivasagar | Green Zone |
| Sonitpur | Green Zone |
| Tinsukia | Green Zone |
| Chirang | Green Zone |
| Baksa | Green Zone |
| Udalguri | Green Zone |
| Biswanath | Green Zone |
| Majuli | Green Zone |
| Charaideo | Green Zone |
| Hojai | Green Zone |
| West Karbi Anglong | Green Zone |
BIHAR
| | |
| --- | --- |
| District | Zone |
| Munger | Red Zone |
| Patna | Red Zone |
| Rohtas | Red Zone |
| Buxar | Red Zone |
| Gaya | Red Zone |
| Nalanda | Orange Zone |
| Kaimur (Bhabua) | Orange Zone |
| Siwan | Orange Zone |
| Gopalganj | Orange Zone |
| Bhojpur | Orange Zone |
| Begusarai | Orange Zone |
| Aurangabad | Orange Zone |
| Madhubani | Orange Zone |
| Purbi Champaran (East Champaran) | Orange Zone |
| Bhagalpur | Orange Zone |
| Arwal | Orange Zone |
| Saran | Orange Zone |
| Nawada | Orange Zone |
| Lakhisarai | Orange Zone |
| Banka | Orange Zone |
| Vaishali | Orange Zone |
| Darbhanga | Orange Zone |
| Jehanabad | Orange Zone |
| Madhepura | Orange Zone |
| Purnia | Orange Zone |
| Sheikhpura | Green Zone |
| Araria | Green Zone |
| Jamui | Green Zone |
| Katihar | Green Zone |
| Khagaria | Green Zone |
| Kishanganj | Green Zone |
| Muzaffarpur | Green Zone |
| Pashchim Champaran (West Champaran) | Green Zone |
| Saharsa | Green Zone |
| Samastipur | Green Zone |
| Sheohar | Green Zone |
| Sitamarhi | Green Zone |
| Supaul | Green Zone |
CHANDIGARH
| | |
| --- | --- |
| District | Zone |
| Chandigarh | Red Zone |
CHHATTISGARH
| | |
| --- | --- |
| District | Zone |
| Raipur | Red Zone |
| Korba | Orange Zone |
| Surajpur | Green Zone |
| Bilaspur | Green Zone |
| Durg | Green Zone |
| Rajnandgaon | Green Zone |
| Basta | Green Zone |
| Dantewada | Green Zone |
| Dhamtari | Green Zone |
| Janjgir-Champa | Green Zone |
| Jashpur | Green Zone |
| Kanker | Green Zone |
| Kabirdham | Green Zone |
| Korea | Green Zone |
| Mahasamund | Green Zone |
| Raigarh | Green Zone |
| Surguia | Green Zone |
| Bijapur | Green Zone |
| Nayaranpur | Green Zone |
| Sukma | Green Zone |
| Kondagaon | Green Zone |
| Baloda Bazar | Green Zone |
| Garivaband | Green Zone |
| Balod | Green Zone |
| Munseli | Green Zone |
| Balrampur | Green Zone |
| Bemetara | Green Zone |
DADRA AND NAGAR HAVELI AND DAMAN AND DIU
| | |
| --- | --- |
| District | Zone |
| Dadra And Nagar Haveli | Green Zone |
| Daman | Green Zone |
| Diu | Green Zone |
DELHI
| | |
| --- | --- |
| District | Zone |
| South East Delhi | Red Zone |
| Central Delhi | Red Zone |
| North Delhi | Red Zone |
| South Delhi | Red Zone |
| North East Delhi | Red Zone |
| West Delhi | Red Zone |
| Shahdara | Red Zone |
| East Delhi | Red Zone |
| New Delhi | Red Zone |
| North West Delhi | Red Zone |
| South West Delhi | Red Zone |
GOA
| | |
| --- | --- |
| District | Zone |
| North Goa | Green Zone |
| South Goa | Green Zone |
GUJARAT
| | |
| --- | --- |
| District | Zone |
| Ahmedabad | Red Zone |
| Surat | Red Zone |
| Vadodara | Red Zone |
| Anand | Red Zone |
| Banas Kantha | Red Zone |
| Panchmahal | Red Zone |
| Bhavnagar | Red Zone |
| Gandhinagar | Red Zone |
| Aravalli | Red Zone |
| Rajkot | Orange Zone |
| Bharuch | Orange Zone |
| Botad | Orange Zone |
| Narmada | Orange Zone |
| Chhota Udaipur (Chhotaudepur) | Orange Zone |
| Mahisagar | Orange Zone |
| Mehsana | Orange Zone |
| Patan | Orange Zone |
| Kheda | Orange Zone |
| Valsad | Orange Zone |
| Dohad | Orange Zone |
| Kachchh (Kutch) | Orange Zone |
| Navsari | Orange Zone |
| Gir Somnath | Orange Zone |
| Dang | Orange Zone |
| Sabarkantha | Orange Zone |
| Tapi | Orange Zone |
| Jamnagar | Orange Zone |
| Surendranagar | Orange Zone |
| Morbi | Green Zone |
| Amreli | Green Zone |
| Porbandar | Green Zone |
| Junagadh | Green Zone |
| Devbhumi Dwarka (Devbhoomi Dwarka) | Green Zone |
HARYANA
| | |
| --- | --- |
| District | Zone |
| Sonipat | Red Zone |
| Faridabad | Red Zone |
| Gurugram (Gurgaon) | Orange Zone |
| Nuh | Orange Zone |
| Panipat | Orange Zone |
| Panchkula | Orange Zone |
| Palwal | Orange Zone |
| Rohtak | Orange Zone |
| Hisar | Orange Zone |
| Ambala | Orange Zone |
| Jhajjar | Orange Zone |
| Bhiwani | Orange Zone |
| Kaithal | Orange Zone |
| Kurukshetra | Orange Zone |
| Karnal | Orange Zone |
| Jind | Orange Zone |
| Sirsa | Orange Zone |
| Yamunanagar | Orange Zone |
| Fatehabad | Orange Zone |
| Charkhi Dadri | Orange Zone |
| Mahendragarh | Green Zone |
| Rewari | Green Zone |
HIMACHAL PRADESH
| | |
| --- | --- |
| District | Zone |
| Una | Orange Zone |
| Chamba | Orange Zone |
| Hamirpur | Orange Zone |
| Kangra | Orange Zone |
| Sirmaur | Orange Zone |
| Solan | Orange Zone |
| Bilaspur | Green Zone |
| Kinnaur | Green Zone |
| Kullu | Green Zone |
| Lahul And Spiti | Green Zone |
| Mandi | Green Zone |
| Mandi | Green Zone |
| Shimla | Green Zone |
JAMMU AND KASHMIR
| | |
| --- | --- |
| District | Zone |
| Bandipora | Red Zone |
| Shopian | Red Zone |
| Anantnag | Red Zone |
| Srinagar | Red Zone |
| Baramulla | Orange Zone |
| Kupwara | Orange Zone |
| Ganderbal | Orange Zone |
| Jammu | Orange Zone |
| Udhampur | Orange Zone |
| Kulgam | Orange Zone |
| Budgam | Orange Zone |
| Samba | Orange Zone |
| Kathua | Orange Zone |
| Rajouri | Orange Zone |
| Ramban | Orange Zone |
| Reasi | Orange Zone |
| Pulwama | Green Zone |
| Kishtwar | Green Zone |
| Doda | Green Zone |
| Poonch | Green Zone |
JHARKHAND
| | |
| --- | --- |
| District | Zone |
| Ranchi | Red Zone |
| Bokaro | Orange Zone |
| Garhwa | Orange Zone |
| Dhanbad | Orange Zone |
| Deoghar | Orange Zone |
| Hazaribagh | Orange Zone |
| Simdega | Orange Zone |
| Giridih | Orange Zone |
| Koderma | Orange Zone |
| Jamtara | Orange Zone |
| Chatra | Green Zone |
| Dumka | Green Zone |
| East Singhbum | Green Zone |
| Godda | Green Zone |
| Gumla | Green Zone |
| Latehar | Green Zone |
| Lohardaga | Green Zone |
| Pakur | Green Zone |
| Palamu | Green Zone |
| Sahebganj | Green Zone |
| Saraikela Kharsawan | Green Zone |
| West Singhbhum | Green Zone |
| Khunti | Green Zone |
| Ramgarh | Green Zone |
KARNATAKA
| | |
| --- | --- |
| District | Zone |
| Bengaluru Urban (Bangalore City) | Red Zone |
| Mysuru (Mysore) | Red Zone |
| Bengaluru Rural | Red Zone |
| Belagavi | Orange Zone |
| Vijayapura | Orange Zone |
| Kalaburagi (Gulbarga) | Orange Zone |
| Bagalkote | Orange Zone |
| Mandya | Orange Zone |
| Ballari (Bellary) | Orange Zone |
| Dharwad | Orange Zone |
| Dakshina Kannada | Orange Zone |
| Bidar | Orange Zone |
| Chikkaballapura | Orange Zone |
| Gadag | Orange Zone |
| Uttara Kannada | Orange Zone |
| Tumakuru | Orange Zone |
| Davangere | Green Zone |
| Udupi | Green Zone |
| Chamarajanagara | Green Zone |
| Chikkamagaluru | Green Zone |
| Chitradurga | Green Zone |
| Hassan | Green Zone |
| Haveri | Green Zone |
| Kodagu | Green Zone |
| Kolar | Green Zone |
| Koppal | Green Zone |
| Raichur | Green Zone |
| Shivamogga | Green Zone |
| Ramanagara | Green Zone |
| Yadgir | Green Zone |
KERALA
| | |
| --- | --- |
| District | Zone |
| Kannur | Red Zone |
| Kottayam | Red Zone |
| Kasaragod | Orange Zone |
| Idukki | Orange Zone |
| Kozhikode | Orange Zone |
| Kollam | Orange Zone |
| Palakkad | Orange Zone |
| Pathanamthitta | Orange Zone |
| Malappuram | Orange Zone |
| Thiruvananthapuram (Trivandrum) | Orange Zone |
| Alappuzha | Orange Zone |
| Thrissur | Orange Zone |
| Ernakulam | Green Zone |
| Wayanad | Green Zone |
LADAKH
| | |
| --- | --- |
| District | Zone |
| Leh Ladakh | Orange Zone |
| Kargil | Orange Zone |
LAKSHADWEEP
| | |
| --- | --- |
| District | Zone |
| Lakshadweep District | Green Zone |
MADHYA PRADESH
| | |
| --- | --- |
| District | Zone |
| lndore | Red Zone |
| Bhopal | Red Zone |
| Ujjain | Red Zone |
| Jabalpur | Red Zone |
| Dhar | Red Zone |
| Barwani | Red Zone |
| East Nimar | Red Zone |
| Dewas | Red Zone |
| Gwalior | Red Zone |
| Khargone | Orange Zone |
| Raisen | Orange Zone |
| Hoshangabad | Orange Zone |
| Ratlam | Orange Zone |
| Agar Malwa | Orange Zone |
| Mandsaur | Orange Zone |
| Sagar | Orange Zone |
| Shajapur | Orange Zone |
| Chhindwara | Orange Zone |
| Alirajpur | Orange Zone |
| Tikamgarh | Orange Zone |
| Shahdol | Orange Zone |
| Sheopur | Orange Zone |
| Dindori | Orange Zone |
| Burhanpur | Orange Zone |
| Harda | Orange Zone |
| Betul | Orange Zone |
| Vidisha | Orange Zone |
| Morena | Orange Zone |
| Rewa | Green Zone |
| Ashoknagar | Green Zone |
| Rajgarh | Green Zone |
| Shivpuri | Green Zone |
| Anuppur | Green Zone |
| Balaghat | Green Zone |
| Bhind | Green Zone |
| Chhatarpur | Green Zone |
| Damoh | Green Zone |
| Datia | Green Zone |
| Guna | Green Zone |
| Jhabua | Green Zone |
| Katni | Green Zone |
| Mandla | Green Zone |
| Narsinghpur | Green Zone |
| Neemuch | Green Zone |
| Panna | Green Zone |
| Satna | Green Zone |
| Sehore | Green Zone |
| Seoni | Green Zone |
| Sidhi | Green Zone |
| Umaria | Green Zone |
| Singrauli | Green Zone |
| Niwari | Green Zone |
MAHARASHTRA
| | |
| --- | --- |
| District | Zone |
| Mumbai | Red Zone |
| Pune | Red Zone |
| Thane | Red Zone |
| Nashik | Red Zone |
| Palghar | Red Zone |
| Nagpur | Red Zone |
| Solapur | Red Zone |
| Yavatmal | Red Zone |
| Aurangabad | Red Zone |
| Satara | Red Zone |
| Dhule | Red Zone |
| Akola | Red Zone |
| Jalgaon | Red Zone |
| Mumbai Suburban | Red Zone |
| Raigad | Orange Zone |
| Ahmednagar | Orange Zone |
| Amravati | Orange Zone |
| Buldhana | Orange Zone |
| Nandurbar | Orange Zone |
| Kolhapur | Orange Zone |
| Hingoli | Orange Zone |
| Ratnagiri | Orange Zone |
| Jalna | Orange Zone |
| Nanded | Orange Zone |
| Chandrapur | Orange Zone |
| Parbhani | Orange Zone |
| Sangli | Orange Zone |
| Latur | Orange Zone |
| Bhandara | Orange Zone |
| Beed | Orange Zone |
| Osmanabad | Green Zone |
| Washim | Green Zone |
| Sindhudurg | Green Zone |
| Gondia | Green Zone |
| Gadchiroli | Green Zone |
| Wardha | Green Zone |
MANIPUR
| | |
| --- | --- |
| District | Zone |
| lmphal West | Green Zone |
| Thoubal | Green Zone |
| Bishnupur | Green Zone |
| Chandel | Green Zone |
| Churachandpur | Green Zone |
| lmphal East | Green Zone |
| Senapati | Green Zone |
| Tamenglong | Green Zone |
| Ukhrul | Green Zone |
| Kakching | Green Zone |
| Kangpokpi | Green Zone |
| Jiribam | Green Zone |
| Noney | Green Zone |
| Pherzawl | Green Zone |
| Tengnoupal | Green Zone |
| Kamjong | Green Zone |
MEGHALAYA
| | |
| --- | --- |
| District | Zone |
| East Khasi Hills | Orange Zone |
| East Garo Hills | Green Zone |
| West Jaintia Hills | Green Zone |
| Ri Bhoi | Green Zone |
| South Garo Hills | Green Zone |
| West Garo Hills | Green Zone |
| West Khasi Hills | Green Zone |
| North Garo Hills | Green Zone |
| East Jaintia Hills | Green Zone |
| South West Khasi Hills | Green Zone |
| South West Garo Hills | Green Zone |
MIZORAM
| | |
| --- | --- |
| District | Zone |
| Aizawl | Green Zone |
| Champhai | Green Zone |
| Kolasib | Green Zone |
| Lawngtlai | Green Zone |
| Lunglei | Green Zone |
| Mamit | Green Zone |
| Saiha | Green Zone |
| Serchhip | Green Zone |
| Hnahthial | Green Zone |
| Saitual | Green Zone |
| Khawzawl | Green Zone |
NAGALAND
| | |
| --- | --- |
| District | Zone |
| Dimapur | Green Zone |
| Kohima | Green Zone |
| Mokokchung | Green Zone |
| Mon | Green Zone |
| Phek | Green Zone |
| Tuensang | Green Zone |
| Wokha | Green Zone |
| Zunheboto | Green Zone |
| Peren | Green Zone |
| Kiphire | Green Zone |
| Longleng | Green Zone |
ODISHA
| | |
| --- | --- |
| District | Zone |
| Jaiapur | Red Zone |
| Bhadrak | Red Zone |
| Baleshwar | Red Zone |
| Khordha | Orange Zone |
| Sundargarh | Orange Zone |
| Kendrapara | Orange Zone |
| Koraput | Orange Zone |
| Dhenkanal | Orange Zone |
| Kalahandi | Orange Zone |
| Cuttack | Green Zone |
| Puri | Green Zone |
| Anugul | Green Zone |
| Balangir | Green Zone |
| Bargarh | Green Zone |
| Boudh | Green Zone |
| Deogarh | Green Zone |
| Gajapati | Green Zone |
| Ganjam | Green Zone |
| Jagatsinghapur | Green Zone |
| Jharsuguda | Green Zone |
| Kandhamal | Green Zone |
| Kendujhar | Green Zone |
| Malkangiri | Green Zone |
| Mayurbhanj | Green Zone |
| Nabarangpur | Green Zone |
| Nayagarh | Green Zone |
| Nuapada | Green Zone |
| Rayagada | Green Zone |
| Sambalpur | Green Zone |
| Sonepur | Green Zone |
PUDUCHERRY
| | |
| --- | --- |
| District | Zone |
| Pondicherry | Orange Zone |
| Karaikal | Green Zone |
| Mahe | Green Zone |
| Yanam | Green Zone |
PUNJAB
| | |
| --- | --- |
| District | Zone |
| Jalandhar | Red Zone |
| Patiala | Red Zone |
| Ludhiana | Red Zone |
| SAS Nagar (Mohali) | Orange Zone |
| Pathankot | Orange Zone |
| Mansa | Orange Zone |
| Tarn Taran | Orange Zone |
| Amritsar | Orange Zone |
| Kapurthala | Orange Zone |
| Hoshiarpur | Orange Zone |
| Faridkot | Orange Zone |
| Sangrur | Orange Zone |
| Shahid Bhagat Singh Nagar (Nawanshahr) | Orange Zone |
| Firozpur (Firojpur or Ferozepur) | Orange Zone |
| Sri Muktsar Sahib | Orange Zone |
| Moga | Orange Zone |
| Gurdaspur | Orange Zone |
| Barnala | Orange Zone |
| Rupnagar (Ropar) | Green Zone |
| Fatehgarh Sahib | Green Zone |
| Bathinda | Green Zone |
| Fazilka | Green Zone |
RAJASTHAN
| | |
| --- | --- |
| District | Zone |
| Jaipur | Red Zone |
| Jodhpur | Red Zone |
| Kota | Red Zone |
| Ajmer | Red Zone |
| Bharatpur | Red Zone |
| Nagaur | Red Zone |
| Banswara | Red Zone |
| Jhalawar | Red Zone |
| Tonk | Orange Zone |
| Jaisalmer | Orange Zone |
| Dausa | Orange Zone |
| Jhunjhunu | Orange Zone |
| Hanumangarh | Orange Zone |
| Bhilwara | Orange Zone |
| Sawai Madhopur | Orange Zone |
| Chittorgarh | Orange Zone |
| Dungarpur | Orange Zone |
| Udaipur | Orange Zone |
| Dholpur | Orange Zone |
| Sikar | Orange Zone |
| Alwar | Orange Zone |
| Bikaner | Orange Zone |
| Churu | Orange Zone |
| Pali | Orange Zone |
| Barmer | Orange Zone |
| Karauli | Orange Zone |
| Rajsamand | Orange Zone |
| Baran | Green Zone |
| Bundi | Green Zone |
| Ganganagar | Green Zone |
| Jalore | Green Zone |
| Sirohi | Green Zone |
| Pratapgarh | Green Zone |
 SIKKIM
| | |
| --- | --- |
| District | Zone |
| North Sikkim | Green Zone |
| East Sikkim | Green Zone |
| South Sikkim | Green Zone |
| West Sikkim | Green Zone |
TAMIL NADU
| | |
| --- | --- |
| District | Zone |
| Chennai | Red Zone |
| Madurai | Red Zone |
| Namakkal | Red Zone |
| Thanjavur (Tanjore) | Red Zone |
| Chengalpattu | Red Zone |
| Thiruvallur (Tiruvallur) | Red Zone |
| Tiruppur | Red Zone |
| Ranipet | Red Zone |
| Virudhunagar | Red Zone |
| Thiruvarur (Tiruvarur) | Red Zone |
| Vellore | Red Zone |
| Kanchipuram | Red Zone |
| Theni | Orange Zone |
| Tenkasi | Orange Zone |
| Nagapattinam | Orange Zone |
| Dindigul | Orange Zone |
| Villupuram | Orange Zone |
| Coimbatore | Orange Zone |
| Cuddalore | Orange Zone |
| Salem | Orange Zone |
| Karur | Orange Zone |
| Thoothukudi (Tuticorin) | Orange Zone |
| Tiruchirappalli (Trichy) | Orange Zone |
| Tirupathur | Orange Zone |
| Kanyakumari | Orange Zone |
| Tiruvannamalai | Orange Zone |
| Ramanathapuram | Orange Zone |
| Tirunelveli | Orange Zone |
| The Nileiris | Orange Zone |
| Sivaganga | Orange Zone |
| Perambalur | Orange Zone |
| Kallakurichi | Orange Zone |
| Ariyalur | Orange Zone |
| Erode | Orange Zone |
| Pudukkottai | Orange Zone |
| Dharmapuri | Orange Zone |
| Krishnagiri | Green Zone |
TELANGANA
| | |
| --- | --- |
| District | Zone |
| Hyderabad | Red Zone |
| Suryapet | Red Zone |
| Ranga Reddy | Red Zone |
| Medchal Malkajgiri | Red Zone |
| Vikarabad | Red Zone |
| Warangal Urban | Red Zone |
| Nizamabad | Orange Zone |
| Jogulamba Gadwal | Orange Zone |
| Nirmal | Orange Zone |
| Nalgonda | Orange Zone |
| Adilabad | Orange Zone |
| Sangareddy | Orange Zone |
| Kamareddy | Orange Zone |
| Komaram Bheem Asifabad | Orange Zone |
| Karimnagar | Orange Zone |
| Khammam | Orange Zone |
| Mahabubnagar | Orange Zone |
| Jagitial | Orange Zone |
| Rajanna Sircilla | Orange Zone |
| Jayashankar Bhupalpally | Orange Zone |
| Medak | Orange Zone |
| Jangoan | Orange Zone |
| Narayanpet | Orange Zone |
| Mancherial | Orange Zone |
| Peddapalli | Green Zone |
| Nagarkurnool | Green Zone |
| Mulugu | Green Zone |
| Bhadradri Kothagudem | Green Zone |
| Mahabubabad | Green Zone |
| Siddipet | Green Zone |
| Warangal Rural | Green Zone |
| Wanaparthy | Green Zone |
| Yadadri Bhuvanagiri | Green Zone |
TRIPURA
| | |
| --- | --- |
| District | Zone |
| North Tripura | Orange Zone |
| Gomati | Orange Zone |
| Dhalai | Green Zone |
| South Tripura | Green Zone |
| West Tripura | Green Zone |
| Khowai | Green Zone |
| Sepahijala | Green Zone |
| Unakoti | Green Zone |
UTTAR PRADESH
| | |
| --- | --- |
| District | Zone |
| Agra | Red Zone |
| Lucknow | Red Zone |
| Saharanpur | Red Zone |
| Kanpur Nagar | Red Zone |
| Moradabad | Red Zone |
| Firozabad | Red Zone |
| Gautam Buddh Nagar (Noida and Greater Noida) | Red Zone |
| Bulandshahr | Red Zone |
| Meerut | Red Zone |
| Raebareli | Red Zone |
| Varanasi (Banaras) | Red Zone |
| Biinor | Red Zone |
| Amroha | Red Zone |
| Sant Kabir Nagar | Red Zone |
| Aligarh | Red Zone |
| Muzaffarnagar | Red Zone |
| Rampur | Red Zone |
| Mathura | Red Zone |
| Bareilly | Red Zone |
| Ghaziabad | Orange Zone |
| Hapur | Orange Zone |
| Baghpat | Orange Zone |
| Basti | Orange Zone |
| Budaun | Orange Zone |
| Sambhal | Orange Zone |
| Auraiya | Orange Zone |
| Shamli | Orange Zone |
| Sitapur | Orange Zone |
| Bahraich | Orange Zone |
| Kannauj | Orange Zone |
| Azamgarh | Orange Zone |
| Mainpuri | Orange Zone |
| Shravasti | Orange Zone |
| Banda | Orange Zone |
| Jaunpur | Orange Zone |
| Etah | Orange Zone |
| Kasganj | Orange Zone |
| Sultanpur | Orange Zone |
| Prayagraj (Allahabad) | Orange Zone |
| Jalaun | Orange Zone |
| Mirzapur | Orange Zone |
| Etawah | Orange Zone |
| Pratapgarh | Orange Zone |
| Ghazipur | Orange Zone |
| Gonda | Orange Zone |
| Mau | Orange Zone |
| Bhadohi | Orange Zone |
| Unnao | Orange Zone |
| Pilibhit | Orange Zone |
| Balrampur | Orange Zone |
| Ayodhya | Orange Zone |
| Gorakhpur | Orange Zone |
| Jhansi | Orange Zone |
| Hardoi | Orange Zone |
| Kaushambi | Orange Zone |
| Barabanki | Green Zone |
| Kheri | Green Zone |
| Hathras | Green Zone |
| Maharajganj | Green Zone |
| Shahjahanpur | Green Zone |
| Ambedkar Nagar | Green Zone |
| Ballia | Green Zone |
| Chandauli | Green Zone |
| Chitrakoot | Green Zone |
| Deoria | Green Zone |
| Farrukhabad | Green Zone |
| Fatehpur | Green Zone |
| Hamirpur | Green Zone |
| Kanpur Dehat | Green Zone |
| Kushi Nagar | Green Zone |
| Lalitpur | Green Zone |
| Mahoba | Green Zone |
| Siddharth Nagar | Green Zone |
| Sonbhadra | Green Zone |
| Amethi | Green Zone |
UTTARAKHAND
| | |
| --- | --- |
| District | Zone |
| Haridwar | Red Zone |
| Dehradun | Orange Zone |
| Nainital | Orange Zone |
| Udham Singh Nagar | Green Zone |
| Almora | Green Zone |
| Pauri Garhwal | Green Zone |
| Bageshwar | Green Zone |
| Chamoli | Green Zone |
| Champawat | Green Zone |
| Pithoragarh | Green Zone |
| Rudraprayag | Green Zone |
| Tehri Garhwal | Green Zone |
| Uttarkashi | Green Zone |
WEST BENGAL
| | |
| --- | --- |
| District | Zone |
| Kolkata | Red Zone |
| Howrah | Red Zone |
| North 24 Parganas | Red Zone |
| South 24 Parganas | Red Zone |
| West Medinipur (Paschim Medinipur) | Red Zone |
| Medinipur East (Purba Medinipur) | Red Zone |
| Darjeeling | Red Zone |
| Jalpaiguri | Red Zone |
| Kalimpong | Red Zone |
| Malda | Red Zone |
| Hooghly | Orange Zone |
| Paschim Bardhaman | Orange Zone |
| Nadia | Orange Zone |
| Purba Bardhaman | Orange Zone |
| Murshidabad | Orange Zone |
| Uttar Dinajpur | Geen Zone |
| Bankura | Geen Zone |
| Birbhum | Geen Zone |
| Coochbehar | Geen Zone |
| Dakshin Dinajpur | Geen Zone |
| Purulia | Geen Zone |
| Alipurduar | Geen Zone |
| Jhargram | Geen Zone |