The Finance Minister Nirmala Sitharaman addressed the nation in a press conference on 13 May to announce the details of the 20 Lakh Crore Economic Package for Self-Reliant India. PM Narendra Modi on his address to the nation on 12 May at 8PM, announced the Aatma Nirbhar Bharat Abhiyan and said that that it will focus on Land, Labour, Liquidity and Laws. Finance Minister has said that the complete finance stimulus will be announced step by step in upcoming days. Keep on reading for the  on what the Finance Minister has revealed about the Atmanirbhar Bharat Economic Package and who will be benefited from it. FM said today the tranche has about 15 different measures:
Press Conference by Finance Minister Nirmala Sitharaman
The Union Minister of Finance and Corporate Affairs Smt. Nirmala Sitharaman shared details of fiscal stimulas package in the media briefing under the mission- Aatma Nirbhar Bharat Abhiyan. The mission was finalised after discussion with several sections of the society and the PM has been spending considerable time to ensure that everyone benifits from the package given to the country. FM said the aim is to spur growth and facilitate self-reliant India.
Finance Minister started the speech by recalling various Reform Driven Steps that have been successfully taken by PM Modi government, some of which inlcuded DBT reform, micro-insurance scheme, Ujwalla Yojna that provided free cooking gas, swatch bharat abhiyan, ayushman bharat all of which brought a revolution in the country. Apart from these various other reforms related to agriculture, infrastructre and other sectors have helped in transforming India and have led us to a path to become a self-reliant India.
Atmanirbhar Bharat Abhiyan: Self-Reliant India Economic Package
The Economic Package that has been announced is worth Rs 20 Lakh Crore and is aimed at Self-Reliant India. The package is 10% of India's GDP with focus on 5 pillars – "Economy with potential for quantum jump, infrastructure, technology-driven system, demography and an intelligence-driven supply system." This brings forth something for every industry, middle class, micro, small and medium enterprises and for large industries as well.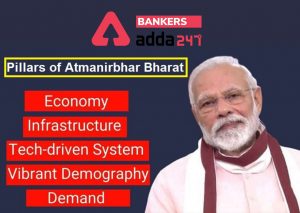 Highlights of Finance Minister's Announcement on 20 Lakh Crore Finance Stimulus
The focus will be on what can be defined as the factors of production- Land, Labour, Liquidity and Law. Intention is also to take local brands to a global level, thus global value chain is also kept in mind.
On 13 May the Finance Minister announced 15 different measures under Aatmanirbhar bharat; 6 of which are pertained to the Micro Small and Medium enterprises
Announcements For MSME
3 Lakh collateral free loan for MSME and there will be a 4 year tenure on the loans with 100% credit guarantee to banks and NBFCs on principal and interest. The offer will be valid until 31 Oct 2020 and no fresh collateral will be required, no extra fee will be charged.
Rs 20,000 crore liquidity through subordinate debt-based scheme for stressed MSMEs.
Funds of Funds- Funds worth 50,000 crore equity infusion for those who are viable and eligible.
Change in Definition of MSMEs- the definition is being changed in the favour of the MSMEs. Investment limit which define MSME is being revised upwards, even with an increased investment they'll still be under benifits of MSME. Additional critera of turneover has been brough up. Manufacturing and service-bases MSMEs to now enjoy same benefits. Now investment can be upto 1 crore and turnover upto 5 crore for an organisation to be considered under MSME.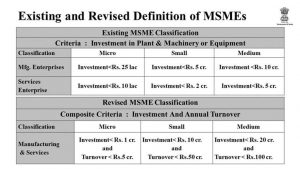 Definition of MSMEs has been revised, investment limit to be revised upwards, additional criteria of turnover also being introduced: Finance Minister Nirmala Sitharaman pic.twitter.com/BHYcGWD9H2

— ANI (@ANI) May 13, 2020
FM announced that the Global tenders will be disallowed in government procurement upto Rs 200 crores.
Within the next 45 days all the recievables of MSMEs will be cleared.
Announcements For EPF Scheme
Liquidity Relief is being given for EPF establishment- June July and August EPF contribution will be paid by the government of India. Govt will pay the 12% of both the parties. Relief of Rs 2,500 crores to be provided to benefit 70.22 lakh employees.
To provide more take-home salaries- The statutary contribution is being reduced to 10% from 12% so that employers can have money in hand. No change in EPF for Central PSUs. Government to take up PF for firms with 100 staff, earning less than Rs 15,000
Announcements For NBFC
The Finance Minister has announced Rs 30,000 crore special liquidity scheme where investment is to be made in primary and secondary investments and debt papers will be fully guaranteed by government of India. Rs 45,000 crore liquidity infusion through a Partial Credit Guarantee Scheme 2.0 for NBFCs
Announcement For DISCOM
Govt. announced emergency liquidity injection of Rs 90,000 crore for cash-desperate discoms. This is one time liquidity infusion.
Announcement for Contractors
All Govt of India agencies, such as railways, roadways, will provide 6 month extension to contractors.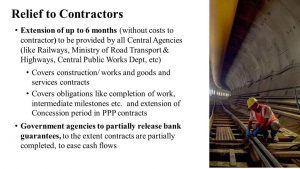 Announcement for Tax Payers
25% reduction is TDS
Finance Minister has announced that the due date of all IT Return filings extended from July 31 to November 30 2020. Tax audit date extended to 31 Oct 2020.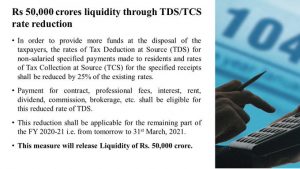 Government to infuse Rs 50,000 crores liquidity by reducing rates of TDS, for non-salaried specified payments made to residents, and rates of Tax Collection at Source for specified receipts, by 25% of the existing rates. #AatmaNirbharBharatAbhiyan pic.twitter.com/LR1jhG9ovY

— PIB India #StayHome #StaySafe (@PIB_India) May 13, 2020
Click Here to Register for Bank Exams 2020 Preparation Material