Union Budget 2020-21 Key Highlights: The new budget for the new decade is here. Finance Minister Nirmala Sitharaman has started her Union Budget Speech in the Parliament. This is her first full time budget presentation. We have come up with big promises in her budget statement. The budget has something for everyone and it will be such that it will attend to weak, old and vulnerable citizens. The budget is aiming to boost growth and enhance purchasing power of people.

We have come up with the Official PDF of the Budget 2020-21 that will cover everything in a more enahnced way:
Union Budget 2020-21: Theme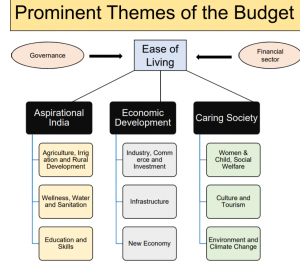 There are 3 themes of #Budget2020 :
Aspirational India,
Economic development for all, and
Developing a caring society
Expenditure taken up by Union Budget 2020-21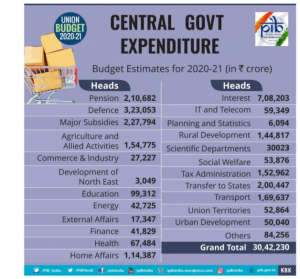 Budget At A Glance
Look at the Union Budge in a single official graphic nutshell: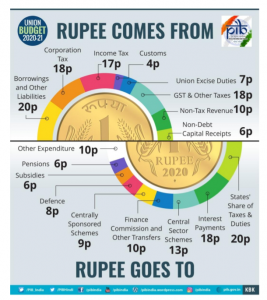 Finance Minister Speed on Budget 2020-21
Nirmala Sitharaman pays homage to 'visionary leader Arun Jaitley' when she speaks about GST. She calls it "the most historic reform". Lists out how economy has benefited as a result of GST- "the dreaded inspector raj" gone as a result of this GST – "integrated India economically". 60 Lakh new taxpayer has been added, 40 crore returns, 100 crore e-way bills were generated.
Finance Minister is back with red cloth bahi khata to present the union budget, the second of the second edition of the Narendra Modi government amid economic turbulence.
Union Budget theme "Aspirational India" will cover Programs and plans related to agriculture, irrigation and Rural Development, Wellness water And Sanitation, Education & Skills
Sabka Sath Sabka Vikas Sabka Vishwas was the tagline of government mentioned by Finance Minister Nirmala Sithraman in her speech today with listing few of the important aspects covered by the government.
Welfare schemes with direct benefit transfer like
Sanitation and water as the basic necessity
Health Care through Ayushman Bharat
Clean Energy through Ujjwala and Solar Alliance
Financial Inclusion, credit support and other facilities to vulnerable section
Digital Penetration through UPS
Affordable Housing for all with Pradhan Mantri Awas Yojana
Here are few highlights of Union Budget 2020:
Tax: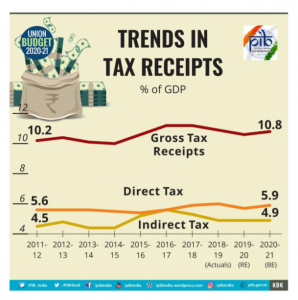 The tax rates are being simplified at both personal and coporate level. GST has already shown an increase in the 60 Lakh new taxpayer has been added, 40 crore returns, 100 crore e-way bills were generated. DDT (Divident Distribution Tax) is removed to attract more investment. 
Look at the personal tax table below: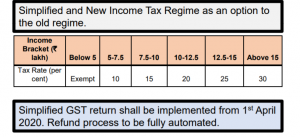 Corporate Tax:
Tax rate of 15% extended to new electricity generation companies.
Indian corporate tax rates now amongst the lowest in the world
FDI (Foreign Direct Investment):
India's foreign direct investment increased from a level from 12 per cent to almost double in the last 5 years. Central government debt has down to 48 per cent as of now from 52 per cent in March 2014.
Agriculture, Irrigation and Rural Development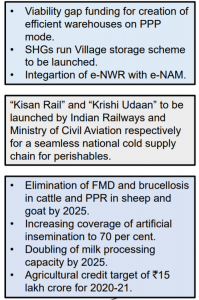 Rs 2.83 lakh crore would be spent on Agriculture, Rural Development, Irrigation and allied activities.
Comprehensive measures for 100 water-stressed districts has been proposed.
Kisan Rail and Krishi Udaan scheme has been released. To build a seamless national cold supply chain for perishables, Indian Railways will set up  Kisan Rail

through PPP model so that perishable goods can be transported quickly.

Krishi Udaan

will be launched by MoCA on international and national routes.

 
Wellness, Water and Sanitation
Rs. 69,000 crore allocated for overall Healthcare sector.
Rs. 6400 crore (out of Rs. 69,000 crore) for PM Jan Arogya Yojana (PMJAY) has been allocated 
Jan Aushadhi Kendra Scheme to offer 2000 medicines and 300 surgery in all districts by 2024.
TB Harega Desh Jeetega campaign launched  and a commitment to end Tuberculosis by 2025
Education and Skills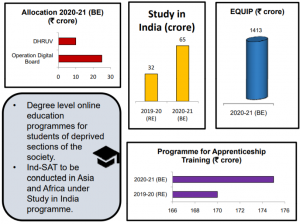 Culture and tourism
5 archeological sites to be developed as iconic sites with on-site museums.
The five sites includes:
Haryana: Rakhigarhi
UP: Hastinapur
Assam: Shivsagar
Gujarat: Dholavira
Tamil Nadu: Adichanallur
Environment & Climate Change
Rs.4400 crore has been allocated for this purpose in the budget 2020-21.
PM also launched Coalition for Disaster Resilient Infrastructure (CDRI) with Secretariat in Delhi. This is another international initiative after International Solar Alliance. 
Infrastructure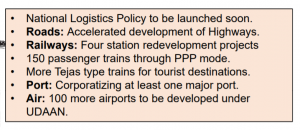 103 lakh crore National infrastructure Pipeline projects announced by the Government
An international bullion exchange to be set up at GIFT City.
Other Key Highlights includes:
FM Says " Our government shall encourage balanced use of all kinds of fertilizers, including traditional organic variety to discourage use of chemical fertilizers".
Between 2006-16 India was able to raise 271 million people out of poverty.
Calling the first term of BJP Government a paradigm shift in governance. Shift was characterized by fundamental structural reform and inclusive growth. Cleaning up of bank through banking reform being another big step.
FM Proposes public-private partnership (PPP) mode hospitals in 112 aspirational districts.
The new education policy will be announced soon, IND-SAT exam proposed in Asian and African country for foreign university 3.60 lakh crores for Jal Jeevan mission. 
Swachh Bharat Mission allocation Rs 12,300 crore. For agriculture and rural development 2.83 lakh crore.
Self Help Groups will be allowed to set up village agriculture storage facilities. Govt will involve rural youth in coastal areas to boost fish production.
National Recruitment Agency has to be set up in order to recruit candidates for non-gazzeted post in PSBs.
Also check: