Aiming for CAIIB ABM DEC 2022? CAIIB ABM Paid Demo Class is for all those aspirants who are aiming for CAIIB ABM December Exam 2022. The candidates who wish to qualify CAIIB November-December 2022 Exam must start their preparation from now and at least devote 3-4 hours daily to their preparation. To help the aspirants in their preparation Adda247 has come up with the CAIIB 2022 New Target Batch.
Aspirants preparing for the CAIIB November-December Exam 2022 can watch the Demo Class of ABM on the Official Youtube Channel OfficersAdda247. ABM 1st Paid Batch Free Demo Class will help you understand how OfficersAdda247 can help you understand the Detailed concepts and prepare easily for all the JAIIB/CAIIB promotional exams. The direct link to watch the CAIIB ABM 1st Paid Batch Free Demo Class is mentioned in the article below. Our expert faculty member Priyanshu Maheshwari Mam has conducted the CAIIB ABM Paid Demo Class. More than 2000 candidates have been qualified and promoted under the guidance of Priyanshu Maheshwari Maam. She has 10+ years of experience in training and mentoring candidates for various bank promotional examinations and she has also been a part in training the bank officers across India. More than 5000 Candidates have been taught under the guidance of Priyanshu Maheshwari Mam.
CAIIB 2022 New Target Batch | BFM+ABM+RETAIL| BILINGUAL| 2022 DEC 2022 EXAM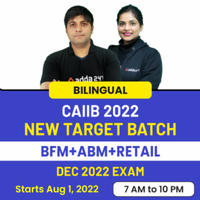 Start Date: -1-Aug-2022
Class Timing: 7:00 AM TO 10:00 PM
ABM BATCH – 29 JULY 2022 – 8 PM TO 9 PM
BFM BATCH – 16 AUG 2022 – 7 AM TO 8 AM
RETAIL BATCH – 12 SEPT 2022 – 9 PM TO 10 PM
What will you get?
Complete coverage of the Course through 180+ hours of Live Interactive Classes of ABM+BFM+RETAIL.
Mocks & E-books for Regular intensive practice
When you have a hectic day at work and can't attend the live class, watch recorded videos at your convenience.
Detailed subject Expertise for CAIIB DEC 2022 attempt.
In-depth analysis of the subject till the last day of your exam under the guidance of Experts
Subject Covered:
CAIIB PAPER -1: Advanced Bank Management (ABM) provides the advanced knowledge for better decision making at the senior levels in banking and financial systems with regard to the economy as a whole, statistical analysis, HR, and loan processing.
CAIIB PAPER – 2: Bank Financial Management (BFM) gives you an advanced understanding of various aspects of treasury, forex, export financing, and RBI norms as well as reporting so that the individual can comfortably work at senior levels in any financial institution including banks
CAIIB PAPER – 3 (Elective): Retail Banking provides in-depth knowledge of branch banking including the banking technologies and various contemporary products in retail banking.
Related Posts: