Retail Banking Demo Class: CAIIB Exam 2022 is scheduled to be on 26th June, 3rd July, and 9th of July 2022. Candidates have two compulsory Papers and one elective paper in the CAIIB Exam 2022. Retail Banking is one of the elective papers that most of the aspirants opt for. Elective Papers have equal weightage as compared to compulsory papers so candidates need to prepare it with full concentration. Adda247 has brought up the Retail Banking Classes for all the aspirants going to appear in the June-July CAIIB Exam 2022. Our expert faculty member will guide you through your preparation journey. So attend the Retail Banking's Free Demo Class and then go for the CAIIB  Complete Selection Batch.
CAIIB COMPLETE SELECTION BATCH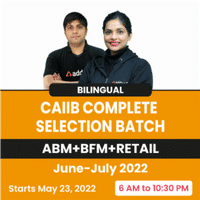 | | | |
| --- | --- | --- |
| Subject | Start Date | Start Time |
| ABM | 6 JUNE 2022 | 6:00 AM TO 7:30 AM |
| BFM | 13 JUNE 2022 | 7:30 AM TO 9:00 AM |
| RETAIL | 23 MAY 2022 | 9:00 PM TO 10:30 PM |
What will you get?
Complete coverage of the Course in a short time (Master Revision) through 100+ hours of Live Interactive Classes for ABM+BFM+RETAIL.
Detailed Video lectures for Non-stop Study of the ABM+BFM+RETAIL.
When you have a hectic day at work and can't attend the live class, watch anytime anywhere Recorded Video classed lectures at your convenience.
In-depth analysis of the subject till the last day of your exam under the guidance of Experts.
Mocks and E-books for Regular intensive practice
Specially Designed for the CAIIB JUNE-JULY  2022 Exam
Subject Covered
CAIIB PAPER -1: Advanced Bank Management (ABM) provides the advanced knowledge for better decision making at the senior levels in banking and financial systems with regards to the economy as a whole, statistical analysis, HR, and loan processing.
CAIIB PAPER – 2: Bank Financial Management (BFM) gives you an advanced understanding of various aspects of treasury, forex, export financing, and RBI norms as well as reporting so that the individual can comfortably work at senior levels in any financial institution including banks
CAIIB PAPER – 3 (Elective): Retail Banking provides in-depth knowledge of branch banking including the banking technologies and various contemporary products in retail banking.
Aiming for CAIIB JUNE-JULY 2022? | Watch RETAIL Demo Class in Hindi
Related Posts: