Bank Of India Bank Manager Salary 2022: Salary is one of the reasons to choose banking jobs apart from job security. The post of the specialist officer is one of the highly admired posts for which every year many aspirants appear for the exam. The specialist officer has a challenging work profile,  good career growth, and a handsome salary. Bank of India has released a total number of 594 vacancies for the post of specialist officer on regular basis and 102 vacancies on a contract basis. In this article, candidates can check below the salary structure, allowance, and job profile.
Bank of India Recruitment 2022: Check Here
Bank Of India Bank Manager Salary 2022: Salary Structure
Candidates can check the salary structure of specialist officer from the table given below
| | |
| --- | --- |
| Group Post | Scale Of Pay |
| Junior Management Grade Scale – I (JMGS I) | 36000-1490/7-46430-1740/2-49910-1990/7-63840 |
| Middle Management Grade Scale-II(MMGS II) | 48170-1740/1- 49910-1990/10-69810 |
| Middle Management Grade Scale –III(MMGS III) | 63840-1990/5- 73790-2220/2-78230 |
| Senior Management Grade Scale –IV(SMGS IV) | 76010-2220/4- 84890-2500/2-89890 |
Bank Of India Bank Manager Salary 2022: Allowances
A specialist officer's (scale 1) salary includes basic pay of rupees 36,000. They have a pay scale in the range of 36000-1490/7-46430-1740/2-49910-1990/7-63840.
Bank of India SO is eligible for perks like
Dearness Allowance
House Rent Allowance
Transport Allowance
Newspaper Reimbursement
Hospital Bills Reimbursement
Pension
Petrol Allowance
PF Allowance
Bank Of India Bank Manager Job Profile
Candidates can check below the job profile of a credit officer (JMGS-1). Only in Scale 1, candidates are directly recruited without any work experience. It is the entry-level as a specialist officer
The Credit officer is responsible for the disbursal of loans and oversees the entire lending process
The credit officer is also responsible to review and analyse the loan applications. On the basis of the conclusion, the credit officer can approve or deny the loan application.
A credit officer goes through various documents to check the creditworthiness of customers who applied for loans. The creditworthiness is checked by debt to income ratio, CIBIL reports, and the income history of customers.
After the approval of loan applications, the credit officers are tasked with monitoring repayment progress and keeping a check on NPAs.
Bank Of India Bank Manager Career Growth
Specialist officers are given ample opportunities to get promoted to higher level based on their performances. The hierarchy which is followed at the time of promotion is given below
Junior Management Grade Scale 1- Assistant Manager
Middle Management Grade Scale 2- Manager
Middle Management Grade Scale 3- Senior Manager
Senior Management Grade Scale 4- Chief Manager
Senior Management Grade Scale 5- Assistant General Manager
Top Management Grade Scale 6- Deputy General Manager
Top Management Grade Scale 7- General Manager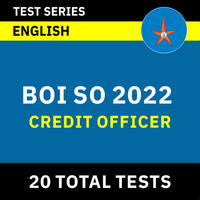 FAQs: Bank Of India Bank Manager Salary 2022
Q. What is the pay scale of BOI manager in junior manager scale grade 1?
Ans The pay scale of BOI manager in junior manager scale grade 1 is 36000-1490/7-46430-1740/2-49910-1990/7-63840
Q. What is the job role of a BOI credit officer?
Ans The job role of BOI credit officer is given in the article above