CAIIB Study Material 2023: Indian Institute of Banking and Finance has announced the CAIIB Registration and Exam Dates 2023. It is the best time for the aspirants to start their preparation as they will get ample time to get ready for the CAIIB 2023 Exams. To qualify, candidates need the right guidance and the best study material for their preparation. Here at Adda247, aspirants can avail of different sources of CAIIB Study Material which will prove to be much beneficial in qualifying for the examinations.
CAIIB Study Material 2023: Quizzes
CAIIB Exam 2023 can only be qualified if a candidate has a regular practice of the questions. It is not essential to solve a large number of questions but must practice a limited number of questions that are of a basic standard and are of the latest pattern. We provide subject-wise quizzes daily on our Adda247 app in the JAIIB/CAIIB section. These questions will not only clear the basic concepts but will also develop a habit of practicing regularly.
CAIIB Study Material 2023: Video Course
One of the study materials for CAIIB 2023 preparation is Video Course. We provide Video Courses for each of the compulsory as well as Elective Papers of CAIIB. The benefit of the video course is that aspirants at their ease can watch them and get conceptual knowledge. The faculty members provide the best guidance for exam preparation along with a proper strategy.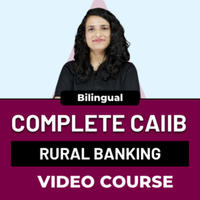 CAIIB Study Material 2023: Live Batch
The aspirants appearing for CAIIB Exams are the ones working in the banking or financial sector so managing time is very important for them. Availing live batch is the best option for them as they can get the complete study material and also have the option to watch the recorded videos at their own convenience. The live batches that we provide are available in both Bilingual as well as in the English Language.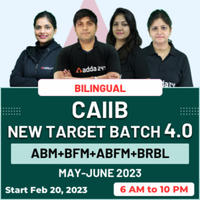 CAIIB Study Material 2023: Test Series
Test Series is one of the best source materials to prepare for the CAIIB 2023 Exams. Aspirants get to know the areas they are good at and the ones in which they lack behind. Adda247 provides test series in which the questions are of the latest pattern and prepared as per the CAIIB Revised Syllabus 2023. After solving test series candidates can get complete Analysis with All India Rank, Percentile, Time Spent, Topper's Comparison & Section-wise detail report.
Adda247 provides all the free videos for CAIIB 2023 on a separate youtube channel, OfficersAdda247. Aspirants should subscribe the channel and can get the maximum content and latest updates made by IIBF from there.