Champion's Reasoning Book for Bank & Insurance Exam: ADDA247 brings to you, magic in a book- for all your Reasoning ability problems. The book is comprehensive and encompasses all the aspects of Reasoning – Verbal, Logical & Analytical.
The content is as per the latest exam pattern and is suitable for all the Bank & Insurance Examinations such as SBI, RBI, IBPS, LIC, GIC, NABARD, SEBI, UIIC & Others.
This book is strategically designed to first introduce you to the world of Reasoning and gradually take you to the advanced levels of the same. The book has been authored by our Experienced Reasoning Mentor, Mr. Saurav Singh. The content includes theoretical concepts, Rules, and Examples to make your learning more interesting. The questions have been placed in ascending order of difficulty (Easy to Difficult).
Exclusively By Adda247 Publications: Aspirants are well aware of the dynamics of competitive examination, 3-6 months down the preparation line, you can observe a few changes in the pattern and level of questions. In such a scenario, printed edition or hard copy books bring a limitation; how to stay updated and study with the most relevant and latest study material? Adda247 Publications has brought a solution to this issue!!! We bring to you an exclusive feature with the purchase of this Book by Adda247 Publications.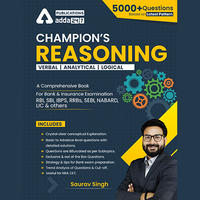 Features of Champion's Reasoning Book for Bank & Insurance Exam
Crystal clear conceptual Discussion.
Questions are bifurcated as per Subtopics.
Basic to Advanced Level Questions with Detailed Solutions.
5000+ Questions with detailed solutions.
Concepts with detailed approach and examples.
Based on the Latest Pattern.
Exclusive out of the Box Questions.
Trend analysis of Questions & cut-off.
 Strategy & tips for Bank exam preparation.
Useful for NRA CET as well