Read the most important current affairs of 1 November 2023. Today Current Affairs covers the headlines on First WiFi6-Ready Broadband Network, 'Wildlife Photographer Of The Year' Award, 2034 World Cup, Rohini Nayyar Prize, World Vegan Day.

Top 21 Current Affairs and News Headlines of 1 November 2023

National News
1.NMC to launch "one nation, one registration platform'' for doctors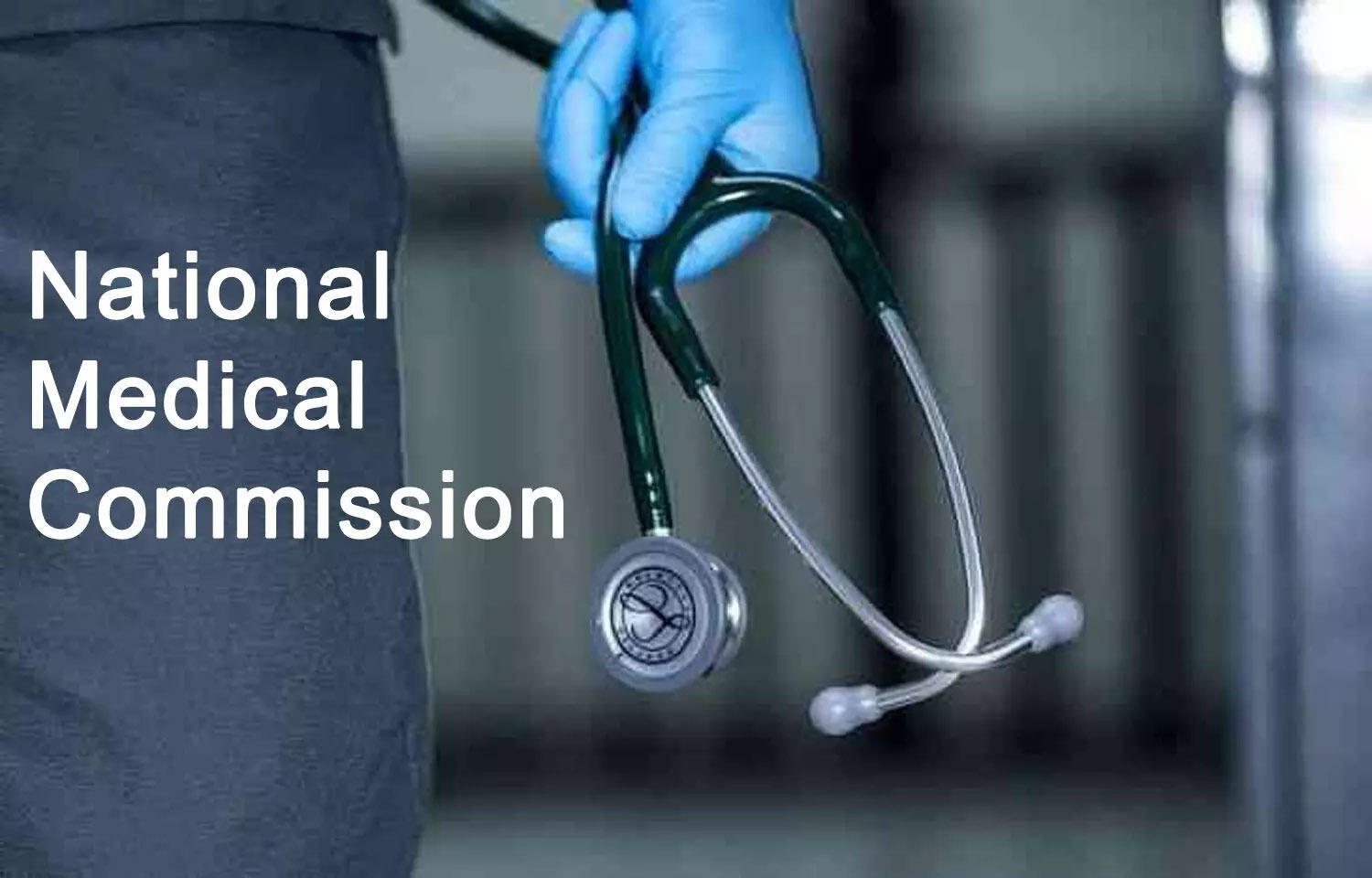 The National Medical Commission (NMC) has embarked on a mission to assign a unique identification number to every doctor in the country by the end of 2024. The cornerstone of this initiative is the creation of the National Medical Register (NMR).
National Medical Register (NMR) will serve as a centralized repository for doctors practicing in India. This move is expected to streamline the healthcare sector and enhance transparency.
The NMR will replace the existing Indian Medical Register (IMR) and will be accessible to the public through the NMC's website. It will offer below mentioned comprehensive information about registered doctors:


| Sno | Information | Description |
| --- | --- | --- |
| 1 | Unique Identification Number (UID) | A unique identification number assigned to each doctor. |
| 2 | Registration Number | The doctor's registration number used for verification. |
| 3 | Name and Place of Work | Details about the doctor's name and workplace. |
| 4 | Qualifications | Information regarding the doctor's educational degrees. |
| 5 | Specialization | The area of expertise in which the doctor practices. |
| 6 | Institute/University | The institution or university where qualifications were obtained. |
2.President Murmu Reached Ladakh For Her Maiden Two-Day Visit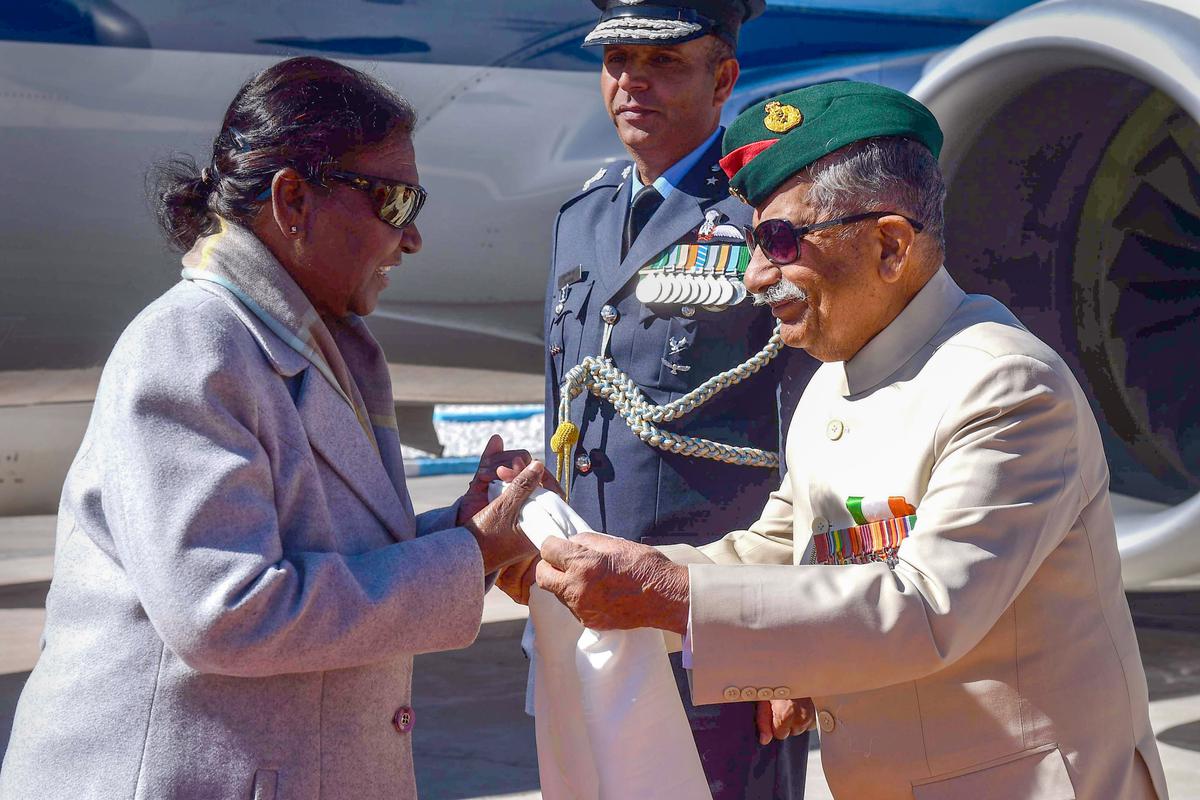 President Droupadi Murmu embarked on her first official visit to Ladakh, a region renowned for its breathtaking landscapes and resilient inhabitants. During her two-day stay, she participated in a series of events that celebrated the spirit of Ladakh and highlighted the unwavering commitment of its troops.
President Droupadi Murmu, upon her arrival in Leh for her first two-day visit to Ladakh, participated in the 5th Union Territory Foundation Day ceremony held at Sindu Sanskriti Kendra. During this event, she underscored the historical significance of the day, as in 2019, Ladakh was designated as a Union Territory.
In addition to her engagements with the armed forces and civil society, President Murmu took the opportunity to interact with members of self-help groups and local tribals. This dialogue emphasized her commitment to empowering the grassroots of Ladakh, encouraging self-sufficiency, and fostering community development.
3.Education Minister Reports 37% Increase In Women's Workforce Participation In India For FY23
In the 'Rozgar Mela,' in Bhubaneshwar, Union Education Minister Dharmendra Pradhan revealed that the participation of women in India's workforce has seen a significant increase, reaching 37 per cent during the 2022-23 fiscal year.
This remarkable upsurge, compared to the 23 per cent recorded in 2017-18, reflects the impact of the government's focused efforts to empower women in the workplace.
Another significant achievements noted by Pradhan was the decrease in the unemployment rate. In the 2022-23 fiscal year, the rate of unemployment in the country dropped to 3.7 per cent, a significant improvement from the 6 per cent recorded in 2017-18.
4.Kozhikode Named India's First 'City of Literature' by UNESCO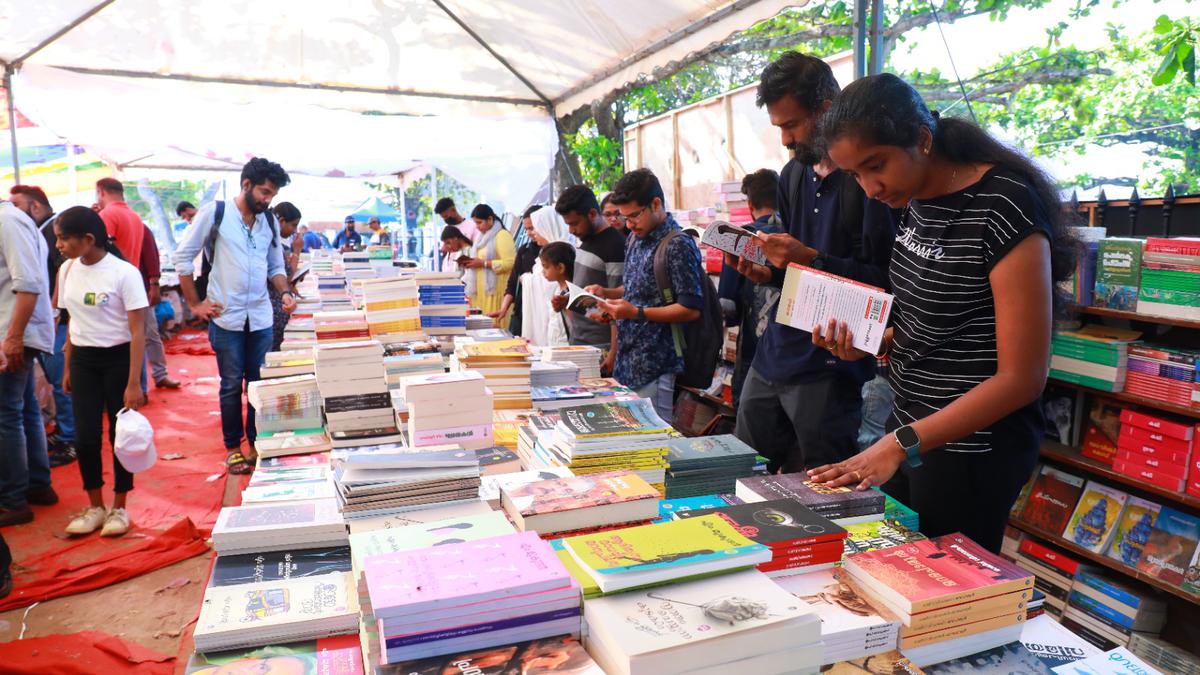 Kozhikode, a city located in the southern Indian state of Kerala, has made its mark on the global stage by being named one of the latest entrants into the UNESCO Creative Cities Network. Kozhikode's new title as the 'City of Literature' marks a significant milestone, as it's the first city in India to hold this coveted distinction.
This prestigious recognition was bestowed upon Kozhikode on World Cities Day, alongside Gwalior in Madhya Pradesh, which was recognized as a 'City of Music'. Prague was the first city to receive the City of Literature title in 2014.
With the inclusion of Kozhikode and Gwalior, the UNESCO Creative Cities Network now boasts 350 creative cities in more than 100 countries, representing seven creative fields: Crafts and Folk Art, Design, Film, Gastronomy, Literature, Media Arts, and Music.
State News
5.Celebrating Karnataka Rajyotsava: 50 Years of Karnataka's Formation
November 1, 2023, marks the 50th anniversary of Karnataka's formation, a significant day in the state's history. This day, known as Karnataka Rajyotsava, celebrates the merger of Kannada-speaking regions into a single state.
Karnataka was originally founded on Karnataka Rajyotsava Day on November 1, 1956, following the enactment of the State Reorganisation Act. The state's formation brought together all Kannada-speaking regions into a single entity. Karnataka was officially renamed from Mysore on November 1, 1973.
Apart from Karnataka, several other states and territories, including Andhra Pradesh, Chhattisgarh, Haryana, Kerala, Madhya Pradesh, Punjab, Lakshadweep, and Puducherry, also commemorate their formation day on November 1.
Defence News
6.Indian Air Force Phases Out Mig-21 Bison Squadron based at Uttarlai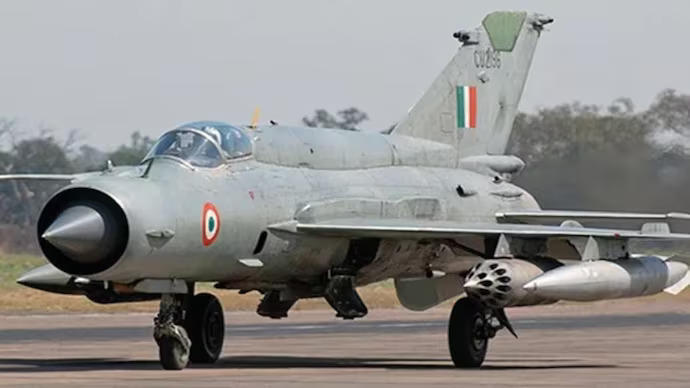 The Indian Air Force (IAF) conducted a ceremony at the Uttarlai Air Force Station in Rajasthan's Barmer, marking the phase-out of another squadron of the iconic Mig-21 Bison fighter aircraft.
This action has reduced the active number of Mig-21 Bison squadrons to just two. The ceremony featured a captivating flypast by both the Su-30MKI and the Mig-21 Bison fighters in the skies over Barmer, symbolizing a farewell to the legendary aircraft.
The Mig-21, known for its historical significance, was the first supersonic fighter aircraft to be inducted into the Indian Air Force's service in 1963 during the tenure of then-Prime Minister Jawahar Lal Nehru. The Indian Air Force has set a clear objective to phase out all the squadrons of the Mig-21 Bison by 2025, emphasizing its transition to more advanced and modern fighter aircraft.
Economy News
7.8.1% Growth Rate in 8 Key Infrastructure Sectors in September 2023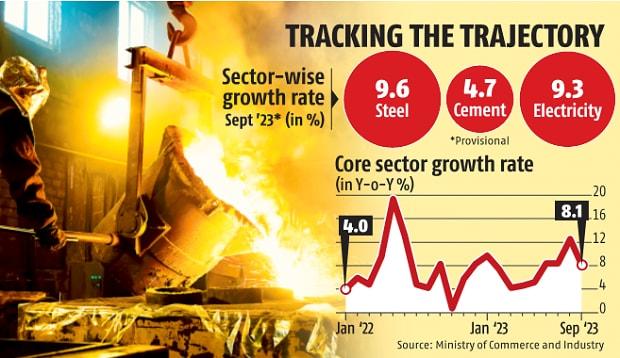 In September 2023, the growth rate of eight key infrastructure sectors in India witnessed a slowdown, reaching a four-month low of 8.1%. This decline is notable compared to the 8.3% growth recorded in the same month the previous year.
The growth rate in the production of refinery products decreased to 5.5% in September 2023, down from 6.6% in the previous year. Fertiliser production growth slowed down to 4.2% in September, compared to 11.8% in the previous year.
Cement production witnessed a decrease, with growth standing at 4.7% in September 2023, down from 12.4% in the previous year. The growth rate in electricity production dipped to 9.3% in September, a decline from 11.6% in the previous year. Crude oil production showed a negative growth of -0.4% in September.
8.India's Fiscal Deficit Reaches 39.3% of FY24 Target in First Half of the Year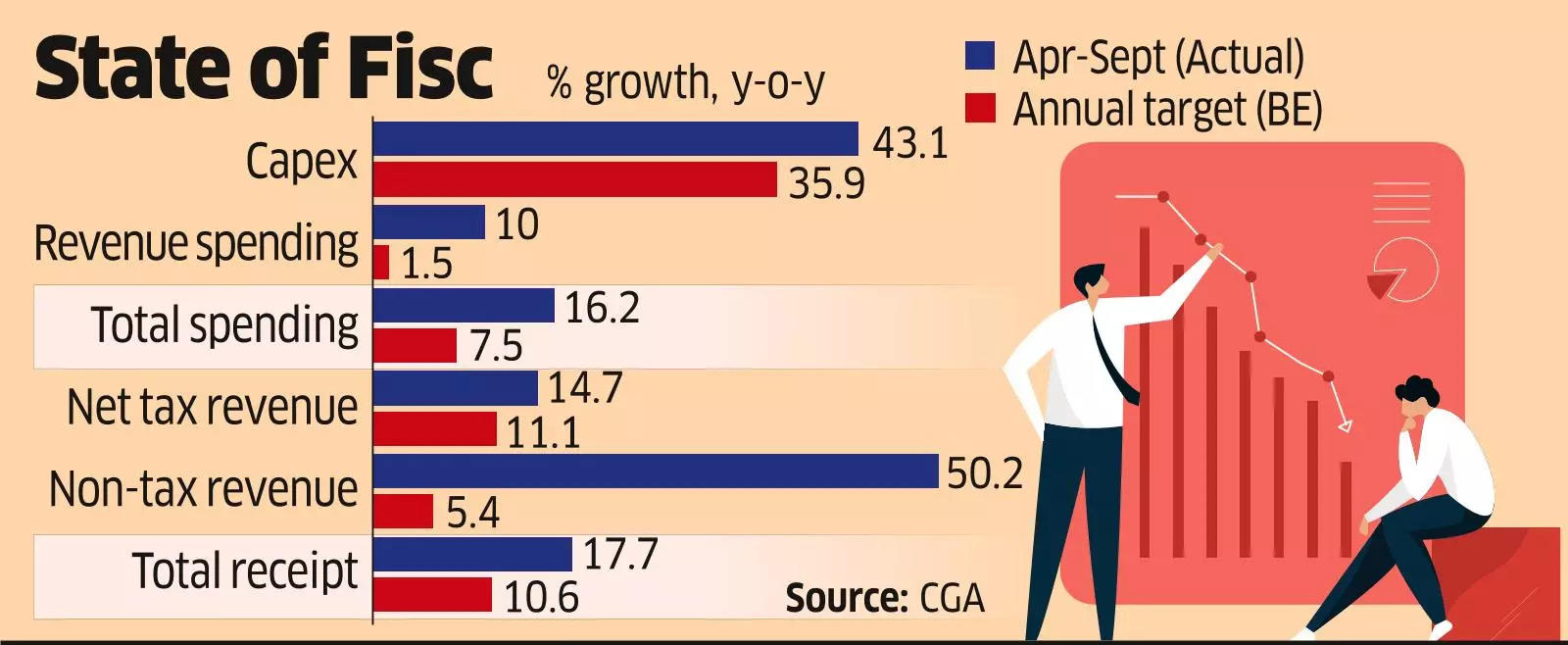 In the first half of the 2023-24 financial year, India's central government faced a fiscal challenge, with the fiscal deficit rising to 39.3% of the annual target, a slight increase from the previous year's 37.3%.
This widening gap between expenditure and revenue amounted to Rs 7.02 lakh crore by the end of September 2023, as reported by the Controller General of Accounts (CGA). Despite efforts to contain the deficit, the figures reflected the financial landscape.
The Union Budget aimed to limit the fiscal deficit to 5.9% of the GDP in the fiscal year 2023-24. This target followed a fiscal deficit of 6.4% of the GDP in the previous fiscal year (2022-23), which was slightly lower than the initial estimate of 6.71%.
9.PFRDA Makes 'Penny Drop' Verification Mandatory For NPS Fund Withdrawal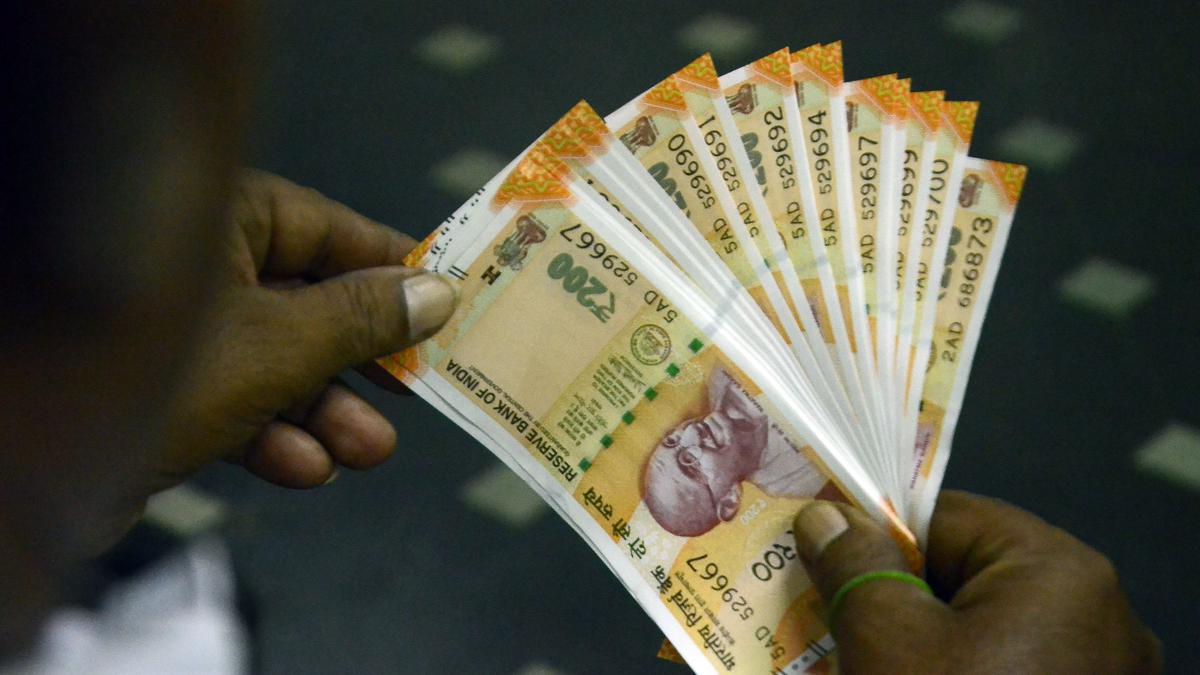 The Pension Fund Regulatory and Development Authority (PFRDA) has introduced new National Pension System (NPS) withdrawal rule changes, providing subscribers with greater flexibility in managing their retirement funds.
The PFRDA has made 'penny drop' verification mandatory for all NPS fund withdrawals. This verification process ensures the accurate and secure transfer of funds to subscribers' bank accounts during withdrawals and scheme exits.
Successful 'penny drop' verification, including name matching, is a prerequisite for processing exit/withdrawal requests and modifying subscribers' bank account details. These provisions apply across all variants of the National Pension System (NPS), including Atal Pension Yojana (APY) and NPS Lite, for all types of exits/withdrawals and modifications in subscribers' bank account details.
Banking News
10.RBI To Directly Regulate Entities Facilitating Cross Border Payment Transactions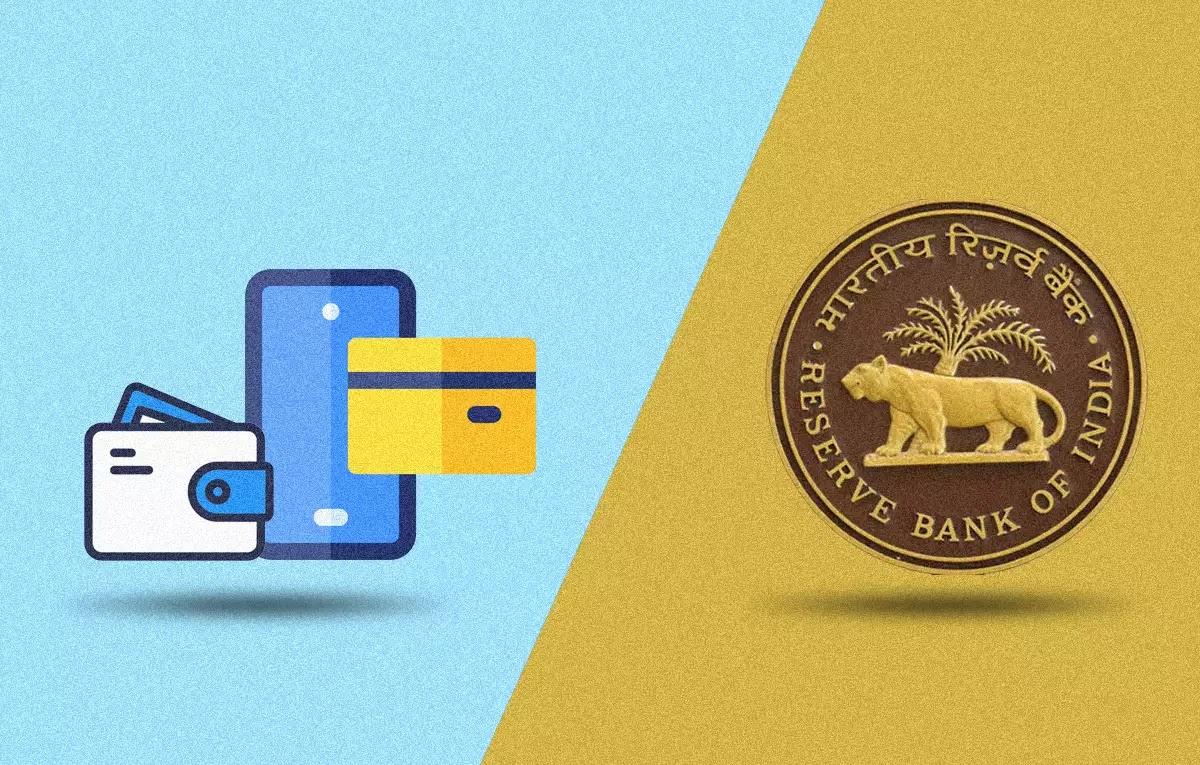 In a recent circular, Reserve Bank of India (RBI) has announced its decision to directly regulate all entities that facilitate cross-border payment transactions related to the import and export of goods and services.
The RBI, in its circular, introduced a novel category known as Payment Aggregator-Cross Border (PA-CB) to encompass all entities involved in facilitating cross-border payments. This directive is aimed at ensuring transparency, security, and adherence to financial regulations in these cross-border transactions.
According to the circular, entities applying for authorization to operate as PA-CBs must have a minimum net worth of ₹15 crore at the time of application. Additionally, they are required to maintain a minimum net worth of ₹25 crore by March 31, 2026, demonstrating their financial stability and commitment to the industry.
11.RBI Prescribe Norms For Closure Of DCCB Branches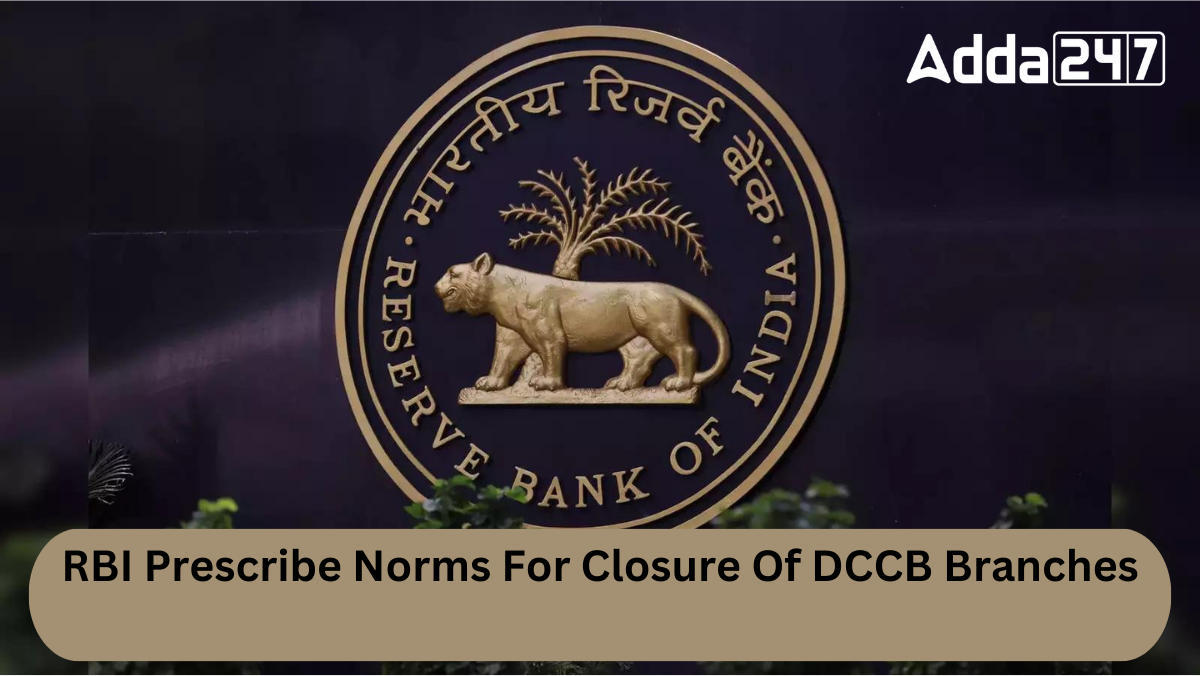 The Reserve Bank of India (RBI) has recently made an important announcement regarding District Central Co-operative Banks (DCCBs). These banks are now permitted to close their un-remunerative branches without seeking prior permission from the central bank, although they will require approval from the Registrar of Cooperative Societies of the respective state.
DCCBs, in order to close a branch, will have to follow a specific decision-making process. The decision to shut down a branch should be taken by the Board of the bank. This decision should be based on a thorough evaluation of various relevant factors and the entire process should be properly recorded and minuted during the Board meeting.
When a DCCB decides to close a branch, they are required to return the original license or licenses issued for that particular branch to the Regional Office of the RBI that is concerned with their operations. This step is essential to maintain proper records and regulatory compliance.
Business News
12.SBI Card Partners With Reliance Retail To Introduce 'Reliance SBI Card'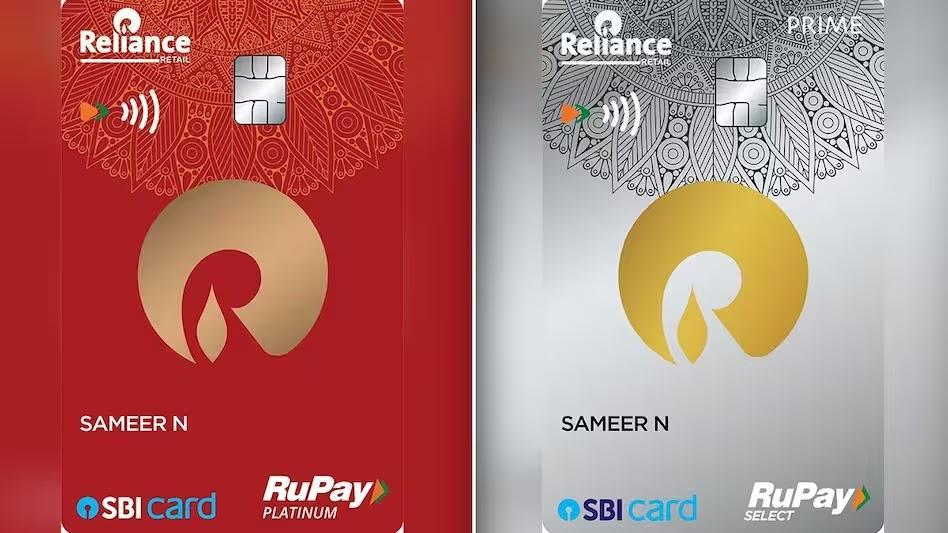 SBI Card, one of India's leading credit card issuers, has joined hands with Reliance Retail to introduce the co-branded Reliance SBI Card, a lifestyle-focused credit card aimed at revolutionizing the shopping experience for customers.
The Reliance SBI Card will be launched in two variants: the Reliance SBI Card and the Reliance SBI Card PRIME. Each variant is meticulously designed to cater to distinct consumer needs, offering varied rewards and lifestyle perks.
The annual renewal fee for the Reliance SBI Card PRIME is ₹2,999, while the Reliance SBI Card carries an annual renewal fee of ₹499 plus applicable taxes. Cardholders can avail renewal fee waivers upon reaching the annual spending milestones of ₹3,00,000 on the Reliance SBI Card PRIME and ₹1,00,000 on the Reliance SBI Card.
Important Days News
13.World Vegan Day 2023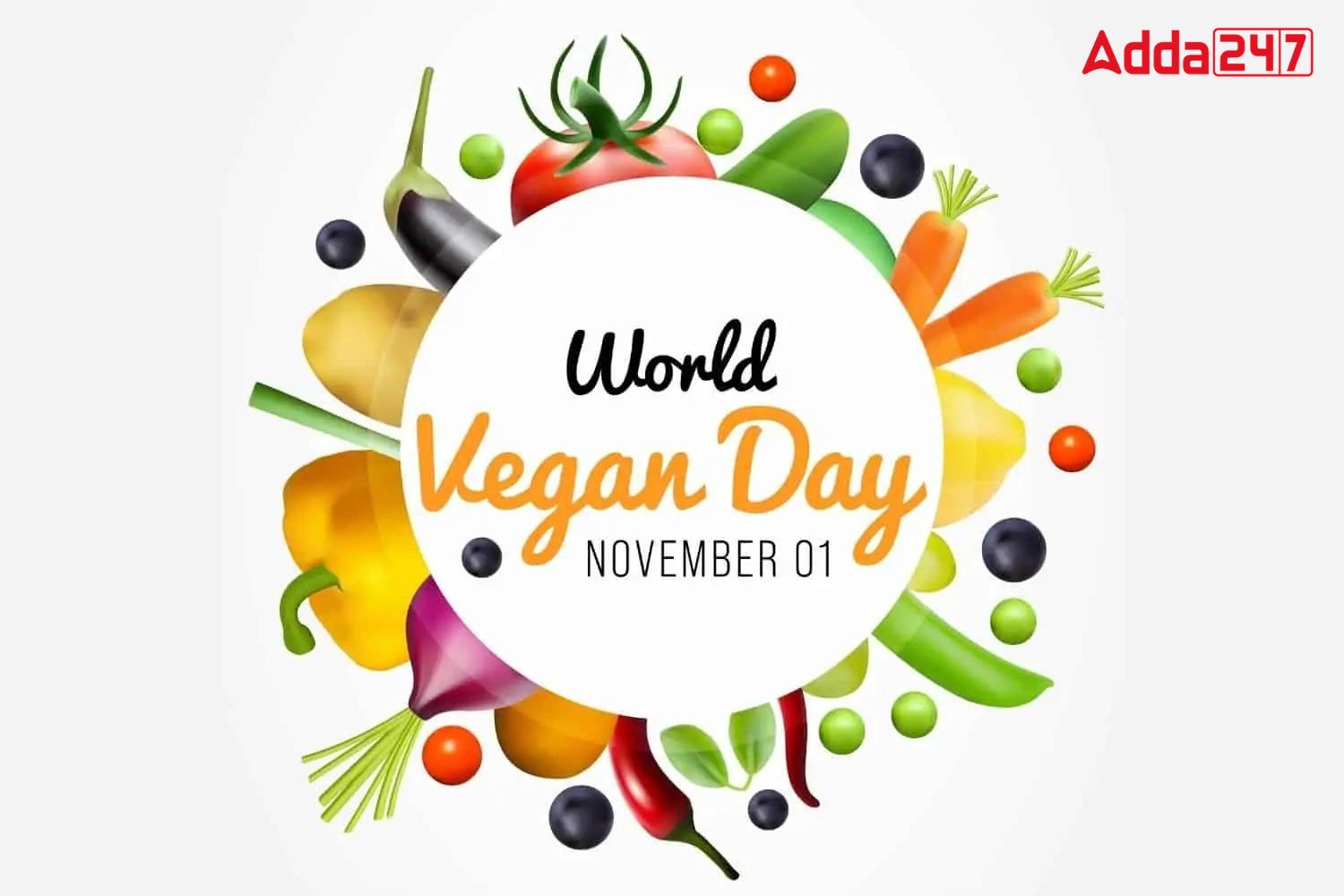 World Vegan Day has been celebrated annually on November 1 since its inception in 1994 when 'The Vegan Society' was established in England. The day was initially created to mark the 50th anniversary of the Vegan Society. Over the years, it has evolved into a global platform for promoting the vegan lifestyle and its associated benefits.
The day encourages individuals to adopt a vegan lifestyle by highlighting the ethical, environmental, and health benefits of this dietary choice. It provides a space for vegans and vegan organizations to showcase the positive impacts of veganism on various aspects of life.
November is recognized as Vegan Month, during which vegan enthusiasts and organizations actively promote the vegan lifestyle and its many facets. The entire month serves as an extended celebration of World Vegan Day, allowing for a more extensive and comprehensive exploration of the benefits and practices associated with veganism.
14.Halloween Day 2023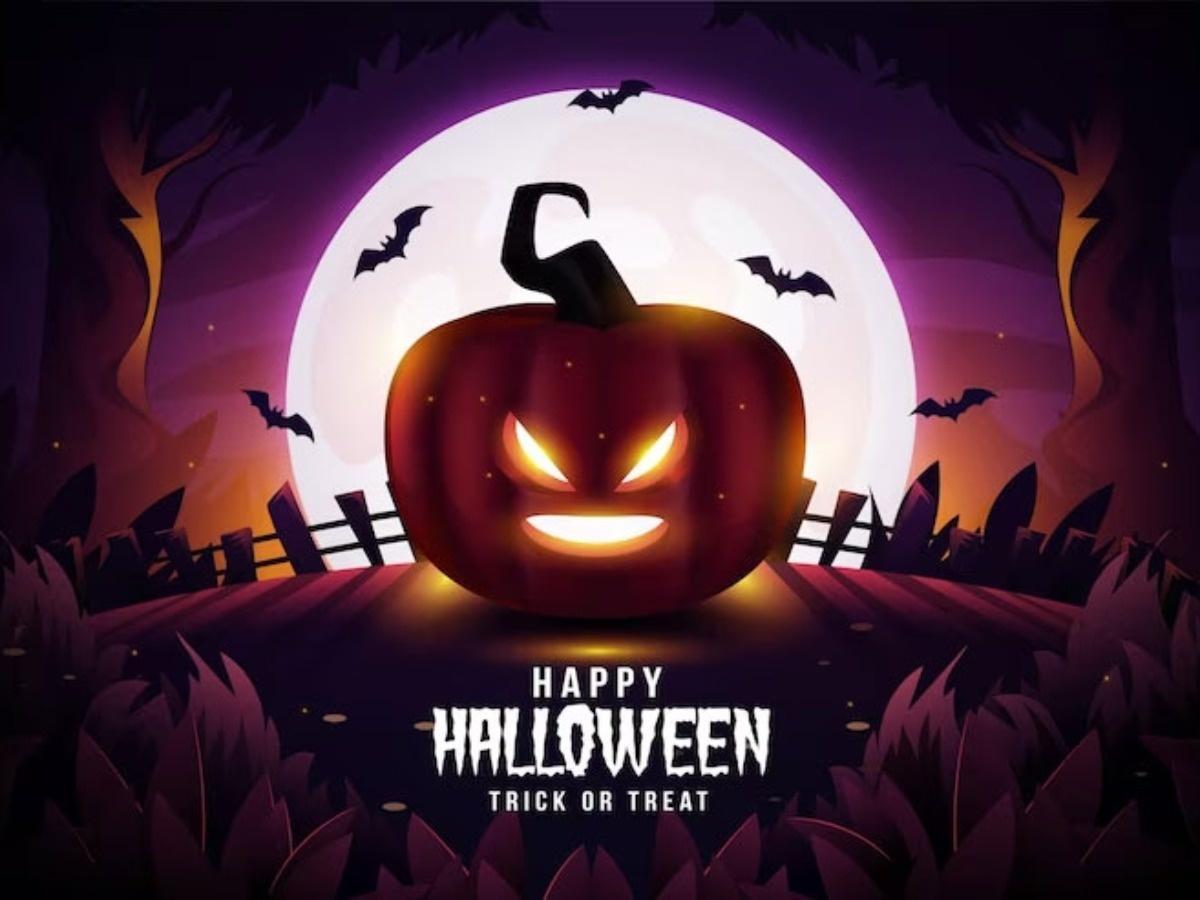 Halloween, celebrated on October 31, is a time when people of all ages across the world come together to embrace the spooky and the supernatural. It's a day when societal norms take a back seat, and people let their inner ghouls and goblins come out to play.
Halloween consistently falls on October 31 each year. This date, a day before All Hallows' Day, is where Halloween gets its name—shortened from "All Hallows' Eve." It marks the beginning of the three-day observance of Allhallowtide, which includes All Hallows' Eve, All Saints' Day, and All Souls' Day.
Halloween, as we know it today, finds its origins in the ancient Celtic festival of Samhain. Samhain was a significant harvest festival that also had connections to paganism. The Celts believed that on Halloween, the boundary between the living and the dead blurred, allowing spirits to return to the mortal realm.
Summits & Conferences News
15.Akhaura- Agartala rail link to be inaugurated virtually by PM Modi, Sheikh Hasina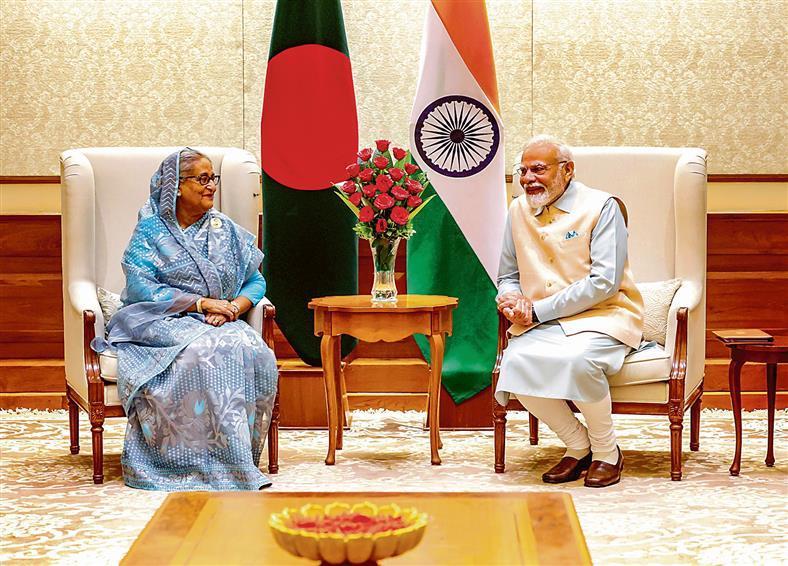 Prime Minister Narendra Modi and Bangladesh counterpart Sheikh Hasina inaugurated the Agartala-Akhaura rail link project virtually. This cross-border initiative aims to strengthen business ties and provide direct access between India's landlocked northeastern region and the Chittagong port in Bangladesh.
Once operational, the rail link will reduce the rail journey from Kolkata to Agartala (via Guwahati) from 31 hours and 1500 km to just 10 hours and 500 km. The project is executed by IRCON.
The project traces its origins to the agreement between India and Bangladesh during Bangladesh Prime Minister Sheikh Hasina's visit to New Delhi in January 2010. Construction of the 15.064-km-long railway line began in 2018, with 5.05 km in India and the remaining 10.014 km in Bangladesh.
16.UK to host the AI Safety Summit 2023 on November 1 — All you need to know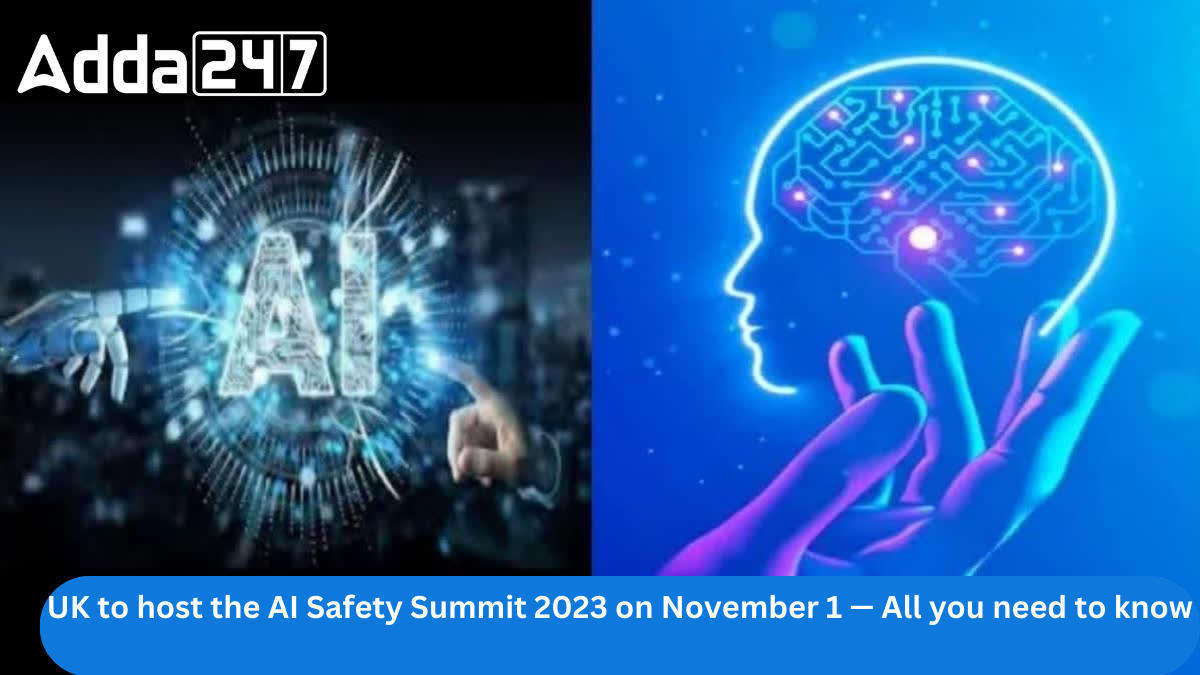 The United Kingdom's Prime Minister, Rishi Sunak, is set to host the AI Safety Summit 2023 on 1st and 2nd November at Bletchley Park, Buckinghamshire. This summit brings together global leaders to discuss the growing concerns surrounding the safety of advanced AI technologies
The summit seeks to establish a shared understanding of the risks associated with Frontier AI and the necessity for global action to address them. It aims to initiate a process for international collaboration on Frontier AI safety, including support for national and international frameworks.
The summit will propose appropriate measures for organizations to enhance Frontier AI safety, promoting responsible development. Identifying areas for potential collaboration on AI safety research, including evaluating AI model capabilities and creating new standards to support governance.
Agreements News
17.Nokia Partners with TATA Play Fiber to Launch India's First WiFi6-Ready Broadband Network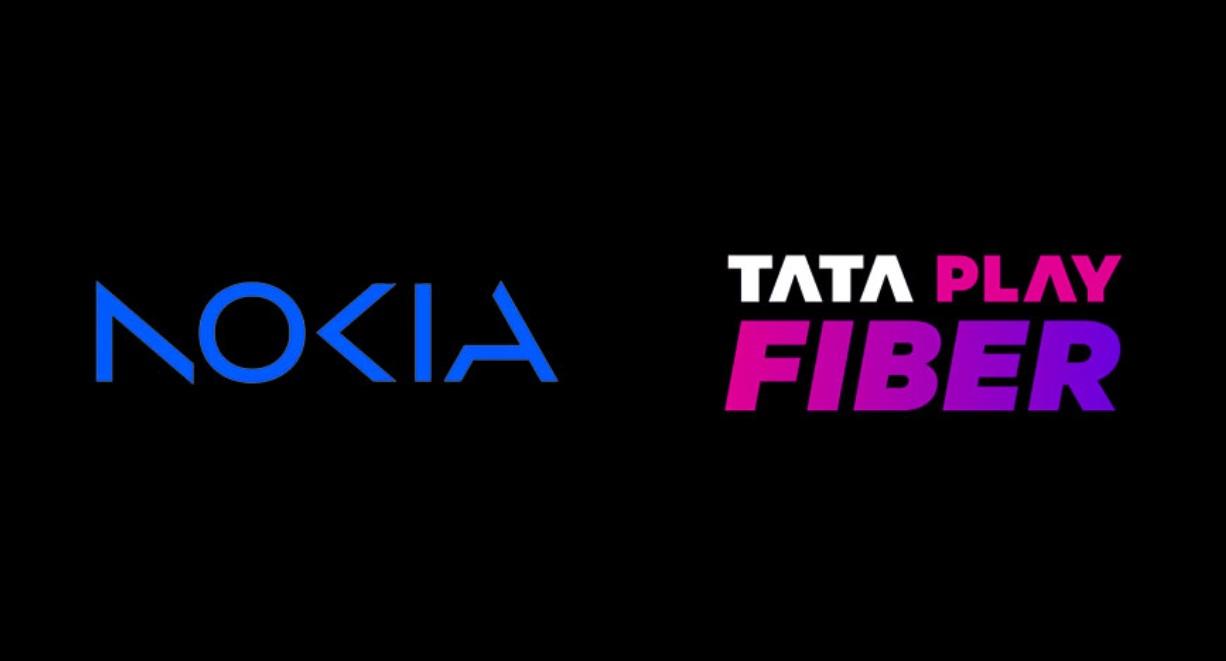 Nokia, a global technology leader, has made a significant stride in the Indian broadband market by joining forces with TATA Play Fiber to introduce the country's first WiFi6-ready broadband network.
In this collaboration, Nokia will provide TATA Play Fiber with a comprehensive range of fiber-to-the-home (FTTH) and Wi-Fi equipment to facilitate the expansion of their broadband network throughout India.
The technology enables low-latency applications, making it ideal for activities like gaming, and it can deliver gigabit speeds to multiple devices on the Wi-Fi network. Furthermore, the incorporation of the WPA3 standard enhances network security, ensuring user data remains protected.
Awards News
18.10-Year-Old Bangalore Kid Wins 'Wildlife Photographer Of The Year' Award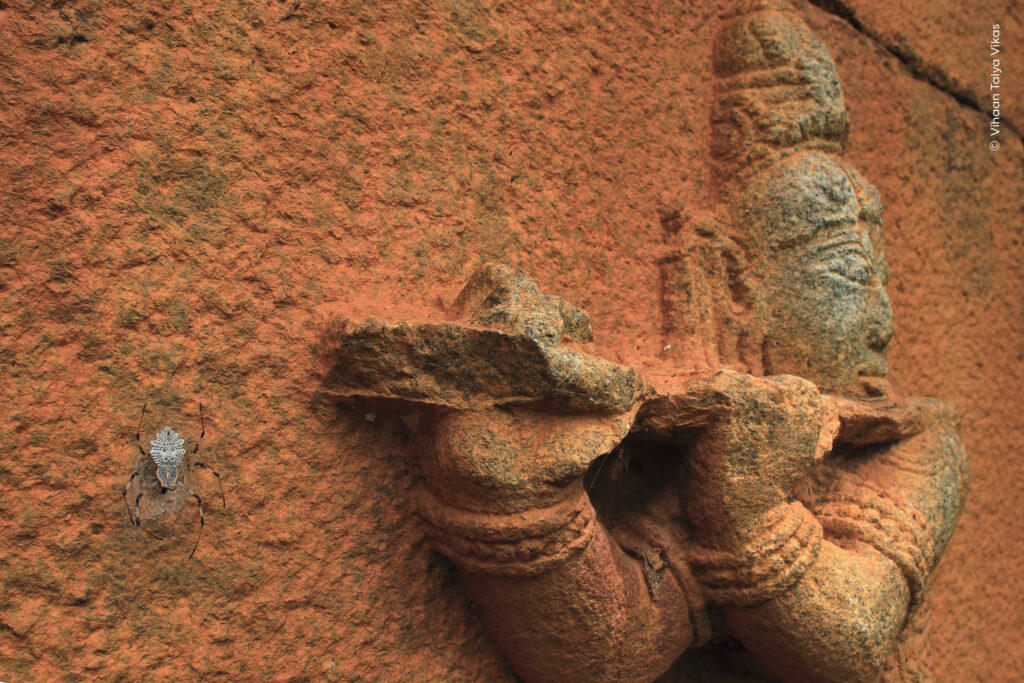 Vihaan Talya Vikas, a 10-year-old prodigy from Bengaluru, has captured the hearts of photography enthusiasts and conservationists alike by winning the top prize in the '10 years and under' category renowned Wildlife Photographer of the Year (WPY) competition.
This prestigious competition, often hailed as the 'Oscars of Photography,' is organized by the Natural History Museum and serves as a global platform for showcasing the world's most exceptional wildlife photography.
Vihaan's winning photograph portrays a spider in a fascinating pose, positioned alongside a sculpture of Lord Krishna, nestled on the outskirts of his city. It beautifully captures the spider, seemingly entranced by the divine notes of Krishna's flute, creating a connection between the realms of nature and spirituality.
19.Social worker Deenanath Rajput from Bastar wins Rohini Nayyar Prize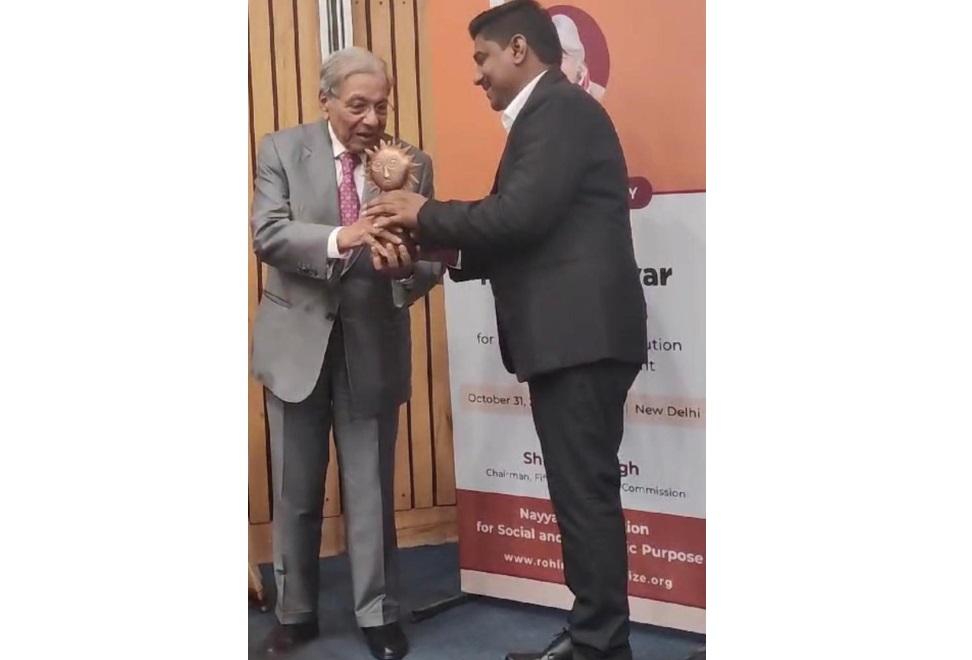 Deenanath Rajput, an engineer-turned-social worker, was awarded the Second Rohini Nayyar Prize for his outstanding contribution to rural development. The award was presented in memory of the late economist-administrator Dr. Rohini Nayyar, and it came with a trophy, a citation, and a cash prize of Rs 10 lakh.
Deenanath Rajput's commendable work focuses on empowering tribal women in Bastar, Chhattisgarh, a region known for its challenges, including Naxalite activities. His efforts have been instrumental in positively transforming the lives of over 6,000 tribal women in the area.
At the heart of Rajput's initiative is the establishment of a Farmers Producers Organisation (FPO). The FPO was founded in 2018 with an initial membership of 337 women from Jagdalpur in Bastar. Since then, it has grown to encompass over 6,000 members across four districts in the region.
Sports News
20.Saudi Arabia To Host 2034 FIFA World Cup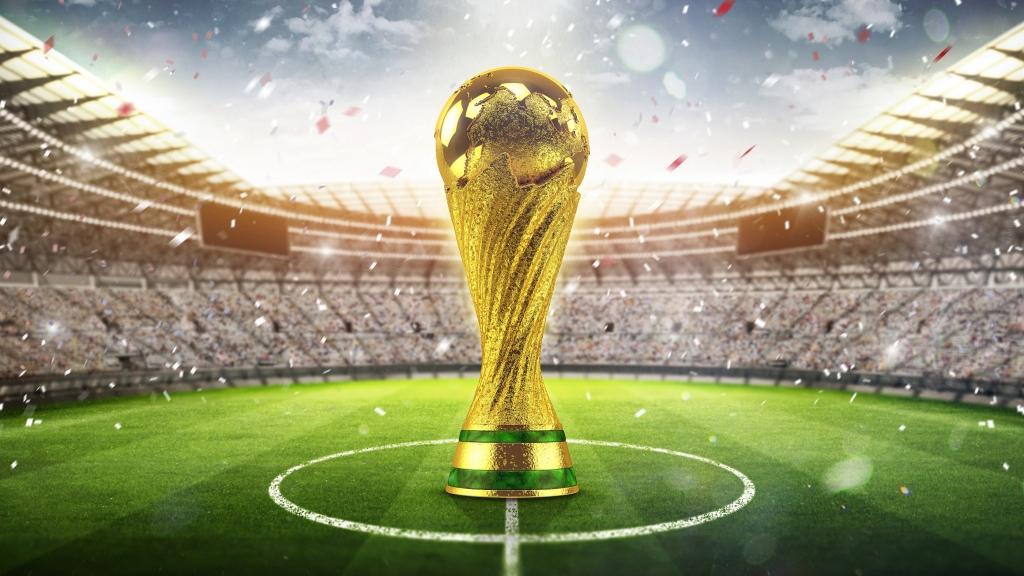 Saudi Arabia is ready to host the 2034 Men's FIFA World Cup. This development right after Australia unexpectedly pulled out from the bid race just hours before the deadline.
The Football Australia federation stated that after careful consideration, they had decided not to bid for the 2034 competition. Instead, Australia has opted to focus on bidding for the Women's Asian Cup in 2026 and the FIFA Club World Cup in 2029.
Spain, Portugal, and Morocco are already slated to co-host the 2030 tournament, while Uruguay, Paraguay, and Argentina will commemorate the 100th anniversary of the first World Cup by staging opening matches.
Miscellaneous News
21.Renowned Filmmaker Shekhar Kapur to Chair International Jury Panel at IFFI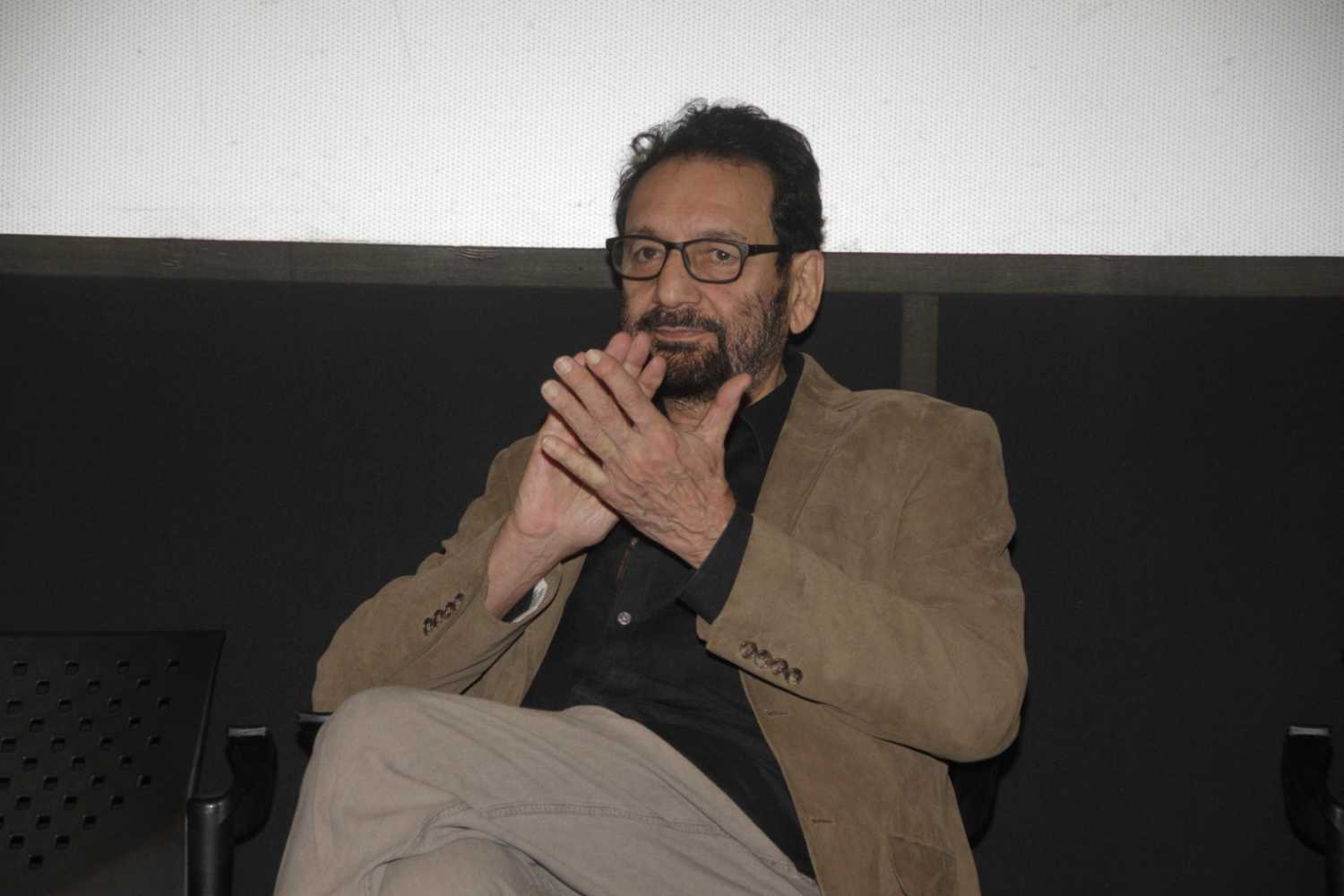 The prestigious International Film Festival of India (IFFI), an annual cinematic extravaganza, is gearing up for its 54th edition, set to unfold in the picturesque state of Goa from November 20 to November 28, 2023.
In a recent announcement, IFFI unveiled the distinguished members of its international jury panel, with acclaimed filmmaker Shekhar Kapur leading the team. Shekhar Kapur is widely recognized for his cinematic masterpieces, including 'Bandit Queen,' 'Mr. India,' and 'Masoom.' He has earned multiple awards, including two National Film Awards, four Filmfare Awards, and a BAFTA Award.
The international jury's verdicts will not only determine the Best Film Award recipient, which includes the coveted Golden Peacock, but also recognize winners in categories such as Best Director, Best Actor (Male), Best Actor (Female), and the Special Jury Prize.
Important Current Affairs of 1 November 2023
Get all the International, National, Sports, Economy, latest schemes and appointments and current affairs updates with Adda247 Headlines of the day. Adda247 headlines of the day brings you the best accumulation of the daily updates. Stay updated with us!