Dear Aspirants,
The General Awareness Section
plays an important role in scoring well above cut off marks in any competitive exam. The
Banking Awareness and Static Awareness questions asked in the General Awareness Section are based on Current Affairs mainly.
So you need to prepare well this section to score good marks.
Here is the Daily GK Update to get you acquainted with the top events that made the headlines today!!
Defence News


1. INS Kadmatt at Langkawi, Malaysia to Participate in LIMA-19
i. Indian Navy's frontline ASW corvette, INS Kadmatt arrived at Langkawi, Malaysia on a 7 days official visit.
ii. The ship is scheduled to participate in the 15th edition of Langkawi International Maritime and Aerospace Exhibition, LIMA-19 during the visit. The ship would be participating in numerous activities at Langkaw with 29 other participating navies, cultural exchange programmes, cross visits to ships, and sporting events.
2. Indian Navy Nuclear, Biological, Chemical Training Facility Launched
i. The Indian Navy's state of the art Nuclear, Biological, and Chemical Training Facility (NBCTF) was inaugurated by Chief of Naval Staff Admiral Sunil Lanba at INS Shivaji, Lonavala.
ii. The training facility has been named ABHEDYA, which means impenetrable in Sanskrit.
Static/Current Takeaways Important for LIC AAO Exam:
Vice Admiral Karambir Singh has been appointed as the next Chief of the Naval Staff (CNS).
3. Chinook Helicopters Inducted In Indian Air Force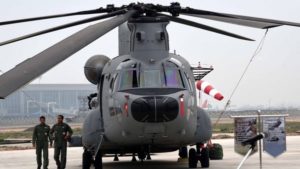 i. The Indian Air Force formally inducted the CH 47 F(I)- Chinook heavy-lift helicopters into its inventory at Air Force Station Chandigarh. IAF had signed a contract with M/s Boeing Ltd in September 2015 for 15 Chinook helicopters.
ii. The first batch of four helicopters has been delivered on schedule and the last batch is to be delivered by March 2020. These helicopters will be deployed in the Northern and Eastern regions of India.
Static/Current Takeaways Important For LIC AAO Mains Exam:
Air Chief Marshal BS Dhanoa is the present Chief of the Air Staff of IAF.
4. Indian-Sri Lankan Joint Military Exercise MITRASHAKTI–VI Begins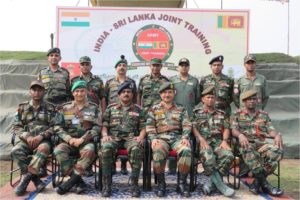 i. The joint training exercise MITRASHAKTI – VI between Indian and Sri Lanka Army kick-started at Diyatalawa in Sri Lanka.
ii. An Indian contingent of 120 Army personnel, including 11 officers arrived last evening to take part in the two-week long exercise. MITRASHAKTI is one of the largest bilateral armies to army exercises conducted in the region.
5. World's First Wireless Electric Car Charging Station Introduced By Norway
i. Oslo, the capital city of Norway will become the world's first city to install wireless, induction-based charging stations for its fleet of electric taxis with an aim to have a zero-emission cab system by the year 2023 according to a report by Reuters.
ii. Norway wants all new cars to be zero emission by 2025 whereas other nations, like Britain and France, have similar goals for 2040.
Static/Current Takeaways Important for LIC AAO Exam:
Norway capital: Oslo, Currency: Norwegian krone.
6. Trump Sign Proclamation Recognising Israel's Sovereignty Over Golan Heights
i. US President Donald Trump has signed a proclamation recognising Israel's sovereignty over the Golan Heights and told the visiting Israeli Prime Minister, Benjamin Netanyahu, that Israel has an absolute right to self-defence.
ii. Israel captured the Golan Heights from Syria in the 1967 war but its sovereignty over the territory is not recognized by the international community. Over the past years terrorist groups in southern Syria continued to make the Golan Heights a potential launching ground for attacks against Israel.
Static/Current Takeaways Important For LIC AAO Mains Exam:
Israel Capital: Jerusalem, Currency: Israeli new shekel.


7. Peter Tabichi Conferred With Global Teacher Prize For 2019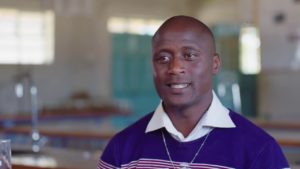 i. Peter Tabichi, a member of the Franciscan religious order has been conferred with the prestigious Global Teacher Prize for 2019 at a ceremony in Dubai hosted by Hollywood actor, Hugh Jackman.
ii. Peter Tabichi gives away 80% of his monthly income to the poor. The award recognises 'exceptional' teacher's commitment to pupils in a remote part of Kenya's Rift Valley.
8. ADNOC Awards Onshore Block To Indian Consortium
i. A consortium of two Indian oil companies, Bharat Petroleum Corporation Limited, and Indian Oil Corporation Limited has been awarded the exploration rights for Abu Dhabi's Onshore Block 1.
ii. The Abu Dhabi National Oil Company (ADNOC) signed agreements awarding the exploration rights. The award has been endorsed by Abu Dhabi's Supreme Petroleum Council.
9. ISRO Set To Launch 29 Satellites Including EMISAT
i. Indian Space Research Organisation (ISRO) will launch 29 satellites including the primary payload EMISAT, on the first of April. Polar Satellite Launch Vehicle, PSLV-C45 will take off from Satish Dhawan Space Centre in Sriharikota tentatively at 9:30 AM carrying the satellites onboard.
ii. EMISAT has been developed for monitoring radar network by India. EMISAT, weighing 436 kg, is intended for electromagnetic spectrum measurement. It will be placed in an orbit of about 753 km altitude.
Static/Current Takeaways Important For LIC AAO Mains Exam:
ISRO Director: K. Sivan, Headquarters: Bengaluru, Established in: 1969.
10. RBI Appoints 5 Member Committee To Deepen Digital Payments
i. Reserve Bank of India (RBI) has appointed 5-member committee under the chairmanship of Nandan Nilekani to strengthen digital payments as well as to boost financial inclusion through Financial Technology. The committee would submit its recommendations within 3 months.
ii. This announcement was made by RBI Governor Shaktikanta Das at the first event of Financial Technology (Fintech) Conclave, which was organized by NITI Aayog in New Delhi.
11. Folk Artiste and Radio Commentator Anasuya Devi Passes Away
i. Kala Prapoorna awardee, Vinjamuri Anasuya Devi passed away at the age of 99 due to illness in the USA. She was an eminent folk artist, radio commentator, harmonium player, music composer, and author.
ii. In 1977, she was honored with a Doctorate by Andhra University. She was also an awardee of lifetime achievement award in America and 'Queen of Folk' award in Paris.
You may also like to Read: