Dear Aspirants,
The General Awareness Section
plays an important role in scoring well above cut off marks in any competitive exam. The
Banking Awareness and Static Awareness questions asked in the General Awareness Section are based on Current Affairs mainly.
So you need to prepare well this section to score good marks.
Here is the Daily GK Update to get you acquainted with the top events that made the headlines today!!
National News
1. Rising India Summit 2019 Held In New Delhi
i. Prime Minister Narendra Modi addressed Network-18 Rising India Summit, held in New Delhi and laid out his vision for a 'New India'. The theme of the summit was, 'Beyond Politics: Defining National Priorities'.
ii. The Prime Minister discussed various topics including income tax and GDP numbers, India's global standing, Jan Dhan accounts, and unemployment.
2. Assam Launches PRANAM Commission To Protect Parents Of State Government Employees
i. Assam Chief Minister Sarbananda Sonowal launched the PRANAM Commission, which is a panel set up to look after the issues concerning a Bill brought in for the protection of parents of state government employees.
ii. The Parents Responsibility and Norms for Accountability and Monitoring (PRANAM) Bill, stated to be the first-of-its-kind bill in the country, aims to protect elderly parents of government employees in their times of need.
3. Odisha Cabinet Approves State Film Policy 2019
i. With an aim to promote Odia films and create a conducive eco-system for production of films in the region, Naveen Patnaik-led state cabinet gave its nod to the Odisha State Film Policy-2019.
ii. The policy will promote quality Odia films, facilitate film tourism in the state, establish Odisha as a destination for film shooting and improve screen density in the state.
Static/Current Takeaways Important For NIACL AO Mains Exam:
Ganeshi Lal is the Present Governor of Odisha.
4. Muhammadu Buhari Re-Elected Nigerian President
i. Muhammadu Buhari was re-elected Nigeria's President, results showed, after a delayed poll that angered voters and led to claims of rigging and collusion.
ii. Buhari, 76, took an unassailable lead of more than four million votes as the last states were yet to be declared, making it impossible for his nearest rival, Atiku Abubakar, to win.
Static/Current Takeaways Important For NIACL AO Mains Exam:
Nigeria Capital: Abuja, Currency: Nigerian naira.
Awards
5. Playwright Mahesh Elkunchwar To Be Honoured With META Lifetime Achievement Award
i. Eminent Indian playwright Mahesh Elkunchwar has been chosen for this year's META Lifetime Achievement Award.
ii. The playwright will be conferred upon with the award on March 12, along with the winners of the 14th Mahindra Excellence in Theatre Awards (META) festival.
Banking News
6. BoB Ties Up With German KfW for USD 130m to Refinance Solar Units
i. State-run Bank of Baroda has tied up with Germany's KfW Development Bank for funding of USD 113 million to refinance solar projects.
ii. The tie-up is part of an Indo-German Solar Energy Partnership signed in 2015.
7. RBI Removes Allahabad Bank, Corporation Bank, Dhanlaxmi Bank From PCA
i. The Reserve Bank of India (RBI) has taken off Allahabad Bank, Corporation Bank and Dhanlaxmi Bank from the Prompt Corrective Action (PCA) framework allowing them to resume their normal lending activities.
ii. The Board for Financial Supervision (BFS) met to review the performance of banks under PCA and noted that the government has infused fresh capital into various banks including some of the banks currently under the PCA framework.

Agreements
8. IWAI and IOCL Signed MoU On Fuel Needs for National Waterways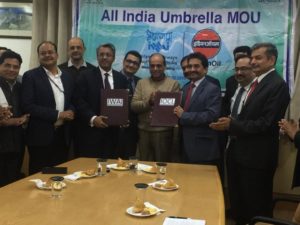 i. Inland Waterways Authority of India (IWAI) and Indian Oil Corporation Limited (IOCL) signed an MoU for jointly developing infrastructure for fuels, lubricating oil, LPG, Natural Gas and any other related fuel and gas for meeting the requirement of National Waterways.
ii. The MoU will provide for an understanding over general modalities of mutual cooperation leading to addressing futuristic demand of any form of energy for Inland Waterways and associated services.
Static/Current Takeaways Important For NIACL AO Mains Exam:
Chairman of IWAI: Jalaj Shrivastava, Head office: Noida, UP.
Books and Authors
9. Dr. H Chaturvedi's Book On 'Quality, Accreditation & Ranking' Launched In New Delhi
i. Vice President M Venkaiah Naidu launched the book titled 'Quality, Accreditation, and Ranking – A Silent Revolution in the Offing in Indian Higher Education' edited by Education Promotion Society for India's (EPSI) Alternate President Dr. H Chaturvedi in New Delhi.
ii. On this occasion, the UGC Chairman, Dr. DP Singh, and Management Guru Padma Shri Dr. Pritam Singh were present as the guest of honor. The book launch function was organized by EPSI, BIMTECH and Bloomsbury Pvt Ltd.
Sports News
10. Manu Bhaker, Saurabh Chaudhary Win Gold In 10m Air Pistol Mixed Team
i. Manu Bhaker and Saurabh Chaudhary clinched the gold medal in the 10m Air Pistol Mixed Team event at the ISSF World Cup in New Delhi.
ii. Ranxin Jiang and Bowen Zhang of China won silver while the Republic of Korea pair Minjung Kim and Daehun Park got the bronze.

You may also like to Read: