Read the most important current affairs of 30 October 2023. Today Current Affairs covers the headlines on Turkish Republic celebrated 100th anniversary, MGNREGS Reports, World Stroke Day 2023.

Top 19 Current Affairs and News Headlines of 30 October 2023
International News
1.Turkish Republic's 100th Anniversary Celebration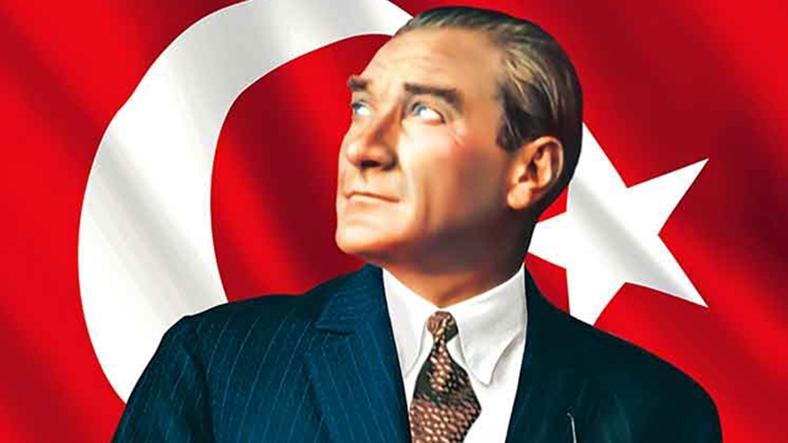 Turkish Republic celebrated its 100th anniversary, marking a century since its establishment as a modern, secular state following the collapse of the Ottoman Empire.
Turkey is a transcontinental country located mainly on the Anatolian Peninsula in Western Asia, with a smaller portion in southeastern Europe. It is bordered by eight countries, including Greece, Bulgaria, Georgia, Armenia, Azerbaijan, Iran, Iraq, and Syria.
Ankara is the capital of Turkey, while Istanbul is its largest city and economic hub Turkish is the official language of Turkey. The currency of Turkey is the Turkish Lira (TRY).
2.Norway To Support India's 'Hunger Project' In Uttarakhand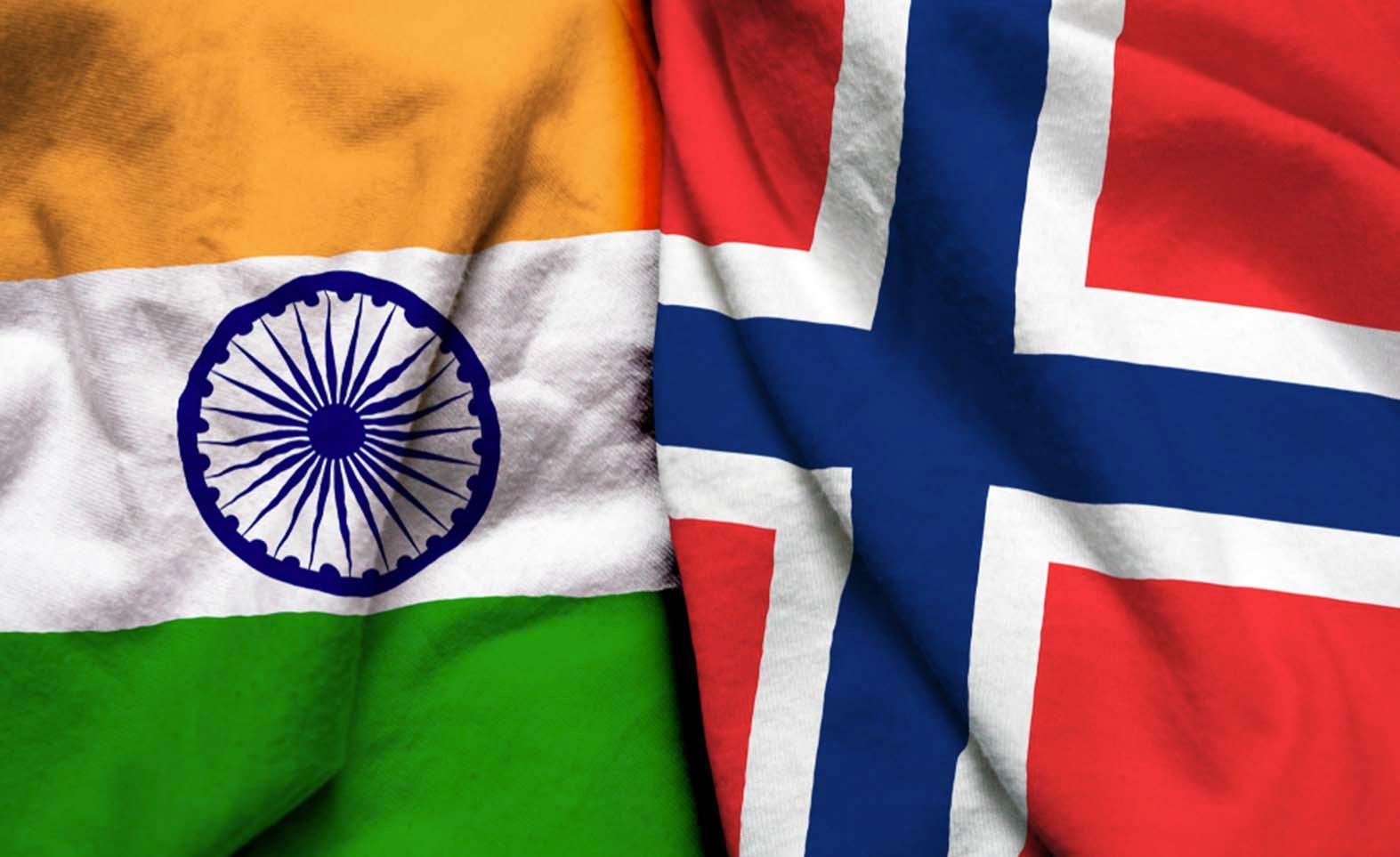 Norway has embarked on a significant initiative to support India's 'Hunger Project' in Uttarakhand. With a budget of ₹44.7 million and a three-year duration until September 2026, this project aims to empower women leaders, enhance food security, and protect the environment, particularly in the ecologically sensitive region of Uttarakhand.
The Hunger Project is primarily focused on building the capacity of elected women representatives (EWRs) and federations. The project will be implemented in three districts, nine blocks, 172 gram panchayats, and 145 van panchayats in Uttarakhand.
One of the main goals of the program is to enhance the leadership of women in gram panchayats, the local self-governing bodies. Collaboration with van panchayats and the broader community, especially women, is a key strategy in this endeavor. The project also aims to raise awareness in local communities through 334 Jagrukh Manchs (awareness platforms).
3.FATF Removes Cayman Islands From Its 'Grey List'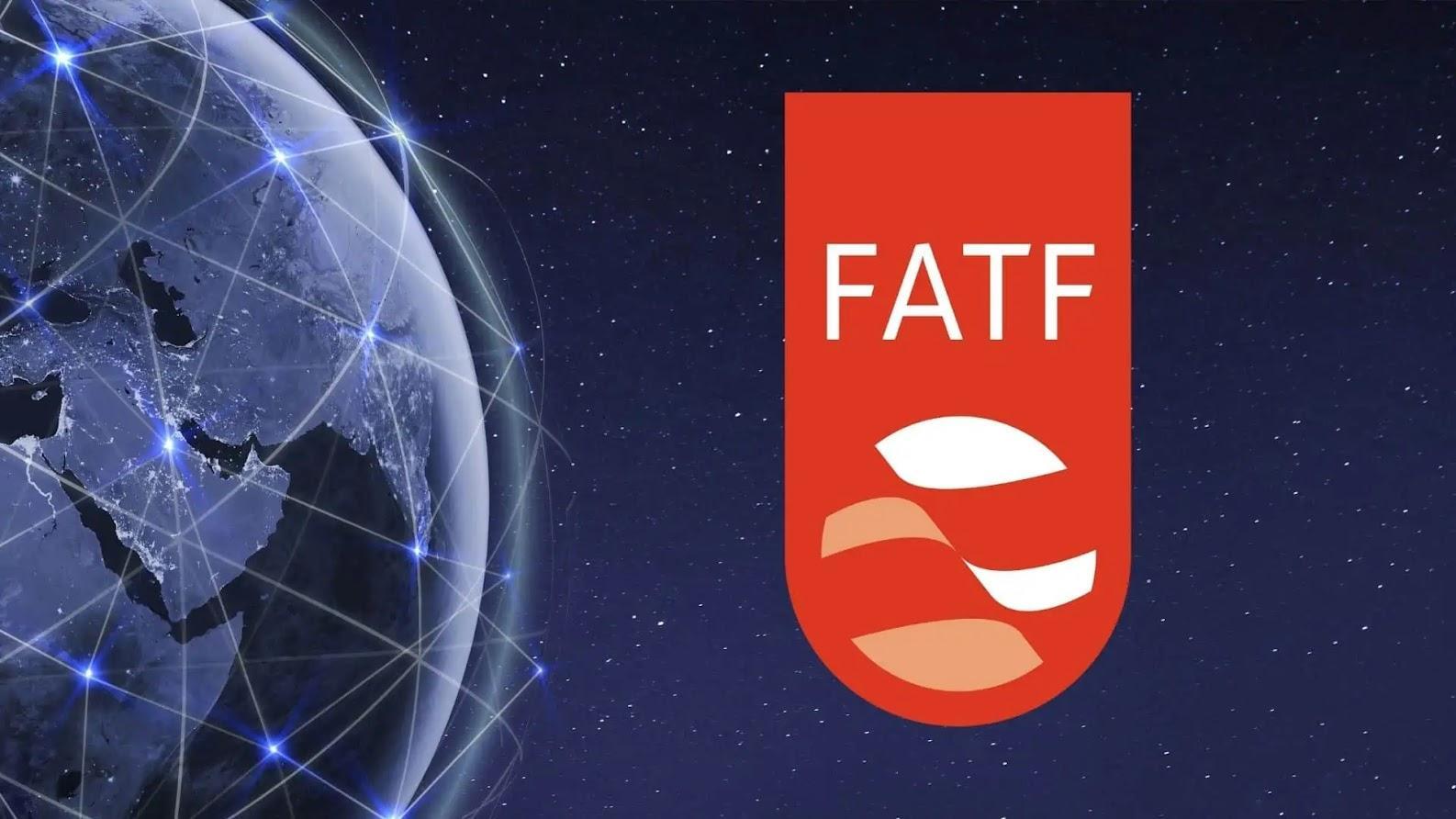 The Financial Action Task Force (FATF), an inter-governmental body responsible for setting international standards to combat money laundering, terrorist financing, and proliferation financing has removed several countries from its 'grey list' while adding another.
The FATF maintains a 'grey list,' which consists of jurisdictions that do not meet the organization's anti-money laundering (AML), counter-terrorism financing (CFT), and proliferation financing standards. Countries placed on this list are subject to increased monitoring until identified deficiencies in their regulatory frameworks are resolved.
In a review published on October 27, 2023, FATF announced the removal of Cayman Islands, Panama, Jordan, and Albania. This development is a testament to the significant progress these nations have made in enhancing their AML/CFT systems. While several countries celebrated their removal from the 'grey list,' FATF added Bulgaria to the list.
Defence News
4.Indian Army and Air Force Contingent Set Off for 'Exercise KAZIND-2023'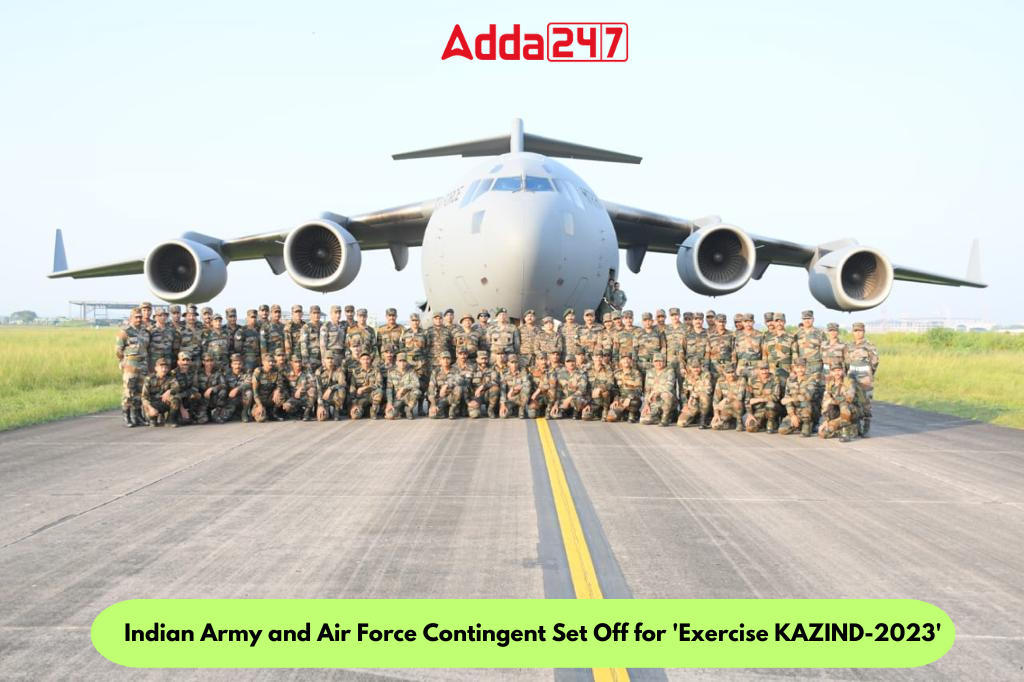 A contingent from the Indian Army and Indian Air Force, comprising 120 personnel, embarked on a mission to Kazakhstan today. Their objective is to participate in the 7th edition of the Joint Military 'Exercise KAZIND-2023.' This collaborative endeavor will take place in Otar, Kazakhstan, spanning from 30th October to 11th November 2023.
The Indian Army contingent, led by a Battalion from the DOGRA Regiment, consists of 90 personnel. Alongside them, 30 Air Force personnel from both sides will also actively partake in this year's Exercise.
This annual joint exercise, originally named 'Exercise PRABAL DOSTYK' when established in 2016, has come a long way. After its second edition, the exercise was elevated to a company-level exercise and subsequently renamed as 'Exercise KAZIND.' This year, it has reached a new milestone by evolving into a bi-service exercise, including the Air Force component.
5.Indian Navy Launches 25T Bollard Pull Tug 'MAHABALI' In Gujarat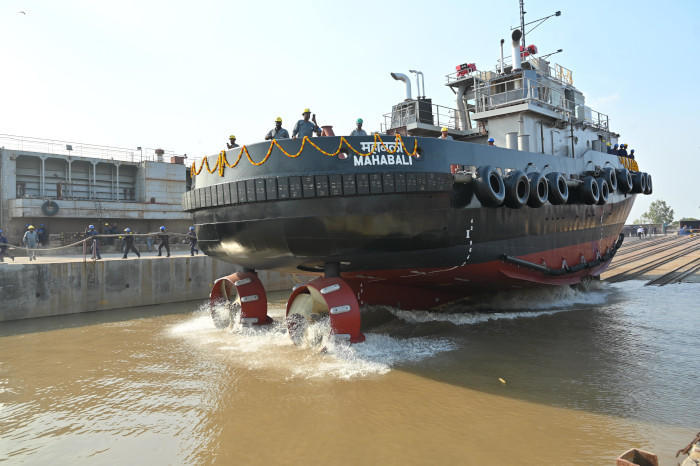 Commodore Sunil Kaushik, launched the remarkable vessel, the 25T Bollard Pull Tug named 'Mahabali,' on the 28th of October 2023 at M/s Shoft Shipyard Pvt Ltd in Bharuch, Gujarat.
This launch not only represented a new addition to India's naval fleet but also a significant milestone in the 'Make in India' initiative of the Ministry of Defence. The construction and delivery of the 'Mahabali' and two other 25T BP Tugs were the result of a concluded contract with M/s Shoft Shipyard Pvt Ltd (SSPL).
The 25T BP Tugs, including 'Mahabali,' have been meticulously built under the classification rules of the Indian Register of Shipping (IRS). This classification ensures that the vessels meet the highest standards in terms of safety and quality, which is imperative for any naval operation.
Economy News
6."Vision India@2047: Transforming India into a Developed Nation by 2047"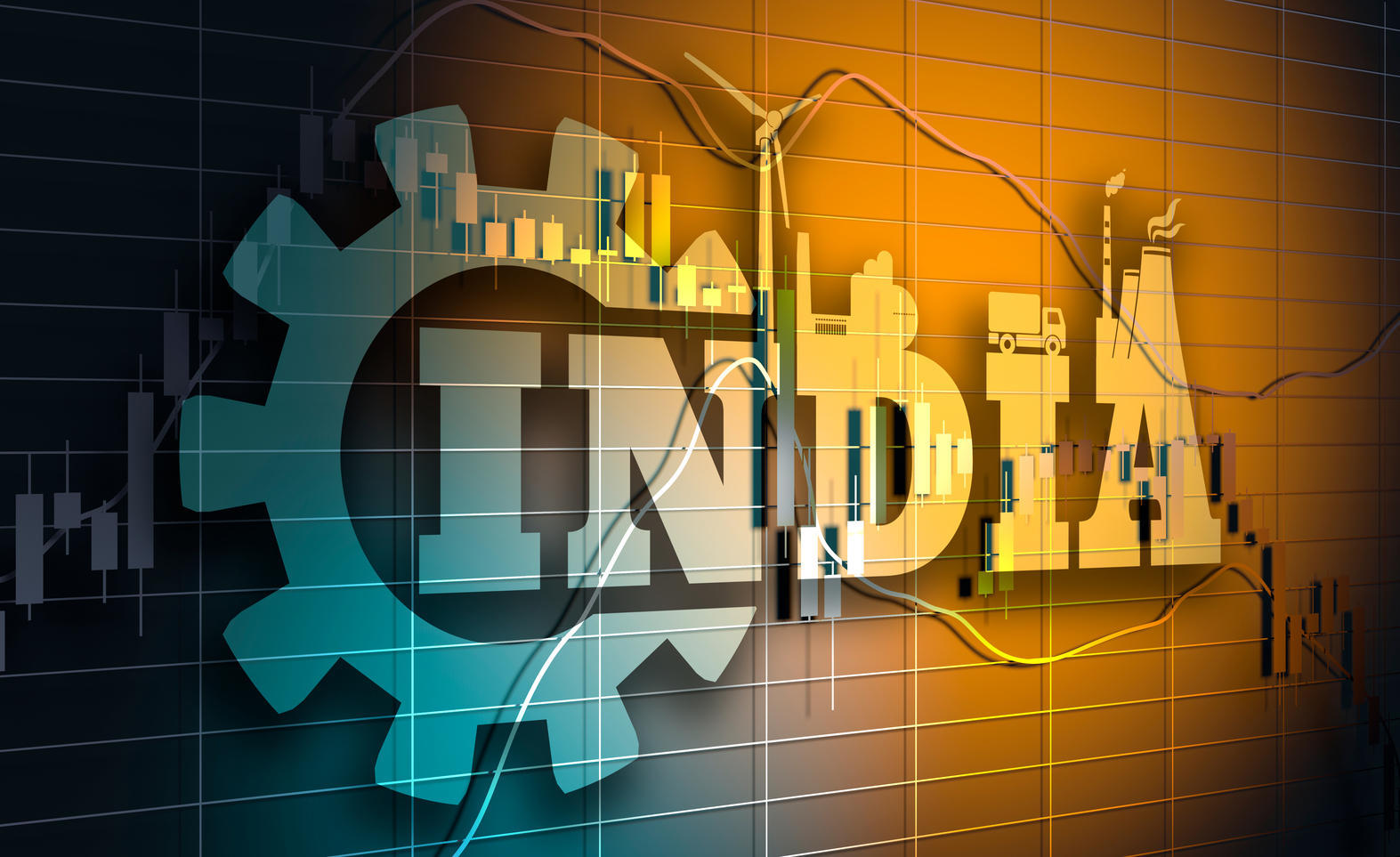 The Indian government is working on a comprehensive national vision plan, known as 'Vision India@2047', aimed at transforming the country into a developed nation by 2047. The plan is designed to prevent India from falling into the middle-income trap and focuses on various aspects of economic and social development.
Niti Aayog, a government think tank, has been working on this plan for nearly two years. It was presented to Cabinet Secretary Rajiv Gauba in October. The draft version of the plan is expected to be ready by December. Several Indian states are also in the process of preparing their own development roadmaps.
The plan envisions making India a $30 trillion economy by 2047, a significant increase from its current economic size. This ambitious goal aims to position India as one of the world's leading economies. To ensure prosperity for its citizens, the plan targets a per-capita income ranging from $18,000 to $20,000. This represents a substantial increase from the current income levels.
Banking News
7.Fincare SFB to merge with AU Small Finance Bank
Fincare Small Finance Bank (Fincare SFB) is set to merge with AU Small Finance Bank (AU SFB) starting from February 1, 2024, pending necessary approvals and regulatory endorsements. This significant merger aims to create a robust financial institution with enhanced capabilities and a broader reach.
Under the merger agreement, shareholders of Fincare SFB will receive 579 shares in AU SFB for every 2,000 shares they hold in Fincare SFB. Post-transaction, existing Fincare SFB shareholders are expected to maintain approximately 9.9% ownership in AU SFB.
As part of the merger, the Managing Director & CEO of Fincare SFB will assume the role of Deputy CEO at AU SFB. Additionally, Divya Sehgal, a current director on Fincare SFB's board, will join AU SFB's board, enhancing the leadership team.
8.RBI Revises Bulk Deposit Limit Of Regional Rural Banks To Rs 1 Crore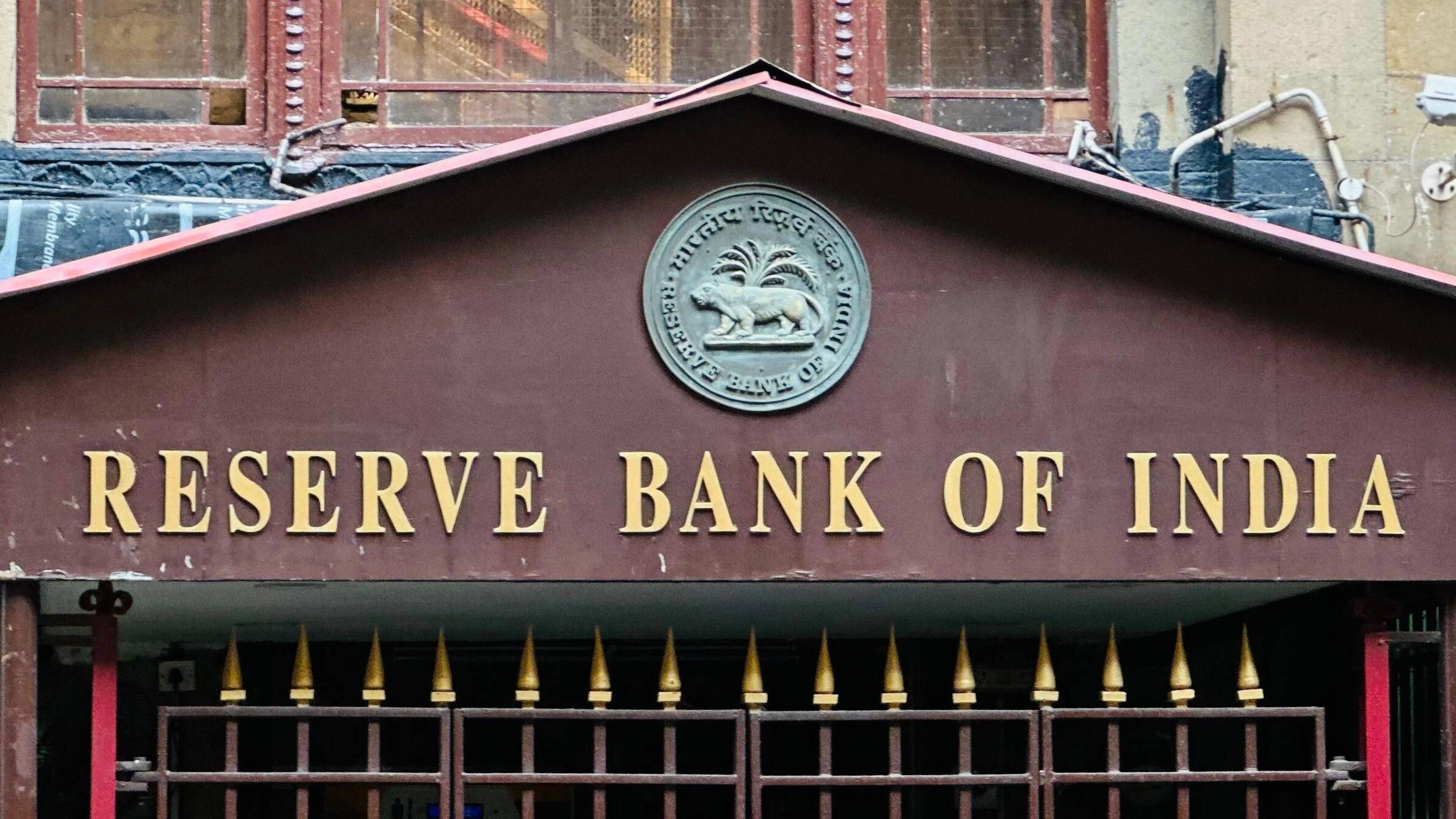 The Reserve Bank of India (RBI) has conducted a review of bulk deposit limits for financial institutions, specifically focusing on Regional Rural Banks (RRBs). Bulk deposits can take on different definitions across various banking institutions, depending on the size of the deposit, but the specifics often differ
The RBI has raised the bulk deposit limit for Regional Rural Banks from Rs 15 lakh to Rs 1 crore, a substantial change aimed at promoting equity among banks, especially those serving rural and semi-urban areas.
This alteration will have implications on how banks can offer interest rates on bulk deposits. With the increased limit, RRBs will face constraints on operational autonomy, as they will need to offer a single interest rate to all depositors with the same tenure.
Business News
9.Swan Energy pays ₹231 cr to acquire Reliance Naval and Engineering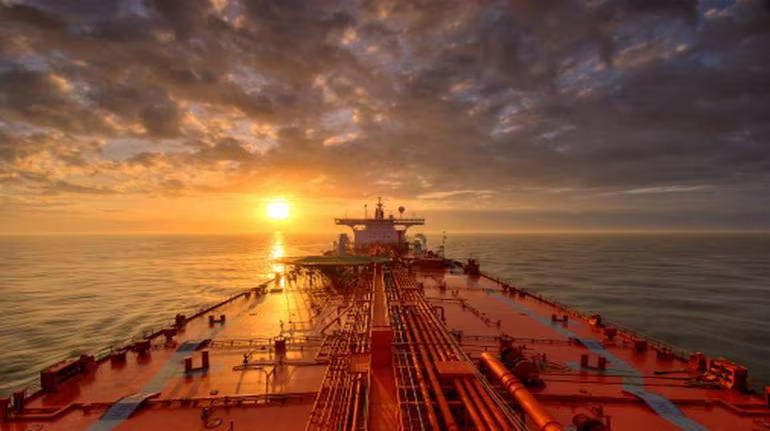 Swan Energy, a Mumbai-based conglomerate, recently acquired Reliance Naval and Engineering through its special purpose vehicle, Hazel Infra, solidifying its position in the commercial and naval defence vessel manufacturing and ship repairing segments.
Swan Energy successfully completed the acquisition by paying ₹231 crore, well ahead of the November 15 deadline, showcasing its commitment to the venture. The acquisition aligns with the Indian government's Atmanirbhar Bharat.
Swan Energy aims to become the largest private player in naval defence, commercial vessel manufacturing, and ship repairing. This strategic move will significantly enhance India's heavy fabrication capabilities in naval, defence, and oil and gas sectors, bridging the existing demand-supply gap.
Important Days News
10.World Stroke Day 2023: Theme, Origin, Significance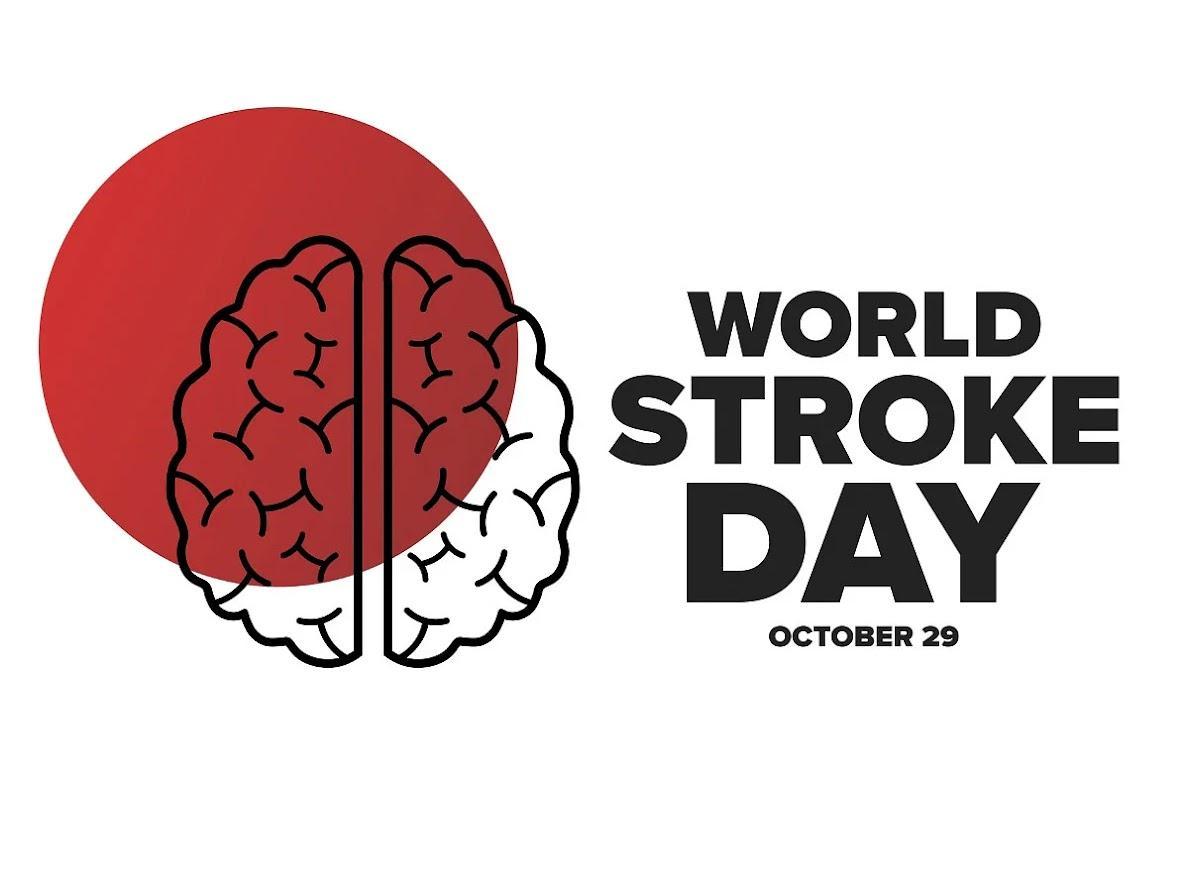 On October 29th, World Stroke Day was celebrated globally. The theme for World Stroke Day 2023 was officially chosen by the World Stroke Organization (WSO) as 'Together we are #Greater Than Stroke.'
World Stroke Day is observed to remind people of the prevalence and impact of strokes on communities and individuals across the globe. Strokes, also known as brain attacks, are a major global cause of disability and mortality. Hence, this day is dedicated to increasing awareness about strokes, their treatment, and prevention.
A stroke can happen to anyone, at any age. In fact, one in four adults above 25 years of age worldwide will experience a stroke at some point in their lives. However, The F.A.S.T. approach stands for Face drooping, Arm weakness, Speech difficulty, and Time suggest that stroke is largely treatable, preventable, and curable.
11.World Cities Day 2023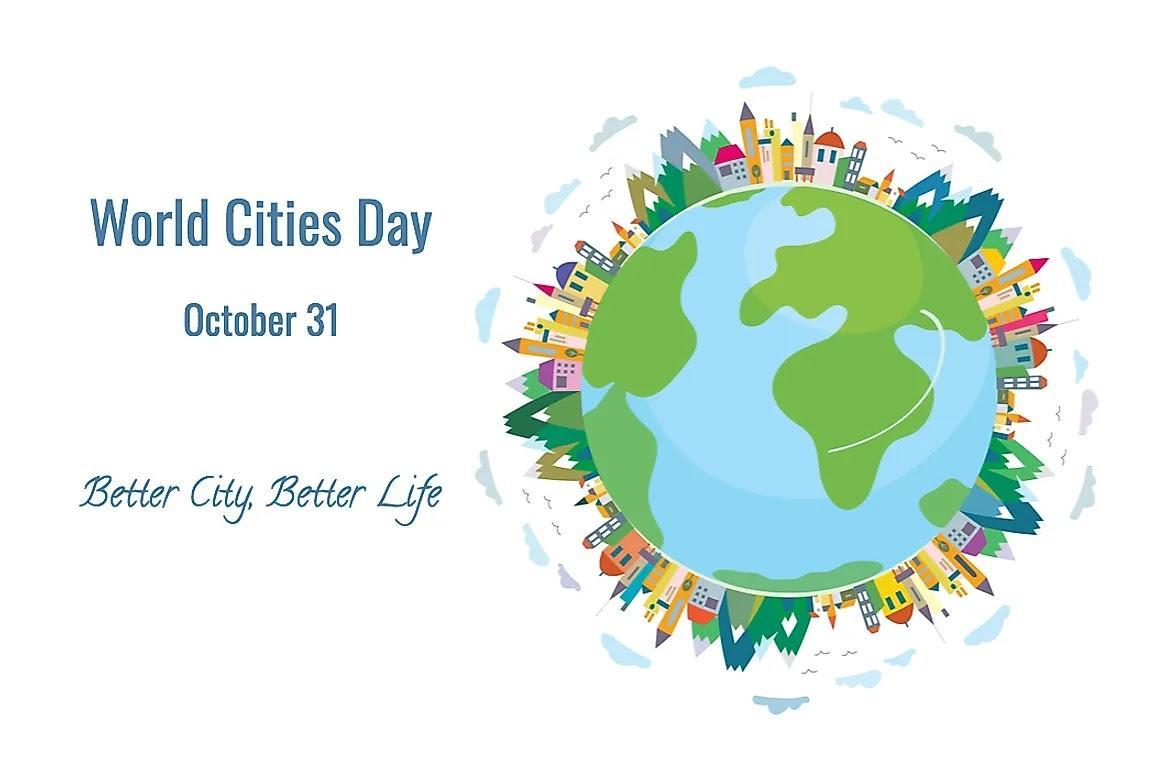 World Cities Day, designated by the United Nations General Assembly, is an annual celebration observed on the 31st of October. The theme of World Cities Day for 2023 is "Financing sustainable urban future for all."
This day provides a unique opportunity to spotlight the international community's interest in global urbanization, stimulate cooperation among nations to address urbanization challenges, and contribute to the pursuit of sustainable urban development worldwide.
World Cities Day was first celebrated in 2014, and it has been a growing global observance ever since. Similar to World Habitat Day, this annual event is marked by celebrations in different cities around the world each year.
12.114th Birth Anniversary of Homi Jehangir Bhabha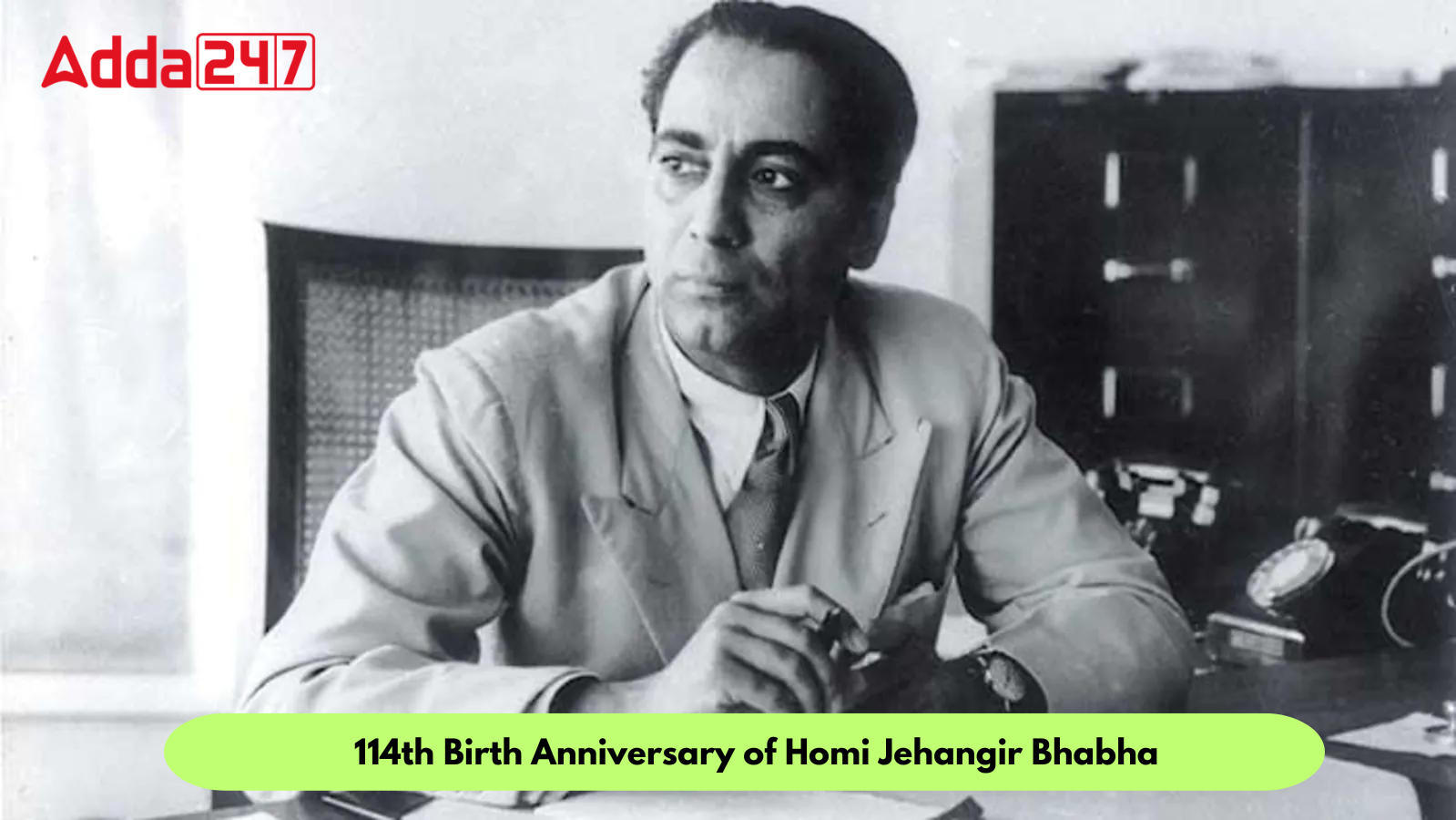 Dr. Homi Jehangir Bhabha, born on October 30, 1909, was a renowned nuclear physicist and a key figure in shaping India's scientific future. The nation observed his 114th birth anniversary on October 30.

Dr. Bhabha explained relativistic exchange scattering, which is now known as 'Bhabha Scattering.' Dr. Bhabha formulated the theory of the production of electron and positron showers in cosmic rays, called the 'Bhabha-Heitler theory.' He predicted relativistic time dilation effects in the decaying of mesons.
He also established the Cosmic Ray Research Unit and played a pivotal role in founding the Tata Institute of Fundamental Research in Mumbai. In 1944, he initiated research on nuclear weapons and established the Atomic Energy Commission. He also served as the President of the International Union of Pure and Applied Physics from 1960 to 1963.
Ranks & Reports News
13.MGNREGS Reports a 7.5% Decrease in Active Workforce Participation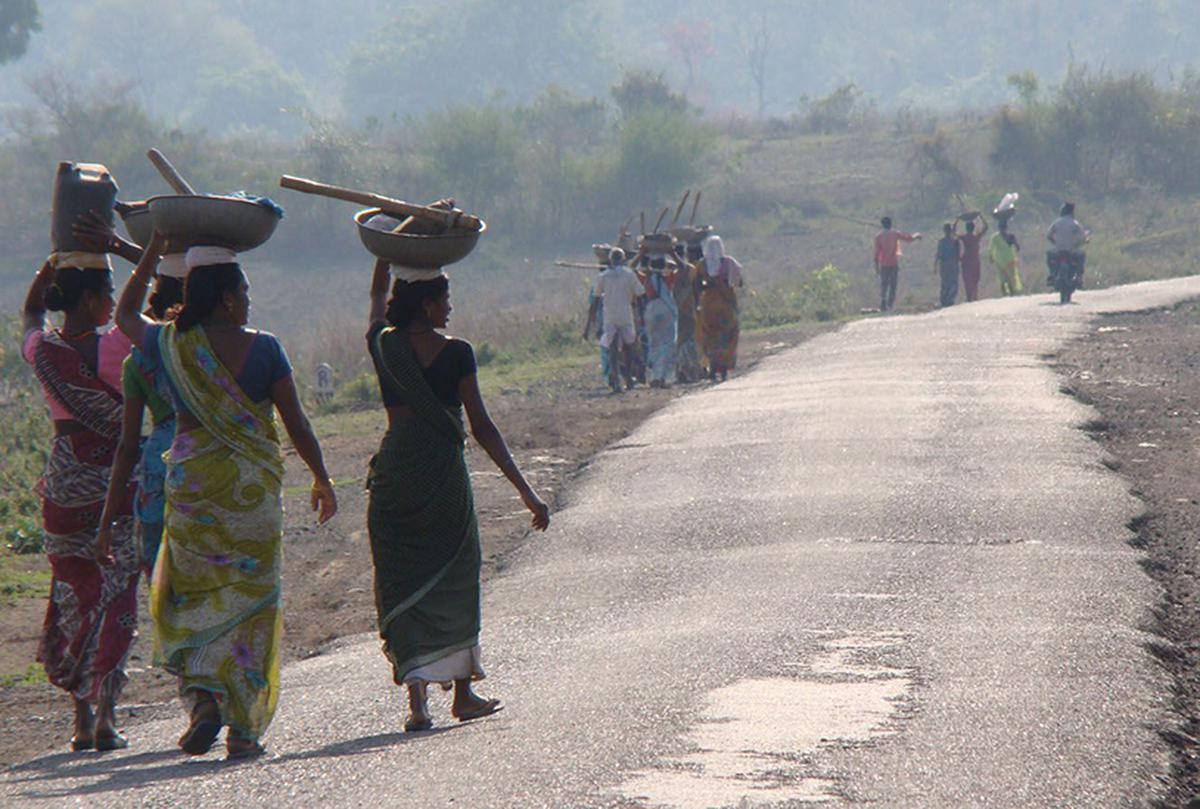 A recent data analysis by LibTech India, has revealed significant changes in the Mahatma Gandhi National Rural Employment Guarantee Scheme (MGNREGS) for the period from April to September 2023.
MGNREGS workforce reduced by 7.5%, from 15.49 crore workers in the previous fiscal year to 14.33 crore in April-September 2023. A net deletion of 80 lakh workers in the ongoing financial year, adding to the workforce decline.
14 States reported an increase in employment trends, indicating the effectiveness of the program in those regions. Six States experienced a decline, with West Bengal, Himachal Pradesh, and Madhya Pradesh showing notable drops. Chhattisgarh, Jharkhand, and Tamil Nadu witnessed the highest increases in employment opportunities under MGNREGS.
Appointments News
14.SBI Ropes in Cricket Icon MS Dhoni as Brand Ambassador
The State Bank of India (SBI), the nation's largest lender, has appointed the legendary cricketer Mahendra Singh Dhoni as its official Brand Ambassador. He will assume a crucial role in various marketing and promotional campaigns for SBI.
Mahendra Singh Dhoni, a former Indian cricket captain, is a revered figure in Indian cricket.  Beyond his association with SBI, Dhoni has also taken up the role of brand ambassador for Reliance Industries Limited's JioMart. His list of brand endorsements for 2023 includes well-known companies and products such as Oreo, India Cements, Dream11, and Reebok.
The association between MS Dhoni and State Bank of India marks an exciting chapter in the bank's branding journey, as it seeks to resonate with a younger and more diverse audience, leveraging the charisma of one of India's most beloved sports figures.
Awards News
15.Nita Ambani Receives USISPF Global Leadership Award for Philanthropy and Corporate Social Responsibility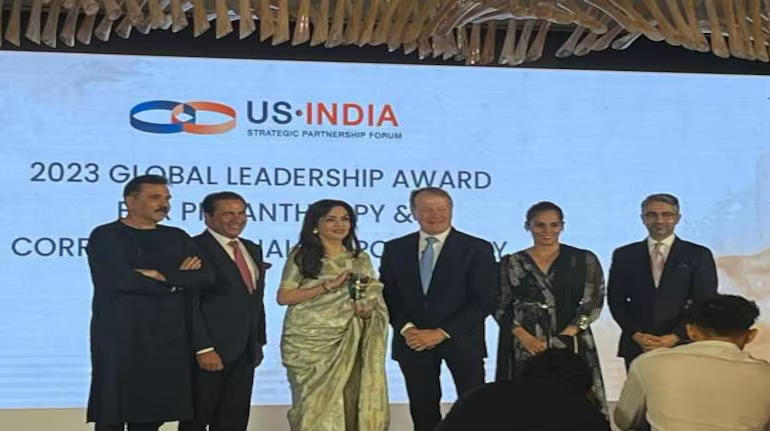 Nita Ambani, Founder and Chair of Reliance Foundation, was honored with the 2023 USISPF Global Leadership Award for Philanthropy and Corporate Social Responsibility.
Nita Ambani, an acclaimed philanthropist and businesswoman, has impacted millions of lives in India through Reliance Foundation's initiatives in education, arts, sports, and healthcare. She champions women's and children's causes, contributing significantly to bridging the gender divide and enhancing women's roles in India's economy.
USISPF is an independent not-for-profit institution dedicated to strengthening the US-India partnership, serving as a trusted partner for businesses, non-profit organizations, the diaspora, and both Indian and US governments. The forum fosters powerful collaborations between the US and India, promoting dialogue and cooperation in various sectors.
Sports News
16.Paytm Becomes Official Sponsor For 37th National Games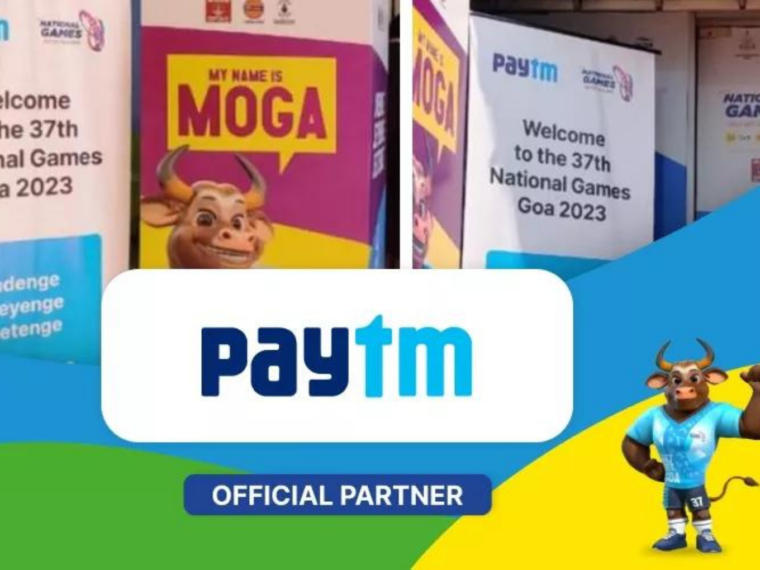 The 37th edition of the National Games kicked off in style as Paytm, India's renowned fintech giant, emerged as the official sponsor. The tournament was inaugurated with great fervor by Prime Minister Narendra Modi at the Jawaharlal Nehru Stadium in Fatorda, South Goa.
Paytm, under the leadership of Vijay Shekhar Sharma, has also committed to introduce QR codes, soundbox technology, and card machines across various government departments, including panchayats and municipalities in the state. This initiative is poised to significantly streamline payment processes, promote transparency, and pave the way for a more digitalized administration.
The National Games, which bear a striking resemblance to the Olympics, are taking place from October 26 to November 9, 2023, and feature over 10,000 athletes from across the nation competing in 43 different sports disciplines across 28 venues.
17.India Grabs 111 Medals At The 4th Asian Para Games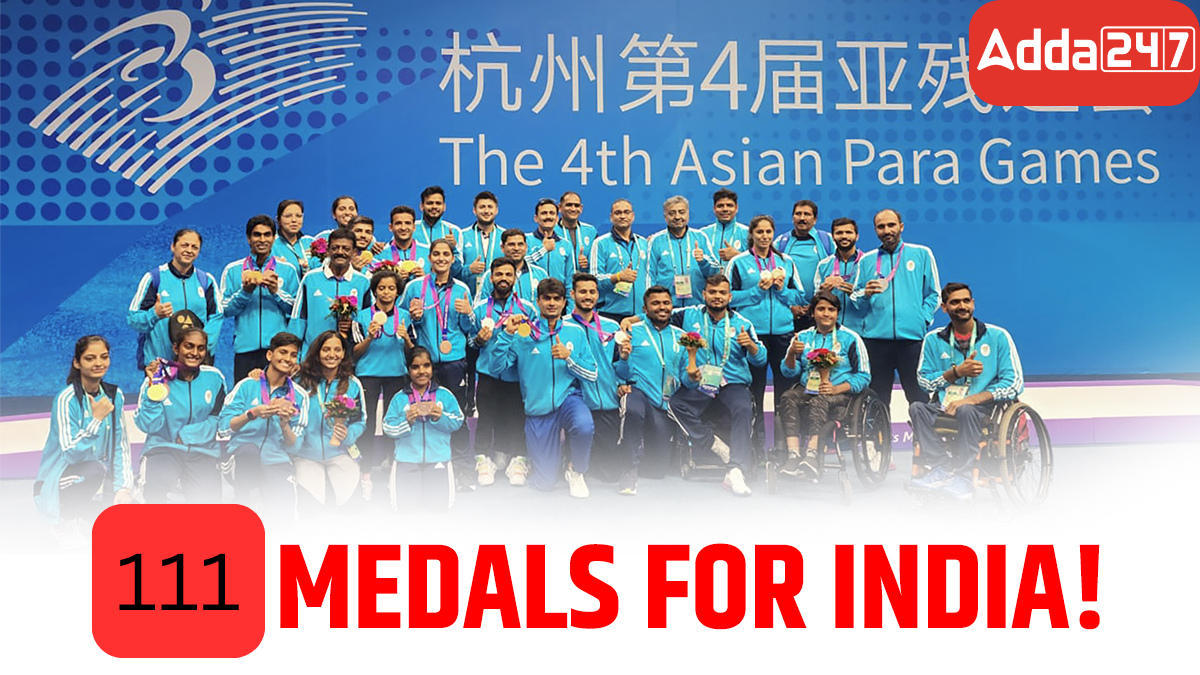 Indian para-athletes achieved a historic milestone at the Asian Para Games in Hangzhou with India achieving their most impressive medal count to date, amassing a total of 111 medals: 29 gold, 31 silver, and 51 bronze.
Dilip Mahadu Gavit, an Indian para-athlete, secured 100th medal in the competition by claiming a gold medal in the Men's 400m T47 event. Gavit's extraordinary performance was highlighted by his impressive run time of 49.48 seconds.
The 4th Asian Para Games in Hangzhou saw Indian para-athletes surpassing the 100-medal milestone for the first time. India's previous best performance at the Asian Para Games occurred in 2018 in Jakarta when the contingent secured a total of 72 medals.
Obituaries News
18.Matthew Perry, Renowned For His Role As Chandler In 'Friends,' Died At 54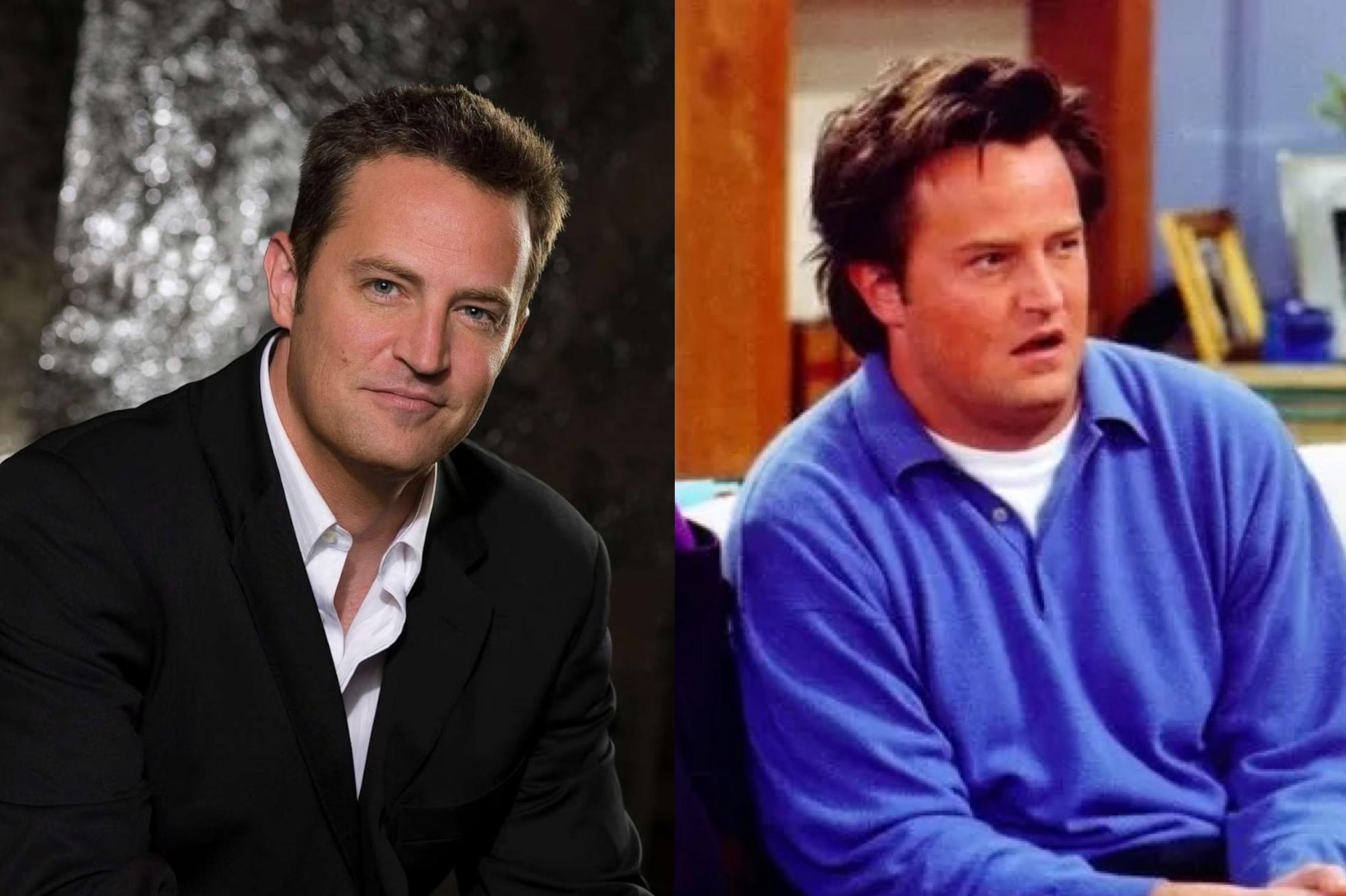 "Friends" star Matthew Perry was found dead in a hot tub at his Los Angeles home. He was 54. The iconic actor was known for his portrayal of Chandler Bing in the legendary TV series "Friends."
"Friends"revolved around the lives of six single New Yorkers as they navigated the challenges of adulthood, creating a connection with viewers worldwide. Perry's portrayal of Chandler, stood out in the ensemble cast.
Matthew Perry's talent extended beyond the world of "Friends." He starred alongside big names like Julia Roberts in the 1997 romantic comedy "Fools Rush In" and Bruce Willis in the 2000 ensemble mob comedy "The Whole Nine Yards."
19.Baijnath Aggarwal, trustee of Geeta Press Gorakhpur, Passes Away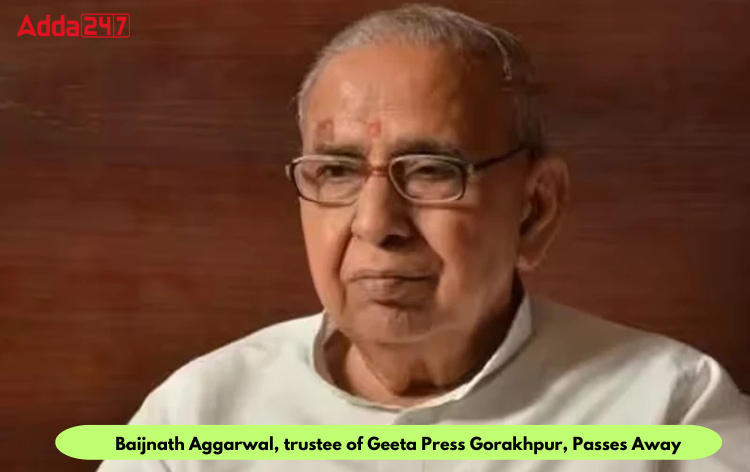 Baijnath Agarwal, the dedicated trustee of Gita Press Gorakhpur, passed away at the age of 90. He had been associated with Gita Press for an astounding 73 years, having joined in 1950.
Founded in 1923, Gita Press stands as one of the world's largest publishers, with an impressive track record of publishing 41.7 crore books in 14 languages. Notably, their publications include a staggering 16.21 crore copies of the revered Shrimad Bhagavad Gita.
Gita Press, Gorakhpur, was honored with the prestigious Gandhi Peace Prize for the year 2021. The award, instituted by the Government of India in 1995, serves as a tribute to Mahatma Gandhi's ideals and is open to individuals of all nationalities, races, languages, castes, creeds, and genders.
Important Current Affairs of 30 October 2023
Get all the International, National, Sports, Economy, latest schemes and appointments and current affairs updates with Adda247 Headlines of the day. Adda247 headlines of the day brings you the best accumulation of the daily updates. Stay updated with us!