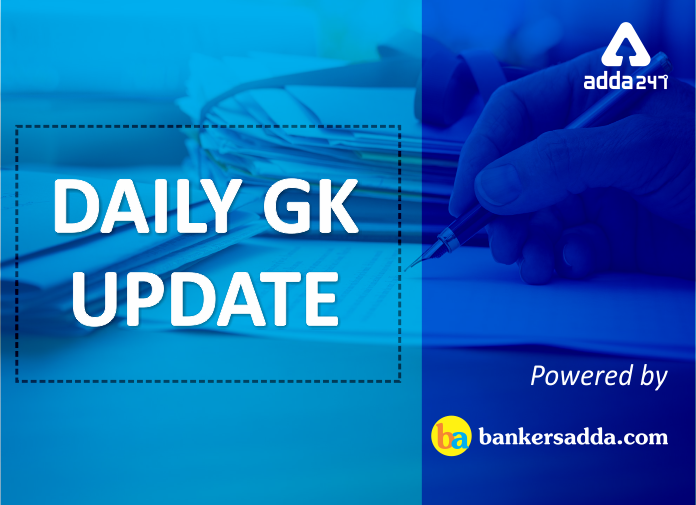 | Updated On December 26th, 2019 at 12:41 pm
Dear Aspirants,
General awareness section is the most important part of every competitive exam, it can help you score well in the exam if you are updated with all the current news. Banking Awareness, Static GK and the current news are the parts that make the GA section complete. It is important to know what is happening in and outside of India. GK updates are incorporated with the important news that made the headlines today. It is the complete bag of the important news that held all day long. One should have complete knowledge about the banking terms, current affairs news, etc. So, here is the GK update of 10th December to help you prepare the Current affairs part. After reading this section, you can successfully attempt Current Affairs Quiz.

National News
1. Walmart to train 50,000 MSME entrepreneurs
US retail major Walmart will train 50,000 entrepreneurs from the micro, small & medium enterprises (MSME) sector. The objective will be fulfilled by opening 25 institute hubs in India in next five years which would train the MSME entrepreneurs.
The institutes will be opened under the 'Walmart Vriddhi Supplier Development Programe' across the nation.
These institutes would be strategically located near the manufacturing clusters and will be the part of Walmart's "long-term commitment to India"
For the development of these institutes, Walmart has partnered

with a local

NGO Swasti

which would also have academic support from the local universities.
Banking and Economy News
2. Exim Bank provides USD 500 mn credit to Bangladesh for defence procurement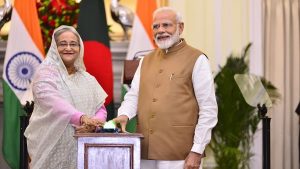 India's Exim Bank (Export-Import Bank of India) has provided $500 million (Rs 3561 crore) Line of Credit(LoC) to Bangladesh for defence-related procurement in the neighbouring country.
The Exim bank entered into an agreement with Bangladesh's Armed Forces Division (AFD) in this regard on April 11, 2019. The agreement became effective from November 7, 2019, and the utilisation period of the loan is 10 years from the date of signing the agreement.
Under the loan agreement, financing of export of eligible goods and services from India would be allowed subject to the Foreign Trade Policy(FTP).
Out of total credit, 75% of the contract price will be applied by the seller and the remaining 25% will be procured by the seller for the purpose of the eligible contract from outside India, including Bangladesh. The contract price may be reduced from 75% to 65% based on the nature of procurement.
Static/Current Takeaways Important For IBPS SO 2019:
Exim bank Founded: 1 January 1982.
Exim bank Headquarters: Mumbai, Maharashtra.
Exim bank Chief Executive Officer (CEO): David Rasquinha.
3. Loans worth over Rs10 lakh cr sanctioned under PMMY
Union Government informed that loans worth over 10 lakh crore rupees have been sanctioned till 1st November this year under the Pradhan Mantri Mudra Yojana, PMMY.
As per the findings of the PMMY survey, around five crore persons were working in the establishments for which MUDRA loans were availed between April 2015 to March 2018.
The survey reveals that these loans enabled beneficiaries to sustain the economic activities they were engaged in.
Business News
4. NSE launches interest rate options on 10-yr govt bonds
National Stock Exchange launched interest rate options on ten-year Government bonds. The exchange recorded a turnover of 5,926 contracts on the first day of its launch.
The exchange has added one more instrument to the fixed income derivatives asset class. interest rate options will provide institutional investors with the ability to manage risk through a non-linear product.
These interest rate options are based on 10-year government bonds maturing in 2029 with a coupon rate of 7.26 per cent and 6.45 per cent.

Presently, interest rate futures are available on seven government bonds for residual maturity ranging from 4 years to 15 years.
Static/Current Takeaways Important For IBPS SO 2019:
NSE's Managing Director and Chief Executive Officer: Vikram Limaye.
Agreements
5. MOU signed Between NSIC & ARAMCO Asia for development in Oil & Gas Sectors
A memorandum of understanding (MoU) has been signed between National Small Industries Corporation (NSIC) and Suadi Aramco (Asia) for the development of Micro, Small and Medium Enterprises (MSME) Ecosystem in India in Oil & Gas Sector.
The MoU will pave a way for accredited Indian MSMEs to carve out space as vendors in Global space.
Static/Current Takeaways Important For RRB NTPC/SSC CGL:
National Small Industries Corporation established in 1955.
National Small Industries Corporation is the flagship Mini Ratna public sector undertaking (PSU).
Appointments
6. News Broadcasters Federation elects Arnab Goswami as governing board president
The News Broadcasters Federation (NBF), the country's largest association of over 78 news channels, has elected editor-in-chief of Republic TV Arnab Goswami as the President of its governing board.
The body of 78 news channels in 14 languages, representing broadcasters from 25 states. The new self-regulatory organization in order to bring in transparent self-regulation on content will be announced by the end of January 2020.
Static/Current Takeaways Important For RRB NTPC/SSC CGL:
News Broadcasters Federation formation: July 2007.
Awards
7. 4 eminent diplomats honoured with 2019 'Diwali – Power of One Award'
The 4 prominent diplomats have been honoured with 'The Diwali – Power of One' award 2019 in recognition and celebration of their work, especially at the United Nations, for a secure and peaceful world.
The diplomats who were honoured are:
Former foreign minister and Permanent Representative of Kazakhstan to UN: Kairat Abdrakhmanov.
Former Permanent Representative of Cyprus to UN: Nicholas Emiliou.
Former Chef de Cabinet to President of 72nd Session of the UN General Assembly (UNGA) and Permanent Representative of Slovakia to UN: Frantisek Ruzicka.
Permanent Representative of Ukraine to the UN: Volodymyr Yelchenko.
The awards which have now come to be known as 'Oscars of Diplomacy' were established by Diwali Foundation USA, Inc in 2017. The awards seek to promote a peaceful and consensus-based process to achieve societal good, as befitting high hopes and ideals of humanity enshrined in the UN Charter.
Static/Current Takeaways Important For IBPS SO 2019:
Diwali Foundation USA Chairman: Ranju Batra.
8. Abu Dhabi selected as world's leading sports tourism destination
Abu Dhabi (UAE) has been selected as the world's leading Sports tourism Destination at the 26th edition of the World Travel Awards (WTA) being held in Muscat, Oman.
This is the 7th time in a row that Abu Dhabi has been selected for this coveted award. The award is the latest in several prestigious accolades gained by Abu Dhabi this year, including being selected as the West Asia's Leading Business Tourism Destination at the West Asia edition of WTA and Best City Break at the UK's Selling Travel Agents' Choice Awards.
Abu Dhabi shined as a premium destination once again for sports tourism in 2019 after hosting so Abu Dhabi me of the world's top sporting events, such as the FIFA Club World Cup 2017 and 2018, the first edition of the UAE Tour, the AFC Asian Cup 2019, the Special Olympics World Games 2019, the UFC 242 showdown and the Brazil vs South Korea international friendly match.
Sports tourism has been labelled by the United Nations World Travel Organisation, UNWTO,

as one of the fastest-growing sectors of tourism worldwide. World Travel Awards was established in 1993 to acknowledge, reward and celebrate excellence across all key sectors of the travel, tourism and hospitality industries.
Static/Current Takeaways Important For RRB NTPC/SSC CGL:
Khalifa bin Zayed Al Nahyan is President of the UAE.
Abu Dhabi is the capital of the UAE.
The United Arab Emirates dirham is the currency of the UAE.
Ranks & Reports
9. Worldwide arms sales rise by nearly 5% in 2018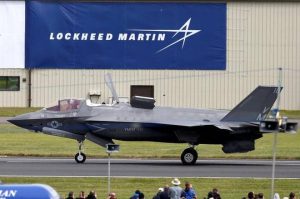 Worldwide arms sales rose by nearly 5 per cent in 2018. According to a new report by the Stockholm International Peace Research Institute (SIPRI), the market is dominated by the United States.
The turnover of the 100 biggest arms manufacturers came to 420 billion dollars. US manufacturers alone accounted for 59 per cent of the market, or a turnover of 246 billion dollars, up 7.2 per cent on the previous year.
Russia

was second in the rankings for arms production, with

8.6 per cent

of the market, just ahead of the

United Kingdom on 8.4 per cent

and

France on 5.5 per cent.

The study did not include China, for lack of sufficient data. The world's largest arms maker remains the

US firm Lockheed Martin,

as it has been since 2009. Its turnover last year was 47.3 billion dollars. Its sales alone account for 11 per cent of the world market.
Static/Current Takeaways Important For RRB NTPC/SSC CGL:
Chairman, President & CEO of Lockheed Martin: Marillyn A. Hewson.
Defence News
10. Rafale jet tail numbers to feature former Air Chief Marshal BS Dhanoa's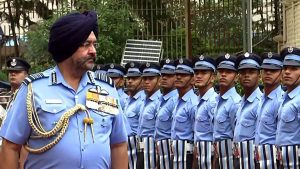 The Indian Rafale fighter jets will fly with the tail sign 'BS' after the recently retired Air Force Chief Birender Singh Dhanoa. The Indian Air Force has decided to put tail numbers in 30 Rafale jets with "BS" initials.
Six Rafale trainer aircraft will carry RB series tail numbers which stand for Air Chief Marshal RKS Bhadauria, the current Chief of Air Staff who played a key role as lead negotiator for the mega-deal.
Static/Current Takeaways Important For RRB NTPC/SSC CGL:
Indian Airforce founded: 

8 October 1932, India.

Headquarters: 

New Delhi.
11. UAE, US joint military exercise 'Iron Union 12'commences
'Iron Union 12', a joint military exercise between the ground forces of the UAE and the United States, commenced. 'Iron Union 12' will see the two sides take part in joint military cooperation to enhance combat and tactical capabilities.
The joint military exercises of the UAE Armed Forces with fraternal and friendly countries takes place in a manner consistent with latest developments and reflects the UAE Armed Forces' determination to stand firmly against all threats and challenges facing the region.
Sports News
12. WADA bans Russia from international sporting events for 4 years
The World Anti-Doping Agency (WADA), banned Russia for 4 years, from participation in global sporting events, including the 2020 Tokyo Olympics and the 2022 Beijing Winter Olympics, after accusing Moscow of falsifying data from an anti-doping laboratory.
The Russian flag and national anthem have also been banned in global events.
Russia's anti-doping agency can appeal the decision to the Court of Arbitration for Sport within 21 days. The independent McLaren report released in 2016 revealed the significant extent of state-sponsored doping in Russia, notably between 2011 and 2015.
Static/Current Takeaways Important For RRB NTPC/SSC CGL:
President of WADA: Sir Craig Reedie;

Headquarters: 

Montreal, Canada.

Founded: 

10 November 1999.
Important Days
13. Human Rights Day: 10 December
Human Rights Day is observed every year on 10 December. This Day came into existence on December 10, 1948, when the Universal Declaration of Human Rights was adopted by the United Nations.
This day is observed every year across the world, as it empowers us all. The day also acknowledges the advocates and defenders of human rights around the world.
This year it will be the 71st anniversary

of Universal Declaration of Human Rights. With the theme

"Youth Standing Up for Human Rights",

the aim is to celebrate the potential of youth as constructive agents of change, amplify their voices and engage a broad range of global audiences in the promotion and protection of rights.
Miscellaneous
14. KVIC distributes 500 Bee Boxes, 500 Pottery Wheels and 200 Leather Kits
Khadi and Village Industries Commission (KVIC) distributed 500 Bee Boxes, 500 Electric Pottery Wheels and 200 Leather Tool Kits in an event organised by KVIC in Boondi District, Rajasthan.
Event was organised to support the weaker section of the society as well as to commemorate 150th Birth Anniversary of Mahatma Gandhi.
KVIC has been running a mass campaign for the revival of bee keeping, pottery and leather industry under the Honey Mission, Kumhar Sashaktikaran Mission and Leather Mission respectively.
15. Nilgiri Mountain Railway conducts special service for foreign tourists
The UNESCO-recognized Nilgiri Mountain Railway (NMR) conducted a special service for foreign tourists. 71 tourists from several countries, including the USA, the UK and France travelled by a special steam engine service from Coonoor to Ooty.
They were presented with special mementoes and gift hampers as well as served with the replica of the original Edmonton type cardboard ticket.
The NMR is one of the few railways in the world that uses the unique rack and pinion system, with its special third rail to negotiate gradients en route from Mettupalayam in the foothills of the Western Ghats in Tamil Nadu to Ooty, the Queen of Western Ghats.
Static/Current Takeaways Important For IBPS SO 2019:
UNESCO Headquarters in Paris, France. Director-General of UNESCO Audrey Azoulay.
Learn Current Affairs with ADDA247 Youtube Channel. Check out the video below.
Read This IN Hindi
You may also like to Read:
   All the Best BA'ians for LIC Assistant Mains and IBPS SO Prelims 2019 !!