Dear Aspirants,
General awareness section is the most important part of every competitive exam, it can help you score well in the exam if you are updated with all the current news. Banking Awareness, Static GK and the current news are the parts that make the GA section complete. It is important to know what is happening in and outside of India. GK updates are incorporated with the important news that made the headlines today. It is the complete bag of the important news that held all day long. One should have complete knowledge about the banking terms, current affairs news, etc. So, here is the GK update of 27th September to help you prepare the Current affairs part. After reading this section, you can successfully attempt Current Affairs Quiz.
National
1. Exhibition of India Tourism Mart 2019 inaugurated
The Union Minister of State for Culture and Tourism (Independent Charge), inaugurated the exhibition of India Tourism Mart (ITM) 2019 in New Delhi.
The Ministry of Tourism and the Federation of Associations in Indian Tourism and Hospitality (FAITH) have jointly organized this Mart. Over 240 international delegates from 51 countries and 160 exhibitors from across the country are taking in the part in the second edition of ITM.
The Mart will provide a platform at the national level for trade and hospitality service providers in the country to interact and conduct business with their counterparts from overseas.
Static/Current Takeaways Important For IBPS RRB PO Mains:
Union Minister of State for Culture and Tourism (Independent Charge): Prahlad Singh Patel.
International
2. Japan Launches "World's Biggest Transport Space Ship" For Space Station
Japan launched an unmanned H-2B rocket towards the International Space Station.
The H-2B rocket lifted off with cargo vessel Kounotori8, Mitsubishi Heavy Industries.
The launch took place from the Japan Aerospace Exploration Agency's Tanegashima Space Center in southwestern Japan.
This Rocket is considered as the world's biggest transport spaceship. It intends to deliver about 5.3 tonnes of supplies to astronauts at the ISS.
Static/Current Takeaways Important For RRB NTPC/IBPS RRB Mains:
Japan Capital: Tokyo, Currency: Japanese yen, PM: Shinzo Abe.
State News
3. UP govt. announces ₹6,000 annual aid for triple talaq victims
Chief Minister of Uttar Pradesh Yogi Adityanath announced an annual support of ₹6,000 to the victims of triple talaq till their rehabilitation and they will get free legal aid.
The victims of triple talaq came under the Pradhan Mantri Jan Vikas Karyakram (PMJVK) and govt also gives rights over waqf properties and also called for several welfare measures that should be undertaken for their rehabilitation.
Static/Current Takeaways Important For IBPS RRB Main 2019:
Governor of Uttar Pradesh: Anandiben Patel.
Agreement
4. Airtel Payments Bank partners with HDFC ERGO, launches innovative (MDPP)
Airtel Payments Bank has joined hands with India's leading private sector general insurance company, HDFC ERGO General Insurance Company to offer unique Mosquito Diseases Protection Policy (MDPP) to protect against mosquito-borne diseases.
Mosquito Disease Protection Policy offers cover against seven common mosquito-borne diseases – Dengue, Malaria, Chikungunya, Japanese Encephalitis, Kala-azar, Lymphatic Filariasis (Elephantiasis) and Zika virus.

The product, which is a part of the 'Wallet Insurance Portfolio' of HDFC ERGO, will be offered to the remittance customers of Airtel Payments Bank at a nominal cost of Rs 99 per annum.
Static/Current Takeaways Important For RRB NTPC/IBPS RRB Mains:
MD & CEO of Airtel Payments Bank: Anubrata Biswas.
Headquarters of Airtel Payments Bank: New Delhi.
5. Facebook bags digital content rights for ICC matches in South Asia
The International Cricket Council has inked an agreement with Facebook, under which the social media platform will get exclusive digital content rights for select cricket matches in the Indian subcontinent including the Women's T20 World Cup 2020-22, Men's T20 World Cup 2020-21 and the Men's Cricket World Cup 2023.
The social media platform also bagged the rights for match recaps for rest of the world for the next 4 years.
Static/Current Takeaways Important For IBPS RRB PO Mains:
Chief Executive Officer of ICC: Manu Sawhney.
Schemes and Committees
6. Centre approves construction of 1.23 lakh houses under PMAY-Urban
The Indian government has approved the construction of 1.23 lakh houses under the Pradhan Mantri Awas Yojana (Urban).
The approval was given by the Central Sanctioning and Monitoring Committee (CSMC). With this approval, over 90 lakh houses have so far been sanctioned against the target of 1.12 crore by 2022 under PMAY (Urban).
Awards
7. Payal Jangid becomes the first Indian to receive the Changemaker Award 2019
Rajasthan's Payal Jangid, aged 17, became the first Indian to receive the Changemaker Award 2019 at the Goalkeepers Global Goals Awards 2019.
The Award was presented by the Bill and Melinda Gates Foundation at a ceremony held in New York, United States. She is the President of her village's Children's Parliament (Bal Panchayat).
She was awarded for her work towards the abolition of child marriage in her village and other neighbouring areas.
Static/Current Takeaways Important For IBPS RRB Main 2019:
Chief Minister of Rajasthan: Ashok Gehlot; Governor: Kalraj Mishra.
Defence
8. Army Chief Gen Bipin Rawat to be new Chairman, Chiefs of Staff Committee
Army chief Gen Bipin Rawat will take over as the new Chairman of the Chiefs of Staff Committee.
He succeeding Indian Air Force (IAF) chief, Air Chief Marshal B.S. Dhanoa, who retires from service by end of this month.
The Chiefs of Staff Committee (COSC) comprises chiefs of the Army, the Navy and the Air Force and the senior-most member is appointed its chairperson.
The Chairman of COSC is tasked with ensuring synergy among the three services and evolve a common strategy to deal with external security challenges facing the country.
Books and Authors
9. Pranab Mukherjee launches the book titled 'Reset: Regaining India's Economic Legacy'
Former president Pranab Mukherjee released a book named 'Reset: Regaining India's Economic Legacy'.
The book was written by BJP MP Subramanian Swamy that tracks the country's economic development over the years and offers solutions for future growth. The book has been published by Rupa Publications India.
Obituaries
10. 4-time Emmy Award winner J. Michael Mendel passes away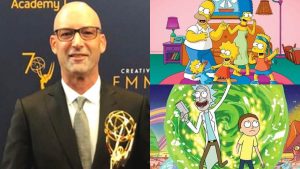 American television producer & a four-time Emmy Award winner J. Michael Mendel passed away.
He won three Emmys in 1995, 1997, and 1998 for "Lisa's Wedding", "Homer's Phobia", and "Trash of the Titans".
He joined Rick and Morty in 2013, where he won his 4th Emmy Award for the episode "Pickle Rick" in 2018.
11. Former French President Jacques Chirac passes away
Former French President Jacques Chirac passed away. He was two-term French president (1995-2007) who was the first leader to acknowledge France's role in the Holocaust and defiantly opposed the U.S. invasion of Iraq in 2003. He also served as the Prime Minister of France.
Important Days
12. World Tourism Day: 27 September
The United Nations observes 27 September every year as World Tourism Day.
The UN World Tourism Organization expects that tourism will continue to grow at an average of 3% annually until 2030.
The sector also represents an estimated 10% of the world's GDP and 1 in 10 jobs globally.
UN World Tourism Organization organizes the special event every year on the occasion of World Tourism Day, and this year it will be held in New Delhi, India.
Theme for 2019: Tourism and Jobs: A Better Future For All.
Static/Current Takeaways Important For IBPS RRB Clerk Mains:
Headquarters of United Nations: New York, USA; Founded: 24 October 1945.
Secretary General of the United Nations: Antonio Guterres.
Miscellaneous
13. Global Goals Jam 3.0 hosted by World University of Design
World University of Design (WUD) hosted Global Goals Jam 3.0. The Indian edition of the global event focusing on design thinking and service design methodologies was hosted with the theme: eWaste.
70 participants from across India, divided into ten groups, participated in the workshop and presented their ideas and vision for the future.
GGJ is an international platform for inclusive learning where people from all around the world contribute to the 17 global goals for sustainable development of UNDP by sharing their stories, projects, and visions for the future.
14. Bangladesh lifts ban on Hilsa export to India
Bangladesh has lifted the ban on the exports of Hilsa fish to India as a goodwill gesture during the Durga Puja.
Bangladesh will allow 500 tonnes of Hilsa fish for the occasion as a one time arrangement.
Export of the popular Hilsa or 'Ilish' fish from Bangladesh was banned in 2012 after local business establishments called for controlling the price of fishes.
Bangladesh accounts for nearly 75 percent of world Hilsa production and nearly 2 million people get direct and indirect employment from its cultivation.
Static/Current Takeaways Important For IBPS RRB PO Mains:
Bangladesh Capital: Dhaka; Currency: Taka; PM: Sheikh Hasina.
Learn Current Affairs with ADDA247 Youtube Channel. Check out the video below.
You may also like to Read: