Do's and Don'ts For SBI CBO Interview 2022: Interview is the last hurdle that a candidate has to go through and excel, in order to get a job in the SBI as circle based officer(CBO). Every candidate prepare to the best of his knowledge and ability and aspires to clear the Interview round with flying colors. But along with the subject preparation Do's and Don'ts for SBI CBO interview round should be kept in mind so that you go well prepared and don't regret after the interview is over. Remember first impression is the last impression no second chance would be given to you. Make the best of the time and resources in sailing through the SBI CBO interview 2022.
Do's and Don'ts For SBI CBO Interview 2022
The phase of online written examination is over and now candidates have to compete among the bests in the interview round. The competition is in final stage and to secure a seat, preparation should be at top notch and very detailed. To keep that in mind we have curated a list of things that you must follow and some habits and action that should be avoided during an interview.
Do's
Reach at the venue before the reporting time as this will allow you to calm yourself and you don't to rush through the process.
Go well dressed.
Maintain a good upright posture while standing and sitting in front of the interviewer. This the first thing that will be noticed. A good posture resembles the level of confidence.
Greet every member starting from the senior most person who is generally sitting in middle of the panel members.
Be very confident while speaking to them and answering their questions.
Maintain a good eye contact with the interviewer .
Be honest while giving any details especially the things mentioned in the bio-data.
Give answers in polite manner.
Before leaving the room do day "Thank you sir/mam".
Don'ts
Open/close the room gently, avoid any banging.
Never sit until you are told to have a seat.
Don't argue with the interviewer, respect their opinions and polity present yours.
Don't give any unnecessary information this a interview not a debate competition. Say things to the point.
Don't do any unusual activities like crossing arms or crossing legs, looking up and down that shows you are not interested in the interview.
Never counter question the interviewer or speak in between when the interviewer is saying something.
Don't make up any details if you don't know the answer be honest about it.
These were some things that must be kept in mind and should be practiced before actual interview. For that purpose you can take part in the mock interviews provided by Adda247 as there can be lot many things which you may have missed out while speeding up your preparation and for that you will need someone who can guide you smartly.
DOs & DONTs For SBI CBO Interview 2022 in Hindi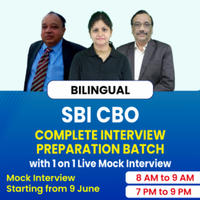 FAQs: DOs & DONTs For SBI CBO Interview 2022
Q.1 How can I get this SBI CBO Interview 2022 Batch?
Ans You can get this SBI CBO Interview 2022 batch by clicking on the batch image given in the article above
Q.2 What are the points which we should kept in our mind regarding SBI CBO Interview 2022?
Ans The points which you should keep in your mind regarding SBI CBO Interview 2022 is given in the article above