RBI Grade-B Prelims Exam 02nd Shift is over now. Candidates who have attempted the RBI Grade-B Prelims Exam 01st Shift must be curious to know their performance in the examination. RBI Grade-B Prelims Exam 02nd Shift Analysis has been given by Bankersadda and as per our analysis, level of questions asked were easy-moderate. Here, Bankersadda has come up with the General Awareness (GA) questions with answers to help you deal with your performance analysis. These questions will help in your score analysis as well as it will also help in preparing for GA sections in other competitive exam like IBPS PO Mains, IBPS SO Prelims, LIC Assistant Mains, EPFO SSA Mains and IBPS Clerk Mains.

General awareness section consisted of 80 questions, each carries 1 mark. This means, general awareness has 80/200 weightage in the RBI Grade-B Prelims Exam. Read the questions asked in the examination with solution below:
Q1. Mahathir Bin Mohamad is the present Prime Minister of which country?
Answer: Malaysia
Q2. Where was the AIBA Women's World Boxing Championships held?
Answer: Ulan-Ude, Russia
Q3. Manju Rani is associated with which sport?
Answer: Boxing
Q4. The BRICS Culture Ministers' meeting was held in?
Answer: Curitiba, Brazil
Q5. Where is the headquarters of UNESCO?
Answer: Paris, France
Q6. What is the theme of the International Day of the Girl Child Day?
Answer: GirlForce: Unscripted and Unstoppable
Q7. The 2019 Booker Prize was won jointly by Margaret Atwood for The Testaments and Bernardine Evaristo for?
Answer: Girl, Woman, Other
Q8. Ben Stokes is associated with which sport?
Answer: Cricket
Q9. Peter Handke has won the 2019 Nobel Prize in Literature. He is from which Country?
Answer: Austria
Q10. Union Minister of Consumer Affairs, Food and Public Distribution Ram Vilas Paswan belongs to which state?
Answer: Khagaria district of Bihar
Q11. Which state of India recently celebrated the Shirui Lily festival?
Answer: Manipur
Q12. Nakki Lake is situated in which state?
Answer: Rajasthan
Q13. Prakash Javadekar is the Minister of Environment, Forest and Climate Change and Minister of Information and Broadcasting of India. Where is the Constituency of Prakash Javadekar?
Answer: Maharashtra
Q14. What is the net worth of Bharat Bill Payment Operating Unit (BBPOU)?
Answer: Rs 100 crore
Q15. Where is Green Park stadium located in India?
Answer: Kanpur, Uttar Pradesh
Q16. Name the bank which has recently launched fixed deposit scheme called FD Health?
Answer: ICICI Bank
Q17. 14th November is celebrated as?
Answer: Children's Day
Q18. Exercise "Vajra Prahar" was recently conducted between India and which country?
Answer: US
Q19. The exercise "Shinyuu Maitri" between India and Japan was held in which state?
Answer: West Bengal.
Q20. Where is the Kaiga Atomic Power Station located in India?
Answer: Karnataka
Q21. RBI has recently launched a reporting system "CISBI" for which type of banks?
Answer: Co-operative banks
Q22. Which company has become the first company in India to hit the market capitalisation of Rs 9 lakh crore.
Answer: Reliance Industries
Q23. The Mohamed bin Zayed University of Artificial Intelligence (MBZUAI) will be openend at?
Answer: Abu Dhabi, UAE
Q24. Paektu Mountain is situated in which country?
Answer: North Korea
Q25. Who is the brand ambassador of Master Card in India?
Answer: Mahendra Singh Dhoni
Q26. Name the Air Line which makes the World's First Use Of Taxibot Robotic Vehicle as an alternate taxiing equipment?
Answer: Air India
Q27. The festival "Bali Jatra" was recently celebtrated in which state?
Answer: Odisha
Q28. Name the person who topped the EdelGive Hurun India Philanthropy List 2019 with Rs 826 crore contribution.
Answer: Shiv Nadar
Q29. Jagdeep Dhankar is the governor of which state?
Answer: West Bengal
Q30. Name the payment bank which recently terminated its operations.
Answer: Aditya Birla Idea Payments Bank
Q31. Where is the headquarter of International Solar Alliance?
Answer: Gurugram, India
Q32. The International Olympic Committee is headquartered at?
Answer: Lausanne, Switzerland
Q33. Alexei Leonov who performed the world's first spacewalk in 1965 passed away recently. He was from which country?
Answer: Russia
Q34. Name the portal recently launched for better coordination among the Indian Railways, ministries of power and coal for coal supply to power plants.
Answer: PRAKASH
Q35. 46th G7 summit will be held in 2020 in?
Answer: US
Q36. 10th edition of the Joint Military Exercise Ekuverin was held at Aundh Military Station in Pune, Maharashtra between India and which country?
Answer: Maldives
Q37. Name the 1st women cricketer to complete the 20 years in International Cricket.
Answer: Mithali Raj
Q38. Tokyo will host the Summer olympics 2020 for ______________ time.
Answer: 2nd Time
Q39. Name the Union Territory having the least land area.
Answer: Lakshadweep
Q40. Union Bank of India would be merged into which bank as per the merger plan of Indiann Government?
Answer: Andhra Bank
Q41. Gloria Church has won the UNESCO Asia-Pacific Awards for Cultural Heritage. It is located at?
Answer: Mumbai
Q42. Name the country which has recently launched the new Gaofen Earth-imaging satellite.
Answer: China
Q43. Mark Vincent Hurd recently passed away. He was the Co-CEO of which company?
Answer: Oracle
Q44. Subroto Cup is associated with which sport?
Answer: Football
Q45. A book titled as "How to Avoid a Climate Disaster" has been written by?
Answer: Bill Gates
Q46. Home Credit India ties up with which bank for joint lending?
Answer: Karur Vysya Bank
Q47. Name the bank has launched DigiSmart credit card.
Answer: Standard Chartered
Q48. _______________________ has released its 'State of the World's Children' report for 2019.
Answer: UNICEF
Q49. Which state has topped in the recently released Innovation Index released by NITI Aayog?
Answer: Karnataka
Q50. Padmaja Naidu Himalayan Zoological Park is located in which state?
Answer: West Bengal
Q51. Which bank has launched new fixed deposit scheme 'FD Health'?
Answer: ICICI Bank
Q52. King Willem-Alexander and Queen Maxima arrived in India. The royal couple belongs to which country?
Answer: Netherlands
Q53. Free Town is the capital of?
Answer: Sierra Leone
Q54. DHRUV programe was recently launched by which Ministry?
Answer: Ministry of Human Resource Development
Q55. Manila is the capital of which country?
Answer: Philippines
Q56. Kuchipudi is the traditional dance form of which country?
Answer: Andhra Pradesh
Q57. India has handed over 2 more Mi-24V helicopters to which country?
Answer: Afghanistan
Q58. Name the country which has recently announced to quit OPEC in 2020.
Answer: Ecuador
Q59. Which country has recently announced to abolish 'kafala' labour system?
Answer: Qatar
Q60. Name the actor who has jointly won the National film award 2019 in the category of best actor with Ayushmann Khurrana.
Answer: Vicky Kaushal
Q61. Name the footballer who has been presented with the European Golden Shoe for the sixth time.
Answer: Lionel Messi
Q62. Which company will invest $ 1 Billion in the next five years in India?
Answer: Master Card
Q63. India international cooperative trade Fair was recemntly held at?
Answer: Delhi
Q64. Which is India's second most spoken language?
Answer: Bengali
Q65. The Central Vigilance Commission has constituted Advisory Board for Banking Frauds headed by former Vigilance Commissioner T M Bhasin to examine bank fraud over ______________ and recommend action.
Answer: Rs 50 crore
Q66. The government has made the announcement that banks or system providers will not impose charges or Merchant Discount Rate on customers as well as merchants on digital payments made to establishments having turnover in excess of _______________ from November 1.
Answer: Rs 50 crore
Q67. Indian Railways will run its first Buddhist circuit train between India and which country?
Answer: Nepal
Q68. Article 22 is related to?
Answer: custody without informed
Q69. The IT Ministry has unveiled BHIM 2.0 that packs-in new functionalities, supports ________________ additional languages.
Answer: 3 languages
Q70. Where is the International Criminal Police Organization "INTERPOL"?
Answer: Lyon, France
Q71. Deepika Padukone and _______________ have collaborated for a promotional video for PM Narendra Modi's Bharat Ki Laxmi movement.
Answer: PV Sindhu
All The Best For Upcoming Exams!!!
You can also mail your exam experience and review to us at blogger@adda247.com
GA Questions Asked in RBI Grade-B Prelims, 09th November 2019, 01st Shift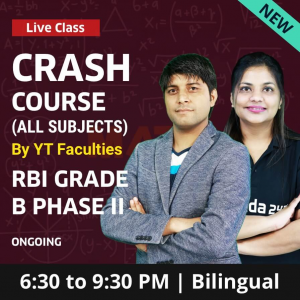 RBI Grade B 2019: Detailed Exam Analysis and Review of Shift II