IBPS Clerk Study Plan 2023
As all of you are aware the IBPS Clerk notification has been released and the prelims exam is scheduled to be held on 26, 27 August, and 2 September 2023. A well-structured and effective study plan will play a crucial role in achieving academic success. It provides a roadmap for students to organize their learning process, manage their time efficiently, and maximize their productivity. By outlining what needs to be accomplished within a specific timeframe, students gain clarity on their priorities and can focus their efforts accordingly. This clarity prevents them from feeling overwhelmed or getting lost in the vast amount of study materials, ensuring they stay on track toward their desired outcomes.
IBPS Clerk Prelims Daily Time Table
Candidates must ensure to plan a proper time table that follows the IBPS Clerk syllabus specially designed for the prelims if want to focus on the prelims exam which is the first step to take. As aspirants must be aware that the IBPS Clerk Prelims exam is 45 days far so to ace each section i.e. Reasoning Ability, Numerical Ability, and English Language, candidates must dedicate 2 hours for each section. We advise the students to not take the General Awareness section as the mains exam will not give the candidates a proper time to ace in GA section.
IBPS Clerk Study Plan 2023, Section-Wise Prelims Study Material
Candidates can practice with the IBPS Clerk Study Plan with daily quizzes which have been made with the latest pattern and according to the importance of topics.
Preparation Strategy  for IBPS Clerk Prelims 2023
Candidates must check the IBPS Clerk Preparation Strategy with tips and tricks to crack the IBPS Clerk prelims exam as one must not skip any important step which may lead them to failure.
Syllabus and Exam Pattern: IBPS Clerk Syllabus outlines the topics, learning objectives, and assessment methods for a particular course or subject, ensuring that all necessary content is covered within a specific timeframe. The syllabus helps students understand what they are expected to learn, provides a sense of direction, and enables them to plan their studies effectively.
Solve Previous Year Papers: Analyzing and practicing IBPS Clerk previous year papers helps students gauge their level of preparation, identify their strengths and weaknesses, and devise effective strategies to improve their performance.
Solve More Questions: Solving more questions is essential for effective learning and skill development. It helps students deepen their understanding of concepts, reinforce their knowledge, and apply what they have learned to different scenarios. By solving a variety of questions, students encounter different problem-solving techniques, develop critical thinking skills, and gain confidence in tackling unfamiliar problems.
Have a Strategic Study Plan: A well-designed IBPS Clerk study plan will help students stay organized, focused, and motivated throughout their learning journey. It allows them to prioritize tasks, allocate time effectively, and manage their workload efficiently.
Practice With Practice Sets: Adda247 provides you with various free practice sets on the Adda247 app from where you can practice an unlimited number f questions of all sections.
IBPS Clerk Study Plan 2023 in Hindi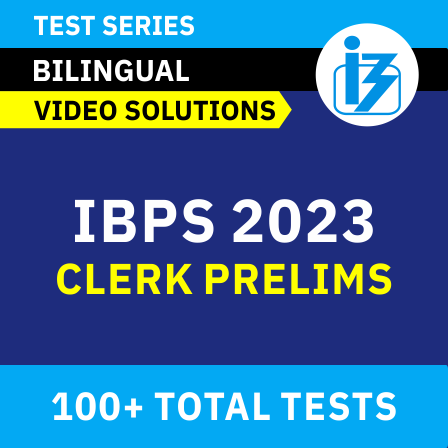 IBPS Clerk Prelims Exam Pattern
Candidates preparing for the IBPS Clerk exam must also check IBPS Clerk Syllabus and Previous Year Papers along with the right strategy to follow.
| | | | |
| --- | --- | --- | --- |
| Sections | No. of Questions | Marks | Duration |
| Reasoning Ability | 35 | 35 | 20 Minutes |
| Quantitative Aptitude | 35 | 35 | 20 Minutes |
| English Language | 30 | 30 | 20 Minutes |