IBPS PO Interview Tips 2023: As we all know, the Institute of Banking Personnel Selection has declared the IBPS PO Mains Result on 5th January 2023. Congratulations to all those candidates who have cleared their mains examination with their hard work and dedication towards their goals. Now the final phase Interview round remains, it is the most challenging and important phase to get selected in any organization. So it is very important to present yourself properly in an interview, for which some tips are mentioned and discussed below.
IBPS PO Interview Tips 2023
We are sure candidates who have qualified for interviews must be giving everything in their preparation to grab this golden opportunity. Keeping that thing in mind we are giving you some useful tips that will aid your preparation and will boost your confidence. Here are some things that candidates must prepare and practice before the actual interview.
Prepare Introduction
Most of the time first question that is thrown is "Introduce yourself" and many candidates get stuck in this only. Hence, it is advised to write a good introduction at least two weeks before the interview, and should be read regularly in case any modification is needed.
Educational Background
This is also a very tricky aspect as direct questions can be asked from the graduation/post-graduation subjects. Ans if you have done graduation in some other field like engineering then the question "why change it to banking?" is imminent. So prepare your answer beforehand.
Current Affairs
Candidates are advised to read a good quality source for current affairs on a daily basis especially from the date of mains till the date of the interview. Bankersadda team provides daily current affairs which can be followed by candidates.
Ideal Posture
Candidates must practice maintaining a good upright sitting posture on a daily basis which will help them on the interview day.
Read Newspaper
Candidates must read the newspaper and the important headlines of the day of the interview. As direct questions can be asked regarding the headlines of that day.
Banking Awareness
Candidates are advised to revise and prepare the banking terminologies and concepts very well. Some direct questions are asked relating basics of banking, RBI,  History of banking, etc. These questions are generally easy to answer as the syllabus is known. Hence, prepare this section exceptionally well
Mock Interviews
Just like mock tests before preliminary and mains examination is important, Mock interviews are also of utmost importance. Bankersadda team has prepared well-designed mock interviews which will be taken by top experienced professionals. Candidates who want to increase their level of selection can enroll in these courses as only limited seats are available.
कम समय में ऐसे करें IBPS PO इंटरव्यू की तैयारी, देखें IBPS PO इंटरव्यू टिप्‍स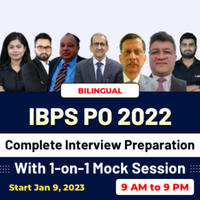 IBPS PO Interview Tips 2023: For  Interview Day
Now let's discuss some points that must be kept in mind on the interview day.
Dress up properly
The first thing that is noticed is your dressing sense. Candidates must make sure they have dressed up properly and not casually. As this is an interview and not a fashion show. Keep it minimalistic and simple. So wear a formal dress. For men, formal shirt and trousers with a tie and blazer (optional) are advised. For women, the same as men or a simple cotton suit will also do the job. Footwear must be formal and well-polished.
Don't be nervous
Some nervousness is usual but don't have it in excess and do not panic everyone there will be humble and helpful to you.
Punctuality
Punctuality is a must for candidates. Arrive at the interview venue well ahead of time so that you have time to calm yourself.
Be yourself
Don't try to complicate things and try to be over-smart as the interview members are experienced and smarter than you just focus on honesty and be yourself.
These were some important things to keep in mind for interview preparation and at the interview venue. Finally All the best aspirants. You have made this journey so far, just one step more and your dream job is just there. Keep practicing with Adda247.