Dear Aspirants,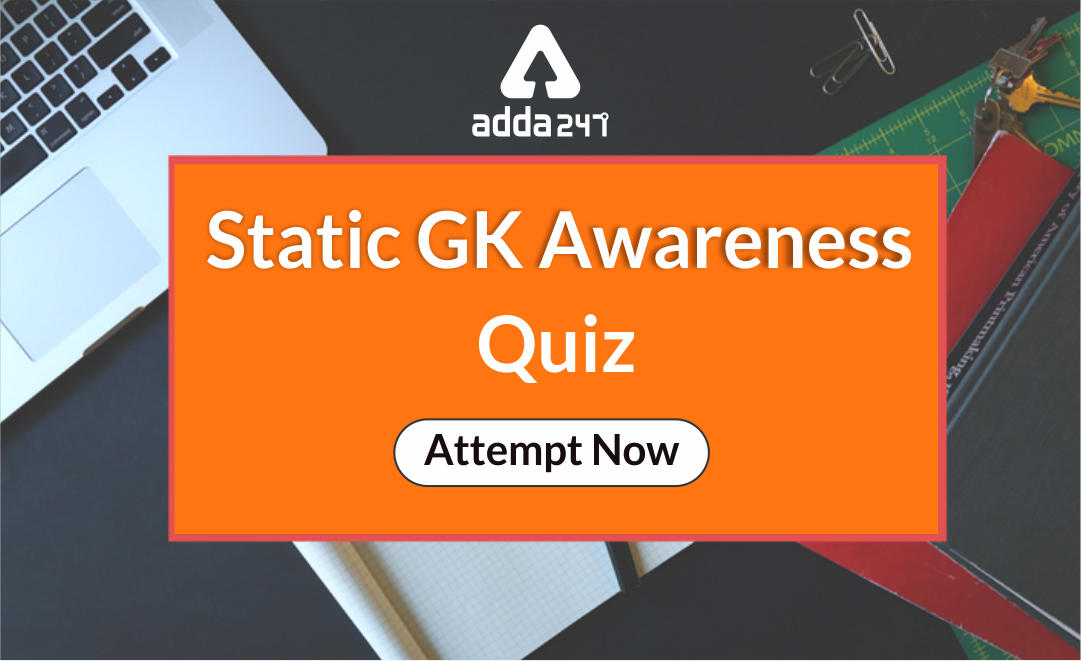 IBPS RRB PO/ Clerk Main
Static GK Questions
In every Bank/Insurance/SSC and Other competitive exams, there will be some questions of Static GK based. So, here we have given the most important static gk questions for IBPS RRB PO/ Clerk Main Exam. You can also check the quiz of
IBPS RRB PO/ Clerk Main.
These questions are also important for EPFO Assistant and SSA, and other upcoming exams.


Q1. The Rasagola, a popular dessert of Odisha, has received the geographical indication tag from the registrar of Geographical Indication. Which of the following is the folk dance of Odisha?
(a) Nati
(b) Bardo Chham
(c) Chhau Dance
(d) Jhumur
(e) Fugdi
Q2. Jammu and Kashmir, District Administration Udhampur has launched a helpline, "Jeene Do". Which of the following dam is situated in J&K?
(a) Maithon Dam
(b) Rihand Dam
(c) Tungabhadra Dam
(d) Koyna Dam
(e) Nimoo Bazgo Dam


Q3. Benin extended its support for India's candidature for permanent membership of UN Security Council. What is the capital of Benin?
(a) Ouagadougou
(b) Abuja
(c) Lome
(d) Porto-Novo
(e) Niamey
Q4. India, Myanmar signs MoU on Defence Co-Operation. What is the national flower of Myanmar?
(a) Padauk
(b) Black Orchid
(c) Flax
(d) Water Lily
(e) Ceibo
Q5. Prime Minister of Nepal inaugurated India-Nepal Logistics Summit between India and Nepal in Kathmandu. Name the national animal of Nepal?
(a) Buffalo
(b) Tiger
(c) Goat
(d) Sheep
(e) Cow
Q6. Tamil Nadu girl Jerlin Anika has won the gold medal in the World Deaf Youth Badminton Championships held in Taipei. Which of the following national park is situated in Tamil Nadu?
(a) Mollem National Park
(b) Madhav National Park
(c) Kuno National Park
(d) Guindy National Park
(e) Keoladeo National Park
Q7. Olympic champion Dalilah Muhammad shattered one of the longest standing records in women's athletics with a superb display to clinch victory in the 400m hurdles at US Championships. Which of the following colour is not present in the 5 rings of Olympic symbols?
(a) Blue
(b) Yellow
(c) Red
(d) Green
(e) Pink
Q8. Dr Harsh Vardhan, Union Minister of Health and Family Welfare at the 110th Annual Day celebrations of National Centre for Disease Control (NCDC). Where is the headquarter of NCDC?
(a) Kolkata
(b) Gurgaon
(c) Dehradun
(d) Delhi
(e) Mumbai
Q9. Indian Railways 'Northeast Frontier Railway zone' has started a unique initiative to earmark a special portion of the SLR coach with pink colour. Who was the first Railway Minister of India?
(a) John Mathai
(b) N Gopalaswami Ayyangar
(c) Lal Bahadur Shastri
(d) Shripad Yesso Naik
(e) Jagjivan Ram
Q10. Microsoft acquires data privacy & governance startup BlueTalon. Who is the present CEO of Microsoft?
(a) Larry Page
(b) Sunder Pichai
(c) Tim Cook
(d) Satya Nadella
(e) Jeff Bezos
Q11. India signs deal to acquire R-27 Missiles from Russia. What is the name of the parliament of Russia?
(a) People's Assembly
(b) Federal Assembly
(c) National Assembly
(d) Legislative Assembly
(e) Constituent Assembly
Q12. The 22nd National Conference on e-Governance will be held in Shillong, Meghalaya. Which of the following is the official language of Meghalaya?
(a) Maithili
(b) Bodo
(c) Dogri
(d) Garo
(e) Sindhi
Q13. ICC names two new umpires in the elite panel for 2019-20. In which year 1st cricket World Cup was played?
(a) 1996
(b) 1992
(c) 1987
(d) 1983
(e) 1975
Q14. Infosys announced the launch of its state-of-the-art Cyber Defence Center in Romania. What is the capital of Romania?
(a) Belgrade
(b) Budapest
(c) Bucharest
(d) Bratislava
(e) Prague
Q15. Pakistan has opened a 1,000-year-old Hindu temple in eastern city Sialkot for worship for the first time since partition on the demand of the local Hindu community. What is the name of the parliament of Pakistan?
(a) National Assembly
(b) General People's Congress
(c) Majilis
(d) National Parliament
(e) The Congress
Solutions
S1. Ans. (c)
Sol. Chhau is one of the most traditional and popular dance forms in India which is originated from Nilagiri region of Baleswar district, Odisha.
S2. Ans. (e)
Sol. The Nimoo Bazgo Power Project is a run-of-the-river power project on the Indus River situated at Alchi village, 75 kilometres from Leh in the Indian state of
Jammu and Kashmir.
S3. Ans. (d)
Sol. Porto-Novo is a port city and the capital of Benin, in West Africa.
S4. Ans. (a)
Sol. The padauk is referred to as the national flower of Myanmar and is associated with the Thingyan period.
S5. Ans. (e)
Sol. Cow, which is sacred to Hindus, has been declared the national animal of Nepal.
S6. Ans. (d)
Sol. Guindy National Park is a 2.70 km2 (1.04 sq mi) protected area of Tamil Nadu, located in Chennai.
S7. Ans. (e)
Sol. The rings are five interlocking rings, coloured blue, yellow, black, green and red on a white field, known as the "Olympic rings".
S8. Ans. (d)
Sol. The headquarter of the National Centre for Disease Control (NCDC) is located in New Delhi.
S9. Ans. (a)
Sol. John Mathai (1886-1959) was an economist who served as India's first Railway Minister.
S10. Ans. (d)
Sol. Satya Nadella is an engineer and Indian American business executive. He currently serves as the Chief Executive Officer (CEO) of Microsoft.
S11. Ans. (b)
Sol. The name of the parliament of nowadays the Russian Federation is the Federal Assembly of Russia.
S12. Ans. (d)
Sol. Garo is a Sino-Tibetan language spoken in India in the Garo Hills districts of Meghalaya.


S13. Ans. (e)
Sol. The 1st Cricket World Cup was hosted in 1975 by England, the only nation able to put forward the resources to stage an event of such magnitude at the time.
S14. Ans. (c)
Sol. Bucharest, in southern Romania, is the country's capital and commercial centre.
S15. Ans. (a)
Sol. The name of the parliament of Pakistan is the National Assembly.
All the Best BA'ians for IBPS RRB PO and Clerk Main!!