Hello! My name is Dinesh Peteti. I am going to share IBPS RRB PO 2019 Interview Experience. Hope it will help other banking aspirants.
Name: DINESH PETETI
Place of Interview: Chaitanya Godavari Grameena Bank (Guntur, AP)
I knocked door and then entered. Wished them "good afternoon all sir and ma'am". They asked me to sit. In my panel 6 members were there. One lady and 5 male.
M1: Introduce Yourself?
ME: Answered (as I said working).
M1: What is your Branch business casa advances term deposits?
ME: Answered.
M1: What are the loans sanctioned in your Branch recently under advances?
ME: Answered.
M1: What are SOD and OCC Accounts (Asked from my branch advance section)?
ME: Answered.
M1: What is the difference between Loan, SOD and OCC?
ME: Answered.
M2: What is the counter your are doing?
ME: Answered.
M2: Difference between NEFT and RGTS?
ME: Answered.
M2: What are instruments under NIA act?
ME: Answered.
M3: What is NPA?
ME: Answered.
M4: Asked about lockers due if they have not been coming to pay the due?
ME: Answered upto my knowledge.
M5: About farming and it's related questions and use of casa in banks?
ME: Answered.
F6: Asked about state Home Ministry?
ME: Not Answered.
F6: How many RRBs are functioning in Andhra Pradesh?
ME: Answered but they asked again my answer was wrong and they had given clue later. I answered.
All the panel members wished all the best and I said thank you for everyone. Interview was good.
All The Best Dinesh For Future Endeavours!
Check the LIC Assistant Mains Test Series below that includes full length mock as well.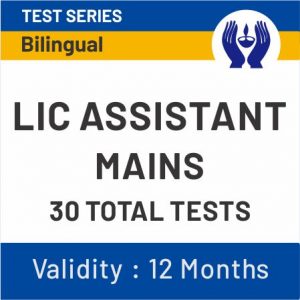 Share Your Interview Experience at blogger@adda247.com