Dear Aspirants,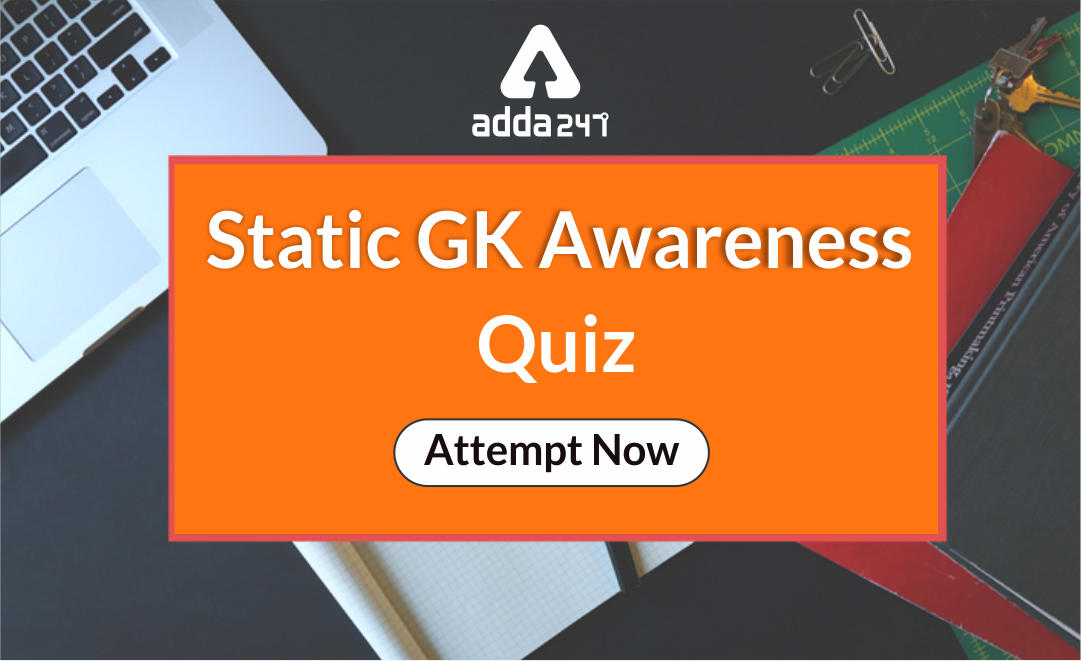 IBPS RRB PO/ Clerk Main
Static GK Questions
In every Bank/Insurance/SSC and Other competitive exams, there will be some questions of Static GK based. So, here we have given the most important static gk questions for IBPS RRB PO/ Clerk Main Exam. You can also check the quiz of
IBPS RRB PO/ Clerk Main.
These questions are also important for EPFO Assistant and SSA, and other upcoming exams.
Q1. National Academy of Art, Lalit Kala Akademi, celebrated its 65th Foundation Day in New Delhi. In which year Lalit Kala Akademi formed?
S1. Ans. (b)
Sol. Lalit Kala Akademi or National Academy of Art was established in New Delhi in 1954 by the government to promote and propagate understanding of Indian art, in and outside the country.
Q2. 10th Mekong-Ganga Cooperation (MGC) in Thailand's Bangkok. Who is the present Prime Minister of Thailand?
S2. Ans. (d)
Sol. Prayut Chan-o-cha is a Thai politician, former head of the National Council for Peace and Order. As of July 2019, he is the Prime Minister of Thailand.
Q3. French inventor Franky Zapata is 1st person in history to cross the English Channel on the jet-powered hoverboard. What is the capital of France?
S3. Ans. (e)
Sol. Paris is the capital and most populous city of France.
Q4. K Sivan, chairman of Isro, laid the foundation stone for Space Situational Awareness Control Centre at Peenya in Bengaluru. Who is the founder of ISRO?
(d) Udupi Ramachandra Rao
(e) Krishnaswamy Kasturirangan
S4. Ans. (c)
Sol. Vikram Ambalal Sarabhai was an Indian scientist, physicist and astronomer. He was the founder of ISRO.
Q5. Formula One Mercedes driver Lewis Hamilton hunted down Max Verstappen to win the Hungarian Grand Prix. What is the capital of Hungary?
S5. Ans. (d)
Sol. Budapest, the capital of Hungary. The city is located in the north-central section of Hungary and is divided by the Danube River.
Q6. India successfully test-fired its all-weather tracked-chassis Quick Reaction Surface-to-Air Missile (QR-SAM) from a mobile launcher at launch complex III of the Integrated Test Range at Chandipur in Odisha. Which of the following is the National Park situated in Odisha?
(a) Khirganga National Park
(b) Jaldapara National Park
(c) Inderkilla National Park
(e) Simlipal National Park
S6. Ans.(e)
Sol. Similipal National Park is a national park and a tiger reserve in the Mayurbhanj district in the Indian state of Odisha.
Q7. Arunachal Pradesh state Home Minister Bamang Felix flagged of 5 Anti-Riot police vehicle, also known as Vajra, from Police Headquarter. What is the capital of Arunachal Pradesh?
S7. Ans. (e)
Sol. Arunachal Pradesh is one of the 28th states of India and is the northeastern-most state of the India and Itanagar is the capital of the state.
Q8. Film actor Aamir Khan attended the launch function of Mission Shakti, an initiative by Maharashtra. Who is the present governor of Maharashtra?
(b) Biswa Bhusan Harichandan
S8. Ans. (c)
Sol. Chennamaneni Vidyasagar Rao is an Indian politician from Telangana, currently serving as Governor of Maharashtra.
Q9. Dale Steyn has announced his retirement from Test cricket. Dale Steyn belongs to which of the following country?
S9. Ans. (d)
Sol. South African bowler Dale Steyn has announced his retirement from Test cricket.
Q10. Vinesh wins gold in 53kg at Poland Open Wrestling Tournament. What is the capital of Poland?
S10. Ans. (e)
Sol. Warsaw became the capital of the Commonwealth and the Crown of the Kingdom of Poland.
Q11. The Super-Earth planet named GJ 357 d was discovered in early 2019 owing to NASA's Transiting Exoplanet Survey Satellite (TESS), a mission designed to comb the heavens for exoplanets. NASA established in which of the following year?
S11. Ans. (d)
Sol. NASA was established in 1958, succeeding the National Advisory Committee for Aeronautics.
Q12. The 3rd edition of India's largest education brainstorming event, the ScooNews Global Educators Fest (SGEF) will in Rajasthan. Which of the following city in Rajasthan is Known as Lake city of India?
S12. Ans. (d)
Sol. Udaipur is a famous city located in the desert state of Rajasthan. Udaipur is called as the City of Lakes.
Q13. Australian Super and Ontario Teachers' Pension Plan will invest $1 billion each in the National Investment and Infrastructure Fund (NIIF) Master Fund. Which of the following is the highest peak in Australia?
S13. Ans. (d)
Sol. Mount Kosciuszko is mainland Australia's highest mountain, at 2,228 metres (7,310 ft) above sea level.
Q14. The Centre has approved a Kosi-Mechi river interlining project in Bihar. Which day is celebrates as the Bihar diwas?
S14. Ans. (e)
Sol. Bihar Diwas (Bihar Day) is observed every year on March 22, marking the formation of the state of Bihar.
Q15. Mohali traffic police have launched 3-D Smart Traffic Signal devised by the students of a Chandigarh university. Which of the following Wildlife Sanctuary situated in Chandigarh?
(a) Sukhna Wildlife Sanctuary
(b) Sitanadi Wildlife Sanctuary
(c) Bondla Wildlife Sanctuary
(d) Netravali Wildlife Sanctuary
(e) Barda Wildlife Sanctuary
S15. Ans. (a)
Sol. Sukhna Wildlife Sanctuary is located in Shivalik foothills of Chandigarh city, near Sukhna Lake.
All the Best BA'ians for IBPS RRB PO and Clerk Main!!