Dear Aspirants,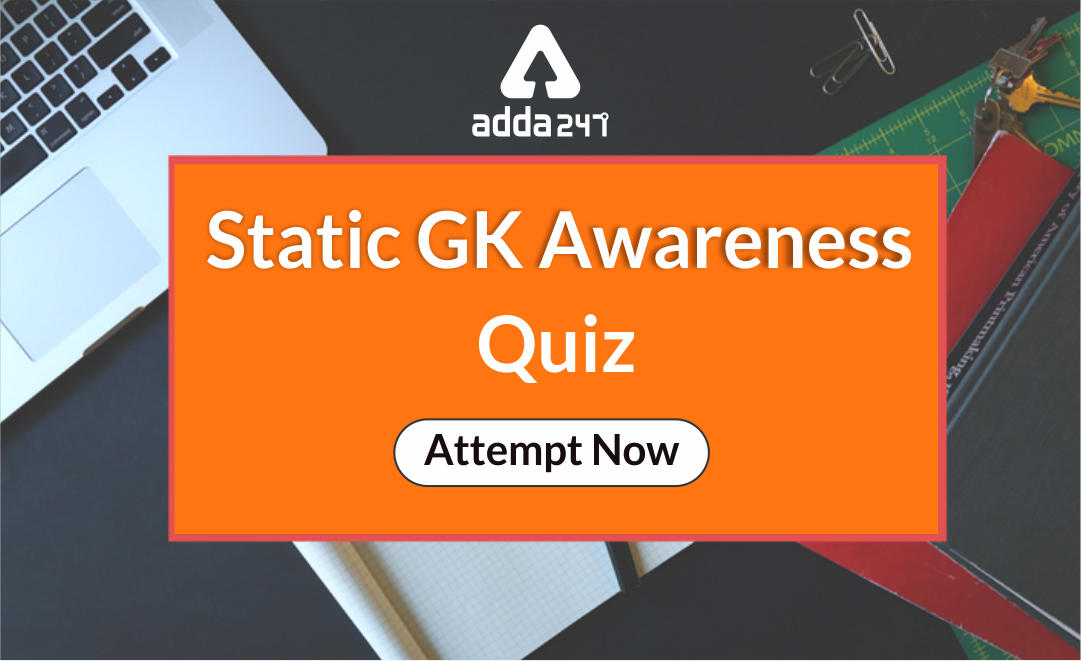 IBPS RRB PO/ Clerk Main
Static GK Questions
In every Bank/Insurance/SSC and Other competitive exams, there will be some questions of Static GK based. So, here we have given the most important static gk questions for IBPS RRB PO/ Clerk Main Exam. You can also check the quiz of
IBPS RRB PO/ Clerk Main.
These questions are also important for EPFO Assistant and SSA, and other upcoming exams.
Q1. Lok Sabha Speaker has announced that the Lower House will become paperless from the next session. How many maximum seats are present in Lok Sabha?
(a) 530
(b) 542
(c) 550
(d) 552
(e) 540


S1. Ans. (d)
Sol. The maximum strength of the Lok Sabha is 552 members, 530 members to represent the States, 20 members to represent the Union Territories, and 2 members to be nominated by the President from the Anglo-Indian Community.


Q2. Cabinet has approved the setting up of ISRO Technical Liaison Unit (ITLU) at Moscow in Russia. What is the name of a first satellite built by India?
(a) Bhaskara
(b) Aryabhata
(c) Sputnik
(d) Rohini
(e) APPLE


S2. Ans. (b)
Sol. Aryabhata, ISRO built India's first satellite, Aryabhata, which was launched by the Soviet Union on 19 April 1975. It was named after the Mathematician Aryabhata.


Q3. Wing Commander Tarun Chaudhri has become the first Indian Air Force pilot to perform a wingsuit skydive jump. Who is the present Air Chief Marshall of India?
(a) Norman Anil Kumar Browne
(b) Arup Raha
(c) Birender Singh Dhanoa
(d) Pradeep Vasant Naik
(e) Fali Homi Major


S3. Ans. (c)
Sol. Air Chief Marshal Birender Singh Dhanoa, is the 25th Chief of the Air Staff of the Indian Air Force.


Q4.The postal department has decided to convert the India Post Payments Bank into a small finance bank. In which year first postage stamp introduce in India?
(a) 1848
(b) 1850
(c) 1852
(d) 1854
(e) 1856


S4. Ans. (c)
Sol. The first postal stamp in India was introduced on 1 July 1852 in the Scinde district.


Q5. DD News is awarded "Champions of Empathy Award" for spreading awareness about hepatitis. Who is the present Director-General of DD News?
(a) Mayank Agrawal
(b) KK Bohra
(c) Nasreen Khan
(d) TS Ramakrishna
(e) YK Singh


S5. Ans. (a)
Sol. Mayank Agrawal is the present Director-General of DD News.


Q6. Foreign Ministers from South East Asia are attending the 52nd ASEAN summit in Bangkok. Who is the present External Minister of India?
(a) Pranab Mukherjee
(b) S M Krishna
(c) Salman Khurshid
(d) Sushma Swaraj
(e) Subrahmanyam Jaishankar


S6. Ans. (e)
Sol. Subrahmanyam Jaishankar is an Indian diplomat turned politician who is serving as the current Minister of External Affairs in the Government of India since 31 May 2019.


Q7. Crisil cuts India's GDP growth forecast to 6.9% for FY 2019-20. Who is the present MD & CEO of CRISIL?
(a) C B Bhave
(b) U K Sinha
(c) Ajay Tyagi
(d) Ashu Suyash
(e) Roopa Kudva


S7. Ans. (d)
Sol. Ashu Suyash is the MD and CEO of CRISIL.


Q8. According to the World Bank, India has been pushed to the 7th place in the global GDP rankings in 2018. In 2017, India had emerged as the 6th largest economy. Who is the present president of the World Bank?
(a) Robert Zoellick
(b) David Malpass
(c) Jim Yong Kim
(d) Paul Wolfowitz
(e) James Wolfensohn


S8. Ans. (b)
Sol. David Robert Malpass is an American economic analyst and former government official serving as President of the World Bank.


Q9. The Department of Revenue, Ministry of Finance, as part of its strategic commitment to improving global trade, is conducting India's first national Time Release Study (TRS). In which year World Customs Organization established?
(a) 1944
(b) 1945
(c) 1948
(d) 1950
(e) 1952


S9. Ans. (e)
Sol. World Customs Organization is established on 26 January 1952.


Q10. Gujarat Chief Minister has launched the 'Vhali Dikri Yojna' from his home town Rajkot, Gujarat. The scheme for the welfare of the girl child. Which of the following Thermal power plant situated in Gujarat?
(a) Mundra Ultra Mega Power Plant
(b) Sasan Ultra Mega Power Plant
(c) Tiroda Thermal Power Plant
(d) Talcher Super Thermal Power Plant
(e) Rihand Thermal Power Plant


S10. Ans. (a)
Sol. The 4,000MW Mundra Ultra Mega Power Plant (UMPP), also located in the Kutch district of Gujarat.


Q11. RBI imposes Rs 11 cr fine on 7 PSBs for violating norms. Where is the headquarter of RBI?
(a) Dehradun
(b) Mumbai
(c) Kolkata
(d) Delhi
(e) Bengaluru


S11. Ans. (b)
Sol. Original headquarters of RBI were in Kolkata, but in 1937, it was shifted to Shahid Bhagat Singh Margin in Mumbai.


Q12. India contributes USD 5 million to UN Palestine refugee agency. The amount was hand over to the United Nations Relief and Works Agency (UNRWA) for Palestinian Refugees. Where is the headquarter of UNRWA?
(a) Serbia
(b) Spain
(c) Switzerland
(d) Jordan
(e) Australia


S12. Ans. (d)
Sol. The headquarters of UNRWA in Amman, Jordan.


Q13. Bangladesh signs a uranium supply deal with Russia. Who is the present Prime Minister of Bangladesh?
(a) Khaleda Zia
(b) Iajuddin Ahmed
(c) Fazlul Haque
(d) Sheikh Hasina
(e) Fakhruddin Ahmed


S13. Ans. (d)
Sol. Sheikh Hasina Wazed is a Bangladeshi politician serving as the 10th Prime Minister of Bangladesh.


Q14. Securities and Exchange Board of India has approved the Singapore Stock Exchange and National Stock Exchange of India Ltd to operate jointly. Who is the present MD & CEO of NSE?
(a) Naved Masood
(b) Vikram Limaye
(c) Tapan Ray
(d) Ravi Narain
(e) Abhay Havaldar


S14. Ans. (b)
Sol. The present MD & CEO of NSE is Vikram Limaye.


Q15. The 5th edition of 'IASMC' kicks off in Jaisalmer, Rajasthan. Who is the present Chief Minister of Rajasthan?
(a) Hira Lal Devpura
(b) Hari Dev Joshi
(c) Bhairon Singh Shekhawat
(d) Vasundhara Raje
(e) Ashok Gehlot


S15. Ans. (e)
Sol. Ashok Gehlot (born 3 May 1951) is an Indian politician, currently serving his third term as Chief Minister of Rajasthan since December 2018.
Learn Current Affairs with ADDA247 Youtube Channel. Check out the video below.
All the Best BA'ians for IBPS RRB PO and Clerk Main!!