IDBI Executive Salary 2023
Candidates applying for the IDBI Executive exam must be curious about salary-related details. IDBI Executive Salary, along with other details is one of the important aspects of any job that candidates must be aware of. The Industrial Development Bank of India provides a very lucrative salary package for the IDBI Executive posts along with various perks and allowances. On the first year of employment, IDBI Executives will receive a sum of 29,000/- per month. Further details related to the IBDI Executive Salary 2023 are provided in this article below along with other relevant details like job profile, career growth, promotion, etc.
IDBI Executive Salary 2023
The Industrial Development Bank of India (IDBI) offers a handsome amount of salary to the IDBI Executives. The salary related to the job will increase with the passing years. Along with a lucrative salary, the job also provides several other benefits like Convenient working hours, good travelling facilities, security of the job, easy loan facilities at low-interest rates, etc. The IDBI Executive job also presents promising prospects for career growth, enabling individuals to progress within the organization through internal promotions. To get further insights into all the promising details related to the IDBI Executive salary 2023, allowance, job profile, etc, read the entire article.
IDBI Executive Salary 2023: Overview
Here is a brief overview of IDBI Executive salary 2023.
IDBI Executive Salary Structure
Based on the IDBI Executive Recruitment 2023, individuals who successfully complete a 3-year contractual service will become eligible for appointment as Assistant Manager (Grade A) in the Bank. The selection process for this appointment will be conducted by the Bank. During the contractual period, Executives will receive a fixed remuneration in the form of a lump sum payment as outlined below.
IDBI Executive Salary Structure

Year
Salary
1st Year of Employment
29,000/- per month
2nd Year of Employment
31,000/- per month
3rd Year of Employment
34,000/- per month
IDBI Executive Salary: Contractual Period
The appointment of the Executive will be initially on a contractual basis for the first year. Subsequently, the appointment will be reviewed annually, taking into account the candidate's performance, completion of mandatory e-certifications, and the availability of vacancies at that time. Upon successfully completing 3 years of contractual service in the Executive role, candidates will have the opportunity to be appointed as Assistant Manager Grade A through a selection process conducted by IDBI Bank.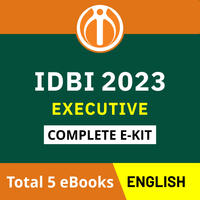 IDBI Executive Salary 2023: Allowances and Benefits
In addition to the salary, candidates selected for IDBI Executive jobs are entitled to various perks and benefits in accordance with the IDBI norms. These benefits may include allowances such as DA (Dearness Allowance), HRA (House Rent Allowance), and more.
IDBI Executive Salary 2023: Perks & Allowances
Perks and Benefits
Description
Dearness Allowance (DA)
Based on the Consumer Price Index (CPI), which is updated quarterly. The DA constitutes approximately 46% of the basic salary and may vary based on the inflation rate.
Accommodation Allowance
Instead of HRA (House Rent Allowance), IDBI provides official accommodation in the form of rented accommodation.
Medical Aid
IDBI offers a fixed annual amount to cover medical expenses.
Traveling Allowance
IDBI provides a fixed allowance for travel expenses.
Newspaper Reimbursement
The bank reimburses a fixed amount towards the cost of one newspaper on a monthly basis.
IDBI Executive Job Growth and Promotion
IDBI Executive 2023 has a wide scope of growth and promotion. Candidates must check all the promotions which they will get in IDBI.
IDBI Executive
IDBI Assistant Manager (Grade A)
Manager (Grade B)
Assistant General Manager (Grade C)
Deputy General Manager (Grade D)
General Manager (Grade E)
Chief General Manager (Grade F)
Executive Director