JAIIB PPB, AFB, LRAB 600 Case Study  Bilingual Batch: JAIIB PPB, AFB, LRAB 600 Case Study Bilingual Batch is for all those aspirants who are going to appear in the JAIIB Exam 2022 and are comfortable in both English as well as Hindi Language. The JAIIB Exam 2022 is scheduled to be held on 11th June, 12th June, and 19th June 2022. JAIIB is one of the best opportunities for bankers to advance their careers through merit-based promotions. Candidates who are going to appear in the JAIIB exam 2022 must prepare well for the same with the Live classes organized by Adda247. This course is for all those students who aim to qualify for JAIIB in a single attempt and is also for those who intend to do a quick revision of the course. In these live batches, we will cover all three subjects. Let us get some detailed knowledge of the JAIIB exams.
What is JAIIB?
JAIIB stands for Junior Associate of the Indian Institute of Bankers.
JAIIB is a flagship course offered by the Indian Institute of Banking and Finance (IIBF).
JAIIB Exam is for the existing members of IIBF.
JAIIB Exam is held twice every year – Once in May-June and another in November-December.
JAIIB has 3 papers – Principles and practices of banking, Accounting, and Finance for bankers and Legal and regulatory aspects of banking of 100 marks each.
Clearing JAIIB will earn you increments in Banks and consequently will fetch you an increased salary. In some banks even for promotion, there is some weightage of JAIIB score. It will enhance your knowledge which in turn will help you even in your day-to-day work.
What will you get?
Complete coverage of the Course through 40+ hours of Live Interactive Classes (Case Study Discussion)
600+ Case Study Questions will be discussed and practiced in the Live Classes
When you have a hectic day at work and can't attend the live class, watch recorded videos at your convenience.
In-depth analysis of the subject till the last day of your exam under the guidance of Experts.
Mocks and E-books for Non-Stop practice
Detailed subject Expertise for JAIIB JUNE-JULY 2022 attempt.
Question answers with detailed analysis.
Subject Covered
JAIIB Paper-1: Principle and Practices of Banking (PPB) is an introduction to Indian banking and touches on almost every aspect, from the Indian financial system to contemporary issues and developments in the industry.
JAIIB Paper-2: Accounting and Finance for Bankers (AFB) cover major aspects of both accounting and finance required to gain proficiency in the day-to-day accounting in the bank.
JAIIB Paper-3: Legal & Regulatory Aspects of Banking (LRB) brings an all-inclusive view into all the laws associated with the banking and finance terminologies.
Candidates who are going to appear in the JAIIB exam 2022 and wish to attend a bilingual batch are advised to enroll in this live classes batch to ace up and boost up their performance.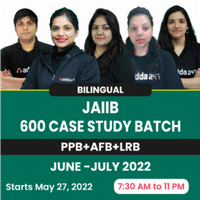 Related Posts: