JAIIB ( Junior Associate of Indian Institute of Banking and Finance) is the most important exam for banking employees. JAIIB exams not only help you grow professionally and advance your career but also help you grow as an individual. Once you have done through these exams it will open doors to more opportunities. So you need to take some time off from your busy schedule to prepare for these examinations which may not seem simple. That's why Adda 247 team has brought the JAIIB PPB, AFB, and LRB June-July Online Live Classes- English Medium Selection Batch for the preparation of the JAIIB exams.
What will you get in these online live classes:
Complete coverage of the Course through 65+ hours of Live Interactive Classes & Recorded videos (PPB, AFB & LRB)
When you have a hectic day at work and can't attend the live class, watch anytime anywhere Recorded Video classed lectures at your convenience.
In-depth analysis of the subject till the last day of your exam under the guidance of Experts.
Mocks & E-books for Regular intensive practice
Detailed Video lectures for Non-stop Study
Detailed subject Expertise for JAIIB JUNE-JULY 2022 attempt.
Question answers with detailed analysis.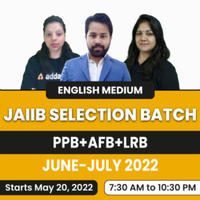 Bilingual Live Classes for JAIIB PPB, AFB, LRB June-July
| | | |
| --- | --- | --- |
| SUBJECT | START DATE | START TIME |
| PPB | 20 MAY 2022 | 7:30 AM TO 9:00 AM |
| AFB | 20 MAY 2022 | 9:00 PM TO 10:00 PM |
| LRB | 20 MAY 2022 | 8:00 PM TO 9:00 PM |
Subject Covered in this Course
JAIIB Paper-1: Principle and Practices of Banking (PPB) is an introduction to Indian banking and touches on almost every aspect, from the Indian financial system to contemporary issues and developments in the industry.
JAIIB Paper-2: Accounting and Finance for Bankers (AFB) cover major aspects of both accounting and finance required to gain proficiency in the day-to-day accounting in the bank.
JAIIB Paper-3: Legal & Regulatory Aspects of Banking (LRB) brings an all-inclusive view into all the laws associated with the banking and finance terminologies.