Last Minute Tips for CAIIB Exam 2022: The Indian Institute of Banking and Finance(IIBF) has scheduled the CAIIB Exam 2022 for 26th June, 03rd July, and 09th July 2022. CAIIB Exam 2022 will consist of three papers and each paper will consist of 100 Questions carrying 100 marks. For each paper 2 hours time will be allotted to the candidates. Candidates must follow the last-minute tips before appearing for the CAIIB Exam 2022 as it will level up their confidence and keep them free from stress. In this post we have listed some of the last minute tips that will be beneficial for a candidate going to appear in the CAIIB Exam 2022.
Last Minute Tips for CAIIB Exam 2022
Candidates put all their efforts and prepare for any competitive exam but when the exam is around the corner they remain in stress which affects their performance in the examination. Some of the last minute tips that an aspirant should follow before appearing for the CAIIB Exam 2022 are provided here:
Candidates are advised not to start any new topic as only limited days are left for the CAIIB Exam 2022. Starting a new topic will consume more time and for now candidates have to utilize their time efficiently.
Revise all the topics that you have studied so far and spend more time on the important topics which have more weightage in the examination.
In the last few days practice questions of the latest pattern. Practice the mock tests and sectional tests of CAIIB available on Adda247 App. This will give you the feeling of real exam because you will get to solve the questions in limited time period.
Eat healthy food and drink lots of water to keep yourself healthy and fit.
Have sound sleep the night before the examination because you need to be fresh and active on the day of the exam.
Keep all your documents  ready that you have to carry on the day of the examination.
Read all the instructions carefully before you start the paper and follow them strictly during the entire exam.
At first go through the entire paper and then first solve the easy questions or the questions of the topics which you are good at.
Do not spend much time on a single question, if you get stuck in a particular question then leave it and move ahead.
Stay calm, be confident and avoid stress and this will surely help you to crack the CAIIB Exam 2022.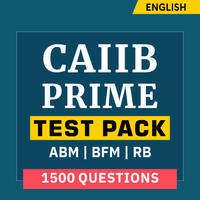 Related Posts: