Quantitative Aptitude is one of the scoring sections of the bank examination. If you clear your basics and practice more and more quizzes and also follow a proper study plan, you can easily crack the exam. RBI Assistant Exam is one of the most prestigious exams in the Banking Sector. 23rd May 2020 RBI Assistant Mains Quiz Based on- Misc. DI and Approximation.                                         

Directions (1-5): Study the given graph Carefully and answer the following questions.
The pie chart given below shows the no. of candidates appeared in different exams in a given year. The line graph shows the percentage of passed candidates in that exam.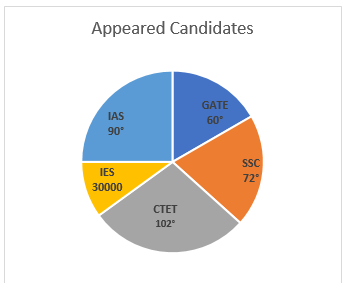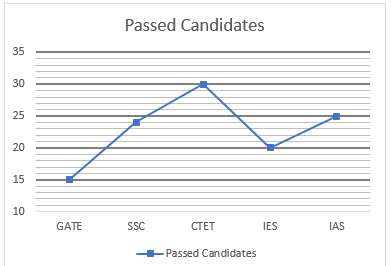 Q1. Candidates failed in IES exam are what approximate percent of the candidates passed in SSC and CTET exams together?
(a) 45%
(b) 60%
(c) 75%
(d) 65%
(e) 70%
Q2. Passed candidate in Gate exam are how much more or less than appeared candidates of SSC Exam?
(a) 55200
(b) 62500
(c) 52500
(d) 56500
(e) 48500
Q3. If candidates who got selected from each exam (GATE, SSC, CTET, IES, IAS) are 50%, 60%, 40%, 30%, 40% respectively, then find total candidates who passed but don't get selected.
(a) 44375
(b) 39360
(c) 49062
(d) 33189
(e) 40260
Q4. Find the ratio between failed candidates of IES and SSC exam together to the appeared candidates of GATE and IAS exam together.

Q5. Passed candidates of SSC exam are what approximate percent more or less than failed candidates of CTET exam?
(a) 72%
(b) 80%
(c) 84%
(d) 76%
(e) 68%
To attempt the complete quiz refer to the links given below:
Practice with Crash Course and Online Test Series for RBI Assistant Mains
If you are preparing for RBI Assistant Mains Exam, then you can also check out a video for Quantitative Aptitude below: